Summerisle – an ep of songs from 'The Wickerman" By Us and Them with Frobisher Neck
The Wicker Man is one of the greatest cult films of all time and integral to this cornerstone of British horror was the enchanting, bewitching pagan folk soundtrack exquisitely produced by Paul Giovanni and Magnet. Swedish acid-folk duo Us and Them have previously reinterpreted Julia Dream by Pink Floyd to stunning affect and label Fruits de Mer knew they were onto a winner when they tasked them with reinterpreting key elements of the original soundtrack.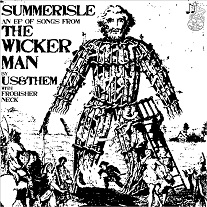 Opener Corn Rigs is washed with subtle mellotron/keyboards from Tony Swettenham (aka Frobisher Neck) adding a stunning shimmer to this classic of the acid folk era. 
Fire Leap retains the wash of mellotron, acoustic folk and introduces the erotic paganism which is a key Wicker Man theme. The medieval folk of Gently Johnny does this beautifully, although it is still male led, Britt's honeyed female vocals in the chorus only accentuate this sensualism.
Rounding off with Willow's Song, Us and Them's take is less rhythmic, giving us the chance to hear the more haunting elements of this timeless melody.
All in all, the delicately crafted Summerisle EP doesn't disappoint and is an essential purchase for any fans of acid/psych folk. It's released in early October so for more information visit:
http://www.fruitsdemerrecords.com/