Review by Mark Waters
Could it be that with a title like "Kill You Again" along with the CD cover of Ulysses new album with a retro 60's spy theme that Luke Smyth, Julyan Wells-Cathedral, Shane Maxymus and Tom Sartoryal, 4 lads from one of my home towns… Bath have made one of the best rock spy records?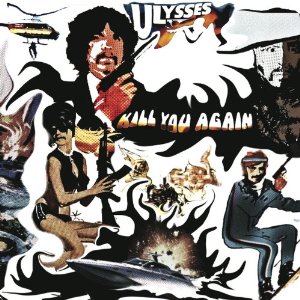 The title track "Kill you again" says it all, they travel from the French Riviera to the Great Wall of China and end up by a Trojan sound system on a Jamaican beach! With sound effects of tyres burning air raid sirens and ending with a superbly place "Day In The Life "moment right at the end. 
The other eleven songs are just as inventive and in some strange way this album takes one up to the present day…Power Pop Rock at its very best. Taking it's influences from the rich vain of rock music and adding a dose of creative fun and thought into the music and lyrics.
[tubepress video=o8RK5ghjTaM]
Currently on tour ,and I hope they will visit Scotland again soon, They are playing at the Larkhall festival in Bath on 5th May and at the Cavern pub in Liverpool on the 18th and on the 27th July at the Banshee Beats Festival, Monchengladbach… A must see! 
All they want now is a couple of singles from the album on 7″ and a L.P. which would be perfect. 
Now out on Black Glove records on download and CD (GCD 001)…and web site www.ulyssesband.com. 
And to end listen to the final track "OH Yeah(Uh Huh Huh)" some Curtis Knight/Buddy Miles/Jimmy Hendrix FUNK! Brilliant!
I will be playing some of the tracks over the next month on my show Sounds Good!
Better still go buy the record so that they will never end up back working in the Inland Revenue.
Mark Waters