By Jason Barnard
Four new-psych heroes combine forces on a new Fruits de Mer EP to fight the scourge of musical apathy. On "The League of Psychedelic Gentlemen" nick nicely, The Bevis Frond, Anton Barbeau and Paul Roland individually present four exclusive tracks, old and new.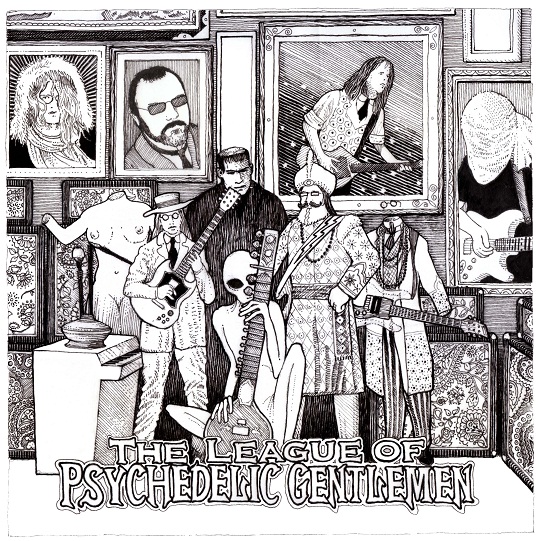 With his electronic super powers nick nicely's "Rosemary's Eyes" covers the horror at the world seen through someone else's eyes. It's a new track that finds nicely at his best as he boldly ditches overt melody in favour of a hypnotic undercurrent of melodic harmony. 
The Bevis Frond's "I'm A Stone" demonstrates his melodic rock powers. In this new and exclusive recording we sink slowly into a bed of malady, with excellent guitar riffing and reflective lyrics. 
Anton Barbeau called for additional strength in Andy Metcalfe and Morris Windsor. Their band Three Minute Tease play on "When I Was 46 (In The Year 13)". Just imagine Zager and Evans in 2012 – their psych-pop abilities are unquestionable on Anton's tale of the New Year's Day 2013 where the space time continuum unravels. 
Paul Roland finishes with an unreleased mix of one of his best tracks, the gothic story "The Puppet Master". Inspired by American horror comics, its creepiness is taken up a notch by Robyn Hitchcock adding vocals on the chorus.
With these tracks, the League of Psychedelic Gentleman defeats its foe by enthralling listeners with their psychedelic skills. What next? The Psychedelic Avengers! We hope so.
More information on "The League of Psychedelic Gentlemen" can be found here:
http://www.fruitsdemerrecords.com/index.html