Review by Jason Barnard
To celebrate Fruits de Mer Records 100th vinyl release, FDM favourites The Honey Pot embark on an audacious double album. Icarus Peel, Crystal Jacqueline and the band have fittingly assembled a crack FDM friends to guest on a set of psych/rock covers and Honey Pot originals.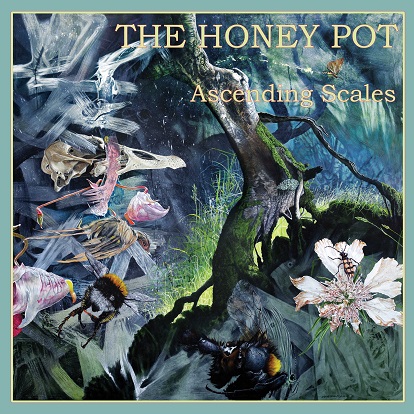 Starting with a pair of 60s legends, 'Ascending Scales' features Electric Prune James Lowe on the excellent '1969', whilst Pretty Thing Dick Taylor gives searing blues rock guitar to 'Soloman Deep', The Honey Pot's baroque psych of 'Love Is Green' blooms into full psychedelia with Jack Ellister. Anton Barbeau then successfully tackles Orange Bicycle's original psych monster, 'Dr. Crippen's Waiting Room'.
We then hear a searing duet from Crystal Jacqueline and Cary Grace on 'Can't You See The Witch', with intense moog and guitar. Peter Cook and Tom Newman guest on 'Half A Memory', keeping up the high standard with a vibrant collaboration between The Honey Pot and the July duo. Ex Fairport lead Judy Dyble and Swedish folk duo Us and Them then partner beautifully on LP 1 closer 'Sitting All Alone'.
Time Machine with Bevis Frond guests Nick Salmon and Ade Shaw launches platter 2, a track that builds throughout. The Luck of Eden Hall's Curvey continues the space rock theme taking over the vocals for 'Lucky Spaceman'. Steve Palmer from Mooch then guest on the Honey Pot's take of The Strawberry Alarm Clock's 'Rainy Day Mushroom Pillow', a challenging track to cover that succeeds on every level. Next on the guest list is Bruce Woolley – Buggles and Yes keyboardist – who adds a classic prog touch to 'Into The Deep'.
Finishing with my favourite, Tony Durant from Fuschia provides a pastoral feel to 'River Runs By' – a track that matches the high standard of Tony's reflective muse.
All credit to Icarus Peel for crafting 'Ascending Scales', an apt tribute to the great vinyl label of our times:
www.fruitsdemerrecords.com/ascending