Review by Jason Barnard
A band as marvellous as The Soft Hearted Scientists should be indie superstars. Their low-fi lysergic acoustic approach came first to fruition with their superb début 'Uncanny Tales From The Everyday Undergrowth', now re-released after its 10 year anniversary.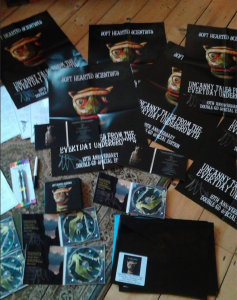 That album, a collection of EPs, gained universal praise on its release. Receiving a glowing NME review they were acclaimed with the maxim of 'a new legal high is unleashed'.
Now re-released in a deluxe form with a bonus CD of demos, we can hear their kitchen sink psychedelia on a journey from Billy Ray Cyrus in Hell (Diving Bell) to the supernatural Wendigo.
'Uncanny Tales' set their template of their unique take on psych, a combination modern life, humour plus a cast of surreal characters and situations. 'The Yongy Bongy Bo' for example, reflects their wonderful madness, its melodic strengths and lyrical wit being typical traits of the Welshmen.
This new package is the perfect time to enter the world of Nathan Hall, Dylan Line and co. Just listen to the stunning 'Isabella (Keep Riding The Road To The Sea)' and you'll know what I mean.
Go dive into the Soft Hearted Scientists:
softheartedscientists.com