A quartet of vinyl releases found their way to the Strange Brew this month that reassured me that the music scene's heart is still beating firmly.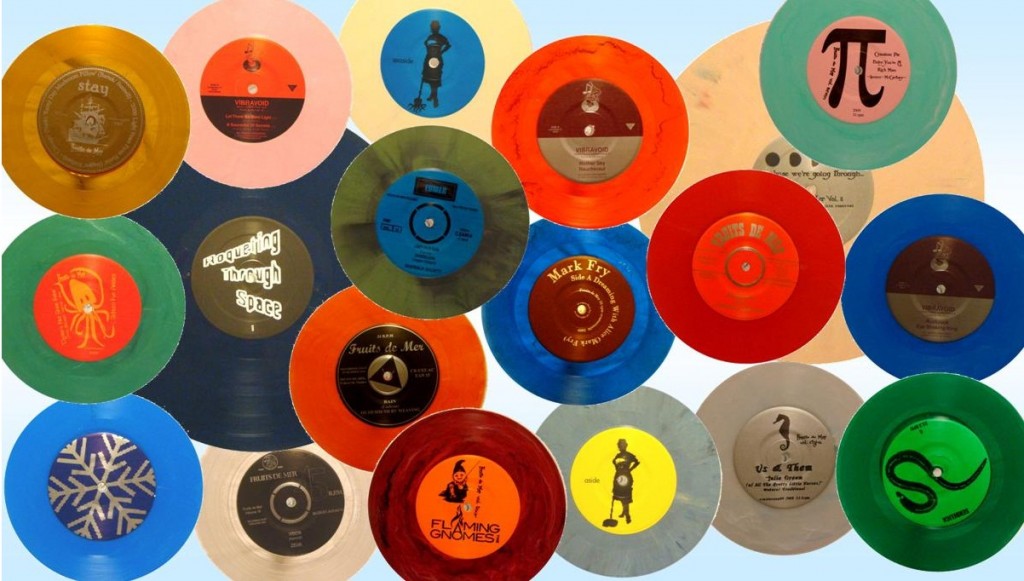 Fruits de Mer Vinyl Montage!
Firstly out on Sugarbush Records we have The Dukes Of Kent who are Markus Holler and Chris Gussman. They are based in the south of England but the sounds eminating from their new album "Welcome To The Oast House" are from much wider afield. 
Recorded in rural Crowborough in East Sussex, their nine tracks blend 70s style Rock, West Coast, Folk with a healthy dollop of Americana. 
[tubepress video=SIJ63RaPL8U]
There's a bit of Petty meets the Stones plus Parsons era Byrds thrown into the pot. My personal highlights include "Lay My Burden Down" based around strumming folk guitar,  slide in support and timeless lyrics. "Water" quenches my thirst for great guitar licks and jangling guitars steadily ebbing and flowing over a extremely pleasant six minute journey. The chorus to "Blue Turns Red" and the lyrics to the reflective "Limits of the Truth" has been repeatedly returning to the back of my mind. Finally, "Runaway" would make a fine single that blends the finest elements of the duo's creativity. 
The LP has been mastered by Pink Floyd's engineer, Andy Jackson, and pressed on 150 gram vinyl. The love and craft is clear throughout and is well worth seeking out: http://sugarbushrecords.com/article/sugarbush-records-presents-the-vinyl-only-album-by-the-dukes-of-kent-welcome-to-the-oast-house/
Its testament to Finland's finest Permanent Clear Light's "Higher Than The Sun" (out on Regal Crabomophone) that I was reaching for the press blurb to find out which lost psych classic they had covered. With world weary vocals tied to gorgeous strings, peerless guitar and Pink Floyd circa Dark Side psych I was astonished find out its an all new original! Great work guys. The flip is charming cover of Peter Hammill/Van Der Graaf Generator's "Afterwards", a lovely comedown to the brilliance of the a-side.  
[tubepress video=QscbLy4o4Ww]
One of my favourite groups at the moment are The Chemistry Set who's new single we love so much we played on our last show. "Come Kiss Me Vibrate and Smile", also from Regal Crabomophone, fizzes, pop-sikes and rocks to an insistantly hummable three minutes. Its lyrics are like a psychedelic twin of Don McClean's "American Pie". The second of this three-track 7" is another great original "Time To Breathe", a psychedelic meditation on love and the mundality of life. They finish with an excellent cover of Tomorrow's "Hallucinations". Why aren't these guys MASSIVE!
[tubepress video=P2XNYJTjVfE]
Next on Fruits de Mer we have the prodigious talent of US maverick Anton Barbeau and an unreleased version of his classic "Psychedelic Munde of Moses".  This lead track features The Bevis Frond on lead guitar and is even the better for it. This stomping indie psych rocker would be blasted from every student disco in an infinitely better parallel universe. It's catchiness and brilliance is indisputable. Talking of catchy we have Anton's reinterpretation of Robyn Hitchcock's "Sometimes I Wish I Was A Pretty Girl" morphing Robyn's frantic acid folk with a brilliant Sparks meets Bowie sound. Then we have Ant's take on Julian Cope's "Out Of My Mind On Dope and Speed" keeping the lunacy but blasting it towards a spacier dimension. 
[tubepress video=JtSXsy8O3UY]
I strongly recommend you transfer some of your pennies into the Fruits de Mer's coffers so they can keep pumping out great records like this. Check out their website for their trio of October releases: http://www.fruitsdemerrecords.com/