Leeds was not known as a musical hotbed in the 1960s. I just don't understand! But if you dig a little deeper the city brought the world some of the greatest music ever made.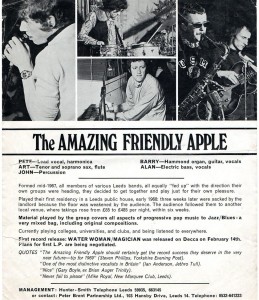 Amazing Friendly Apple Promo Sheet – 1968
Here's just one more chance to hear long forgotten bedrocks next to worldwide smashes. Thanks to Peter Waddington (The Dawnbreakers & Amazing Friendly Apple), Jeff Christie (The Outer Limits & Christie) and Trevor Midgely (Beau) for their advice and support.
Barry Ryan – Eloise (Single A-side, MGM, 1968)

The Cresters – I Just Don't Understand (Single A-side, HMV, 1964)

The Dawnbreakers – Let's Live (Single A-side, Decca, 1965)

The Cherokees – Dig a Little Deeper (Single A-side, Columbia, 1965)

The Easybeats – Friday On My Mind (Single A-side, United Artists, 1966)

Barry Booth – He's Very Good With His Hands (Diversions, PYE, 1968)

The Outer Limits – Just One More Chance (Single A-side, Deram, 1967)

The Easybeats- Land of Make Believe (Vigil, United Artists, 1968)

The Bedrocks – Ob-La-Di, Ob-La-Da (Single A-side, Columbia, 1968)

New York Public Library – Gotta Get Away (Single A-side, MCA, 1968)

Amazing Friendly Apple – Magician (Single B-side to Water Woman, Decca, 1969)

Beau – Imagination (Beau, Dandelion, 1969)

Jake Thackray – The Castleford Ladies Magic Circle (Jake's Progress, EMI, 1969)

Christie – Yellow River (Single A-side, CBS, 1970)

Christie – Picture Painter (For All Mankind, CBS, 1971)

The Grumbleweeds – (Hey Babe) Follow Me (Single A-side, Decca, 1974)

Stevie Wright – Evie (Single A-side, Albert Productions (Australia), 1974)
Podcast: Play in new window | Download