The story is the stuff of rock legend; heir to a fortune Philippe DeBarge contacts his favourite band, the Pretty Things who had just released landmark psychedelic album, SF Sorrow, seeking their help as his backing band. What followed was the making a great lost album that bridged the gap between legendary Pretty Things LPs SF Sorrow and Parachute. 
Now fully restored, Rock St Trop is now sees it's definitive release with rare photos and extensive liner notes by ex-Pretty Thing Wally Waller. Jason Barnard speaks to Wally to uncover the story behind this extraordinary record.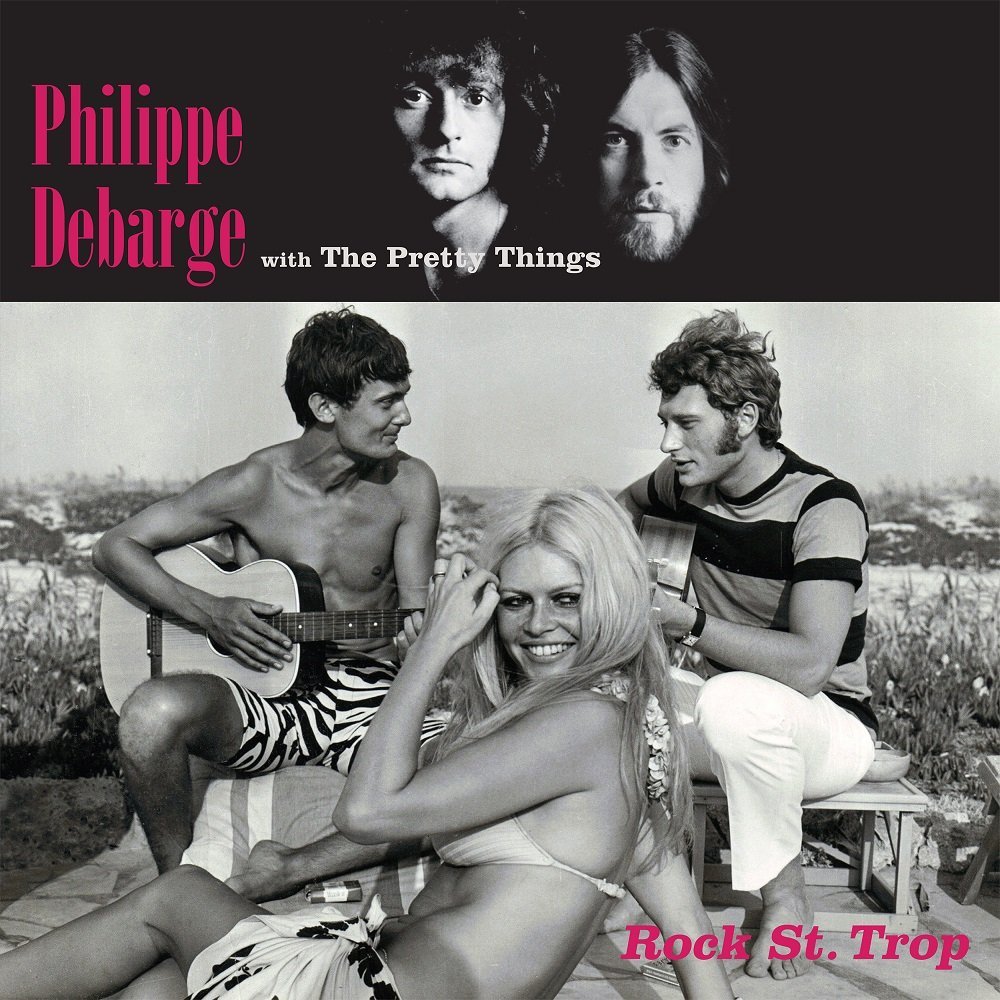 Hi Wally, can you describe the period for the band in run up to getting involved with Phillipe?
We were in a bit of a 'backwater'. EMI didn't really know what to do with "S. F. Sorrow" – they didn't really understand what the F… we were doing. They didn't support it or promote it to any great extent – it didn't really sound or look like anything else they'd ever had before. To us, that was a huge plus, but to them it was a huge minus. We were excited to be treading in the virgin snow, with no trails to follow. The number crunchers from the office staff got really nervous about the amount of money we were spending in studio time at Abbey Road. It was not launched into the world with universal acclaim – far from it – it hardly made a stir, in fact you could say that it was one of the best kept secrets in the music business. As you can imagine, sales weren't great, and EMI were being rather tentative about commissioning another album. At the same time Phil and I were writing songs all the time – so when a possible outlet surfaced, it seemed like a good idea to relieve the logjam!
Dick had left the band a couple of months earlier, and Phil and I were shell-shocked about that – in a way, this couldn't have happened at a better time. In the early years of S. F. Sorrow, it had a small 'underground' following, which grew slowly over many years. It is now accepted as a classic piece of recording, which I feel will endure long after we are all well and truly 'under the sod'.
In this period you also made the Electric Banana recordings for De Wolfe. How did the band get involved? Was this hidden from EMI? 
It wasn't so much a case of hiding things from EMI – I suppose we were 'economical with the truth'. For us it was like doing session work. Nobody ever asked any questions – so fortunately a problem never arose. Initially, we were approached by the then Boss of De Wolfe Music (James De Wolfe) his father had started the company, and it's now run by James' son. When I asked James why he had asked us to record this 'library' music for him – he told me – he had been assured by his kids that The Pretty Things were the coolest band around – and he had taken their advice!
How did Phillipe de Barge convince you all to travel to St Tropez?
We didn't all go to St. Tropez – it was just Phil May and myself. Originally he (Philippe) came to London, and we met him there, but neither Phil or I were sure if we should do it or not. At the end of our meeting nothing had been decided. As Philippe was leaving, he said "Why don't you come down to St. Tropez for a few days as my guest, and we can discuss it there"? Well, there were no gigs for a couple of weeks, and no future recordings to prepare for, in short it was quite difficult to come up with a good reason why not… so we went. He was a fantastic host, and after trying him out on a couple of our songs with an acoustic guitar – we cut the deal!
When was the material written for Rock St Trop? Two songs – 'Eagle's Son' and 'Alexander' date from the the Norman Wisdom film 'What's Good For The Goose' don't they?
Phil reckoned that Philippe could do a good job on them – and guess what ? He was right.
You co-wrote the bulk of the material with Phil – what was your song writing process?
We had no rules. Sometimes the seed of an idea would begin from a purely individual moment of inspiration and it would be brought into our shared domain – usually we would both contribute to all the songs to a greater or lesser extent in some way. Sometimes we would be together when one of us would start playing something, and off we'd go – they are the best moments for me. I've never thought that being specific about exactly who did which bits from our song-writing partnership, would serve any useful purpose. I guess it's no great secret that I tended to write more of the music, and Phil tended to write more of the lyrics – but as I said before 'there were no rules', so we really didn't have any boundaries and our partnership was very 'elastic'. The joy I experience when a song is first taking shape is hard to explain. The recording studio is a much more mechanical thing – it too is incredibly important, but it's not where the real creative stuff takes place.
What are your memories of Phillipe as a person?
He was a very warm and genuine individual. His love of music was unquestionable. I think he found the fact that he had money was a slightly embarrassing thing, and I think we enjoyed some real moments of empathy.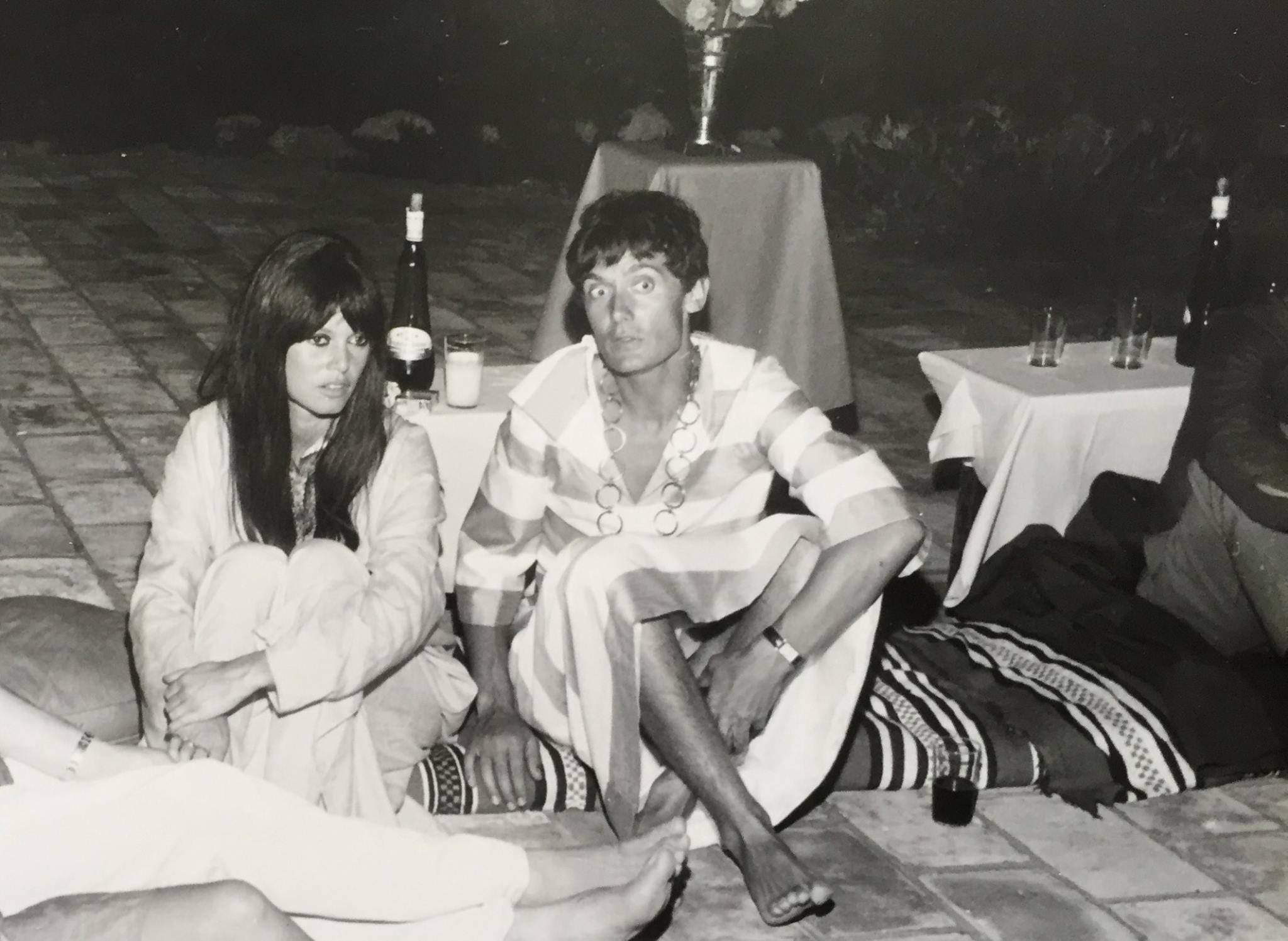 Brigitte Bardot and Phillipe Debarge
As a singer – what did he bring to the recordings?
There was a very individual quality about his voice, without having too big of a range note-wise. I think we actually changed the keys of some of the songs in order that it was in his optimal range.
What was the line-up in this period?
It was a very short-lived line-up, but The Pretty Things of the day lined-up like this : –
Phil May / vocals
Wally Waller / Bass & vocals
Jon Povey / Keyboards & vocals
Victor Unitt / Guitar & vocals
Twink (John Alder) / Drums
The Pretty things had quite an individual harmony vocal sound which Phil, Jon & myself usually supplied – that didn't change for this album even though Philippe was taking the main vocals.
I assume you were still under contract to EMI so had to hide that you were in the studio.
Yes, of course. That's why we couldn't work at our spiritual home (Abbey Road) even though Philippe's budget would have easily encompassed such an expense. To us this was just extra-curricular activity. There was no guarantee that this would ever be released – and indeed, it very nearly wasn't. It was another 40 years before Ugly Things Magazine gave it its first official outing. If it had been released in 1969 and been a huge success, that might have been a problem for us. We would probably have said it was merely 'session work'.
Where was the material for Rock St Trop recorded and how did the sessions go compared to your work at EMI?
We recorded the whole album at Nova Studios in Bryanston Street (just behind Marble Arch). It no longer exists. The main difference was that I got to 'produce' for the first time. I had always been very involved with the production process when we were making records, especially with Norman Smith, and I learned a lot from him – not that he was trying to teach me anything. We worked quite quickly for us – even though Philippe was a wealthy guy – I was still very conscious of the clock ticking. I think we finished the whole thing inside a month.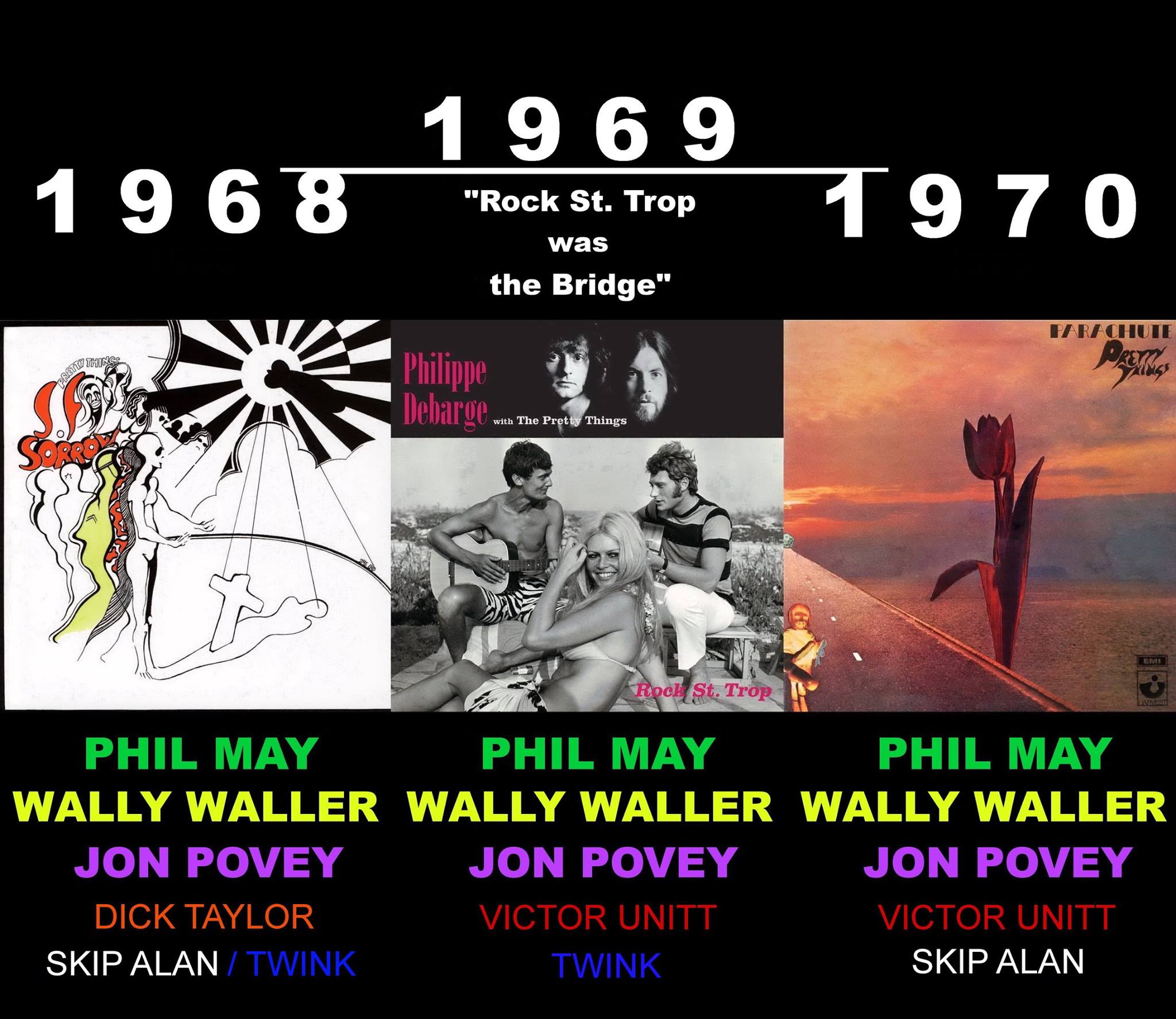 Rock St Trop acts as a fantastic bridge between SF Sorrow and Parachute and include great lost tracks like 'New Day' and 'Check Out'. How do you think it compares with these two legendary albums and do you think you should have re-recorded some of the Rock St Trop material as The Pretty Things?
I think it stands up very well – we didn't think too much about it (it wasn't like it was one of our albums). So we just really followed our noses and behaved the way The Pretty Things do when they were making albums – but we were far more relaxed about it – ultimately it wasn't our head on the chopping block, and we just had fun. In retrospect it compares very favourably with its better known 'close relatives'. As a song-writer, I always feel that my best song is the last one I've written, and bear in mind that Phil and I were prolific in this period. We didn't know what Parachute was going to be, until we started writing it, and starting with a 'blank canvas' is always best as far as I'm concerned. That's why it was good for us to clear away any 'clutter' that was hanging around, and get to work anew when we started Parachute. I certainly feel that if we had re-recorded anything, it would have sounded very different. People have often asked me if I regret 'giving' some of those songs to Philippe, and I can honestly say, and without a moment's hesitation – "not in the slightest".
I understand these recordings were recovered from acetate. What condition was the acetate in and how did you restore it?
The acetate was in a simply appalling state. There are no magic answers when it comes to restoring audio that was damaged this badly – none that I've discovered anyway. It is mainly a case of manually going through the audio micro second by micro second and trying to edit out and repair things as best you can. I spent over a month on it – I almost went crazy!
Hear the original acetate of 'Hello How Do You Do':
The demo recordings Lover and Silver Stars are released as part of this package for the first time. How were they found and looking back what do you think of them?
It has to be remembered that they were just basic ideas – they were never meant to be released on an album in their current form. They were meant to be developed and properly recorded. Pretty Things fans had always known that there were some recordings that Phil and I made at that time. They became known as "The Westbourne Terrace Demos".
But apparently they were lost and gone forever. We made a really concerted effort to find them so we could include some of the demos on the 40th anniversary edition of Parachute in 2010, but we couldn't find them. In the event we made some acoustic demo-like versions for that release. Then shortly before the Box set a few years ago Phil found a bunch of old tapes that had been in storage for years – and lo and behold, they were the missing tapes. For reasons that I don't fully understand these two were omitted from the Box set (when others of far more dubious technical quality were included) !
But they were ideal as bonus tracks for Rock St. Trop, because conceivably they could have been considered for the original recording anyway. As a footnote, I would just like to add this: there are 15 tracks on the CD, but only one song has ever been play listed for airtime on American radio – it was "Lover" ! – and that actually makes me feel quite emotional.
Would you be able to tell me about the album you made in the mid 70s with Phillipe – how you got to record with him again and the writing and recording process?
In 1969 Philippe had disappeared back to France with the master tapes for what is now known as "Rock St. Trop". Philippe said that he thought it would be released by 'Barclay Records' – a hugely important and influential label in France. Eddie Barclay (the founder and owner of Barclay Records) was a dear family friend. Barclay Records' success was brought into sharp focus in France in the early '50s' when his company pioneered the then revolutionary 'micro -groove' technology – that's EPs & LPs to you and I. Before that, discs revolved at 78 RPM, and had massive grooves, so much so that a 10″ vinyl single could only just about cope with a 3 minute Track. Not only was Eddie his next door neighbour in Saint Tropez, but Eddie and Philippe's father Albert were very close friends, and they were Saint Tropez's ravers in chief ! What they didn't know about having a good time wasn't worth knowing! Philippe had given me the impression that it was a 'done deal'. I never found out why things went awry – but anyway, it didn't happen.
In late 1974 we were contacted by Philippe… he wanted to make another album, only this time in French (maybe that was the problem with 'Barclay', because the first one was in English). Phil and the Pretties weren't around vey much (the PTs were spending a lot of time in America at that time – supporting Zeppelin on tours. It was really left to me to get everything organised. I was still working as a house producer at EMI, but I managed to book the studio time (at Olympic in Barnes), that suited everybody… (a) when I was available – (b) when the Pretties were not in America, and (c) when Philippe could make it too. It wasn't a big slot, but there wasn't any real room because of everybody's availability, for the sessions to over-run ! I spent a bit of time with Philippe before we started, just to run through the material, and make basic preparations. He already had some songs that he brought with him. They needed quite a lot of work doing on them – sorting out arrangements etc., but he didn't have enough for an album, and time was short. Philippe and I wrote a few songs so that we would have enough to complete the album, and we brought it in, on time, and on budget – not that the latter was a major concern!
Did that album see an official release?
Yes, it was released on Atlantic (France only).
Did you stay in touch with Phillipe after the mid-70s?
No, to my eternal shame I never saw Philippe again after I left France in 1976. I was devastated to hear in 1999 of his passing!
How did the later recordings on De Wolfe, like 'Do My Stuff', come about?
The band on those recordings were basically our 'Fallen Angels' line-up: –
Phil May / vocals
Wally Waller / Bass, vocals
Mickey Finn / Guitar
Billy Lovelady / Guitar
Bryan Johnston / Keyboards
Chico Greenwood / Drums
It was after we had made the 'Fallen Angels' album in Geneva. We were clicking our heels with not a lot to do – so we suggested to De Wolfe that we make some more 'Electric Banana music for them – and they agreed. EMI were no longer in the frame – their contract with us expired in 1971. I don't think I was signed to anybody at the time, and I'm pretty sure that Phil's contract with Swansong had been terminated too.
For those not familiar with your production work and solo material what tracks would you suggest they seek out?
I was quite pleased with some of the work I did in Australia on the "Marcus Hook Roll Band" project – it involved Malcolm and Angus Young, just before they started AC/DC. I liked some of the stuff I recorded on John Lees solo album (John was the guitarist from 'Barclay James Harvest' – who I also produced. I tended to get involved as a musician with most things I produced. I produced The Pretty Things album "Freeway Madness" for Warner Brothers. I wrote one song with Phil for that album – it was called "Over The Moon", as the song had a few personal connotations for me, Phil urged me to sing it too. Warner Bros thought it was 'single material', and duly released it as such. I was slightly embarrassed about that (I wasn't even in the band at the time)! I also quite like a song that that the 'old firm' May/Waller wrote for our Fallen Angels Album called "Girl Like You"
George Young sadly died recently, what was he like to produce in the Marcus Hook Roll Band? 
Producing the Marcus Hook Roll Band was really a breeze – no egos, no tantrums – they were happy to try anything I suggested, and left me to get on with my job!
As a bonus, the 2008 recording Monsieur Rock (Ballad of Philippe) is included. What led you to write and record that track?
When the Ugly Things version was about to be released – I suggested to Phil that as there was nothing around that we could use as a bonus track, we should write something and record it. So we sat down together with my old acoustic guitar (just like we used to in the old days) we got the basis of the song in a few minutes. And a couple of weeks later we finished it. We used the line-up that hadn't played together (without any additional musicians) since the very first S. F. Sorrow sessions: it was Phil May, Dick Taylor, Jon Povey, Skip Alan and myself. This line-up has been 'dubbed' in the past "The Famous Five"!
Are you still releasing records under the XPTs banner?
Jon Povey and myself are now known as 'The Bexley Brothers' – we've got quite a few songs recorded in various states of progress – we will be releasing an album at some point in time, but we both keep getting side-tracked with other things. I keep having ideas for other projects too – but trying to get Rock St. Trop off the ground for instance has been a real eye opener. The amount of time and energy that it has 'sucked' out of me has really knocked me off course. In the new year, I really want to get back to the 'day job' of writing, performing and producing music.
As for the XPTs (Ex Pretty Things), it seems unlikely that we will be making anything else under that banner. I wanted to do something really special for the 40th anniversary of Parachute in 2010 – like have another look at the songs etc., but manager Mark St. John wouldn't hear of it – so that ruled Phil out too ! Jon Povey and myself conscripted two other notable 'old lags' from the Pretties – (and what 'old lags' they were) namely Pete Tolson and Skip Alan. So we did honour 'Parachute' – we recorded 'Parachute Reborn'. I was very pleased with the results that we came up with. But now with the untimely demise of Pete Tolson last year, and with a few health issues now affecting Skip, it's looking like The XPTs are gonna be one of those one album bands! But if you're only gonna have one album – it might as well be something as good as this. We are in fact thinking about re-releasing this album in the near future. We've got a great original Pete Tolson track for bonus material, that was left over from our Malaga sessions together in 2010. So if there are any interested record companies out there – they could contact us through The Bexley Brothers Facebook page.
As the Bexley Brothers, you made a superb re-recording of The Sun, originally from Emotions, a few years back.
Yes, that was for the Ugly Things Fenmen retrospective "SunStroke". Mike Stax was very helpful. We found a lot of stuff that hadn't been released before – but not enough for an album. So Jon and I decided that we would have to write and record some new songs just to complete the album. We were no longer The Fenmen (there was only two of us). That's when we invented The Bexley Brothers name. Mike was very aware of The Pretty Things history – and he knew that "The Sun" was the first song Phil and I ever wrote together, and he urged us to record a version of it for 'SunStroke'. The rest of our material is all original – and at the moment there's quite a lot of it that is just bursting to get out. Altogether they cover quite a wide musical spectrum!
That's great Wally, thanks, all the best with Rock St Trop. Let's link up for a podcast soon for your next release!
Philippe DeBarge with The Pretty Things – Rock St Trop is now available on 180g heavyweight audiophile single LP vinyl and on CD: http://smarturl.it/Rock_St_Trop
This post does not allow comments