By Nick Warburton
The Bobby Patrick Big Six were arguably among the pioneers of British rock music. Overlooked in their native Britain, the Glaswegian sextet was one of the first British groups to perform on the Hamburg rock scene during the early 1960s.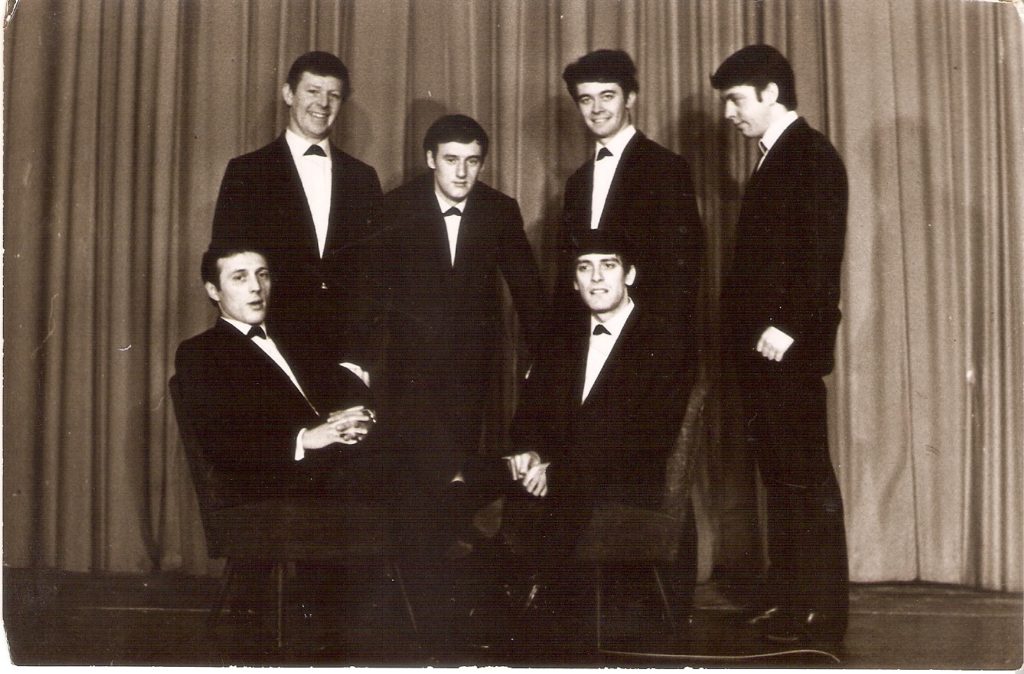 Bobby Patrick Big Six – 1963. Back row from left to right: Pete McCrory, Freddy Smith, John Wiggins, Alex Young. Front row, left to right: Bobby Patrick, Archie Legget
While playing at the famous Top Ten Club on the Reeperbahn, the musicians became personal friends of The Beatles, influencing not only the Fab Four's repertoire but also, in the case of multi-instrumentalist Alex Young (b. 28 December 1938, Glasgow), enabling the musician to draw on these connections in 1967 when John Lennon named his new group Grapefruit and signed them to a publishing deal with Apple.
Besides The Beatles' connections, Alex Young (aka George Alexander) also came from an incredibly talented family, most of whom had moved to Australia in 1963. Younger brother George Young became the creative force behind Australia's first internationally successful rock group, The Easybeats, while his younger siblings Angus and Malcolm have become guitar rock legends with the international phenomenon that is AC/DC.
One of the oldest in the Young clan, Alex Young had been adamant that he would not join the rest of the family on its Australian adventure and had good reason to stay behind. Primarily a tenor sax player, Young had been a member of one of Britain's first R&B outfits, The Bobby Patrick Big Six, formed in Glasgow around 1960.
Led by trumpet player Bobby Patrick, the original formation also comprised guitarist Peter McCrory; bass player Archie Legget; drummer Freddie Smith (b. 4 March 1942, Glasgow); and noted local singer Barry St John (real name: Elizabeth Thompson).
Over the first couple of years, the sextet became one of the top live acts in Scotland and, having cornered the local market, started to venture south. One of the band's first notable gigs in the Home Counties was at the California Ballroom in Dunstable, opening for The John Barry Seven on 19 April 1962.
Around this time, The Bobby Patrick Big Six also became regulars at the Blue Gardenia Club in Bethnal Green, which was owned by the Kray Twins. The club, which was run by Liverpudlian Casey Jones, would also feature The Beatles later that year.
In October 1962, however, the group took on keyboard player John Anthony Wiggins, an old friend of the Young family, who'd previously played with The Johnny Douglas Combo.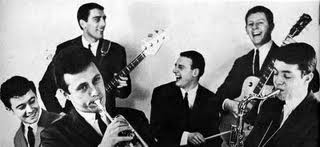 Bobby Patrick Big Six – 1963. Back row from left to right: John Wiggins, Archie Legget, Freddy Smith, Pete McCrory. Front row, left to right: Bobby Patrick (trumpet), Alex Young (sax) 
"Alex Young was one of my best friends and also Freddie Smith but Alex especially," explains Wiggins. "We went back a long, long way and I knew his family. I knew his brother George, who formed The Easybeats. Angus and Malcolm from AC/DC were little kids when I knew them."
From the outset, Wiggins was impressed by the high calibre of musicianship: "We ended up sounding like an American band. We were way, way ahead of the time," he says.  "When I joined, I was absolutely gobsmacked. I didn't think I would fit in with them because they were so advanced. It was an extremely talented band."
Two months after joining The Bobby Patrick Big Six, the band travelled to Hamburg for what would be the first of many trips over the next three years.
On arrival, the group held down a two-month residency at Peter Eckhorn's Top Ten Club; only a short distance away The Beatles were busy working at the Star Club. Soon, the two bands became inseparable.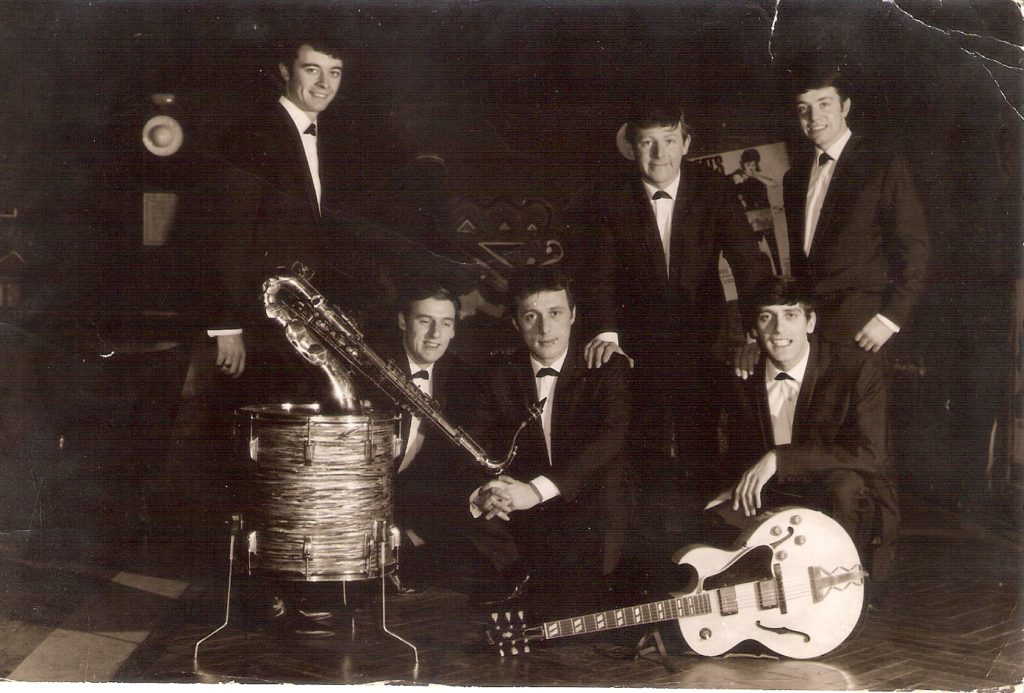 Bobby Patrick Big Six – 1963
"There are a lot of connections with The Beatles," says Wiggins. "The Beatles came most nights to listen to us, strangely enough. They wanted to know how to get the sound we were getting. We gave The Beatles a lot of lyrics for songs, for example, 'Money' and 'Boys' and things like that." "We were doing stuff that nobody else was doing in Britain at all," continues the keyboard player. "All the latest American stuff, which I'd never heard before I joined them. It was absolutely superb."
That Christmas, The Beatles joined The Bobby Patrick Big Six for a party at the Top Ten Club, as Wiggins recalls: "The owner [Peter Eckhorn] was always stoned out of his brains. He had a gun and started shooting up the club inside – the bar, lights, everywhere. He was absolutely crazed. Someone grabbed The Beatles and got them out the back door quickly. We went upstairs as we slept in basic accommodation above the club."
Having been brought up on Glasgow's tough streets, Wiggins should have been prepared for Hamburg but the port city, which was still scarred from the British bombing during the war, was like nowhere else.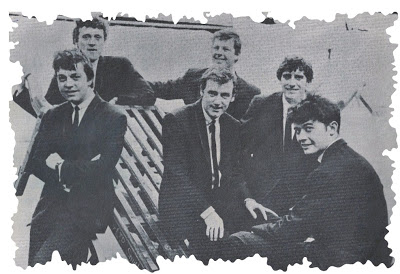 Bobby Patrick Big Six – 1963
"Hamburg was totally, totally different," he says. "We used to step over dead bodies on the way to work and things like that. It was unbelievable."
After finishing up at the Top Ten Club on New Year's Day, The Bobby Patrick Big Six returned to London and 25 January 1963 returned to the California Ballroom in Dunstable for a show with Russ Sainty & The Nu-Notes.
Then, their agent linked them with American singer Emile Ford (after Barry St John left to pursue a solo career, subsequently recording for Decca and Columbia). Renamed The Checkmates, the sextet worked with Ford for about a year solid.
Around February, the singer and band recorded two tracks with producer Tony Hatch at Pye's Piccadilly Studios – "Hold Me, Thrill Me, Kiss Me" and "Keep on Doin' What You're Doin'", which were coupled together for a single and released on the Piccadilly label (7N 35116) that April.
The following month, Emile Ford & The Checkmates headed to Sweden where they toured for six months.
"He was massive in Sweden; really, really big for some reason," recalls Wiggins. "We did live outdoor concerts with Count Basie. We thought we were quite a cool R&B/blues band and Count Basie said we were the best rock band that he'd ever heard. We also played with The Duke Ellington Orchestra in Stockholm."
The keyboard player also recalls that while the musicians were touring Sweden, the band also worked with Anita O'Day and The Quincy Jones Orchestra. "These guys were in a different class," he says. "We were totally in awe of them. To work with them live, on stage, was wonderful."
While in Sweden, Emile Ford & The Checkmates took a short break and travelled to Hamburg to perform at the Star Club from 1-9 September.
Around the same time, Pye Records coupled together two more tracks from the Tony Hatch session earlier in the year and released them on a Norwegian-only single – "Little June" c/w "Should I". More intriguing is a Swedish album that was recorded for Sonet Records.
"Somebody stole the masters and that later came out on Hallmark. I am not sure but someone bootlegged it," says Wiggins. "We recorded the whole album in three hours flat; the entire thing; 15 tracks."
Back in the UK, Emile Ford & The Checkmates embarked on a brief tour and Wiggins remembers Tom Jones & The Squires being on the same bill for a show in Wales.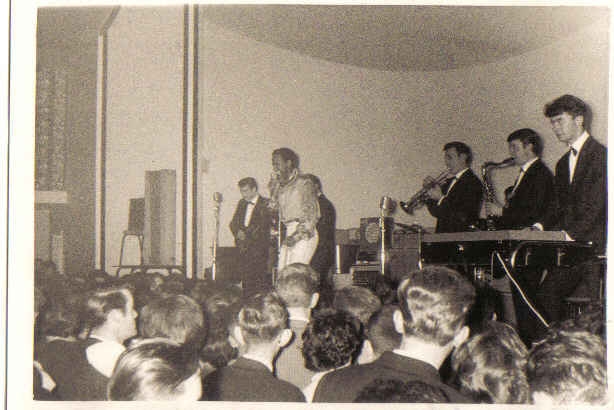 The Bobby Patrick Big Six, now called The Checkmates with Emile Ford during a 4 week tour of Ireland 1963
Then, it was back to Hamburg for another series of shows at the Star Club that December before the inevitable split with Emile Ford. "We didn't like being called The Checkmates to be honest," says Wiggins.
The split was amicable and having gained important experience in the studio, it was time for The Bobby Patrick Big Six to record under its own name.
While in Hamburg that December, the sextet signed to German label Ariola and cut four tracks in the studio. The first two tracks – "Roly-Poly" and "Domino-Twist" were coupled for a debut single (Ariola 10 576 AT), which was issued in February 1964.
The following month, Ariola shipped a second single, "Shake It Easy Baby" c/w "Wildwood Days" (Ariola 10 600 AT), which even secured a UK release (Decca F 11898) and was released on 8 May 1964.
During April-May 1964, Wiggins remembers The Bobby Patrick Big Six undertaking a 28-show tour backing Roy Orbison and Tony Sheridan. On another occasion, the group backed Chuck Berry and Little Richard.
Working American airbases as well as the German club circuit, The Bobby Patrick Big Six soon attracted the attention of British singer/guitarist Tony Sheridan who was in need of a backing band on his Polydor recordings.
"From 1964 to 1967, [we played] exclusively with Sheridan," insists Wiggins. "Every record with Sheridan was us. [But] we had contracts with different record companies [Ariola] so we couldn't use our own name sometimes."
When The Beatles were in Germany in March-April 1961, their very first recordings had been with Tony Sheridan and, as Wiggins explains, the Fab Four also had to record under an alias.
"The Beatles, for example, backed Sheridan on nine or ten tracks and they were called The Beat Brothers for the same reason," he says. "The Big Six became The Beat Brothers and a lot of people think we're The Beatles, which we weren't. We used the same name."
However, Wiggins does insist that The Bobby Patrick Big Six did tidy up a handful of old Beatles recordings made with Tony Sheridan.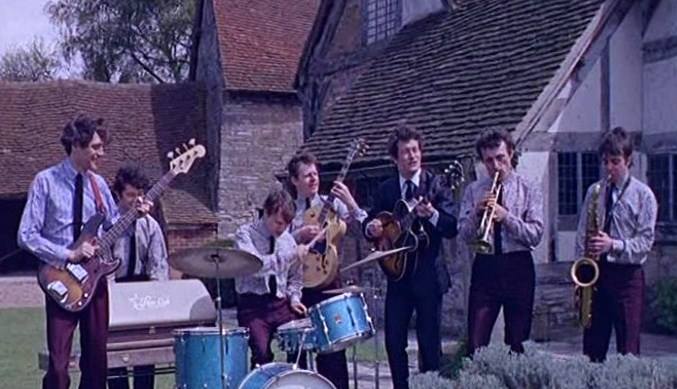 The Big Six – taken at Ann Hathaway's cottage by Pathe Pictorial, 1964 with Tony Sheridan singing "Hey,Nonny no" to celebrate the 400th anniversary of Shakespeare's birthday
"In the Polydor archives in Hamburg, The Beatles had made a lot of recordings with Pete Best on drums but they weren't good enough to release," he explains.
"We were doing a lot of session work for a guy called Paul Murphy, who was A&R man [for Polydor]. How he got that job, I don't know. He found all these dust covered old masters in the basement, so we dubbed all The Beatles' records. We left the vocals on and we did all the backing. If you listen to the records, it's nothing like The Beatles but the vocals are still there. In one case, they left [George] Harrison's guitar solo in."
Wiggins is convinced that one of the tracks in question was "Ain't She Sweet". "Lennon is singing lead and they left Harrison's solo on it, but the backing is The Big Six. There are others but I didn't keep a track of them."
According to the popular Hamburg music magazine, Star-Club News, The Bobby Patrick Big Six supported Tony Sheridan at the Star Club from 1-6 September, before working with the singer at the Star Club in Cologne from 7-10 September, the Star Club in Flensburg from 11-13 September, and finally the Star Club in Kiel from 14-17 September.
Besides backing Tony Sheridan on his album Just a Little Bit of Tony Sheridan, the group also cut enough material under its own name for an LP. Entitled The Bobby Patrick Big Six, the record was duly issued on Ariola (S 71765) in January 1965. That same month, the label shipped another German-only single, "Twistin' The Night Away" c/w "New Orleans" (Ariola 18 076 AT).
By then, The Bobby Patrick Big Six had been back in the UK for several months. Returning home in early November 1964 to prepare for a package tour with American singer Brenda Lee (Manfred Mann, Marty Wilde, Bern Elliott, John Barry Seven, Wayne Fontana and Heinz & The Wild Boys were also on the tour), Wiggins remembers the band sharing digs with the newly arrived Van Morrison and Them in Paddington.
The sextet's arrival back home had coincided with a second British single, a cover of Major Lance's "Monkey Time" c/w Bobby Patrick's "Sweet Talk Me Baby" (Decca F 12030), which was released on 20 November.
Around the same time, Decca issued an E.P. comprising four tracks that had been recorded live at the Star Club in Hamburg earlier that year. Teenbeat 3 From Star Club Hamburg pulls together "Roly-Poly" from the band's debut German single plus covers of "Green Onions", "The Dog" and "Fannie Mae".
The latter three tracks had all appeared on a German-only live album, Twist-Time Im Star-Club Hamburg 2, which split seven tracks by The Bobby Patrick Big Six on one side with eight tracks by Kingsize Taylor & The Dominoes on the other.
During this hectic period that the band got the opportunity to work with American rock 'n' roll legend, Jerry Lee Lewis.
"We got a phone call from BBC Studios to back Jerry Lee Lewis because he'd sacked his band," remembers Wiggins. "He needed a band to do a live recording on the BBC at 9 O'clock in the morning. We were doing the Brenda Lee tour at the time. He got a bottle of Bourbon out and insisted that we all drank it before playing a note!"
Jerry Lee Lewis, however, wasn't the only highlight from this period.
"We did a Beat Club live television performance from the Albert Hall in December 1964 in which we were backing Brenda but we also backed Smokey Robinson & The Miracles, who topped the bill," remembers the keyboard player.
"We had to read the music live in front of a packed Albert Hall and live television. That's the scariest gig that I've ever, ever done."
Back in Germany, The Bobby Patrick Big Six provided backing on two further singles by Tony Sheridan. The first – "Vive L' Amour" c/w "Hey! Ba-Ba-Re-Bop" was released on 5 August 1965 (International Polydor Production 421 009).
The second – "Shake It Some More" c/w "La Bamba" (International Polydor Production 52 944) came out a few months later in December.
By then, The Bobby Patrick Big Six had undergone the first of several significant personnel changes and become known as simply The Big Six.
Sometime in the summer of 1965, the group had joined Radio Caroline to play a summer season in Blackpool but Archie Legget was getting bored. During September tenor sax player Howie Casey (who would go on to marry The Bobby Patrick Big Six's former lead singer Barry St John) invited the bass player to join his band, The Krew, who had been hired by Tony Stratton-Smith to back Liverpool singer Beryl Marsden.
The Bobby Patrick Big Six and The Krewkats (as they were originally known) had crossed paths in Hamburg on several occasions and the Glaswegians had first met Howie Casey in the port city when he was a member of Kingsize Taylor & The Dominoes. More importantly perhaps, the band's longstanding leader Bobby Patrick had also had enough and handed in his notice.
During the 1970s, Bobby Patrick formed The Bobby Patrick Band with Roger Dean, who'd been the original lead guitarist in John Mayall's Bluesbreakers. To fill the vacant spots, the remaining members brought in Glaswegian singer/bass player Iain Campbell and (a bit later) tenor sax player Pete Carter.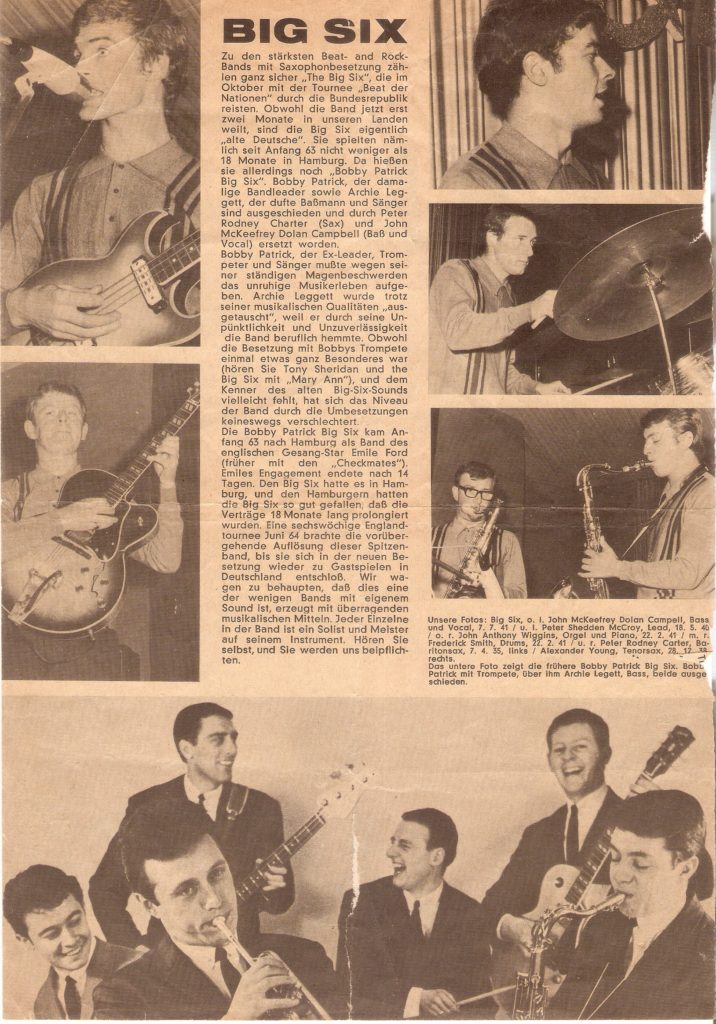 The Big Six 1965 lineup – German press cutting
"Iain was quite a prolific songwriter but we didn't do too many of his songs," says Wiggins.
The first Big Six recording to feature the two new arrivals was "Comin' Home Baby" c/w "Starlight-Melody", which was released on Polydor International (52 942) in November 1965.
The new formation followed this up with the Alex Young/Iain Campbell collaborations, "Hang Your Head and Cry" c/w "Shame Shame" (International Polydor Production 421 034) in early 1966 but it was clear the band had missed the boat so to speak.
"The problem was we stayed there [Hamburg] too long," admits Wiggins, looking back. "We came back in '64 to try and make it in the UK and it didn't quite happen so we went back to the comfort zone."
According to the keyboard player, The Big Six recorded another E.P. and also issued a cover of The Beatles' "Nowhere Man" backed by "Sure Gonna Miss Her" (International Polydor 52 952) under the name The BS. They then made a living backing Tony Sheridan as The Beat Brothers but by early 1967 only John Wiggins and Iain Campbell remained.
A final single backing Tony Sheridan – a cover of "Jailhouse Rock" c/w "Skinny Minny" was held back and released by Polydor in Germany in 1968.
While Peter McCrory remained in Hamburg and abandoned a musical career, Alex Young returned to the UK and changed his name to George Alexander.
Through his Beatles connections, the multi-instrumentalist landed a song-writing deal and formed a new band with members of Tony Rivers & The Castaways to record his songs. Named by John Lennon, Grapefruit recorded prolifically throughout the late 1960s, including two collectable albums.
In 1970, George Alexander reunited with his younger sibling George Young and his song-writing partner from The Easybeats, Harry Vanda. Together the trio penned a cache of fascinating singles under an array of bewildering aliases – Paintbox, Moondance, Tramp, Haffy's Whisky Sour and The Marcus Hook Roll Band.
Former Big Six drummer Freddie Smith, who'd played on some Easybeats sessions in the summer of 1967, helped out with some of these recordings, as did Iain Campbell, who even sang lead vocals on the Haffy's Whisky Sour single.
Inevitably, however, George Alexander returned to Hamburg and died on 4 August 1997.
Freddie Smith meanwhile briefly joined Liverpool band, Ian & The Zodiacs in Hamburg in late 1966 and appeared on their LP Locomotive. The drummer then following Alex Young back to the UK and found work as a session player before hooking up with another Liverpool band, The Fyx.
Somehow or other, Smith joined another British band in late 1967/early 1968 and worked for a short while at the famous Piper Club in Rome, Italy. In the summer of 1969, Smith ran into Archie Legget's former band mate from The Krew, Alan Reeves, who was working with his latest group, The Clinic.
Reuniting with Archie Legget (who'd spent time playing with Charles Azanvour) in Paris that autumn, Reeves and Smith formed the power trio, Maurice's Portrait, who gigged incessantly on the Paris music scene before splitting in early 1970.
Smith and Legget then returned to the UK and worked as session players, reuniting briefly with Alex Young on his various projects with Harry Vanda and George Young before landing work with Kevin Ayers and John Cale among others.
While Smith also played with Third World War, Legget subsequently worked with Kevin Coyne and Gary Wright. Sadly, both have since passed away, Legget in July 1994 and Smith a few years earlier.
Like Peter McCrory, John Wiggins also remained in Hamburg and became a member of Tony Jackson & The Vibrations. The keyboard player worked with the former Searchers member for most of 1967 but returned to work with Tony Sheridan later that year. When Sheridan was offered work entertaining US troops in Vietnam in January 1968 Wiggins bowed out.
At the time, Wiggins's wife, Sylvia, the drummer in The Liverbirds, was expecting their first child and the couple felt it was too risky to go. "I refused to go and he [Tony Sheridan] never spoke to me after that," says the keyboard player. "I met him a couple of years after that and he totally ignored me."
In January 1968, Wiggins accepted a job with The Krew reuniting with former member Archie Leggat. By this point, the band also included band leader Howie Casey's wife, Barry St John, The Bobby Patrick Big Six's original lead singer.
"Archie was playing in The Krew from The Bix Six and Barry St John was singing in The Krew from The Big Six, so The Krew was actually half of The Big Six," says Wiggins. "I also knew [drummer] Eddie Sparrow from The Krewkats."
However, the reunion proved short-lived for the keyboard player. After playing an open air concert at Santa Margherita near Genoa in Italy during July where another former Big Six member Iain Campbell joined the band, albeit incredibly drunk and raucous, Wiggins bowed out.
"Archie was still there when I walked out for personal reasons," he says. "The band was completely finished then as far as I know."
Back in the UK, the keyboard player joined O'Hara's Playboys and participated in a short Caribbean tour in late 1968. After that, he replaced Alan Price in what essentially was The Alan Price Set after singer Paul Williams took on the mantle and renamed the outfit, The Paul Williams Set. In 1970, Wiggins worked with Johnny Almond's Music Machine and then moved into session work.
The band's original lead singer Barry St John stayed with The Krew a little longer before recording an excellent solo LP on the Major Minor label, which this author is currently working with Cherry Red Records to release on CD. Sadly, her solo career never really took after and later on she reportedly played with the late James Last. She also undertook steady session work, playing with the likes of John Lennon, Pink Floyd and Roxy Music among others.
As for Iain Campbell, he could well have become the most successful member of The Big Six when he joined Stealer's Wheel. However, the singer/bass player was no longer involved when Gerry Rafferty's band struck gold with "Stuck in the Middle with You". Before that, however, the singer also landed a solo album deal with Major Minor, culminating in the album Campbell Country 'N' Soul.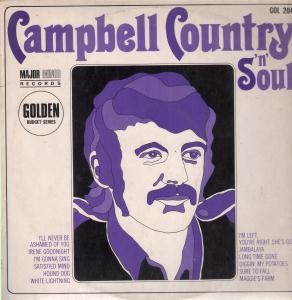 Despite working with Rafferty's former folk partner, Billy Connolly and doing sessions with George Alexander, George Young and Harry Vanda, Campbell remained in relatively obscurity, performing locally around Lewisham, not far from where Barry St John lives. Tragically, he died in April 2015, aged 73.
Bobby Patrick's replacement Peter Carter died in 2008. Sadly, the band's leader, Bobby Patrick also passed away in 2016. The band's guitarist has remained in Hamburg but doesn't talk about his time with this legendary group.
John Wiggins sadly passed away on the 2nd April 2017, after a short battle with cancer, in his birth town of Glasgow. He was surrounded by his family and loved ones. Before he died he shared his fond memories of his time with The Bobby Patrick Big Six. "Apart from being The Animals and Georgie Fame's favourite band and tipped for fame by them, what I think we lacked was a great singer or front man," he says on why the group wasn't more successful.
"We backed most of the American stars, who came over to UK and European tours, and were very highly rated among our peers in the business but not the record buying public."
Copyright © Nick Warburton, 2016. All Rights Reserved. No part of this article may be reproduced or transmitted in any from or by any means, without prior permission from the author. To contact the author, email: Warchive@aol.com or nick_warburton@hotmail.com
This post does not allow comments