By Jason Barnard
Tony Prince, former DJ on the boat that rocked, Radio Caroline went on to became DJ & Programme Controller of Radio Luxembourg. His role cannot be overstated, Tony and the station shaped broadcasting as we know it, bringing popular music to Europe from the 1960s to early 1980s. Tony talks to Jason Barnard about his time as a DJ and his excellent new book 'The Royal Ruler & The Railway DJ'.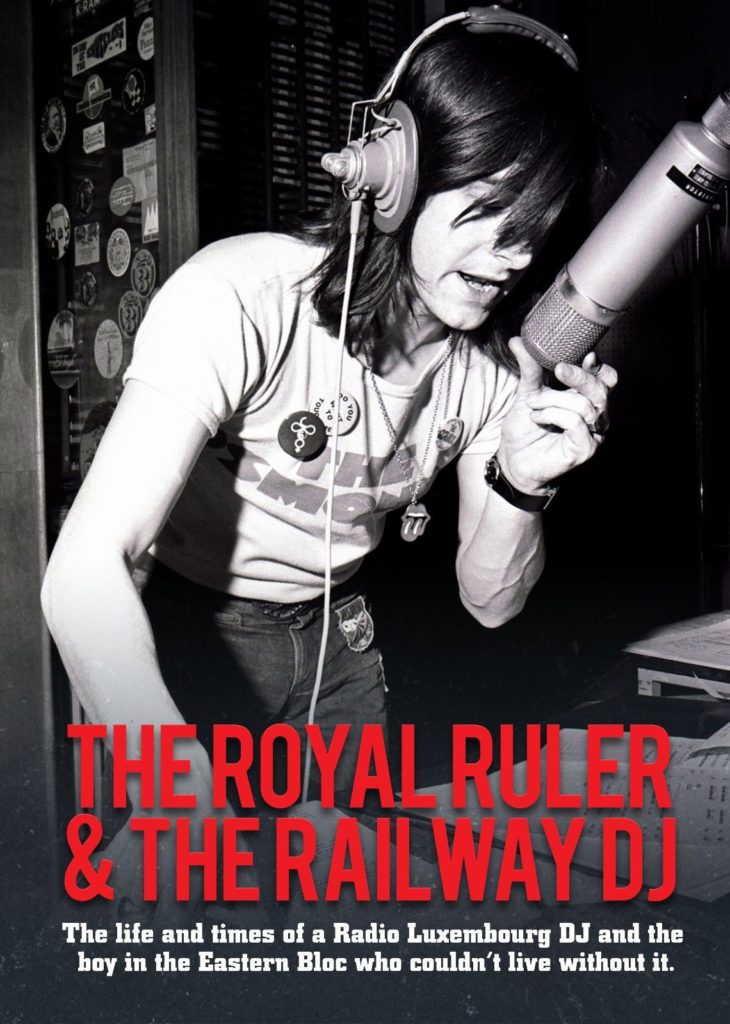 Hi Tony, your new book is a great insight into your life as a DJ and the influence you had in Communist Europe. How did you come up with the idea of doing a joint autobiography with Jan Sestak and did it influence how you wrote your side of it?
I toured Czechoslovakia in 1970, the only DJ ever to do so under communism. 30 years later the club in Brno invited me back for a reunion.
After the gig I chatted to Jan Sestak the DJ and Milos the club owner and they recounted one horror story after another. Before I left I told Jan I was already writing my autobiography and invited him to write his memoirs in tandem.
It took five years.
What did you prefer doing in your teens – singing or DJing?
Singing but I was a much better DJ. I don't think about it too much because it makes me mad that the MU could treat a young kid at the start of his career as they did. My days as singer with Oldham's Jasons were magical, it was all pre-Beatles and by the time the record companies came north to look for bands to sign, we'd disbanded and I'd gone to Bristol with a 15 piece orchestra.
You were famously pictured with The Beatles at one of the very early shows – could you tell they were special to other groups at the time?
I could tell they were special from seeing them do 'Love me do' on Granada TV. The manager of the Oldham Top Rank used me as his sounding board for which bands and artists to book. I urged him to book the Beatles. I think he paid £75, they did a double that night, Peter Stringfellow's club in Sheffield first. It was the night Please Please Me went to No 1. It was the very start of what became known as Beatlemania. I was stuck on stage with them for the entire set, it was wonderful.
How did DJing at Radio Caroline compare with Radio Luxembourg?
Caroline was where we learned the art of being a DJ. We were surrounded by Americans, Australians and Canadians who taught us the ropes. By the time I went to Luxembourg I was in good shape, the Royal Ruler was amongst us, it was funtime with a capital F.
You've got so many stories about working with and socialising with artists and fellow DJs – what are your favourites?
A night out in Germany with The Hollies. I'd MC'd a couple of concerts with them and afterwards Alan Clark and Terry Sylvester and I went rockin. In a club with a birdsnest go-go dancer, I bet Alan a fiver he wouldn't climb the ladder and join her for a dance. He bet me a tenner I wouldn't. I was up like a rocket and the girl fled the cage leaving me to face the Frankfurt gangster bouncers waiting below.
We ran for our lives as one of them went into the cloakroom screaming at us in German. A lad translated that he'd gone to get a gun. We lived.
The Led Zep party in Glasgow was another hairy event.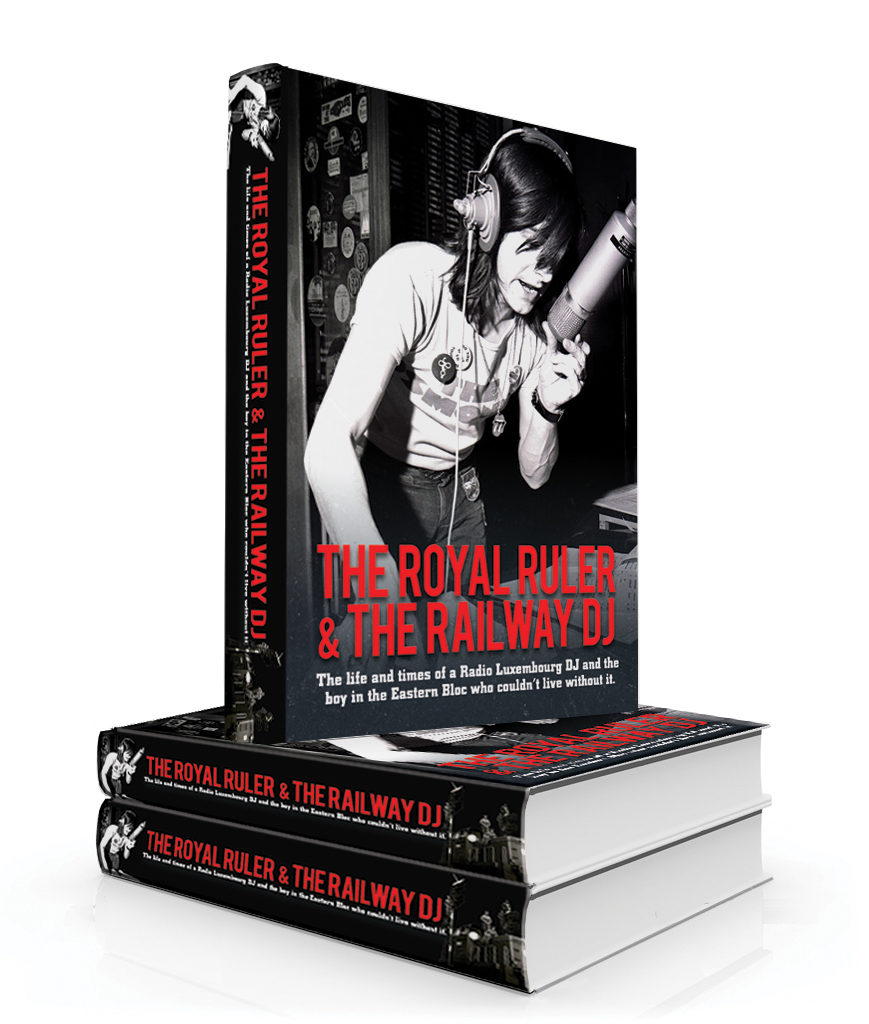 You went to Czechoslovakia in 1970, did you realise the impact you had on the young over there before you went?
I figured 208's popularity was spread across the UK Europe and Scandinavia. The mail we received usually identified where we were winning audience but of course the kids in the Eastern Bloc couldn't get letters to us, they couldn't even talk openly about listening to Luxembourg.or they'd disappear. So it was all a massive surprise when my wife and I witnessed the scenes waiting for us at each of the three clubs I visited.
You knew Keith Moon – I've spoken to people who have differing accounts of him – what was he really like?
I thought Keith, as mad as he could be, was one of the nicest guys you could pal out with. I also had a wild streak in me so I understood him. Generally speaking we were obliged by DNA to try to make people laugh. It was as simple as that. But Keith did drugs, I didn't. When you had the aptitude we shared, drugs make you silly bad not silly funny. I was lucky living in Luxembourg I didn't see too much of him.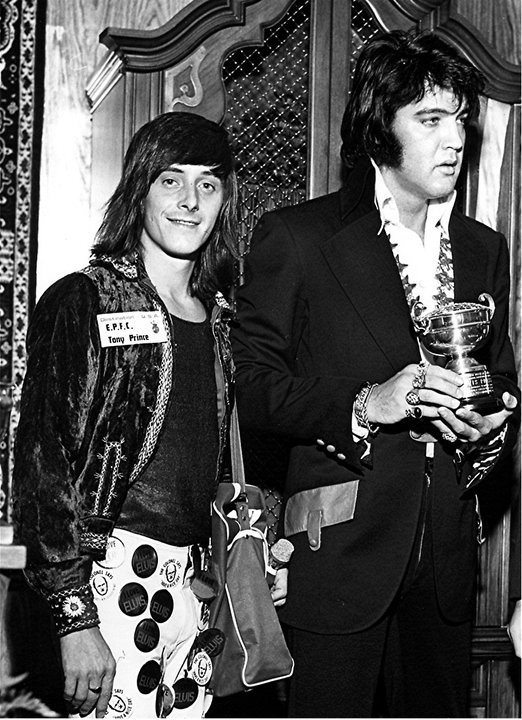 You met Elvis a few times – what was it like meeting The King?
What's it like fulfilling your major ambition? It was like entering a dream. In 72 there were 11 of us invited down to his dressing room. Colonel had allowed me to take a tape recorder down 'if I don't see it I guess it'll be ok'. When Elvis saw me pull the microphone out he glanced at Colonel who made a big thing about looking away. Elvis knew then that it was ok and I was able to ask my dumb questions. I mean thin about it, there's Elvis, what the hell do you ask him? I did it again in 73 and one of the questions delivered the answer we'd all been waiting for, "We gotta come see 'em, I know I keep saying it but we will. We gotta come see 'em".
I mean you could line up 20 questions but that was the only answer I wanted to hear.
You successfully changed the sound of Radio Luxembourg – championing dance and disco music. Was this a move to make the station distinctive?
It was a desperate move to win a declining audience. Luxembourg had been so important to generations of pop music lovers. The Beeb had been tied down by them old devil Musician Union people who wouldn't let the Corporation play more than a handful of records a day. So you had Bob Miller & The Millermen doing "Hard Day's Night" and The Joe Loss Orchestra doing A Whiter Shade of Pale. That's why the pirates came about becuase the poor old BBC had been stitched up by the Union. But as the 70's drew to a close the BBC and ILR were starting to sound like proper radio stations, 208's first serious competition. Our audience was dwindling. So we made Friday 'Black Friday' and eventually I changed the entire playlist to disco and it worked. It gave us a new audience peak but by 1982 it was all over for this great station. I then came up with the idea of DMC/MIXMAG which became so massive, I finally retired 208 after 16 years.
Have you been back to the Czech Republic and met up with Jan since the collapse of Communism?
Yes, that was the reunion in 2000. I went to Bratislava with the DMC World DJ Champion Cutmaster Swift in 1989 and I took him to Moscow the following year. But the next time I saw Jan was when I invited him to join me and some of his DJ heroes in the Grand Duchy of Luxembourg where we staged a reunion in 2015. For Jan, coming to Luxembourg was on a level with me going to Elvis' dressing room in the Vegas Hilton.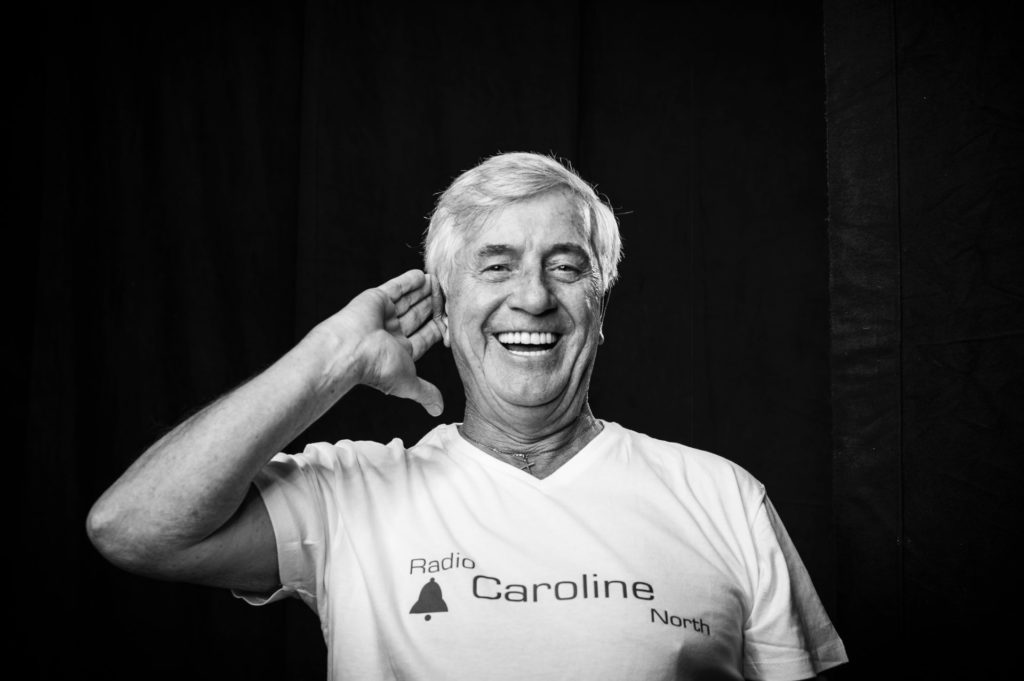 You then went on to continued success publishing Mixmag, will there be a sequel to The Royal Ruler & The Railway DJ?
I may look at it but let's see how this one goes. You know when I left school we were sent to the Oldham Public Library to meet the Careers Officers. When he asked me what I wanted to do I told him I wanted to be a reporter for the Oldham Chronicle. He guffawed. Anyone who saw my writing and spelling would have. In the end I wrote a column in Fab 208 magazine for ten years and finished up publishing and editing Mixmag which became the most successful music magazine ever, circulating 160,000 sales a month when we sold it to EMAP in 1998.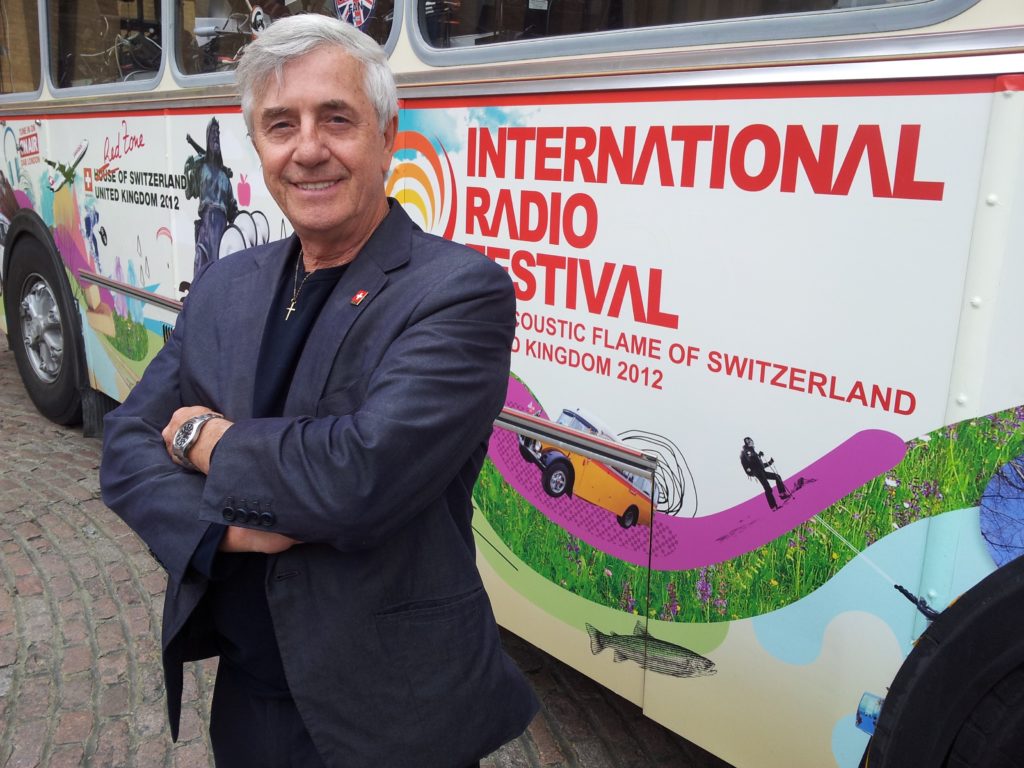 Mixmag changed the world. And all because the Musician's Union expelled me! I told that musician gathering in Bristol that DJs were musicians even though they couldn't play chords. They didn't believe me. I feel extremely vindicated and remain fit for duty at DMC which will be 34 years old on February 1st 2017. Everything I have ever done for the DJ industry stems from that MU meeting.
I love the DJ industry and hope I have helped to shape it by giving them inspiration.
Thank you for the interview.
The Royal Ruler & The Railway DJ, a double autobiography from both sides of the Iron Curtain, by Tony Prince & Jan Sestak is out now:
www.dmcworld.com/store/new-arrivals/the-royal-ruler-the-railway-dj-hardback-book
This post does not allow comments