It seems incredible that it's taken 50 years for pop-psych band Toby Twirl to release their first long player. Originally formed in 1968 in Newcastle, they recorded three now highly revered singles for Decca in the late 1960s.
Jason Barnard speaks to John Reed, with contributions from band mates Barry Sewell, Nick Thorburn and Dave Holland, about the group's history and new release.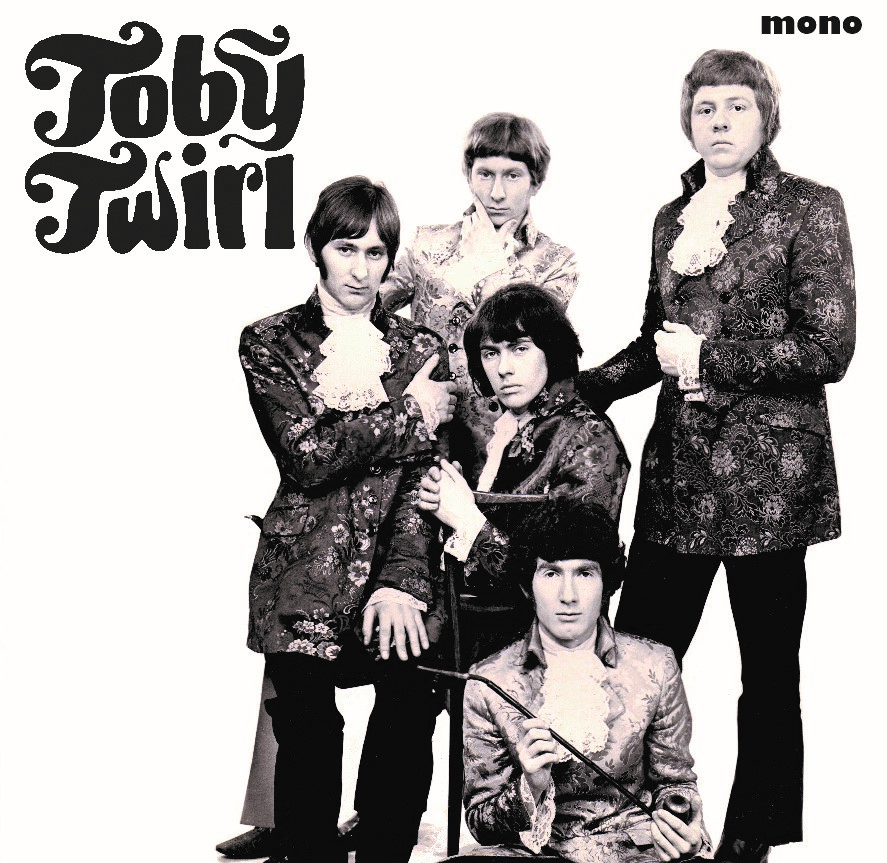 Hi John – This is the first time there's been a full length Toby Twirl release. How did this come about and can you tell me more about the record?
The album is a collection of recordings we made at rehearsals. I was into recording and bought a Ferrograph tape recorder (which I have only just sold), some extra mikes and reverb/echo chamber. We had a pretty sophisticated mixing desk for the time and took a feed from that. Trial and error and a love of the recording process helped us to achieve some good results. Most of the tracks were one take. It helped us to listen back to the tracks to see if they worked before adding them to our live set and evaluate arrangements like 'When Will I Be Loved'. I never thought that one day they would be good enough to be used on an album but engineers who love mono analogue tapes worked wonders!
There were a number of line-up changes for the band – can you talk us through the line-up changes from when you signed to split.
The first change was when the band wanted to go professional and the current drummer, Richie McConnell had just got married and his other half did not want him travelling off for weeks on end. Toby Twirl played a gig at The Seaburn Hall in Sunderland with a local band called The Quandowns who had just returned from Hamburg. They were impressed with the drummer and after a short conversation with him (John Reed) and Stu Somerville in a backstage corridor an audition was arranged and John was invited to join the band. The next change was when Holly left the band over personal differences and he was replaced by Steve Pickering on vocals. The last and most traumatic change was when Stu Somerville, the original bass player was drowned off the Tynemouth coast in a canoeing accident. This affected the band enormously. Dave Robson replaced Stu, but it seemed the life was kicked out of the band after this and it folded a few months later.
How did the band get signed up to Decca?
The band made demos of 'Utopia Daydream' and 'Quarter Past Lovely Day' and sent them to Decca. Wayne Bickerton got hold of them, like what he heard and decided to offer the band a contract.
Toby Twirl's first release 'Back in Time' was written by the band's producer Wayne Bickerton. How much influence did the band have on the songs chosen and in the recording process?
Initially no choice. Wayne had just written 'Back In Time' with his wife Carole and selected this along with 'The Fantasy World of Harry Faversham' and 'Utopia Daydream' for the first session. After that, Wayne would come and visit us somewhere on the road. He would turn up at our digs with a portable tape recorder and play us tracks. I remember he visited us in Southport where we were playing the Casino there. It was here we decided to do 'Romeo & Juliet 68' and 'Toffee Apple Sunday'. An interesting fact is that this single contains the only two tracks we played on as musicians and is regarded as our best. All the other tracks were done by session musicians with us adding vocals.
John, you co-wrote with guitarist Nick Thorburn the single 'Toffee Apple Sunday' – what inspired that track?
'Toffee Apple Sunday' was inspired by a trip to The Spanish City fun fair at South Shields. It was immortalised by Dire Straits in 'Tunnel of Love' but Toby Twirl got there first!
Were you aware of The Fourmyula's version of the track at the time and what do you think of it?
Yes. The original publisher of the track sent us an acetate of the recording. We had no idea that the band were as big as they were in New Zealand. We were very flattered that they had covered the track and really like their version. What is an amazing story is that many years later, John Reed was recruited to work for Polydor Records which also marketed and distributed Fiction Records. Fiction Records main act was The Cure. Fiction Records was started and owned by Chris Parry who was the drummer in The Fourmyula! It was not until I had actually left Polydor that I realised Chris Parry's previous life!
Did you record much for the BBC and, if so is this material kept/available?
We did a couple of sessions for the BBC 50 years ago like dozens of other groups at the time. The BBC had what they called 'needle time' restrictions imposed by the Musicians Union and were limited to the amount of records they could play. Nothing has come to light on any compilation to my knowledge. As we did not have any hits the recordings were probably wiped years ago. Fifty years is a long time!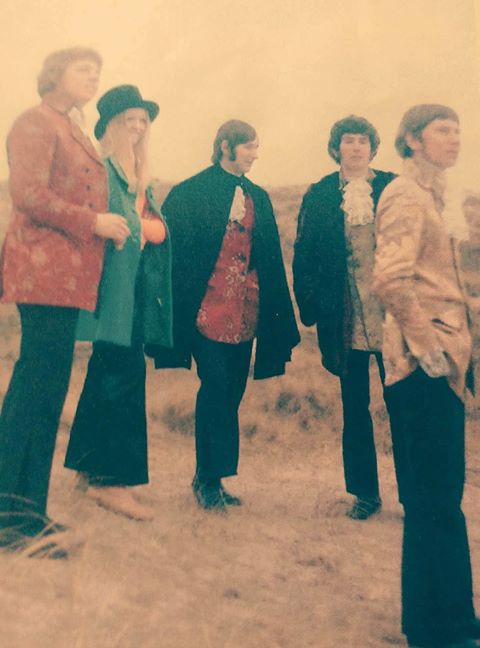 John: "This is a very rare colour photo from the film we made for Southern Television's Tony Blackburn Show. This was 'The Fantasy World of Harry Faversham' and directed by Mike Mansfield. Sad that we have not been able to get hold of a copy. Southern Television no longer exists and the whereabouts of those shows is a mystery. Filmed on the beach at Bamburgh as well as the castle. I do remember it was freezing cold all day hence the overcoats on some. The girl was an actress hired by the tv company to play the damsel saved by Sir Harry. Holly found this photo and claims he was trying to calm a horse off camera. Holly had to ride one along the beach with the girl which was a scary experience having never rode one before! If only that film could be found." Photo by Gordon Smith.
The new album is a mix of original material and popular covers – is this reflective of the material you played in your live shows?
Most of the material we played were 'covers'. We were out and out a commercial band who wanted to entertain an audience and gave them a set of songs they wanted to hear. Some of the original tracks on the album were demos we recorded for consideration for Decca as we were trying to make our way as writers.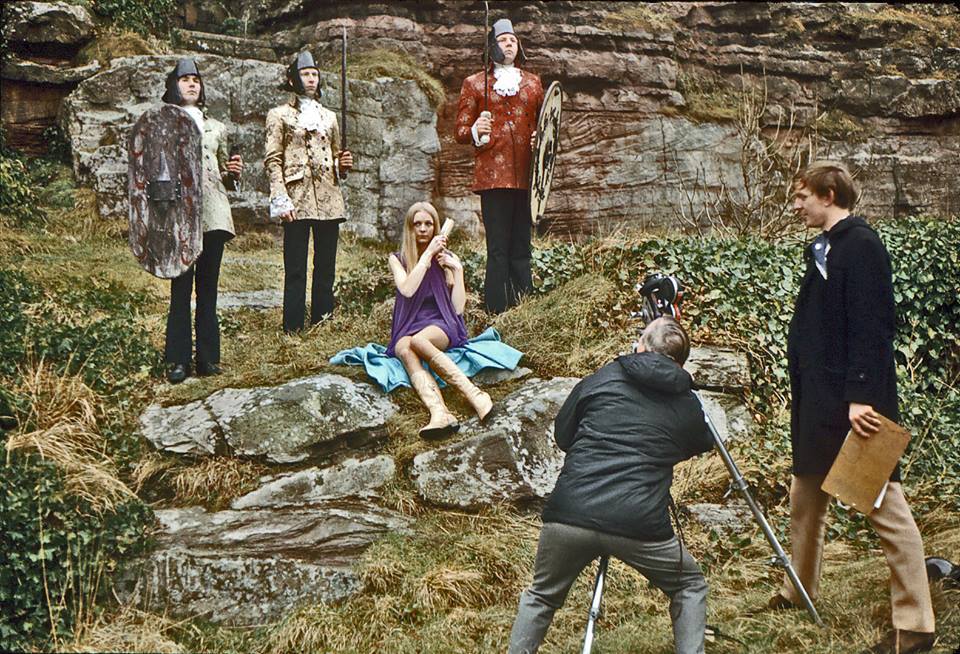 Toby Twirl at Bamburgh Castle with Bambi the model, January 1969. Photo by Gordon Smith
There was a thriving live music scene in the late 60s – what were the most memorable venues and favourite groups you played on the bill with?
The North East had dozens of clubs which, like most industrial towns in the 60's, were thriving as people wanted to discover this new wave of music that had erupted from nowhere. The BBC treated rock n roll as a passing phase and dished up token bits on the 'Home Service'. Radio Luxembourg became legendary pumping out what the kids wanted to listen to from 7pm every night until 2am. They only other access for kids were the coffee clubs. The Club A Gogo in Newcastle, The Cellar Club in South Shields and El Cubana in Sunderland were intimate clubs where the kids could get up close to the bands almost every night of the week. One memorable night was supporting The Small Faces at the Top Rank Suite in Sunderland. Another memorable venue was The Batley Variety Club. It was the size of an aeroplane hangar. They had a big in house band and the brass section was led by the legendary Red Price who played sax in Lord Rockingham's Eleven. We used to end our act with 'Jailhouse Rock' and the brass section came on stage each night and joined in. That was quite special.
The third and final Decca 45 was released in January '69, 'Movin' In'. That's another track that got airplay but didn't fly up the charts.
None of our records got anywhere like decent airplay which resulted in them not achieving chart success. One has to remember that in the late 60's there were around 200 singles released per week. If you didn't get onto playlists like Radio 1 week one, the single was dead as there were another 200 coming the following week.
The new album contains a lovely version of 'Something' – I assume The Beatles were a great influence on Toby Twirl?
The Beatles were a huge influence on the band and why wouldn't they be! So innovative and if you played a Beatles track, everyone would be on the floor dancing and that was our job – to entertain. The band had two very distinct sets. We had the cabaret set which was a tried and tested set of songs with medleys, comedy and rock n roll. This set was pretty much set in stone and the only song which would be updated would be a current chart song which would be changed as and when. We then had a set of songs which we would use for second set in working men's clubs or Universities when the audience were dancing rather than 'listening'.
There's also a reggae influenced version of The Everly Brother's 'When Will I Be Loved' – it works really well. Whose idea was this?
Consensus from the band is that it just evolved one day at rehearsals. I am sure Barry, our keyboard player had a big hand in the arrangement. There were a few ska/reggae tracks around and it seemed a cool idea to do the song that way.
Did you have much contact with Focal Point, given you shared the same label and producer?
No contact at all. Recording was pretty much drive to London, load in to Decca's studios in West Hampstead for a 2.30pm start, get everything recorded by 5.30pm and then off to somewhere like Birmingham to do a gig that night! Not much room for the creative process!
Why did Tony Twirl split?
There were a number factors but early mis-management did not help. When 'Back In Time' was released we were working 6 nights a week as we were very much in demand. SAS Management who were the agency within the Bailey Organisation decided to get us to do a lot of promos in all their clubs to get the single heard. These were unpaid gigs and we were still getting our weekly wage. We soon ran up a 'debt' which hung over us all the time. Whenever we mentioned getting a rise the debt was always shove down our throats. The result was that although we were now doing cabaret, sometimes doing 'trebles' i.e. a first set in a working man's club, then off to do a 10pm and 12am spot in two night clubs, we were making about a third of what the solo artist who was supporting us was making. So we were top of the bill, packing the crowds into the clubs but not getting the reward. Also loosing Stuart kicked the heart of the group as well. It was hard to take the death of a good friend being so young and we were all very close.
When did you become aware of the escalating prices for the Tony Twirl singles and the cult following for the band?
A few years ago I discovered Facebook. Playing around with the site one day. I noticed that you could start additional pages. Just for fun I started to scan a few photos I had of the band and started a Toby Twirl page. I had no idea where this would lead and I was amazed at the response. When we split up, it was quite traumatic and at the time you just think 'Well that's that!' You have no real idea you had any impact on people or your music meant anything to anyone. Through an internet sixties site I noticed someone had given 'Romeo & Juliet 68' and 'Toffee Apple Sunday' an amazing review. So I replied to the review and the next thing I am in touch with Hugh Dellor who was a writer for Shindig Magazine. A huge fan of 60's psychedelia and all round good guy, he was a big fan of the band. The result was a huge feature in Shindig Magazine. Something the like of which we had not experienced when the band was actually together. It was Hugh that alerted us to the fact that our second single was exchanging large amounts on ebay.
What did you do after Toby Twirl and did you keep in touch with the guys?
When we disbanded, it felt like a void. We were incredibly professional in every aspect. Other options seemed to be second best. I personally ended up doing a residency in a club on drums which was soul destroying. I was lucky that I kept up contacts and moved to London to pursue a career at the other side of the fence. Working in music publishing, Radio Luxembourg and for major record companies RCA Records and Polydor so I managed to have a life in music. Barry and Nick formed a duo and did the clubs for many years making a good living before splitting. Barry still plays keyboards and Nick went into social services before retiring. Holly managed various pubs around Blyth. Dave left and joined FOGG, a Newcastle band that John ended up helping to manage. A record deal with EMI resulted in three singles and an album and a couple of singles for Warner Bros Records.
Happily, the band have stayed in touch and there have been two reunions in Newcastle in the past couple of years. The second of which was attended by our erstwhile roadie, Colin Hart, who now lives in Florida. Colin went on to work for Mathews Southern Comfort, Deep Purple and Rainbow.
Mega Dodo are releasing these historic Toby Twirl recordings as a limited edition 180 gram LP with an insert telling the band's story illustrated with previously unpublished photos in a '60s style flap-back sleeve. A CD with an 8-page book will also be available:
www.mega-dodo.co.uk/products/toby-twirl
This post does not allow comments