By Jason Barnard
Thomas McConnell is one of the most promising young singer-songwriters on the British music scene. Hailing from Liverpool, Thomas has already toured with Glenn Tilbrook, Ian McNabb as well as supporting Squeeze, Ian McCulloch & Ian Broudie and Steve Cradock. His cover of Paul McCartney's, "New", recorded the day the song was released was shared online by Paul himself in September 2013. This led to an endorsement deal from Hofner Guitars earlier this year. 
Jason Barnard speaks to Thomas as he releases another great track, "Crocodile".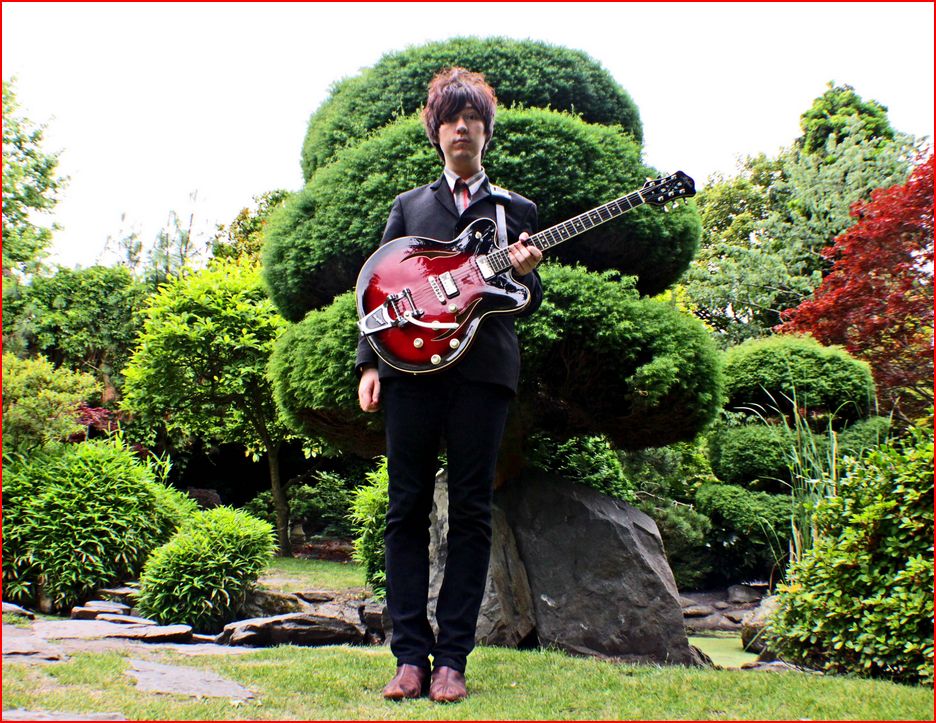 Hi Thomas, thanks for speaking to The Strange Brew. You have a new single 'Crocodile' out imminently. What's the track about and what sound did you aim to create with the production?
Hello Strange Brew! the song is a general sort of lyric about your problems but instead of calling them problems I've called them "crocodiles". It was an idea I nicked from a Paul McCartney track called "Alligator" funnily enough… In terms of the production, I wanted Beach Boys style thickness but applied to a more jagged heavy synthy sound. A bit like Band On The Run style Wings meets New Wave meets Led Zeppelin. The track was inspired by McCartney's medley styled songs like Band On The Run and Uncle Albert/Admiral Halsey.
What's your background and your key influences as an artist?
Well my musical background began when I started listening to The Beatles aged 6 or so. They are my biggest influence, particularly Paul, his solo career just as much. I started guitar aged 7 and then went on to teach myself piano and a few other things. Other influences of mine are David Bowie, The Beach Boys, Squeeze, ELO, The Rolling Stones, Blur and many more…
To the uninitiated how would you describe your music?
I'd like to describe it as quirky, catchy, crafted pop/rock. Slightly psychedelic and eccentric in parts. McCartney-esque.
What inspires you to write songs? Do the lyrics or melodies come first?
Anything can inspire really, whether its a turn of phrase I've heard someone say or an idea in a song I like that I can adapt. Melodies and chords come first 9 times out of 10 and I find the best stuff is usually written at the piano.
I've read you play a large range of instruments. Can you tell me how you record and what do you play in the studio?
Yes I like to play all the instruments on recordings, I love that way of working. So on recordings it's guitars, bass, keyboards, drums, all the vocals and harmonies, percussiony things, harmonica, recorder, melodica, bazuki, mandolin… anything really.
I record by layering all the instruments and vocals one by one, usually starting with drums and then build everything else on top like a little puzzle. Usually, I record at home on my multitrack recorder but for this single I took the basic home track into Crosstown Studios in Liverpool. I overdubbed a lot there and did the computer side of it with producer, Jon Lawton, who was great to work with.
You played with Ian McNabb to cover The Beatles', 'All I've Got To Do" in their August 2013 Mojo CD. When you do a cover how faithful are you to the original?
I don't really care about being faithful because I like to use covers as an experiment for ideas I think might work on my originals. For example in the track you've mentioned, I changed the chords in certain parts underneath the melody to give the song a different mood. The only thing I like to be faithful to are the vocal harmonies because they're really fun to try and re-create and it's very satisfying when you get them right!
Your version of Paul McCartney's 'New' was shared by Paul himself – what was that like?
It was an amazing experience and very flattering. He's been my biggest inspiration since I was very little so it was a really great moment for me.
You then met Paul, what was he like and what did he say to you?
I did! He was very friendly, gave me some advice on songwriting and said he'd heard all about me from the cover of "New". It was rather hard to take in what was happening but hopefully I played it cool haha!
You released an EP 'Worried About Thomas McConnell' about a year ago. I particularly like 'Just a Little Bit, Jill' which is perfect power-pop. Do you recognise the term 'power-pop' and know much or artists linked to this genre – Badfinger, Todd Rungren, Cheap Trick and Matthew Sweet?
Yes I'd say power pop is a pretty accurate description of what I do. It is one of my absolute favourite genres. Badfinger out of those you've named are my favourite but I love ELO, Harry Nilsson and songs like Gilbert O' Sullivan's, "Alone Again (Naturally)".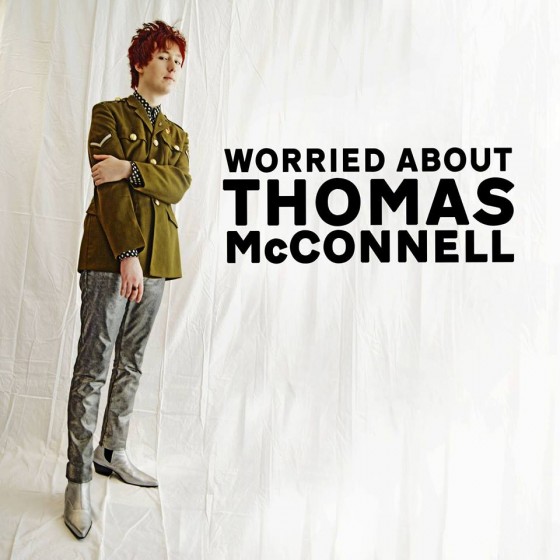 You've toured with many great artists – who were your favourites and how did get to support so many?
I've been lucky to meet some very cool people who've been kind enough to help me. Playing with Ian McNabb is always fun as he's a mate so it's always an interesting day out doing a gig with him. The shows I've done with Glenn Tilbrook, who is one of my all-time favourite songwriters, have also been a huge thrill. I got to support Squeeze in Glasgow in the summer which was very exciting as it was my biggest gig to date in front of 2000 people. I have to thank the Trades Club in Hebden Bridge for providing a lot of the support slots I've done. I first went there supporting Ian McNabb and since they've had me on the bill with Glenn Tilbrook, The Pretty Things and many more. They've been very good to me.
How did you come to be endorsed by Hofner Guitars?
They saw a video I made for a single called "Penny (Won't Help Me Now)" and realised that I was playing a cheaper copy of a violin bass in it and messaged offering me an endorsement deal. It was so cool of them to do that for me. They even built me a custom-made very thin guitar with a one-off Bigsby Whammy bar and it's an amazing guitar to play.
Liverpool has a great musical heritage. What's the current music scene like there?
The scene's great at the minute, there's loads of great bands and artists around. Particular favourites are Thom Morecroft, The Ragamuffins, A Lovely War, Me & Deboe, Jimmy & The Revolvers… there's loads to check out!
Do you have many tracks stockpiled and do you have plans to record an album?
Yes I have a load of songs that I'd love to get out there some day and I'm always writing new stuff. I wouldn't want to do an album just yet though until I had a bigger audience to hear it. I'm sure more EPs and singles will be on the way though.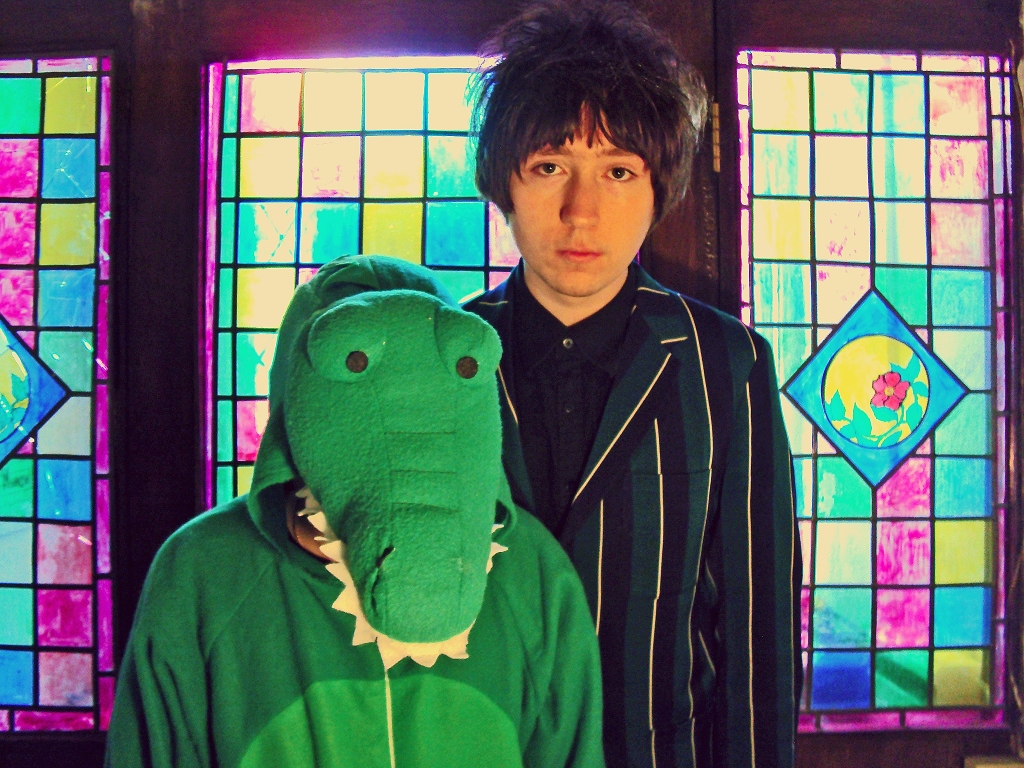 Finally, how do fans hear more about you and purchase your new record?
They can check out www.thomasmcconnell.co.uk. There's info on there, links to my facebook, twitter, youtube and more.
The single "Crocodile" with B-side, "Please Don't Slow Me Down" is released on Nov 1st on iTunes/Spotify/others and the CD will be available from www.thomasmcconnellmusic.bandcamp.com.
You can also preview the tracks on Soundcloud https://soundcloud.com/thomasmcconnell/sets/crocodile
Thanks Strange Brew!
Copyright © Jason Barnard and Thomas McConnell, 2014. All Rights Reserved. No part of this article may be reproduced or transmitted in any form or by any means, without prior permission from the author. All photos used with kind permission of Thomas McConnell.