The Ways And Means were one of the myriad of bands that emerged from the bustling Kent music scene of the 1960s. But what made them different from their contemporaries was how they progressed from surf music to freakbeat, which culminated in the hidden gem, 'Breaking Up A Dream'. Their career was a short-lived one, full of unfulfilled promise, but one that produced a future comedy star and Dominic Picksley tells their story, with the aid of former members Les Stankovich and Roy Delo…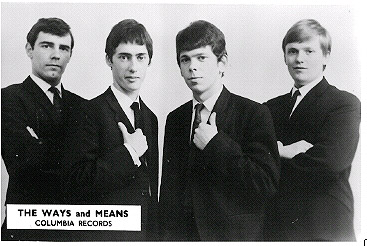 The Ways and Means – Photo from www.kentgigs.com
The Ways And Means began life as The Others in 1963, with Roy Delo (rhythm guitar), Terry Silk (lead guitar), Tony Allison (bass) and Dave Legge (drums), while prior to that, Delo and Legge had both been part of another local band, The Swinging Secrets.
"Dave and I were in a band called The Swinging Secrets and we did lots of local work, youth club dances, that sort of thing," said Roy. "The Ways And Means were formed from the ashes of that group."
The Others stood out from the crowd from the onset, being one of a handful of bands to have a 'surf music' sound and they were very much inspired by five lads from California, with the group often covering Beach Boys songs as part of their repertoire as they played the clubs and dance halls of the south coast, amassing a large following of surf music fans.
After Silk was replaced by Bruce Finns, their big break came in 1965 by way of the Margate Carnival beat group contest, where they defeated seven other groups to the first prize – a recording contract with EMI. They decided on a name change to The Ways And Means and cut two surf music tunes, The Beach Boys' smash Little Deuce Coupe b/w Little Old Lady From Pasadena, a hit for fellow Californian group Jan & Dean, on the Columbia label, a subsidiary of EMI, which came out in May 1966.
[tubepress video=gBhASfjqPvQ]
"Tony sang lead on the single, with Dave providing the falsetto and myself the backing vocals," said Roy. "We were into The Beach Boys and Little Deuce Coupe was one of the numbers we did in our set. When we went to EMI they asked us what we wanted to record and we said that one."
While an excellent stab at the genre, the single disappeared without trace and not long after the record came out, guitarist Les Stankovich was recruited to replace the departed Finns.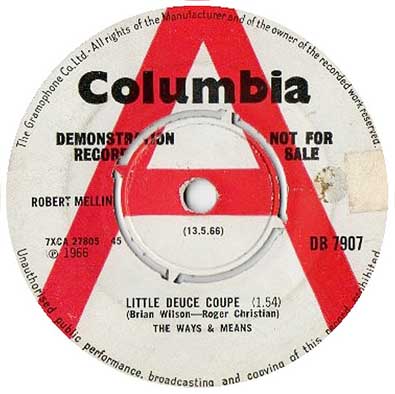 "I was in a local band called The Countdowns," remembers Les. "We had just come back from a six-month stint in Germany, playing mainly US bases, and they approached me to join them on lead guitar. I learned all their surfing songs. They loved the Beach Boys and as Dave sang a great falsetto they thought it would be a good thing to do."
As well as playing at various venues on the south coast and in London, the group also trod the well-worn path to Germany as well as France, as Roy explains: "We did the Storyville clubs in Frankfurt and Cologne and we also went down to the Pyrenees in the south of France and performed at a ski resort. That was good fun. We were always harmony-based and did a bit of rock and roll along with the Beach Boys material and it went down very well.
"In Germany, we used to play long hours – seven, 45-minute slots a night. We used to get a 15-minute break in between each slot. We did that until the early hours of the morning and on a Saturday we used to do a two-hour matinee as well. It was pretty extreme stuff. Then in the ski resort we did less than an hour a night, which was ridiculous as we had so much material."
The four-piece group were then recommended to producer Ron Fairway, the man who discovered the multi-racial group The Foundations. He became their personal manager and signed them to Pye. For their next single they moved away from surf music for a more harmony-based pop sound by recording Kim Fowley's Sea Of Changes, which had Make The Radio A Little Louder as its B-side.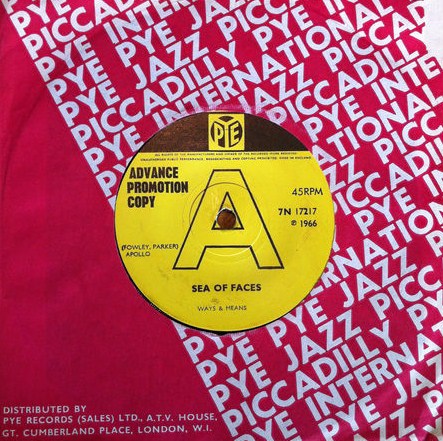 While missing the charts, the record did actually reach number 41 on the Radio Caroline charts on the week commencing January 21, 1967.
"We did a couple of promotional gigs for Sea Of Faces," said Les. "The management put us on a radio show and we also did a promotional thing with Jimi Hendrix – that was brilliant and was in a club called Tiles, in Oxford Street. We were only miming. I remember being in a dressing room with Jimi and he was a nice, shy bloke.
"I didn't really like Sea Of Faces, but in those days you had to do what the management told you."
Roy also remembers the gig with Hendrix: "We were involved with Jimi Hendrix and The Experience during our time in London. Noel Redding was a friend of ours as he came from Folkstone and we did a few promos, one at Tiles, and they had just released Hey Joe and so we did a few things with them."
According to Roy, the group turned down the chance to record a song that became a huge hit for some friends of theirs. He explained: "We had the offer of recording Baby Now That I've Found You, but turned it down. It was written by Tony McAuley of Pye. He got a guitar out on day and he said to us 'what do you think of this song?' We said, 'yeh, it's a nice catchy song, but is's not the sort of song for us'. He gave it to Clem Curtis of The Foundations who then took it to No.1. We were not half kicking ourselves after that."
The group's finest outing on record, though, arguably came with their third and final release, with the group producing a freakbeat rendition of George Alexander's Breaking Up A Dream on the Trend label. Alexander was the frontman of Grapefruit, but his group never recorded a version of the song, although they covered for it for a BBC session. The B-side was She, a track co-written by Barry Class, manager of The Foundations, who also produced the sessions in February 1968.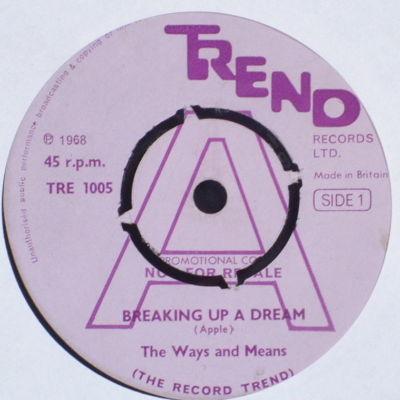 "Barry was the guy with the money at the Trend label and Ron Fairway was the Scottish manager we had," said Roy. "There was no-one in the music business that Ron didn't know so he was useful, while Class put the money up for the studios and all that. Barry was a business man. He had the office, a big roller, but he didn't now much about the recording side of the business. Ron did and he did a lot for us, but unfortunately it came to nothing. None of the singles made us any money. We got quite close, but not close enough."
Les added: "Barry never really did anything for us, but he tried I suppose. We did not have any original material, that's what our big problem was."
While Breaking Up A Dream – which saw the group progress a long way from the surf music covers they started their careers with – hinted at great potential, the writing was seemingly on the wall for The Ways And Means. A change of direction as well as a name change saw the band become Chaucer's Tales, where they went down the comedy route, performing in cabaret clubs along the south coast.
[tubepress video=_7ZJn1bkaHo]
"Chaucer's Tales we were sort of like The Barron Knights," says Roy. "We did four-part harmony, but in between it there were little sketches when Dave would come on dressed up and do a routine. That went on for quite a few years."
"We did all the old standards, but didn't record anything under that name," went on Les. "We didn't really fancy carrying on doing the cabaret stuff, whereas Dave really excelled at it, so we split amicably and he went on to become a comedian, which he did really well at."
Dave, who changed his name to Dave Lee, was inspired to become a comedian after a chance meeting with Eric Morecambe. He had seen Dave in Chaucer's Tales and advised him to start a solo career of his own as a comedian. He became a warm-up man for Jimmy Tarbuck and Michael Parkinson, amongst others, and also appeared on numerous TV shows, including Des O'Connor Tonight, The Generation Game, Live From The Palladium and Big Break, while performing over 1000 times in pantomime.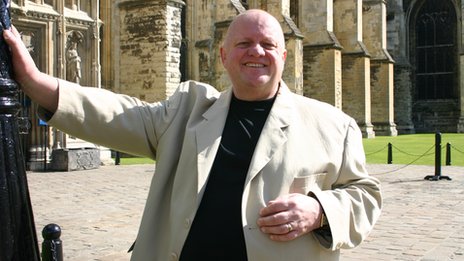 Dave Lee (photo from BBC online)
While Dave became a stand-up, the other three members turned became Chase, a hard-rock outfit, recruiting a new drummer, Dave Smith, with Tony, Les and Roy having ambitions of becoming a "Status Quo-type band".
"We were playing at an old working men's club in Chatham," explains Les "and Dave played the same night at the London Palladium. That said it all. We had a tiny TV in the back of our van and we watched him on it. He was brilliant."
As Chase, they recorded just one track, a self-penned Christmas single, Oh What A Night.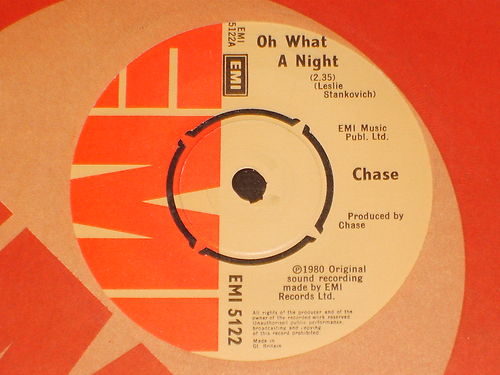 "We recorded that at Graham Quentin-Jones' studio," said Roy. "We took it to EMI and they really liked it, so did Tony Hatch, but we went with EMI as we thought they would be a better bet and covered more territories.
"We re-recorded it at Manchester Square Studios, but we had to use one of their engineers – they wouldn't let us use our own – and quite honestly, it didn't turn out half as well as the track we had recorded previously. The A&R department at EMI were really going to push it, but it was around the time John Lennon got shot and straight away, the whole A&R lot swung round to promote his stuff as that's what everybody wanted, and so it got a bit lost."
The band split soon after to go their separate ways, with Les remaining in the business as a solo artist, which he is still doing today, gigging around Kent – "I couldn't believe how much work there was out there for a solo artist."
As for Roy, he now performs with former Swinging Secrets bandmate Paul Petts in a band called The Babe Magnets, which was the brainchild of Paul's and Dave Legge's back in 2010, who wanted to reform their old 60s band. Sadly, Dave died of pancreatic cancer in January 2012, with a whole host of TV stars turning out for his funeral at Canterbury Cathedral.