The Krew:
Beryl Marsden – lead vocals
Steve Aldo – lead vocals
Tommy Murray – lead guitar
Howie Casey – tenor saxophone
Alan Reeves – organ
Archie Legget – bass
Eddie Sparrow – drums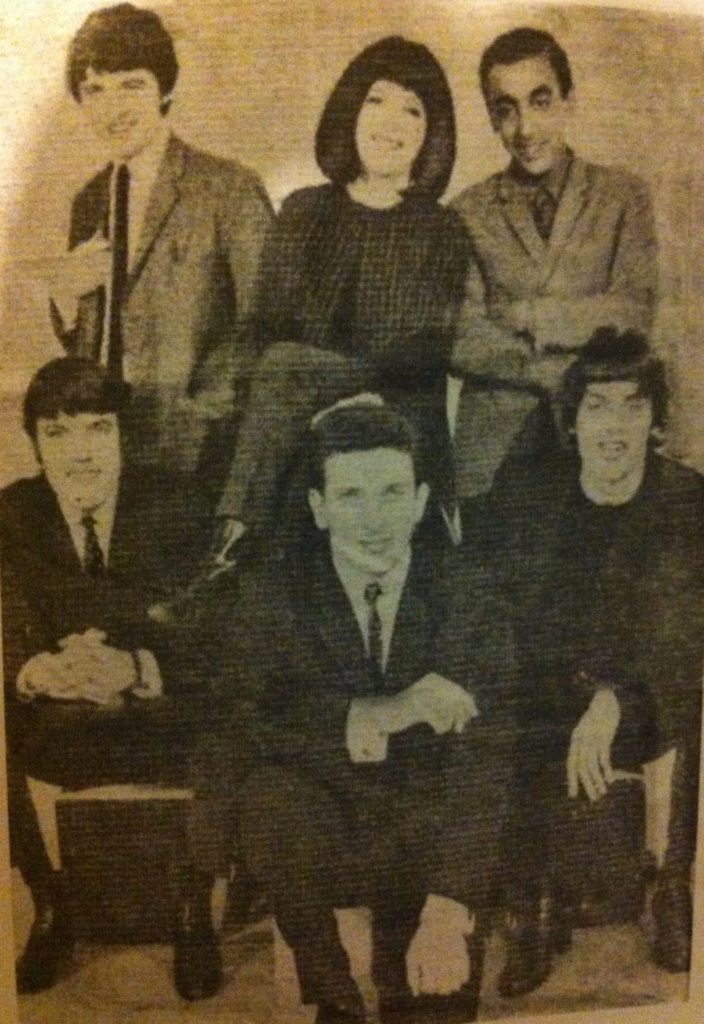 The Krew, clockwise from top left: Tommy Murray, Beryl Marsden, Steve Aldo, Archie Legget, Eddie Sparrow and Howie Casey (from Bill Harry's Merseybeat)
British R&B band The Krew had its roots in the early 1960s rock 'n' roll outfit, The Krewkats, which featured West Midlands musicians Robert Fielden-Nicholls (rhythm and lead guitar/vocals), John Bradley (bass/vocals), Ted Tunnicliffe (lead guitar) and Don Hawkins (drums).
In May 1963, Eddie Sparrow from The Playboys took over the drum stool from Don Hawkins in Paris, having first met The Krewkats at the city's Spaghetti Club earlier that year.
The following spring, tenor sax player Howie Casey joined after running into The Krewkats at the New York City Club in Duisburg, Germany. Casey was a seasoned player, who'd worked with King Size Taylor & The Dominoes among others, and his first group, Derry & The Seniors, had been the first Liverpool band to visit Hamburg in 1960.
With Tunnicliffe moving to Paris, a revamped line-up ended up at the Top Ten Club in Hamburg in February 1965, joining a bill that included future Krew singer, Liverpudlian Beryl Marsden.
While in Hamburg, the musicians also ran into future Krew member – Alan Reeves, who was working with Jarrow, Tyneside R&B band, Shorty & Them at the nearby Star Club. Originally from Southeast London, Reeves's first significant band had been local outfit, The Showtimers.
When The Krewkats returned to England in March 1965 and went their separate ways, Howie Casey, John Bradley and Eddie Sparrow stuck together and formed the first version of The Krew in Liverpool. However, despite a month residency at the Maggi May Club, it proved short-lived and Sparrow temporarily dropped out. Casey and Bradley meanwhile found work with Liverpool legends The Big Three for a couple of months.
Next, Casey spent a very brief period with The Griff Parry Five, who at the time featured up and coming singer Steve Aldo (soon to front The Krew). He then reunited with John Bradley and, in August 1965, the pair began to put together a new version of The Krew, starting with lead guitarist Tommy Murray, a former member of Liverpool bands The Memphis R&B, and, more significantly, The Kinsleys.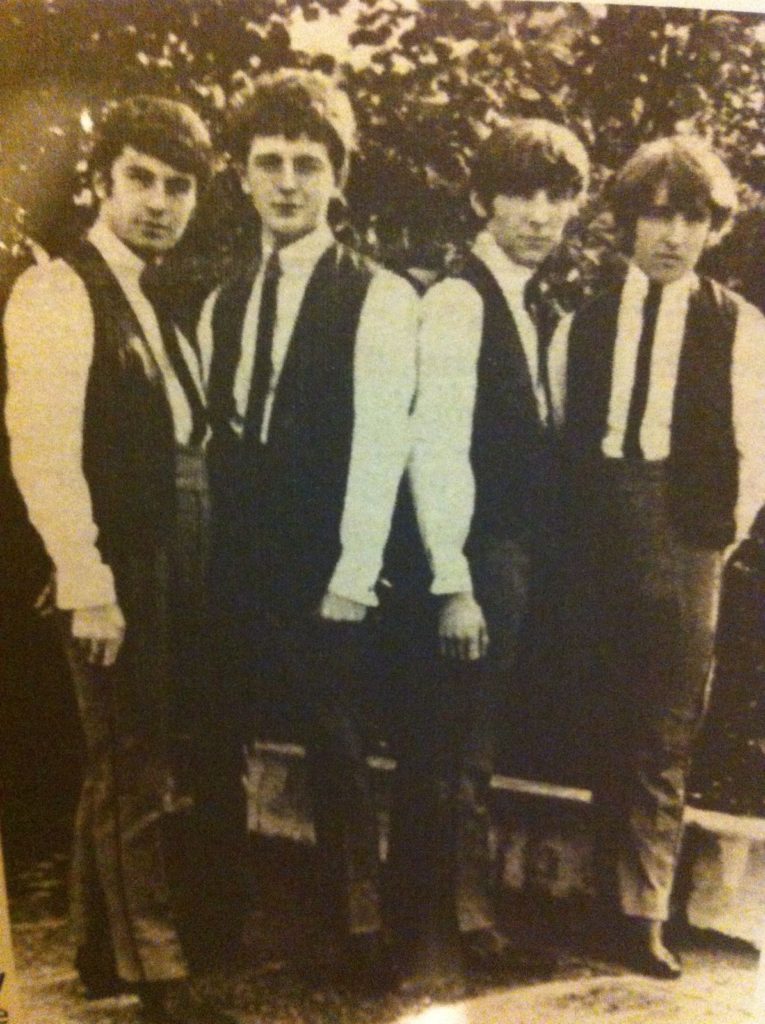 The Kinsleys, second left: Tommy Murray (from Bill Harry's Merseybeat)
The trio moved down to London where they were joined by Eddie Sparrow, who'd spent the intervening months earning money in his hometown Harrogate to fix his drum kit, which had been badly damaged in a club fire in Itzhoe, northern Germany on New Year's Day.
Signed by Beryl Marsden's manager Tony Stratton-Smith to back the female singer, original Krewkats member John Bradley decided to leave and subsequently found work, albeit briefly, with Alan Price and then John Mayall's Bluesbreakers.
Howie Casey brought in Glaswegian Archie Legget, a longstanding member of The Bobby Patrick Big Six, who'd crossed paths with Casey and Sparrow in Hamburg on several occasions in the early 1960s.
The Bobby Patrick Big Six, Archie Legget bottom right (photo from John E Wiggins)
After recruiting Casey's former cohort from The Griff Parry Five, Steve Aldo as a second singer to share lead vocals with Beryl Marsden, The Krew picked up work at the King's Head on Blackfriars Road in Southwark during September 1965.
Not long after, Howie Casey decided to expand the formation by adding keyboard player Alan Reeves, who he'd met in Hamburg earlier in the year. By this point, Reeves was working with Southeast London R&B group, Kenny Barnard & The Wranglers, initially as the house band at the penthouse club, then the Ad Lib off Leicester Square and finally the 400 Club.
One night, Casey invited Reeves to sit in with The Krew for one of its regular gigs at the King's Head. More significantly, the keyboard player also sat in when Casey's band played a one-nighter at Rik Gunnell's Flamingo nightclub in the heart of Soho on 23 October.
However, within days of playing an audition at the exclusive Mayfair club, the Scotch of St James, The Wranglers split up and Reeves accepted Casey's offer to join The Krew.
Having rehearsed with the keyboard player, the septet then set off on a short tour of provincial club dates, including a show the Gala Ballroom in Norwich on 2 November.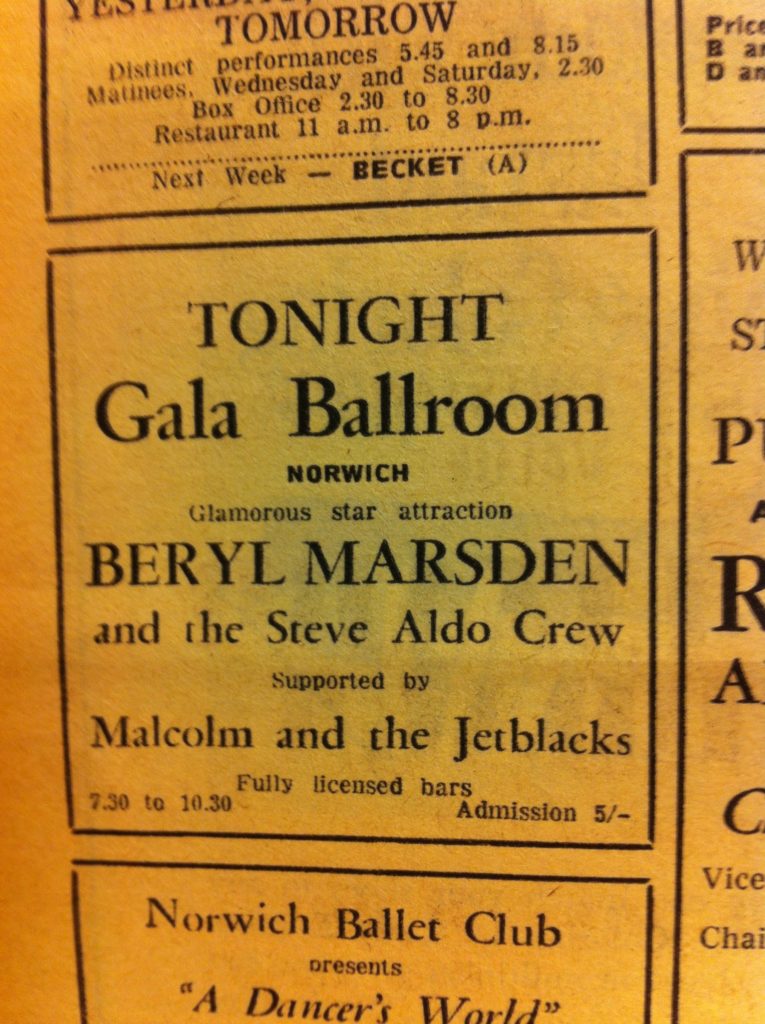 Back in London that week, the group started performing at the Scotch of St James. In his book, Sex, Booze and Blues, Alan Reeves remembers that on one particular evening, Paul McCartney, John Lennon, Brian Jones, Eric Burdon, Rod Stewart and members of The Who, among others, turned up.
The evening was notable for many reasons, not least because John Lennon's estranged father Freddie Lennon had got into the club and was on the midst of being thrown out. Band member Archie Legget, however, intervened and got him back in the club via the back door.
Later that week, on 9 November, The Krew were back at the Scotch of St James and opened for American soul legend, Wilson Pickett, who according to Melody Maker, kicked off his debut UK tour at the Pontiac Club in Putney earlier that evening. According to Reeves in his book, the band very nearly landed the support act with Pickett but the singer was under contract to play with a Trinidadian band.
While hanging out with Wilson Pickett, however, the musicians visited one of the popular clubs frequented by Jamaicans resident in London – Count Suckle's Cue Club in Paddington and while there spotted an excellent Jamaican singer called Owen Grey, who would front The Krew from spring 1966.
Back to mid-November 1965, however, and Beryl Marsden had landed a short tour, opening for The Walker Brothers. According to Melody Maker, Beryl Marsden (backed by The Krew) joined The Walkers Brothers for gigs at Gloucester ABC on 18 November and Peterborough Embassy on 19 November followed by a short break before a final gig at Guildford Odeon on 28 November. It may well have been in this short interim period that the band also played a few gigs opening for The Animals.
In an interesting side note, Eddie Sparrow is convinced that Eric Clapton turned up to see the band at one of the Walker Brothers gigs (most likely at Guildford, which is not far from his home town, Ripley, Surrey).
Returning to London, the musicians were then offered a one-off gig at an exclusive Parisian club called Rothchild's on 18 December. According to Reeves's book, the band then saw out the year with a series of gigs in the Irish Republic and Northern Ireland, including shows in Belfast, Cork and Dublin, which kicked off on Boxing Day. Sparrow, however, has no recollection of the Irish trip.
In early January 1966, Tony Stratton-Smith lined-up a 19-day tour with American soul singer Lee Dorsey and rehearsals were held at the Marquee. Before the tour kicked off, the musicians played a one-nighter at John Bloom's club the In-Place alongside The Brian Auger Trinity. Also around this time, The Krew backed another American soul singer Fontella Bass one night at the Scotch of St James.
The Dorsey tour, which kicked off later that month, including a show on 20 January at the legendary Liverpool club, the Cavern, but Reeves got sick during the tour and missed some of the dates.
Back in London, the band opened for a very young Stevie Wonder, who was backed by The Sidewinders, on 7 February, at London's Marquee. However, not long afterwards, the musicians were offered a month-long gig at the Bus Palladium in the French ski resort, Courchevel.
Beryl Marsden had a new single, "Who You Going to Hurt" to promote and did not want to participate. When Steve Aldo also declined the offer, the band turned to the Jamaican singer that they'd seen with Wilson Pickett a few months earlier – Owen Grey, who'd recently been backed by Phil Wainman's group, The New Generation.
Taking over from French band, Ronnie Bird & The Flowers, Owen Grey & The Krew performed at the club during March-April 1966 before landing further work at another club, the Whisky A Go Go in nearby ski resort Val D'Isere.
Then, in June, The Krew secured a two-week gig at a restaurant in Paris called Bachus. The proprietor also ran an exclusive club near the Opera called Le Microthèque where the musicians played for a short while.
Through Reeves's French girlfriend, the DJ at the Bus Palladium, the musicians secured regular work at the exclusive club Le Bilboquet in the trendy St Germain district.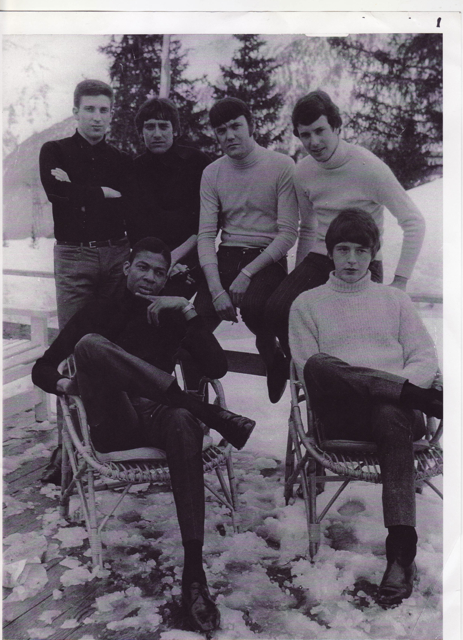 The Krew, Courcheval ski resort, Spring 1966, clockwise from top left: Eddie Sparrow, Archie Legget, Howie Casey, Alan Reeves, Tony Murray (sitting) and Owen Grey (photo from Eddie Sparrow)
Initially landing the Saturday night gig (and subsequently a regular weekly residency), The Krew continued to perform at this popular venue for over a year and were still performing there when American soul singer Percy Sledge dropped in one night during July 1967.
Thanks to a record deal signed with Eddie Barclay (of Barclay Records) in Courchevel, Owen Grey & The Krew got the opportunity to record an E.P. for the French label's Riviera subsidiary in July 1966.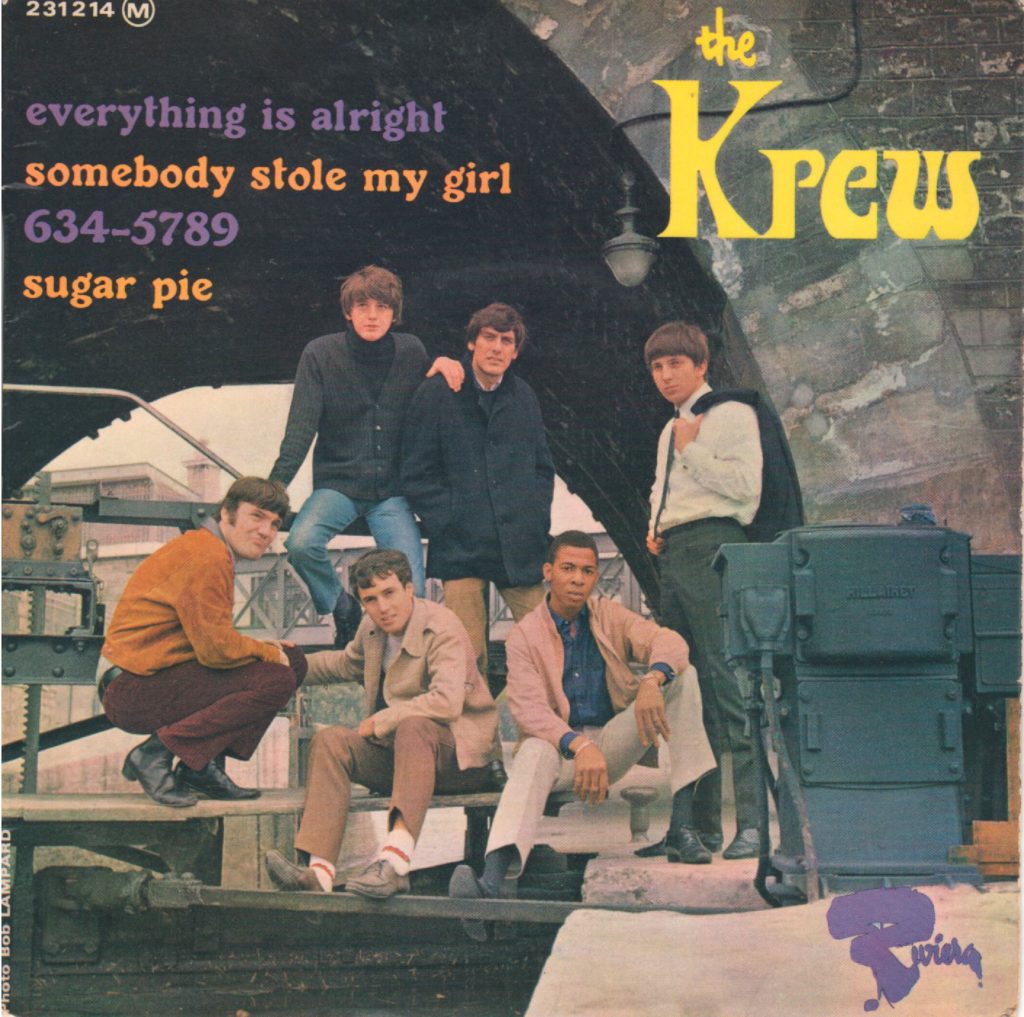 E.P cover, back row – left to right: Tommy Murray, Archie Legget and Eddie Sparrow. Front left to right: Howie Casey, Alan Reeves and Owen Grey (from Eddie Sparrow)
Comprising a cover of the Solomon Burke/Wilson Pickett classic "634-5789" and three Owen Grey originals – "Everything is Alright", "Somebody Stole My Girl" and "Sugar Pie", the E.P. was issued later that year as was a lone single coupling "Everything's Alright" with "Somebody Stole My Girl". Incidentally, the E.P. cover was taken by the late Bob Lampard and featured the musicians posing at the docks in Paris's Clichy district.
That summer, the band also played another Parisian club, Keur Samba before securing a month-long gig at the Le Boule nightclub on the French Atlantic coast, which Sparrow thinks was called Black and White.
However, sometime in late August/early September, Tommy Murray returned home with his Australian girlfriend Jan and failed to return. According to Manfred Kuhlmann's excellent book on the Liverpool music scene, Beat Waves 'Cross the Mersey, Murray returned to Liverpool and briefly worked with local band, Mumble. In the late 1960s, however, he played with The Swinging Blue Jeans, who recorded under the name Music Motor. His current whereabouts are unknown.
"He had a bit of a falling out with our singer Owen Grey at the time," remembers Sparrow. "Possibly when he left, he didn't want to come back because he'd be facing that singer again. [But] Tommy needn't have worried. He could have come back but instead my old friend Ted Tunnicliffe [from The Krewkats] came into the band. I think it was only a temporary measure to begin with because we were expecting Tommy back."
Paris-based Tunnicliffe had sat in with the band on several occasions at Keur Samba during the summer and was good friends with Eddie Sparrow and Howie Casey.
However, not long after the new guitarist's arrival, Owen Grey also returned back to the UK and in January 1967 resumed gigged on the London club scene. For a brief period, he worked with Tony Knight's Chessmen and later did sessions with David Hadfield, backed by the Maximum Breed (former members of Freddy Mack's Mack Sound). From the late 1960s and throughout the 1970s, he had a relatively successful solo career.
"He was a brilliant singer but a very erratic character," remembers Sparrow on the singer's unexpected exit.
"He said, 'Right chaps, I am going back to England and does anyone want anything bringing back?' Alan Reeves said, 'Yeah, there's this place where you can buy these wonderful Turkish carpets. Can you bring me one of those back? Here's 300-400 francs' and he parted with the money. Nobody else fell for it and off went Owen. We never saw him again."
The drummer remembers a particular incident that sums up the singer's character. At the time, The Krew was rooming in a hotel overlooking the Bastille. Owen Grey had been missing for several days and unbeknown to the musicians had been arrested for suspected shoplifting.
"The following morning, we were lying in bed and we heard this shouting going on," recalls Sparrow. "We could hear this, 'Howie, Howie'. We opened the door and looked out the corridor which looked down the stairs and there's Owen Grey and he's in handcuffs. There were two French detectives behind him. They said, 'We just want to look in his room and then he's free to go'. They never found anything."
To fill the frontman's shoes, The Krew turned to American singer Ernie Garrett Junior. They also started to work with French female singer Sylvie Vartan and ended up backing her for about six months (while maintaining their own separate residency at Le Bilboquet).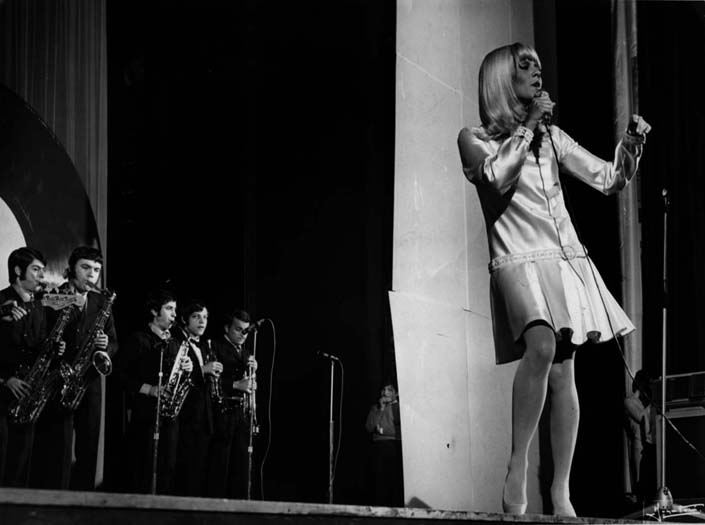 Slyvie Vartan, Istanbul (photo from Gilbert Dall'Anese, http://gilbert.dallanese.free.fr)
Alan Reeves recalls in his book that The Krew undertook a tour of Turkey with Vartan (although he did not participate) and that the musicians also played the Carnival with her in Portugal, which would probably have been around late February 1967. The musicians also backed the French singer for a show in Barcelona and in Rèus that spring.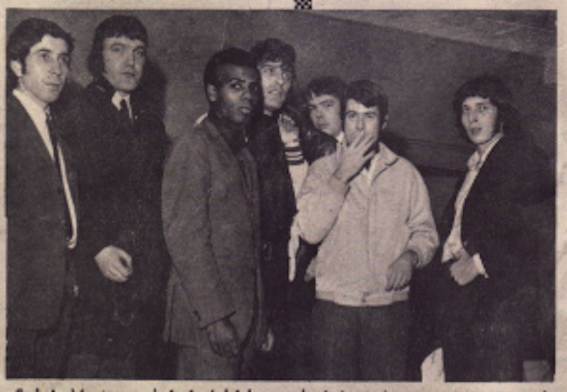 The Krew, Turkey, early 1967, left to right: Gilbert Dall'Anese, Howie Casey, Ernie Garrett Junior, Archie Legget, Ted Tunnicliffe, Iwan Roth and Eddie Sparrow. Alan Reeves did not participate in the tour but was still a band member (photo from Ted Tunnicliffe)
At some point around this time, The Krew landed a short residency at the Griffin Club in Geneva and Sparrow remembers that Brian Auger and Julie Driscoll came in and met the band.
It was also in the early months of 1967 that Howie Casey remembers playing on some sessions with French singer Johnny Halliday.
On a more important note, The Krew cut some tracks while playing at Keur Samba that were subsequently used in a French movie, released in 1968, notably 'Mary Mary' (which can been seen on You Tube).
"We recorded some tracks and we ended up in a film," Casey continues. "I think it was called Les Jeunes Loups, which I think translates as young wolves. It's about young kids in Paris and we're the club band. We did a couple of tracks in it."
Eddie Sparrow picks up the story. "A girl called Nicole Croisille, who was an established star and had had a hit with 'A Man and a Woman' from the film got us into the gig. She was singing every night at the Bilboquet, which used to be the Club St. Germain. Boris Vian, a famous French jazz cornetist and journalist, had started the club.
"One night she came in and said, 'Hey, do you want to play in a film?' She got us involved in that Marcel Carné film. I thought we'd really cracked it when we got asked to do that and played some of the music."
Prior to the Turkish and Iberian tours, The Krew had added another tenor sax player/flutist Iwan Roth and baritone sax player/flutist Gilbert Dall'Anese to boost the band's horn section. A highly accomplished Swiss musician, who'd studied at the Paris Conservatory, Roth was also an old friend of Eddie Sparrow's and had worked with the drummer in a French band a few years earlier. Dall'Anese meanwhile had appeared on the same bill as The Beatles when they made their Paris Olympia debut in 1963 and had previously played with Sylvie Vartan, Johnny Hallyday and Joe Dassin among others.
Not long after, the expanded line-up participated in another film starring Roger Vadim and Jane Fonda called La Curee (aka The Game Is Over).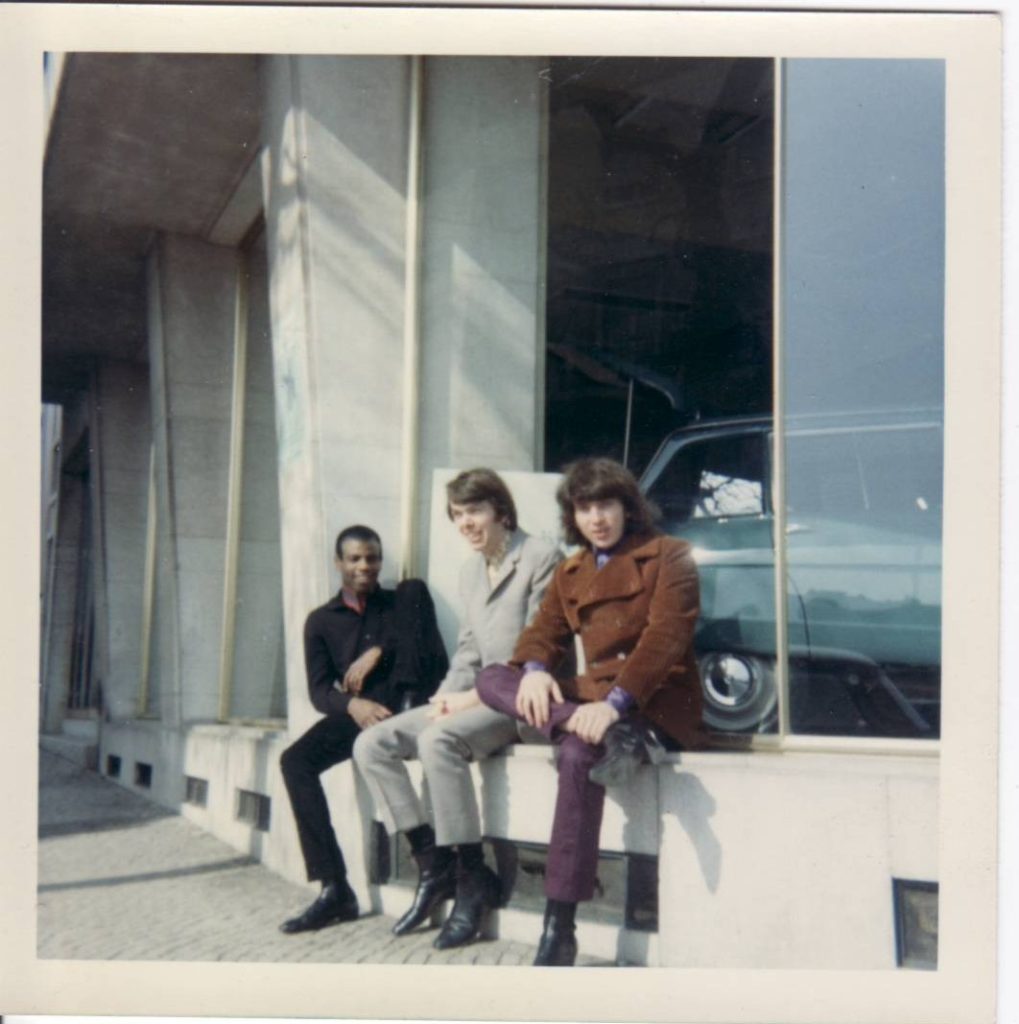 The Krew, Lisbon, Portugal, 1967 left to right: Eddie Garrett Junior, Ted Tunnicliffe and Eddie Sparrow (photo from Ted Tunnicliffe)
"There was only one day of shooting that we were involved in so it must have been a very brief scene," recalls the drummer. "We were supposed to be opening for Otis Redding or the Stax show at the Trocodero and we were late to start the show. Vadim and Fonda came on stage and apologised for us. We then had to rush off to get down to the Le Bilboquet."
That same week, The Krew opened for Otis Redding again as part of the Stax-Volt European tour at the Paris Olympia on 21 March 1967.
Throughout this period, The Krew maintained their regular weekly spot at the popular St. Germain nightclub, Le Bilboquet, and during August 1967 Alan Reeves remembers befriending future Pink Floyd guitarist David Gilmour, who was playing on the same bill with his group.
"While we were at the Bilboquet, we needed a band to take our place while we went and did the Sylvie Vartan gigs," explains Sparrow. "Luckily a group from Cambridge turned up. David Gilmour was the guitar player. We all played downstairs in La Cave while upstairs entertaining Raquel Welch, Lisa Manelli and all the celebrities was pianist Georges Garvarentz and Nicole Croisille.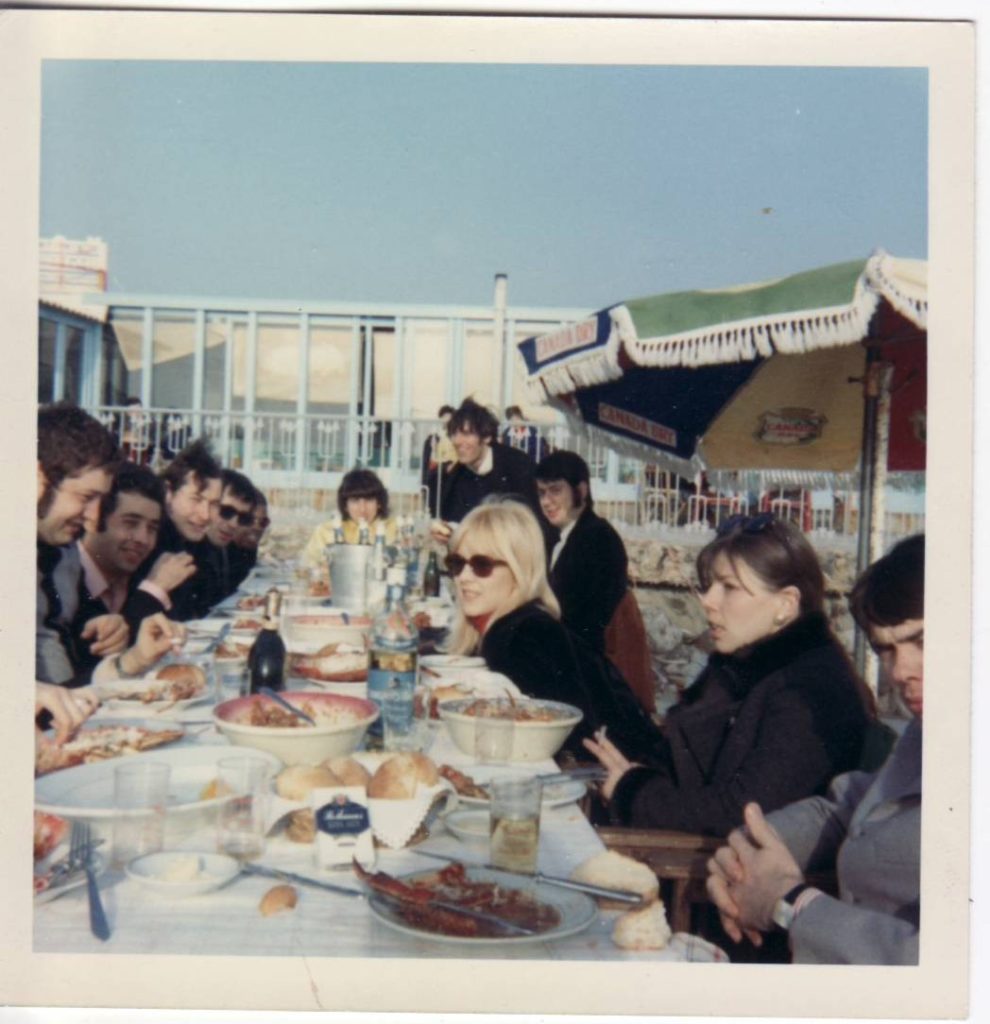 The Krew with Sylvie Vartan (centre), Lisbon, Portugal, 1967 (photo from Ted Tunnicliffe)
"We did get to know some celebrities downstairs as well, among them being Jimi Hendrix who was dressed up in a three-piece suit and with his hair tied back. He got up and played for a while with us. He seemed to have no trouble adapting to the guitar which of course was the wrong way round for him."
Splitting from Sylvie Vartan that summer, the expanded line-up then landed a two-week gig at the Byblos Hotel in St. Tropez from 1-15 September.
To be continued – read more at: http://thestrangebrew.co.uk/articles/the-krew-part-2/
Personal thanks to Eddie Sparrow, Howie Casey and Ted Tunnicliffe. Credit must also go to Alan Reeves, via his book and Manfred Kuhlmann.
Copyright © Nick Warburton, 2016. All Rights Reserved. No part of this article may be reproduced or transmitted in any from or by any means, without prior permission from the author. To contact the author, email: Warchive@aol.com or nick_warburton@hotmail.com
This post does not allow comments