Liverpool five-piece The Hummingbirds have built a fervent following by taking their music direct to the fans. And you can hear why, their close harmony sound and classic songwriting always hits the mark, with new EP 'Moving On' being no exception. Jason Barnard delves deeper in this QA with the band.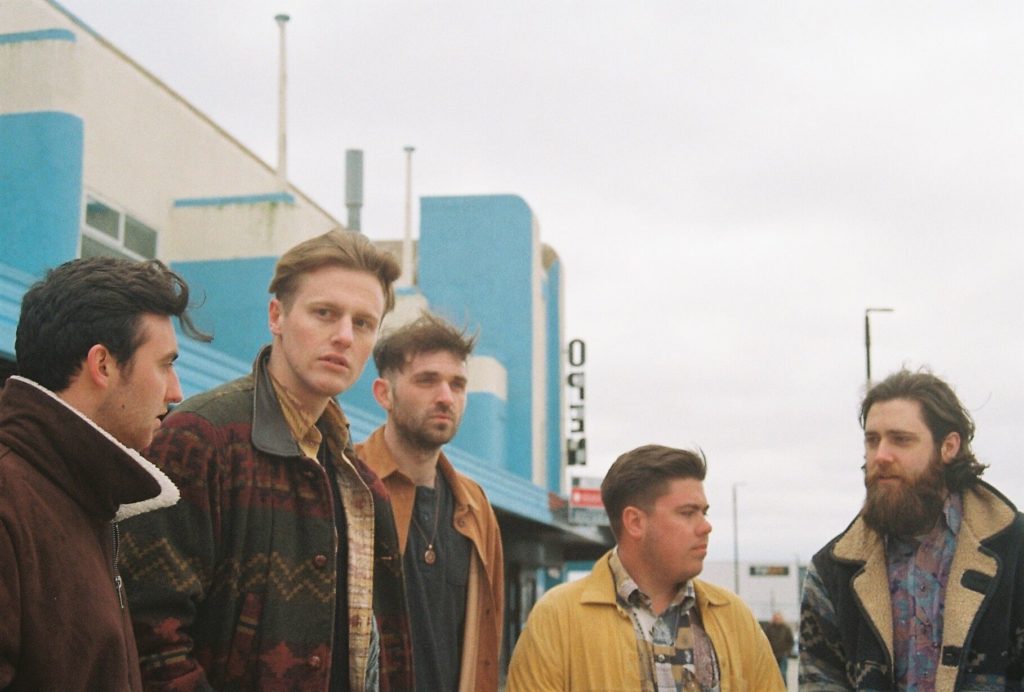 Hi guys – you have a new EP out 'Moving On'- would it right to say the thread linking the tracks is love and relationships?
Yes! Love and relationships are definitely influences throughout the tracks on the EP. We find ourselves writing songs about current and past experiences and different situations that have had an impact on the way we write our music. It may not necessarily be aimed at a specific individual however more so towards a situation regarding any kind of relationship whether it be a friendship or something more.
You're from Liverpool, what impact has the incredible musical heritage from Merseyside had on you?
Liverpool's music heritage is up there with some of the best in the world. From the sixties up to modern day music, the city never fails to produce some of the finest artists you will come across. From The Beatles to The Coral, The Lightening Seeds to The Zutons, they've all had an impact on us from an early age, through to our school years and into the early days of the band forming. With Liverpool being such a close knit city, we find ourselves hanging out with such bands who have influenced us as kids growing up which has a massive influence on us as artists, songwriters and even performers.
You're known for your close harmonies – which artists inspired you to get this sound?
Our harmonies are one of the most important parts of our performance live and in studio recordings. We have taken a huge influence off bands such as The Beatles, The Hollies, The Everly brothers. Modern day bands such as The Milk Carton Kids and Isbells open us up to ideas also.
What's the music scene in Liverpool like at the moment?
The music scene as always is booming! There's a whole new wave of young bands coming through the live gig and festival scene as well as the more accomplished popular bands who have built a name for themselves around the city over the years. Clean Cut Kid, Louis Berry and Paris Youth Foundation are just a few said names who are doing well on the circuit at the minute.
How did you all meet and form the band?
Matty & Jay started the band back in 2011 by simply writing a few songs and playing them along side some covers in open mic nights around Liverpool. Jay asked Mick and Richard (who knew each other from school) to have a jam one night at a small open mic night in a bar called Heebie Jeebies. A few months later, Richard met Ryan in a bar who offered his position as a bass player to us.
How do you approach writing songs – do you jam and/or start with an idea – musical phrase or lyric?
We generally start with a chord progression which is then followed by a melody. Once we play around with the chords and the melody along with the structure of the song, we sit down and fit words to what we have and eventually after fine tuning everything we will record a demo and listen back to amend any adjustments we feel are needed.
Which of your songs is your favourite and why?
For me personally it's a song off our last album titled "Way In To Your Heart". I feel the way it was written, the structure, the melody and the words show us at our best and feel it raised the bar for us as songwriters.
You've toured extensively over recent years, building up a great following. What's been the favourite show you've done?
I'm torn between 2 shows! My first choice would have to be Blafrost festival in Norway. To go that far away from home and have thousands of people singing your song back to you which 2 years earlier you were sitting in your bedroom writing is a feeling I struggle to describe. The second gig is our O2 academy show which sold out to 1700 people in Liverpool. 4 years previous to this, we played the same venue to 6 people in the room, 4 of which were our parents, 1 sound engineer and a bar maid.
You've often included covers in your live sets, especially by The Beatles – what covers, if any, are you playing at the moment and why?
We're currently performing a track called Yellow Eyes by Rayland Baxter and Let It Ride by Ryan Adams. Both artists have had a massive influence on our songs and sound this year so we felt these songs suited the feel of our set and gives back a kind of appreciation to their music.
What's next, more shows, new material?
Our EP is released on 28.7.2017. Off the back of this we have a Liverpool headline show on the 2nd Of September 2017 in the Arts Club which is due to sell out anytime soon.
Tickets for this are available via www.wearethehummingbirds.com
A preview of the EP tracks and pre order links can be found at:
iTunes: https://tinyurl.com/movingonitunes
Apple Music: https://tinyurl.com/movingonapple
Google Play: https://tinyurl.com/movingongoogle
Pre save it on Spotify here: http://listnin.co/pGLADS005
This post does not allow comments