By Jason Barnard
The Fleur de Lys (or Les Fleur de Lys as they were originally known) were formed fifty years ago in Southampton. Until they split five years later they recorded and released a string of memorable records including 'Circles' and 'Hold On'; universally recognised as classics of the era.
However they are also notable of having a string of talented of musicians in their ranks. So much so that drummer Keith Guster was the only ever present member throughout their entire history. However many myths have grown up around Keith and the band, partially due to a number of singles released under different banners and some tracks that have been wrongly attributed to them. It's startling to know that it's only that the first official album by The Fleur de Lys was released just recently, 'You've Got To Earn It', on Acid Jazz.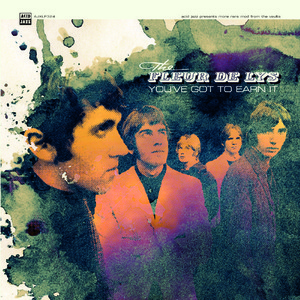 Jason Barnard speaks to Keith to uncover the truth behind The Fleur de Lys.
Hi Keith – What marks out the 'You've Got To Earn It' Fleur de Lys collection from the other re-releases under the Fleur de Lys banner?
Acid Jazz asked me to put together tracks for a definitive Fleur De Lys (FDL) album. The only previously released CD was a bootleg with 23 tracks put out around 1998, I think. I knew nothing about it's existence until I was visiting Gordon Haskell around 2004 when he was living in Shaftesbury, and found it in his CD collection! There were a few sleeve note mistakes, but the tracks were ok, except for the "Waygood Ellis" track that was nothing to do with the FDL at all, and not us.
I asked Acid Jazz to do a double album so that I could use all FDL tracks, our tracks with Sharon, with Donnie Elbert, and also a few with John Bromley. I'd worked out everything I'd like to use, but Acid Jazz vetoed a double album for cost reasons, so I whittled my choices down to a 23 track album. I was then informed that some of those couldn't be used for copyright reasons, the CD would be 17 tracks only, and some of the 17 tracks had to be certain ones that I wasn't let's say 100% wild about! So, in the end I'm proud of the album, that I wrote all the track notes, but it's still not the FDL album that I really think shows us off at our best.
Many people have put labels on the group's sound. How would you describe it?
The problem with defining the FDL sound is that the sound changed virtually every time we had one of our (many) musician changes. Also, over the six years of the group, different styles of music were constantly influencing our playing anyway. We were mainly soul music fans, but we could also rock like hell! Our music seems to be written about nowadays that we invented the musical genre known as freakbeat!
Going back, can you tell me about your background; how The Fleur de Lys came to be formed and the original line-up?
In autumn of '65 we'd already turned down Shel Talmy's offer to make a record. We thought his recording deal was greedy, and we walked out of his office. We should have taken his deal in retrospect. Quite soon after that Tony Calder, who started Immediate Records with Andrew Loog Oldham was enthusing about us and offered us studio time at Regent Sound Studio to make a single. Because we were still a bit put out by not getting a record deal with Talmy, I think we just agreed to sign for Immediate because we just wanted the kudos of being signed to a record company. It was a bit like that in those days.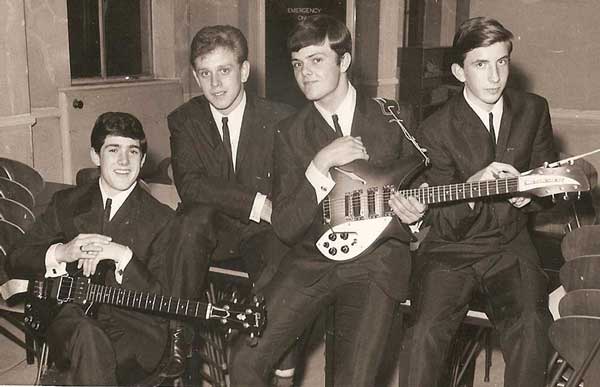 The Fleurs' in 1964 – Danny, Alex, Frank and Keith (used with kind permission of Keith Guster)
You released your debut record on Immediate. However neither the a-side – 'Moondreams' nor b-side 'Wait For Me' seemed to be representative of the group's sound. Is that a feeling you share?
Calder gave us the Buddy Holly song "Moondreams", and gave us a few days to learn it and then we recorded it at Regent Sound in late September 1965, I think. Jimmy Page did the production. None of us had ever heard of him in those days, of course. He was nobody at that time, you see. I hated the song, as did the rest of the guys. We had been told to do a song that we didn't really like and it wasn't FDL at all. We recorded "Wait for me" at the same session for the B side. Frank Smith & Danny Churchill had written it and we thought it was probably a bit more us at the time than "Moondreams".
What are your memories of working with Jimmy Page and what records did he work on with the group?
As I said in last answer, Jimmy wasn't a big name in those days. He produced "Moondreams" and the B side track "Wait for me". However, even though I didn't rate "Moondreams", I couldn't wait to get my hands on my first ever copy of my own record when it was released at the beginning of November 1965. I took it home, played it on my Dansette, then flipped it over to play the B side of "Wait for me"…….I was totally shocked………it wasn't FDL at all!! It was a 12 bar jazzy jam instrumental with guit ar (Jimmy), honky tonk piano etc! All the Fleur members were mortified!
Page's explanation was that the original tape was damaged somehow and he had to put his own 12 bar on as a B side to get the record out on its release date on time. Of course, that was total bollocks and a scam that he did to con us out of royalties if the record sold well because he'd added his name as songwriter for his instrumental "Wait for me". This scam, and the fact we hated "Moondreams" actually led to Danny getting disallusioned by it all and he quit a few weeks later.
So, yes, Jimmy Page was not flavour of the month ever with us, and , contrary to some beliefs, he was not in the studio with us when we did "Circles" months later. We then had Glyn Johns, a real professional.
The Fleur de Lys are notable for their frequently changing line-up. Do you think that Gordon Haskell and Phil Sawyer provided the group with fresh impetus in 1966?
After Danny Churchill left after the disappointment of "Moondreams", Gordon Haskell came in and fitted in no problem. We then did a month playing in German clubs throughout February '66, and met Phil Sawyer over there. He came back to England with us and joined, at the same time as Hammond organ playing Alex Chamberlain quit. We'd only been back home for a week when we recorded "Circles" with Phil playing one of the best guitar solos of 1966 on it. Another real talent he had was his passion for making us do amazing Motown type harmonies on stage. We'd practice our harmonies for hours whilst in the van on route from London to Manchester, Newquay, or wherever!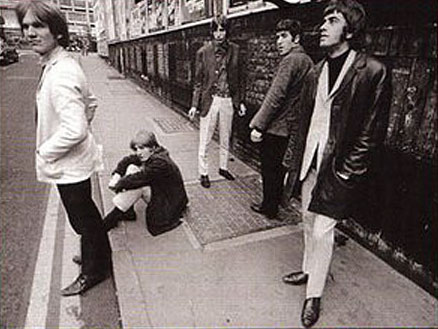 Left to right – Phil Sawyer, Chris Andrews, Keith guster, Gordon Haskell and Pete Sears near Shaftsbury Avenue in London (used with kind permission of Keith Guster)
I must mention your version of 'Circles'. It improved upon The Who's original and is now revered as a standard of the era. Whose idea was it to record it and did you think at the time that it was special?
Thanks for your appreciation of our version of "Circles". Tony Calder of Immediate posted a copy of the Who single "Instant Party" to us in Southampton on Friday 4th March 1966, and said we had the weekend to do our version, get up to IBC Studio early Monday the 7th and record it! We also had two gigs to fit in that weekend, too! Somehow, we got it sorted, drove up to London that Monday, played our guts out for producer, Glyn Johns, and …yes, we did think it was special at the time…….and I still bloody well do!
You played many gigs in London at the time. What are your memories of the London club scene?
We played most of the hip London clubs of that time. We did Tiles, the Marquee, Blaises, the Playboy Club,Flamingo, Scotch of St.James, Cromwellian, Bag O'nails, Sybyllas, amongst others, but our favourite was probably the Speakeasy in Margaret St. Most of those were quite expensive to get membership at and were mainly celebrity haunts, a bit like China White or Mahiki clubs now. My Atlantic manager used to get me passes mostly for me to go to them socially.
How did you join up with Sharon Tandy and what singles of hers did you play on?
After the FDL had met up with Frank Fenter he introduced us to his ex-wife, Sharon Tandy. Gordon, me, and Bryn all shared various flats around Earls Court with her between 1966 and 1969.
I was personally playing on 9 singles of Sharons: 'Stay with me/ Hold On, Our day will come/ Look and find, Love is not a simple affair/ Hurry hurry choo choo, The way she looks at you/ He'll hurt me, You've got to believe it? Border Town, Daughter of the sun/ Hold On, Gotta get enough time/ Somebody speaks your name, Two can make it together/ The bitter and the sweet'. Also, a version of 'Fool on the hill' as well.
'Hold On' is one of the greatest records of the era. How did your version see a release as Rupert's People?
This Rupert's People thing was just so complicated that it would take ages to answer properly. Forgetting all the hoo-ha about the A side etc, you want to know about the B side, "Hold On". It was written by Gordon and Bryn, but not quite finished the day we recorded "Charles Brown". The producer, Howard Condor, who turned out to be a right tosser, added one line to the lyrics, added himself on it as a writer & also added extra guitarist on it, Rod Lynton, on as a writer as well. Then, when Columbia released it, poor old Bryns name had been dropped from the credits!
I've read that Jimi Hendrix lived you when he came over and even played on some Fleur de Lys tracks. What was Jimi like and what material did he play on?
A manager of ours during mid '66 was a Nicky James. Gordon and I had escaped from a flat in Balham as we owed rent money and thought we'd got got a girl who lived there up the duff! Nicky knew The Animals and got Gord and me to look after their awesome six room ground floor flat, in a house owned by Ringo,in Cranley Gardens in South Kensington, whilst they were away for months touring the States.
On their return, they all scuttled off back up to Newcastle, but Chas Chandler put a guy into next room to ours, who was a bit strange and kept himself to himself. One day he asked Gordon and me to take him to guitar shops. So, we took him to Charing Cross Road, Tin Pan Alley etc so he could get a guitar. Whether Jimi actually bought one I don't remember. Couple of weeks later, Chas came round and mentioned that he was looking for a bass player and drummer to gig with this Jimi bloke, who Chas said was "just an amazing guitarist". Being a bit skint at the time, Gord and I thought we may be in with a chance of this job. Jimi had left by then, then a few weeks later Chas told us to come down some club with Phil & Chris and we, along with most of the rock stars of the time, saw the birth of the Jimi Hendrix Experience. Totally mindblowing!
The following year, as Jimi was a fan of Bryn's playing, he came to see us one night at the Speakeasy Club, and got onstage and jammed with us for about 40 minutes!!
You signed with Polydor and released 'Mud In Your Eye', which was written by Phil Sawyer and Chris Andrews. How much of the band's material was self penned?
Working for Polydor & Atlantic from 1967 as the labels studio house band meant we were also teamed up with songwriters Graham Dee & Brian Potter. So, all our songs after "Mud" were from the heads of Gordon, Bryn, Graham and Brian, really.
I've read that some of The Fleur de Lys recordings are still in the vaults – what material are you are aware of?
Damian Jones, who co-wrote the book, "Circles…the strange story of the Fleur De Lys", thinks that there were tracks we did that were meant for an album that are locked away in a country mansion up in Scotland somewhere. Damian knows more about the FDL than I can remember myself, but I have no idea what those tracks were.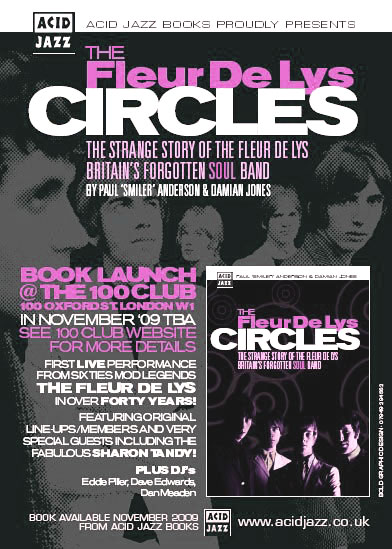 So do you know who played on 'I Like What I'm Trying to Do'?
This was on the bootleg album released without any consent from me around 1998. The track "I like what you're trying to do" is by Waygood Ellis, who were nothing to do with the FDL at all. Nice track….but it's not us.
Similarly, was Shyster's single The Fleur de Lys?
Gordon Haskell had written "That's a hoe down", which Gord, Bryn, and I recorded one day as a tongue in cheek sort of number, not really a FDL thing. Manager, Frank Fenter thought differently, and wanted it out as the B side to another composition by Gordon called "Tick Tock", another tongue in cheek song about witches on broomsticks for God's sake! Gordon protested that both songs were not properly finished, and needed some more instruments etc added, but Frank wouldn't listen, and said he would put them out as they were. We then said, don't put those songs out as FDL, so Frank made up the name Shyster when he released them against our wishes.
Who wrote 'I Can See A Light'? It's a great track although reflected a change in the group's sound.
"I can see a light" was recorded with just me, Bryn and Gordon, and we added some extra added vocals, and also added cellos. I did think Bryn wrote this song, but, I have my own copy in front of me, and it credits a Noble/ Pregnalato for the writing! Oh well, you learn something every day!
Have you heard Ulver's cover version and if so what do you think of it?
I had never even heard of Ulver, let alone have heard their version of "I can see a light". So, I've just listened to it. Considering the 40 odd year difference in recording technology since we did our backing track in about 20 minutes, Ulvers version is not a lot more advanced really.
You and the group did played with a many other artists – who were your favourites?
Obviously, it has to be Booker & the MG's, Sam & Dave, Isaac Hayes, Otis etc when they used our Polydor studio to rehearse during the Stax/Volt tour. Playing at the Speakeasy Club when Jimi sat in and jammed with us for about 30 mins was a highlight. Supporting Aretha in Rotterdam & Amsterdam was another. Being on the Beach Boys Theatre Tour that opened at the London Palladium was was amazing, as I just love those guys. Working in the studio all night with the Vanilla Fudge was a mind blowing experience that, somehow, I survived.
I particularly like John Bromley's album 'Sing'. How did you know John and your recollections of recording that record?
During the FDL period of working in Polydor every day as studio band we had to back many different songwriters putting some songs down on tape to try to get Polydor to sign them up etc. We met John Bromley like that, and became great friends with him as he is a very talented, lovely guy. When he was asked to do the Sing album he specifically wanted us to be on it with him. Last time I saw him was at the FDL book launch party gig at the 100 Club back in November 2009.
How much did you record with US soul singer, Donnie Elbert? Did you play on all his Polydor material?.
We played on "In between the heartaches" on Polydor with "Too far gone" as B side. We also made an album with him called "Tribute to a king" that was all Otis Redding songs. We did other tracks with him as well that are now, as with a lot of our recorded stuff, lost in the middle of nowhere, unfortunately.
Gordon Haskell has said that the band were coached by black musicians like Booker T. & The MGs..
Not coached exactly, but Gordon was very influenced with us spending days in the studio with Donnie. We learnt a lot from that guy, and were very upset when he was made to leave us and quit England for political reasons with our Atlantic management..
You also released a single as Rupert's People, 'Reflections of Charles Brown – was that for Chris Andrews?.
Well, Chris was our main vocalist/front man when we recorded it. But, then the FDL guys distanced themselves from it. I told EMI we didn't want the FDL name on it and told them to call it "Ruperts People" if they liked…….and that's just what they did! Rupert was my pet name for Gordon, you see! Anyway, Chris was now feeling a bit left out around this time as the other 3 of us were doing more session type work, so when he was approached to front a newly formed band now called "Ruperts People" he left to join them and promote the "Charles Brown" single, and couple of albums.
The opening guitar of the 'Gong With The Luminous Nose' is very similar to Paul Weller's 'Sunflower'.
I wish I had a quid for every time I've been told that! Yeah, well, it sounds like he heard Bryns "Gong" guitar intro, loved it,……and copied it.
You worked a lot with Graham Dee, what were your favourite records you made with Graham?
Probably, my favourite songs we recorded that the lovely Graham Dee penned for us would be "Stop crossing the bridge", "I forgive you", "Two can make it together", and my personal fave is "Brick by brick".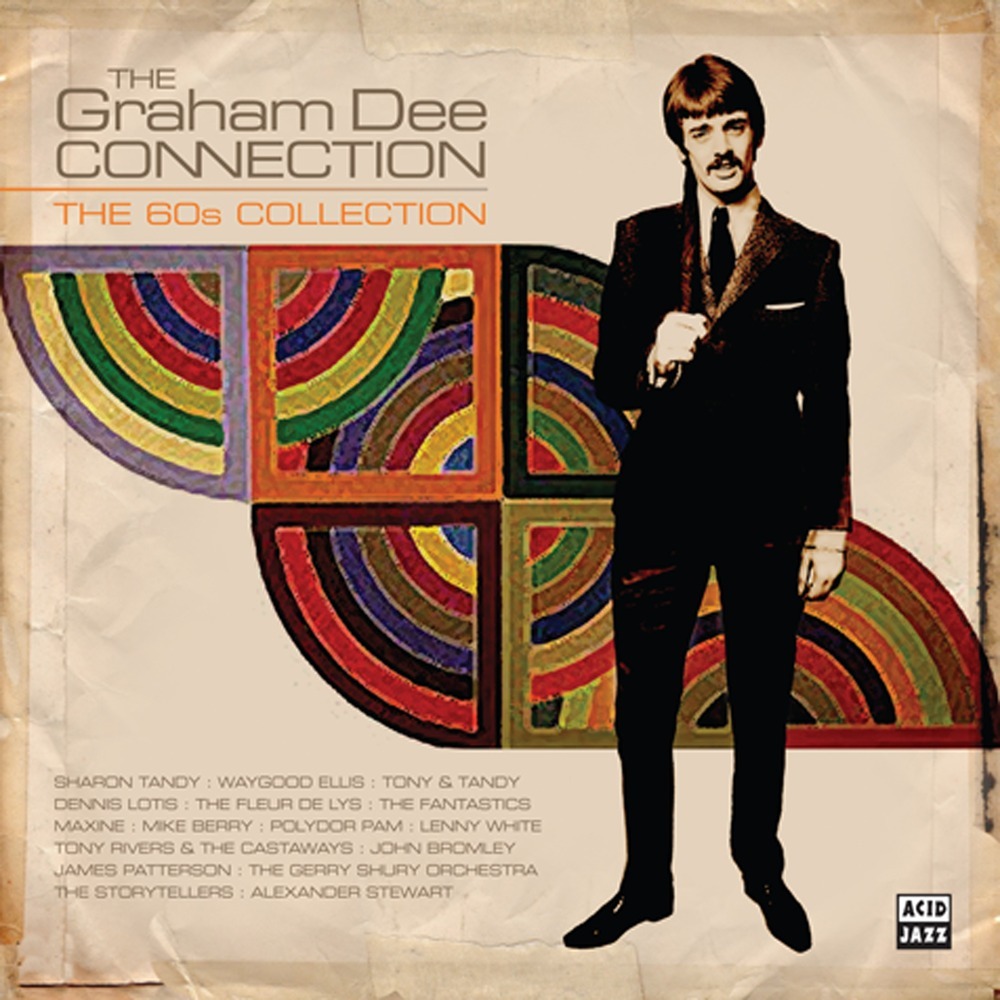 I understand that The Fleur de Lys were the first British band to be signed to Atlantic. Did you realise the significance at the time?
To me, being signed to Atlantic was a great honour. Who wouldn't want to be on label synonymous with artists you'd idolized all your life? The boss of Atlantic Records, Ahmet Ertegun, seemed to love what we were doing, there were talks of us going to the States to record etc, but then Bryn's personal problems and some musical issues made him decide to leave the FDL, and it all went tits up quickly after that, so we'll never know what could have been.
Did you get to see much of the Beach Boys when you toured with them in late 1968?
Well, we hung out with the Beach Boys in the tour hotels and backstage, of course. It was such a pity that my hero, the genius Brian Wilson was suffering mental disorders at that time, and stayed home in California. Dennis Wilson was hilarious, and stoned out of his mind most of the time, and Mike Love was quite friendly with us. Bruce Johnson was very taken with our Sharon, and kept pressing her to go back to the States with him, but, as I recall, she turned his invitation down.
Was the 'Tony and Tandy' single 'Two Can Make It Together' the last record credited Les Fleur de Lys?
No, the last single that was released on Atlantic by FDL was "Liar" in 1969.
When and why did the band break up?
Bryn started getting disallusions about things after "Two can make it together" didn't get us chart success after doing TOTPs in May 1969. He & Sharon had been an item for a couple of years, but her drug taking was was getting too much for him, and us, to handle. She was also letting us down on gigs, sometimes minutes before we were due on, which put added pressure on the rest of us to have to perform without her, and also caused friction in the band. So, when Bryn bumped into Leigh Stevens of U.S. rock band "Blue Cheer" in London, Leigh persuaded Bryn his future lay in the States, and he quit and flew there 23rd July '69 and joined "Silver Metre". I was really devastated by Bryn leaving, as I had been when Gordon had a year or so before. My two main friends gone away.
We tried to soldier on and got in Graham Maitland on guitar, but it just wasn't right anymore, then bass player Tago Byers announced he was fed up of coming into London from Reading every day and he wanted out, and that, as they say, was that.
Looking back what was your favourite line-up and period for the group?
The line up when we made our second single "Circles" was great. It was me, Frank Smith, Gordon Haskell, and Phil Sawyer. Unfortunately, Frank didn't want to move from Southampton with Gordon and I to live in London, where we thought we should be in March '66. Also, I liked our 3 piece line of Bryn, Gordon, and myself just after the "Ruperts People" farce.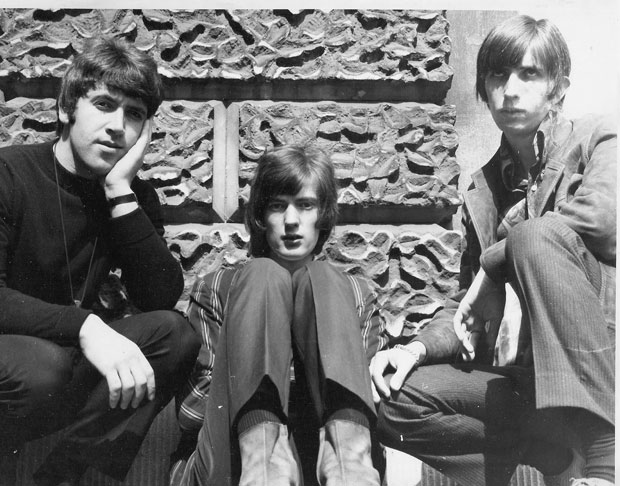 Left to right – Gordon Haskell, Bryn Haworth and Keith Guster outside Atlantic's office at Stratford place Londow W1 in 1967 (used with kind permission of Keith Guster)
After Gordon left for more money with the "Flowerpot Men", we got Tago Byers in to replace him on bass, and added an old mate, the excellent Tony Head, as lead vocalist. This was a pretty fine lineup too, until, of course, Bryn decided to quit for for America.
You carried on with The Amboy Dukes. Can you tell me more about the group and how much you recorded with them?
Soon after the demise of FDL Tago Byers, in his hometown of Reading, teamed up with vocalist Dave Kislingbury in a re-formation of the "Amboy Dukes". Tago got me involved and we did quite a few gigs up & down the country. It only lasted about 4 months, though, as we all lived so far apart that it became unviable. Dave, driving the van with Tago from Reading, had to pick up me in Bayswater, a guitarist from Hackney, and the keyboard guy from near Croydon. So, every gig meant huge mileage & fuel costs, plus all day in the bloody van sometimes after picking everyone up, doing the gig, and dropping everyone home afterwards.
We recorded 2 tracks on an acetate only during this time, which were "More and more" and "You better find yourself someone". Both these tracks are on Acid Jazz album "Rare Mod 2".
What did you do after that?
I did some weekly gigs along with Tony Head of FDL, that were great fun, at the Galtimore Club in Golders Green, an Irish Club. Quite hilarious that was! But, at this time, my 2 year relationship with Jenny, who worked for Polydor, ended. Devastated by this, and the end of the FDL, got me into a bad way, and I was struggling to cope with it all.
Tago Byers and his wife, Val, persuaded me to get away from this nightmare to leave my flat in Bayswater and live with them in Reading in 1970. I still live and play in Reading to this day.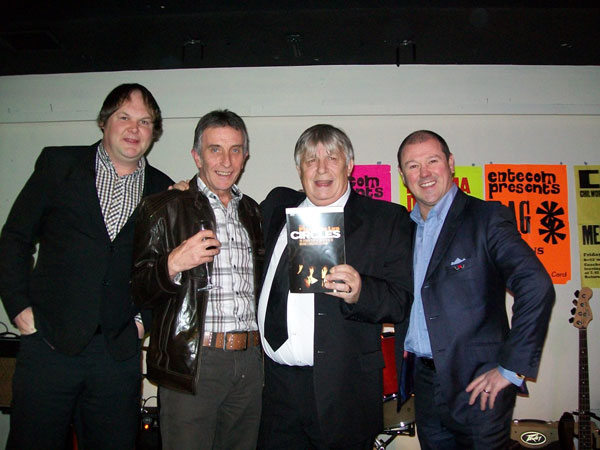 Authors Damian Jones and Smiler Anderson flank Keith and Johnny Dymond holding the Fleur de Lys Circles book at the Concorde Club January 29th 2010
How can people find out more about you and Fleur de Lys?
Thanks to Keith for his patience with my bucklet load of questions! A special thanks also goes to Acid Jazz Records for their assistance.
Photos used with kind permission of Keith Guster. Copyright © Jason Barnard and Keith Guster 2014. All Rights Reserved. No part of this article may be reproduced without the permission of the authors.
The Fleur de Lys gigs
By Nick Warburton. Nick would appreciate feedback from anyone who can provide any additions or corrections. Email: Warchive@aol.com
29 May 1965 – Gala Ballroom, Norwich with Wayfares (Eastern Evening News)
7 August 1965 – Salisbury City Hall, Salisbury, Wiltshire with Ricky Vermone & The Pathfinders (Frogg Moody and Richard Nash's book Hold Tight!)
5 March 1966 – Princess Pavilion, Falmouth, Cornwall with The Climates (West Briton & The Royal Cornwall Gazette)
13 March 1966 – Tower Ballroom, Great Yarmouth, Norfolk with Cheaters (Eastern Evening News)
24 March 1966 – Salisbury City Hall, Salisbury, Wiltshire with The Fortunes (Frogg Moody and Richard Nash's book Hold Tight!)
13 May 1966 – Tower Ballroom, Great Yarmouth, Norfolk with Mood Indigoes (Eastern Evening News)
5 August 1966 – Southampton Guildhall with Nite People, Footprints and Blue Stars (Southampton Evening Echo)
27 August 1966 – Adelphi Ballroom, Slough, Berkshire (Windsor, Slough and Eton Express)
16 September 1966 – Flamingo, Soho, London (see below)
17 September 1966 – Royal Links Pavilion, Cromer, Norfolk with The Roosters (straight from Flamingo, Soho) (Eastern Evening News)
20 September 1966 – Flamingo, Soho, London with Gaylords (Melody Maker)
2 October 1966 – Adelphi Ballroom, Slough, Berkshire (Windsor, Slough and Eton Express)
10 October 1966 – Black Triangle, Southampton (Southern Evening Echo)
24 October 1966 – Black Triangle, Southampton (Southern Evening Echo)
30 October 1966 – Black Triangle, Southampton (Southern Evening Echo)
13 November 1966 – Ashton Palais, Ashton Under Lyne (Manchester Evening News)
19 November 1966 – Witchdoctor, Catford, London (South East London Mercury)
8 January 1967 – Adelphi Ballroom, Slough, Berkshire (Windsor, Slough and Eton Express)
13 January 1967 – Moorhill Youth Club, Southampton, Hampshire (Southern Evening Echo)
14 January 1967 – Gaiety Ballroom, Ramsey, Cambridgeshire with The Vivas (Website: http://peterboroughimages.co.uk/music/?p=8130)
14 March 1967 – The Dolphin, Marine Court, St Leonards, East Sussex (Roger Bistow's research at Dizzy Tiger Music website)
18 March 1967 – Lion Hotel, Warrington, Cheshire with Chapter 6 and Expressions (Warrington Guardian)
19 March 1967 – Carlton Club, Warrington, Cheshire (Warrington Guardian)
25 March 1967 – Co-op, Rainbow Suite, Birmingham (Birmingham Evening Mail)
2 April 1967 – Adelphi Ballroom, Slough, Berkshire (Windsor, Slough and Eton Express)
29 April 1967 – The Dolphin, Marine Court, St Leonards, East Sussex with Odds On (Roger Bistow's research at Dizzy Tiger Music website)
13 May 1967 – Witchdoctor, Catford, London (South East London Mercury)
23 June 1967 – The Dolphin, Marine Court, St Leonards, East Sussex (Roger Bistow's research at Dizzy Tiger Music website)
Sharon Tandy and The Fleur de Lys
3 August 1967 – Speakeasy, W1, London (Fabulous 208/Mick Capewell's Marmalade Skies)
29 February 1968 – Speakeasy, W1, London (Fabulous 208/Mick Capewell's Marmalade Skies)
22 November 1968 – Fishmonger's Arms, Wood Green, London with Eyes of Blue (Melody Maker)
24 November 1968 – Beau Brummel Club, Nantwich, Cheshire (Northwich Chronicle)
15 February 1969 – 76 Club, Burton on Trent, Staffordshire (http://www.76club.org.uk/gigs.html)