By Jason Barnard
There's much to delight fans of anglophile psych and early prog in The Dials new album 'That was the Future'. Strong hooks, Hammond and Vox organs, modular synths and swirling guitar abound, however their inventiveness clearly show they are not retro revivalists. If you're not familiar with this Brighton band now is the time to hop on board.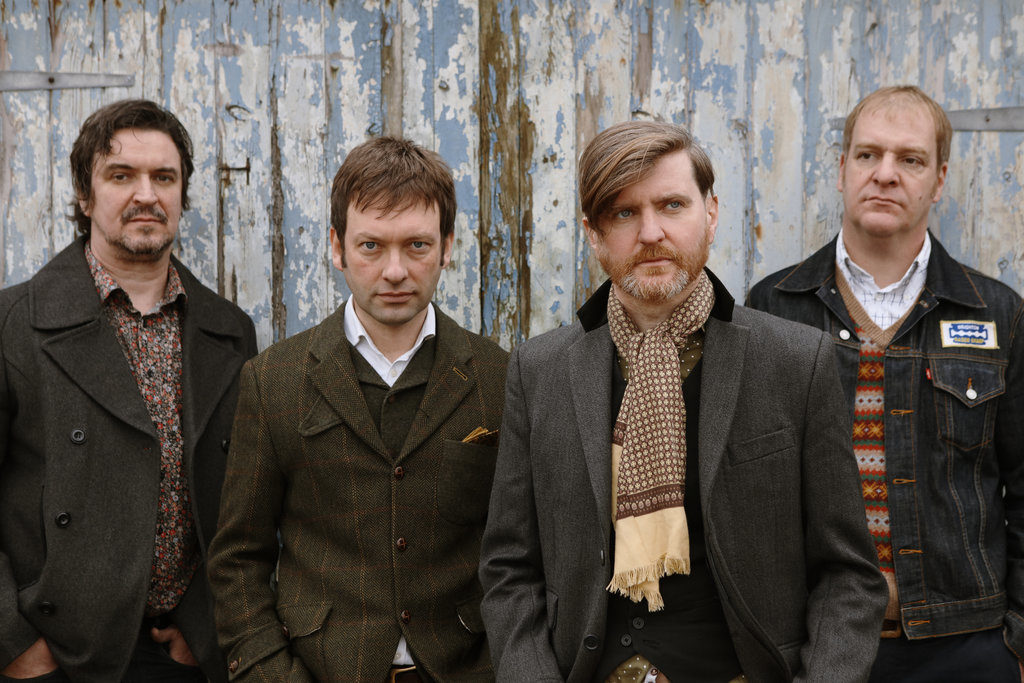 The Dials – photo by Pat Pope
Hi – For those uninitiated into the world of The Dials, can you introduce the band, their roles and how long they've been with the group?
Andy: We have Dermot on guitar, Joe on bass, Rich on drums and myself on keyboards. We all sing except for Dermot, who has taken a vow of silence to maintain the goodwill of the general public. Dermot and I have been in the band from when we began in 2002 and the others have been with us since the last album. We're like a big happy family with a terrible secret past which nobody talks about.
I really enjoyed listening to 'That Was The Future' – there's a great mix of styles tied to excellent songwriting. How long have you been working on the album and where did you record it?
Andy: Thank you! We've been piecing it together since finishing the last album in 2013. We wrote enough songs for three albums and I'd love to tell you that we'll be releasing the remaining ones soon – except that we won't because some of them are bloody awful. We discovered that there is a recording studio practically at the bottom of my road called the Toy Rooms so I argued an extremely strong case for using it. It's run by Pablo Clements and James Griffith from Psychonauts/Unkle/Toydrum and is an Alladin's cave of crazy old gear, which probably accounts for it taking us 4 years to finish the album. In the control room there's one of those EMS synths which Brian Eno used on Top Of The Pops with Roxy Music and looks like an electronic battleships game.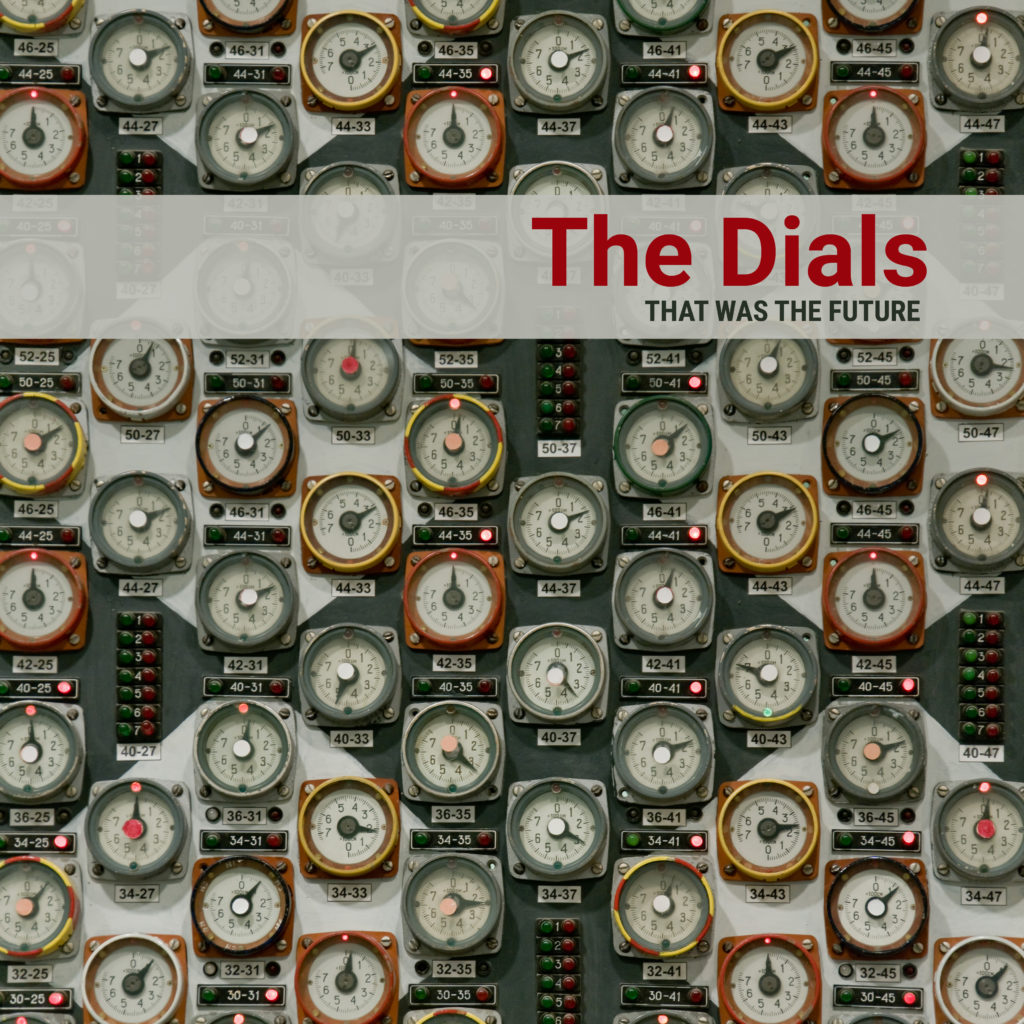 I understand you recorded with recording engineer Ben Thackeray (Nick Cave, My Bloody Valentine, Gruff Rhys). What was it like working with him and how did he assist you?
Dermot: Ben is a very affable chap with a great ear and, when we heard that he'd worked with Kevin Shields, we figured he could cope with our somewhat less-than-breakneck work rate. He originally came onboard as an engineer but when he played us some of his own music we thought it sounded amazing – nothing like the Dials but the sounds were beautiful. We gave him a free hand to produce the album and make the kind of painful decisions which never get made by a committee of band members. He certainly shortened many of the songs, so you have Ben to thank for saving you from a Topographic Oceans-like ordeal. He also added some of the weird analogue sounds and plays a mean tambourine.
How do you go about writing your material – is it a solo or collaborative process?
Dermot: Andy and I come up with the songs individually and we arrange them as a band. They're usually unrecognisable from the original versions.
Andy: It's a different experience playing on someone else's tunes. When I've written a song, I tend to get too precious and defensive about it, whereas on Dermot's I can just make weird noises over the top.
I particularly like the fairground quirkiness of 'The Moon & The Stars And The Tides Of The Sea'. What are your favourite tracks from 'That Was The Future' and why?
Rich: Fave album tracks change by the week but right now Cuckoo Stone just rocks live. What pulled it together was spending a day recording the video and miming to the track for many hours – we can now play it in our sleep!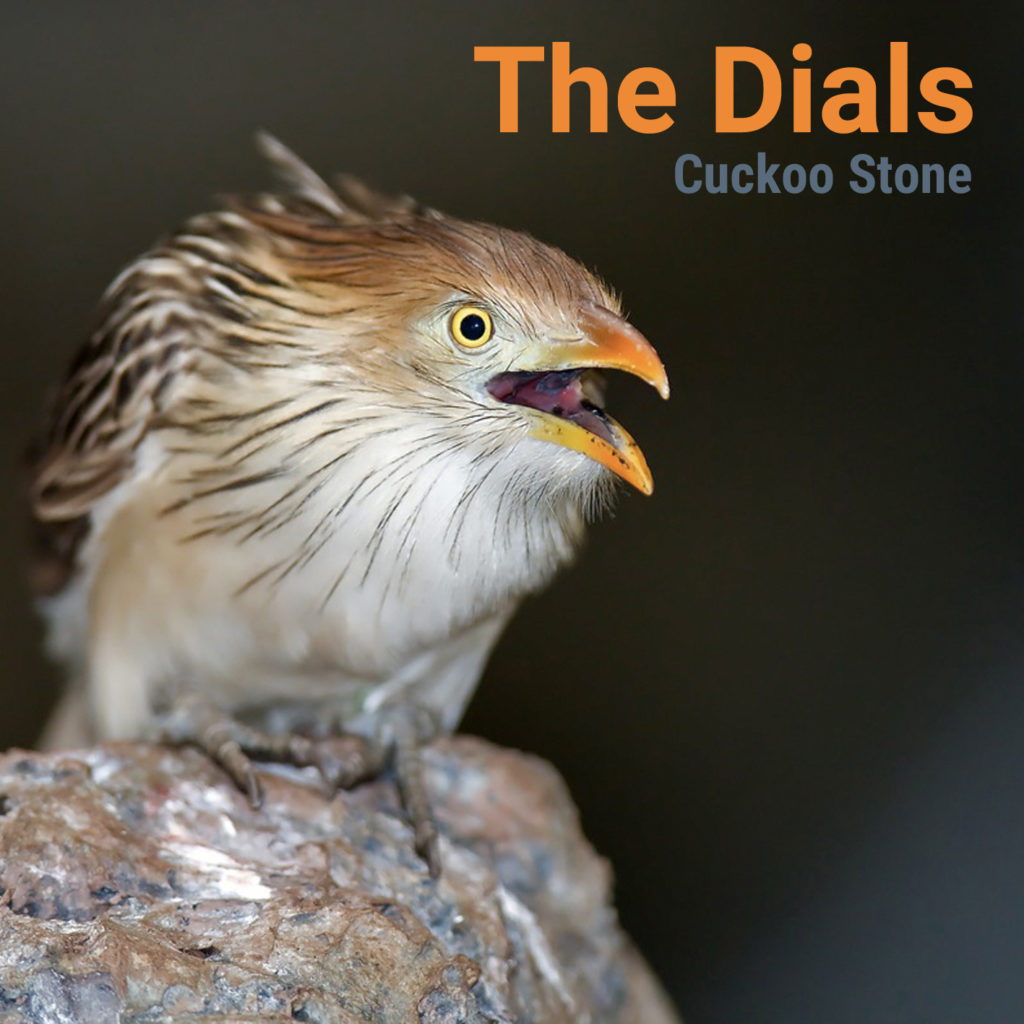 Joe: The Race – it was the first full 3 part harmony song we completed and I just love how smooth it sounds, it's a pleasure to sing and play. Also The Nark, just an upbeat toe tapping track.
Andy: Everlast – it's one of Dermot's finest and, besides being a lovely song in it's own right, I get to improvise on the Hammond and Moog for a few minutes at the end. The original recording lasted about 25 minutes with Dermot repeating the same phrase on acoustic guitar over and over again. We had to stop when his screams of agony were picked up on the guitar mic.
Dermot: I really love the way The Moon and the Stars and the Tides of the Sea turned out. It feels fantastical, happy yet slightly creepy… exactly what we were looking for. If you're a complete nerd you might notice that everything is slightly flat as we had to de-tune to work with an out-of-tune harmonium. I still think we should have kept my theremin outro, it was one of my finest moments.
Andy: Yes, Ben made some great decisions in the studio…
You've been described as prog although, for me, this is just one of many influences I can hear – like jazz and psych. Which artists past and present inspire you?
Joe: I'm usually inspired whenever I listen to good '60s Northern Soul. I listen to BBC 6 Music all day most days so never a dull moment. This week I've had ear worms from Queens of the Stone Age, PJ Harvey and Steve Mason.
Rich: As a drummer, Mitch Mitchell was inspirational, amazing feel and fluidity – I love the way he played along with Hendrix's licks. Ringo Starr is also quite inspiring in an understated way – not one beat too many. I'm a fan of Super Furry Animals and love their versatility, I'm basically a sucker for a lot of quirky Welsh artists – Euros Childs, Richard James, Sweet Baboo, etc.
Dermot: From the vaults, I've been pulling out some Miles Davis stuff (At The Fillmore has some magic moments). Also, you can never go wrong with JJ Cale, Rain Dogs era Tom Waits or some Hank. In terms of newer material, I've really gotten into Bill Callahan recently, which has taken me years. I think Matt Kinsey, who plays on his later records, is a truly original guitar player. I've also found myself nodding along to Wooden Shjips.
Andy: I recently bought a copy of the English Weather compilation by Pete Wiggs and Bob Stanley of St Etienne and it's been on the turntable ever since. They describe it as "post-psychedelic, pre-progressive" which I guess is kind of where The Dials are right now. There are songs I'd heard before by bands like Caravan and Van Def Graaf Generator alongside some that were new to me like "Big White Cloud" by John Cale, which blew me away. They've also unearthed some real gems by people like Bill Fay and Belle Gonzales.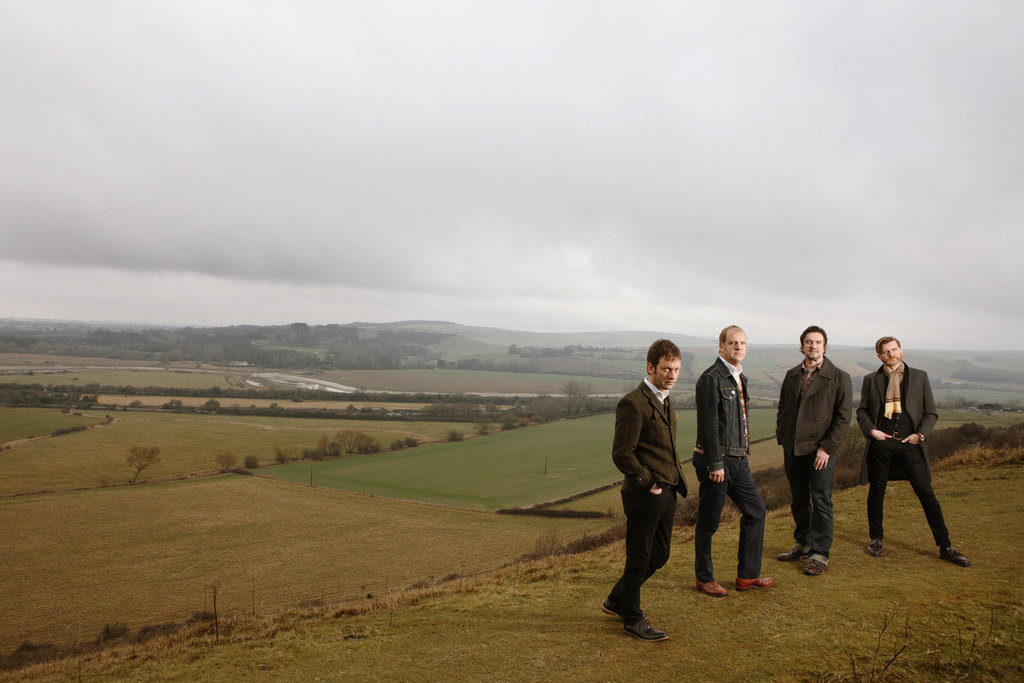 You released your first album about 10 years ago, how do you think your sound has evolved over the years and what tracks from your earlier material do you still play live today?
Dermot: There was a lot of country/Americana stuff on that first album which has all but disappeared from our sound now. We still love all that stuff but maybe we're just more true to ourselves these days. We received a certain amount of criticism for spreading ourselves very thin in the early days, so we've tried to nail things down to a kind of psych-garage feel for this album – everything else is all still there but buried a bit further down.
Andy: We didn't play anything from that first album for years but in the last few weeks we've been rehearsing one of the tunes for our shows this autumn. It irritates me when I go and see a band who refuse to acknowledge their past – I'd love to see Primal Scream play Velocity Girl or Genesis do The Musical Box.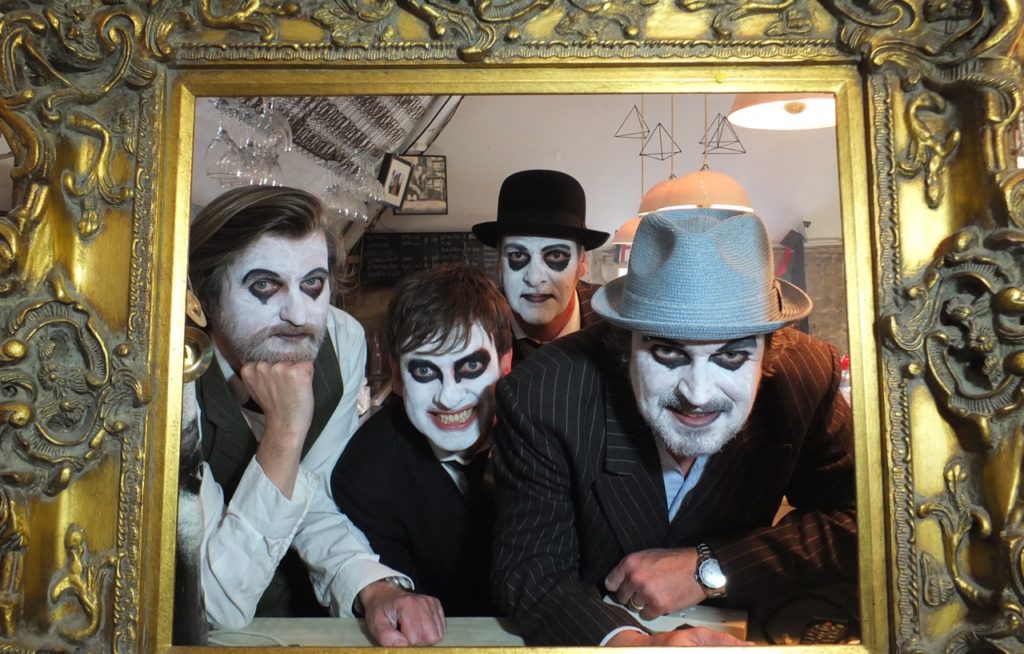 The Dials video shoot still – by Neil Williams
What live shows are you planning to do to support the album?
Rich: We're having a big album launch party in Brighton on October 6th at the Hope and Ruin. Steve Mason will be DJing along with Colin Baldock and Innerstrings will be supplying the lightshow. Tickets are available via thedials.co.uk so grab them quickly as it will be a night to remember.
Other dates confirmed so far are:
September 23rd – Knoxbridge Festival, Frittenden
October 7th – What's Cooking, Leytonstone, London
October 27th – Oslo, Hackney, London – supporting The Sadies
October 28th – The Railway Tavern, Southend-On-Sea
All the best with the release 'That Was The Future', thanks!
Thank you!
More information can be found @
This post does not allow comments