Magician – The Amazing Tale of Peter Waddington – Part 1- The Dawnbreakers
For the first time, Peter Waddington finally tells Jason Barnard of his journey through the sixties: from underrated Leeds beat band The Dawnbreakers to the Amazing Friendly Apple who wrote and recorded Magician, one of the finest singles of the era.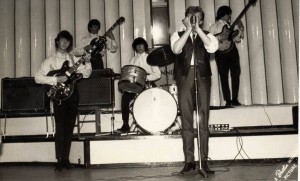 Early Years
Peter Waddington was born in Leeds, Yorkshire in July 1943. His mum Minnie worked as a bus conductress and his dad Rhodes worked at Melbourne Brewery pre-war and served as an infantryman in the Royal Scots Fusiliers.
Peter was walking by 18 months old but suddenly stopped at two and a half years. By the time he was 4 he was still not walking and was diagnosed with a fractured spine with TB set in. He ended up in Pinderfields Hospital near Wakefield laid horizontally in a full body cast. Soon after he got a perforated eardrum and went on the critical list. Peter did recover but only after four and a half years in hospital. He had no education – only radio so he listened to music for most of the time. When returning home at the age of eight and a half years he had to wear a spinal corset for 3 years and could not read, write or even tell the time.
However, Peter was clearly bright and passed his 11-plus exam at the age of 12 attending Cockburn High School. Within 3 months he formed a skiffle group with three classmates called 'The 5C Squares'. He also went to the local youth club where he could play games and dance to the sounds of rock'n'roll.  A girl there had a brother who bought every USA 45rpm single released in the UK and loaned them to her to bring to the youth club. She allowed Peter to borrow them from Tuesday night until Thursday night and he just listened all Wednesday night to them on his new 'Dansette' auto-change record player:
"This was when I realised that this music was incredible, the 'dirty guitar sounds' fascinated me – Carl Perkins 'Matchbox/Blue Suede Shoes'; Presley 'Mystery Train/Hound Dog'; Chuck Berry 'Johnny B. Goode'; Everly Brothers 'Wake up little Susie'; Buddy Holly 'Rave On'; Eddie Cochran '20 Flight Rock' Then followed a memorable rock'n'roll concert at Leeds Empire with Joe Brown, Eddie Cochran and Gene Vincent. I think that concert changed my life at the time – I was going to be the next Elvis!"
Despite his new-found love of rock'n'roll, he still managed to get four GCE's including Maths and English.
At the age of 16 Peter formed The Comancheros who were the first real band he fronted. After complaining for a few months that he needed a new PA system his father purchased a the German-made 'Dynacord' 200 watt P.A. system with a 'Shure' microphone from the USA and a 'Binson Echorec' unit – the total cost was £2,150:
"You could buy a new luxury home back then for £1,800! To this day I have no idea how Dad did it. The difference at live shows was enormous and many local groups came to see us and marvel at the Dynacord system which had them all green with envy. Soon afterwards I had all the controls sussed out to get the best out of my voice. Not long afterwards an older guy in the audience called me over for a private word. I sat next to him and listened. He told me he managed the finest band in Yorkshire and he needed me as the lead singer."
The band started immediately with a full booking list for pubs and working men's clubs. His new manager decided to call him Ray Vance and we went out under the name of 'Ray Vance and the Crusaders'. As many bands did in 1960, they played popular soft rock'n'roll music together with versions of standard songs like 'Over the Rainbow'; 'Summertime' and similar songs tailored for working men's clubs.
Small rock venues were springing up all over the UK and one of the best Leeds groups, The Cherokees, had turned professional and were playing gigs in London which was where Peter's heart was set. The Crusaders disbanded after a few months, the bass player joined another group and that just left him and a guitarist: "We both went to the important pubs and clubs around Leeds and gave out the word we were looking for players to join us. By then, there was a rock group on just about every street in Leeds – all we had to do was to find the best of them so we went, watched and listened."
The Dawnbreakers
Within three months they were back on the road as a five piece group named The Dawnbreakers with a totally new music which was a mixture of Chuck Berry; Jimmy Reed; Bo Diddley; Johnny Otis and other USA idols. The band carried on  over the next few years gigging and in June 1963 they shared a dressing room with the Beatles at the Queens Hall, Leeds. Peter has a vivid memory of the band sharing a rag to wipe stage makeup on their faces.
By mid-1964 their hair was longer and their attitude had become far more 'cocky and self-assured': "We even had many local groups coming to see our gigs and our name was getting a few mentions in local papers. We were doing a few support shows in large ballrooms with bands like The Nashville Teens; The Hollies; Chubby Checker; Sounds Incorporated and others."
The band got through a Butlins audition, no mean feat at the time, which meant they could turn 'professional'. However, he had to break the news to his parents, and after putting in his resignation at work, the office manager went to his home to tell them! In the end it was his Dad who surprised them all by saying "Peter, take the chance you have son, it's a slim chance but a chance nonetheless. If you throw it away, you will regret it forever because you will always believe you could have made it and that doubt will remain on your mind always. Just give it your very best lad.' Mum became angry whilst Dad came over and gave me a big hug. The guys pulled up outside and pressed the horn. I left with tears in my eyes and climbed inside the van, the guys looked at me and said 'Have you done it?' – I nodded my head."
Around this time Peter learned a song from the "We Sing the Blues" LP he had bought some years before, 'Let's Live' written and performed by Aaron Neville. Peter: "I tried to put a '60's feel to it instead of the soulful rendering by Aaron which I had no chance of emulating. Before we left for Minehead we decided to record some tracks at a private two track studio in North Leeds owned by a guy named Luke Harding. The two track 'studio' was in the attic of a three story terraced house and Luke's son Ricky who headed fellow beat band The Cresters."
After their very first night at Butlins Minehead, The Dawnbreakers lost their lead guitarist after he was  caught sleeping with a camper: "What made it much worse was that her parents had reported her missing to the camp security officers who simply made a bee-line to our chalets. Mick's chalet happened to be the first one they checked, they had packed his case, got his guitar and then kicked him out – he'd been sleeping outside the camp gates since 1.30am. And there we were, The Dawnbreakers, professional rock group without a very important member, and the four remaining members were stranded in a sleepy town miles away from modern-day civilisation! What hurt more was that we had not yet finished one full day of our lifetime careers." After making it through the next few nights with a temporary guitarist, Roger who'd just come back from touring as lead player for Roy Orbison auditioned and gained the position prior to their move to Filey.
Filey was, by far, the most important and biggest Butlins camp of the day. It was enormous and had the biggest single-floor theatre in the UK that seated over 3,600 people. On entering the Rock Ballroom for the first time, it blew them away:
"'64 at Filey was a period in my life of pure magic, monster song for us that year that we always finished the night with was 'Louie Louie' recorded by The Kingsmen. The reaction to this was simply incredible. Before the last verse was started the security officers would surround the stage in preparation to escort us to our dressing room, before they began to clear the ballroom so we could escape to our van through a fire exit."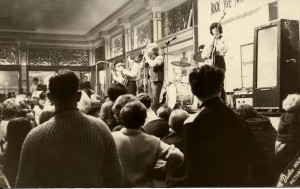 At the time their agent had contacted Decca Records and sent them an acetate pressing of our tracks recorded before they left for the summer season.
After Butlins, Rod, the band's bass player, secured a gig at the prestigious The Flamingo Club on London's Wardour Street. They finished around four tunes to total silence until a tall, skinny white guy with long, straggly hair came up to Peter and whispered 'Let me take over from your drummer': "The guy loped onto the stage, John left his kit and the stranger took his place, before he sat down he said 'Just play any Chuck Berry song' and walked over to the nearest microphone where he shouted 'Get your black asses onto the floor, we're gonna rock and roll because Ginger Baker says so'. With that Mick's guitar screamed the intro to 'The Promised Land' and Ginger Baker hit the skins. We kept it up for an hour with sweat rolling off our bodies until the last note when the audience screamed approval. He left as suddenly as he appeared and vanished into the crowd – we packed our gear away, got paid and drove back to Leeds. All the way back from The Flamingo, John kept repeating that he'd seen the best drummer in the world and now considered his drum kit to have been blessed by 'God'."
In early 1965 they got the news that Decca Records wished to sign them and The Dawnbreakers were now recording artists on a major label.
Decca used the original recording of 'Let's Live' and went to a recording studio in Altrincham near Manchester to record a song he had written named 'Lovin' for You' for the B-side. By then Mick had rejoined, Dave had left the band to be replaced by Barry a very good keyboard player also from Leeds.
Decca Records took publicity shots of the group and asked us to get someone to form a fan club.
'Let's Live' was a fine ballad with plaintive vocals, gentle percussion, guitar and background Vox Continental organ. However, the sound was reminiscent of many tracks at the time and unfortunately the record got lost nationwide. Peter continues: "Our record went straight to number one in the local chart but only creeped into the lower part of the UK top 50 for 2 weeks and then disappeared, but, by then, we were on a roll and knew stardom was only just around the corner."
The band added a saxophonist to boost the overall sound. They had to have two trucks and were playing all over the UK five to seven nights a week: "We did many 'All-Nighters' at big venues such as Birmingham Town Hall, London University, Leeds Town Hall, The Marquee, The Round House, Glasgow Maryland and Manchester's Twisted Wheel Club." Like many bands of the era, they were travelling all over Britain with incredibly long journeys in between: "There was one instance where we were booked at the Beach Ballroom in Aberdeen for one night which was followed by a 'late nighter' at the Golden Torch in Tunstall, Stoke-on-Trent the next night. After that gig we had to travel through the night back up past Aberdeen to Inverness Town Hall."
The Dawnbreakers' management company, the Kennedy Street Enterprises had other acts signed to them including The Jaybirds – later to become Ten Year's After; The John Evan's Smash – later to become Jethro Tull; The Farinas – later to become Family and The Warriors – later to become Yes. The competition between bands was fierce: "Some of these made it to deserved stardom but many others crashed and burned despite their very real and incredible talents. The fact that we were playing with these guys and watching every move they made resulted in some of it being washed off to our own influences which were soaked up gratefully."
They also encountered, Duncan McKinnon a booking agent for the Scottish Borders, all the bands knew him as Drunken Duncan – he had a still in his garden. He would book bands for 2 week hires and put them into as many venues as he possibly could – the more venues, the more money he made. His booking organisation was non-existent; Peter explained that "The Dawnbreakers have been The Zombies, Them, The Four Pennies, The Fortunes and many others. We'd get to a gig to find our name was not on the door, ring Duncan, he'd get a rapidly-made drum front name sent over and the MC would apologise that we could not play our current hit/s because of 'contractual obligations' – we got twice the gig money, free B&B and went down a storm."
The Dawnbreakers returned to Filey in May 1965 slicker with many new songs to their repertoire following the shift from Merseybeat to the harder sounds of The Who, The Kinks, John Mayall, The Animals and The Yardbirds and others whilst the new 'Electric Dylan' and The Byrds hit them from the America. At this time a young Robert Palmer from a local Scarborough band called 'The Mandrakes' came regularly to watch them.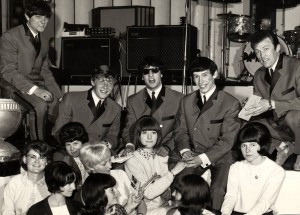 The winter of '65/66 took them all over the UK again playing support to many new bands that were on the way to fame: "We first saw Stevie Winwood when we supported the Spencer Davis group at Leeds University, upon hearing that wonderful, soulful voice live for the first time it almost finished my aspirations to be a rock singer."
After this tour, their bass player left to get married and their keyboard player and guitarist returned to their wives. They found good replacements for guitar and bass, and also added Art Linden on tenor sax and flute.
The Dawnbreakers went back to Butlins in summer 1966 for the final time and in the winter the band went over to Frankfurt for three months where they played six hours a day, seven days a week. Peter met many bands who went over to record for the Beat Club TV programme which led to one incident where after encouraging Chris Farlowe and the Manfred Mann to play together on stage the club's manager instructed Peter to get them off as the Dawnbreakers were better!
In early 1967 had to advertise for an organist in order to 'swell' the sound. The band auditioned a new organist from Newcastle who travelled down to Filey. His equipment was superb, a Hammond C3 and twin Leslie speakers – perfect. They ran through several songs that afternoon and offered him the job – he accepted there and then, with one proviso:
"He had just finished recording a single in London as member of a complete session band for (as he said) 'an oddball guy'. He'd been paid in full for the session at an excellent rate but had to sign a legal document to say he would become a full-time member of the band that would be formed if the single ever got released and then went on to become a hit. As he left us that day he mentioned that the single hadn't 'a cat in hell's chance of ever becoming a hit'."
The organist was Mathew Fisher and the single was 'A Whiter Shade of Pale'. Needless to say, Mathew did not join the Dawnbreakers!
The band also auditioned as a foil for Ray Davies songwriting outside the Kinks. Ray loved the band but they were too raucous for the songs he had in mind. The band continued to gig and supported most of the big names, including Spencer Davis, The Kinks, Pink Floyd at Golders Green Refectory, the Stax Volt tour (Otis Reading, Booker T and the MGs and Sam and Dave).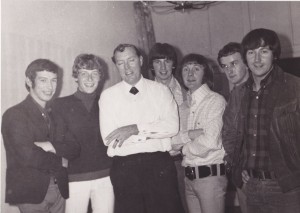 The Hendrix Experiences
In January 1967 after playing at the Club A Go Go in Newcastle they were asked by Hilton Valentine (The Animals guitarist) to play at De Lea Lane Studios, London the next day. After they finished they began to pack up their gear and in walked Jimi Hendrix to record material. The band asked to sit behind the mixing desk. After his gear was set up and a couple of soundchecks, Jimi knocked off the released version of "The Wing Cries Mary" in one take!
Two months later the Dawnbreakers bumped into Hendrix again. The band often worked for a Bradford agent named Benny Netherwood who ran a Sunday Blues/R&B club in a large private Hotel on Ilkley Moor called The Stony Lea. He always tried to book new bands that he thought would make it one day and at the lowest possible price – it was always a risk. He'd booked Jimi Hendrix direct from his manager, Chas Chandler, 18 months before for a fee of £30 and asked us to go as support on the night for £50! Peter told Benny that there was no possible chance that Hendrix would honour the contract but was completely wrong. Peter continues:
"Around 5.30pm we got a frantic telephone call from one of the Hendrix roadies who asked how he could get the trucks near to the hotel entrance to offload and set up. We all rushed outside only to find a sea of heads in front of us covering the entire car park and spilling out onto the main road in one of the most expensive and sought-after areas of the Yorkshire Dales. I suggested calling in the police but Benny just scowled at me and said 'Are you serious?' We all went outside and tried to clear a path for the vehicles which could only be seen in the distance down the hill which led into Ilkley town centre just over a mile away. Benny was screaming to them all – 'If you don't make way for the roadies, you won't even see Hendrix play tonight!' Eventually, others joined in to help and three trucks finally got to the car park and a team of roadies started off-loading and setting up. Towers of speakers that would fill Wembley stadium were set up all around the moderate-sized room and the first mixer desk we'd ever seen was placed into position in the centre of the room. The guy in charge told Benny that Hendrix and the band were flying into Leeds and Bradford airport and then taking taxis to the gig.
With 15 minutes still to go, the Hendrix trio were carried into a make-shift dressing room and Benny came to me, pressed £100 into my hand and asked us to start playing the moment the doors were opened in order to get the punters in quicker. We started up as the doors opened and the girls on the door got to work, the bar opened and got besieged with thirsty fans within seconds. I have never seen a room fill as quickly and all available seats were taken in minutes.
Benny was well-aware of what was taking place as he wrung his hands together and gazed skywards hoping that his £2 entry fees would continue all night long. He also was well aware that the house limit was 400. There were already over 1,000 fans in that room by then and adjoining rooms and corridors were filling to capacity whilst Benny sat at the back of the room and prayed.
It was 8.30pm when the sirens sounded outside, by then the bar had sold out of every drop of liquid and the staff had left. Police came in as fire engines tried to get into the car park. We were told to stop playing immediately and one policeman was shouting down a walkie-talkie that he estimated another 3,000 fans were still queuing up the hill all the way from Ilkley. Soon afterwards, Benny disappeared from sight and we started to pack away our gear. The police escorted Jimi and his Experience into nearby police cars and then they disappeared."
Read our Amazing Friendly Apple Feature for the next part of the Amazing Story of Peter Waddington:
http://thestrangebrew.co.uk/articles/amazing-friendly-apple
Comment from Des OHara – Hendrix concert Ilkley
The concert was at the Troutbeck not the Stoney Lea. Hendrix performed 2 numbers before the police shut the event down due to overcrowding. Hendrix fee was £50.