The Chemistry Set are one of the best British psychedelic bands of the modern era. Taking the 60s sound as a starting point, this duo's range of influences ensures that their feet are firmly planted in the now. As they release another superb vinyl offering, Jason Barnard talks to the band – Dave McLean and Paul Lake.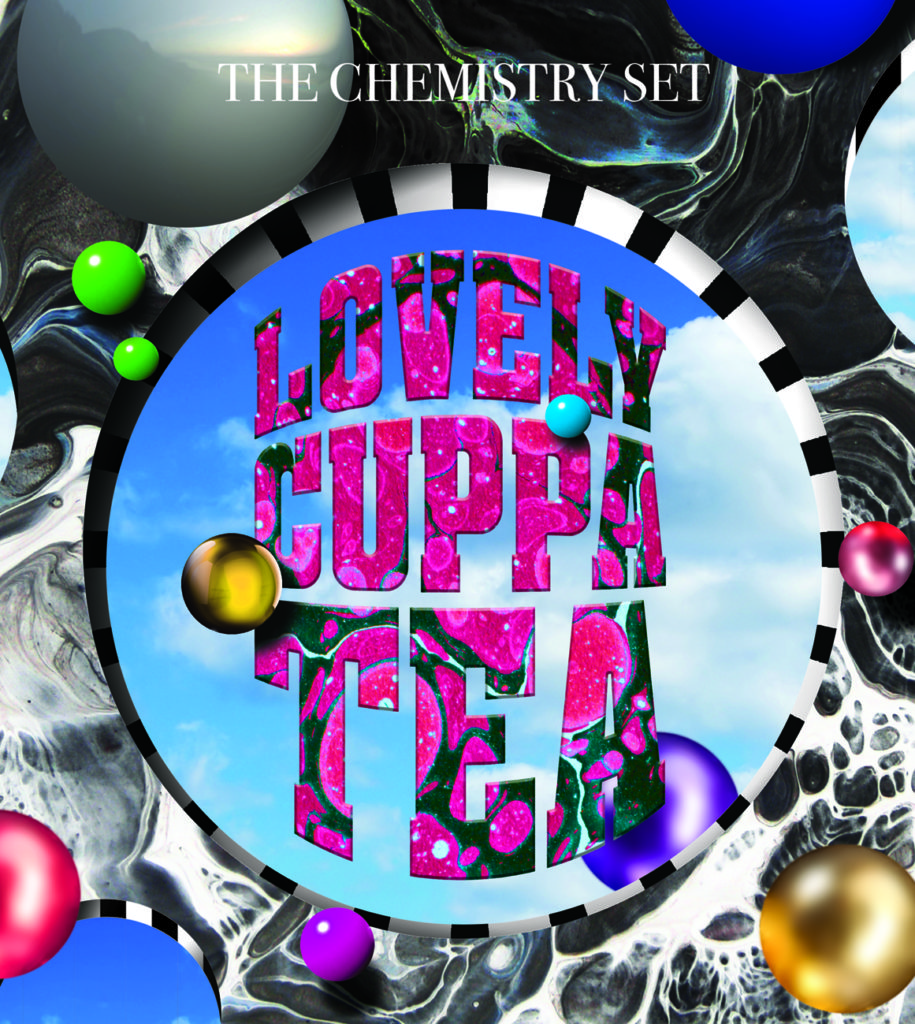 Firstly, it's great that your lead track espouses the virtues of a cup of Rosie Lea. In fact the first Strange Brew show paid tribute to this venerable beverage! What's your favourite tea related songs?!
(Dave) Blossom Toes – I'll be late for Tea & The Kinks – Have a Cuppa Tea
I can hear strains of the Small Faces, The Beatles and The Kinks in 'Lovely Cuppa Tea'. What was your inspiration for the track?
(Paul) First and foremost the biggest influence was Nanny Millie, my grandmother, who despite smoking and drinking ale and scotch all her life managed to live to be 93 years of age….she always swore that tea was the elixir of youth…the greatest placebo against the stuff life throws at you!
I know the Kinks did a song called "Have a Cuppa Tea", but as much as I love the Kinks, I never intended to use a similar title, but the phrase  "Lovely Cuppa Tea" just seemed to fit in the chorus and it stuck. Musically I can't deny there is certain "Sgt Pepper", "Good Morning, Good Morning" influence.
Originally the lyrics were about nursery rhyme characters that had turned to crime but drank tea to pretend to be good….like "Lucy Locket picked a pocket then she legged it like a rocket, Simple Simon mugged a pieman, sold his pasties to a fireman"…but it got so perverse and weird I abandoned it in favour of people with mental health issues, loneliness and convicted felons…you know, quite normal really!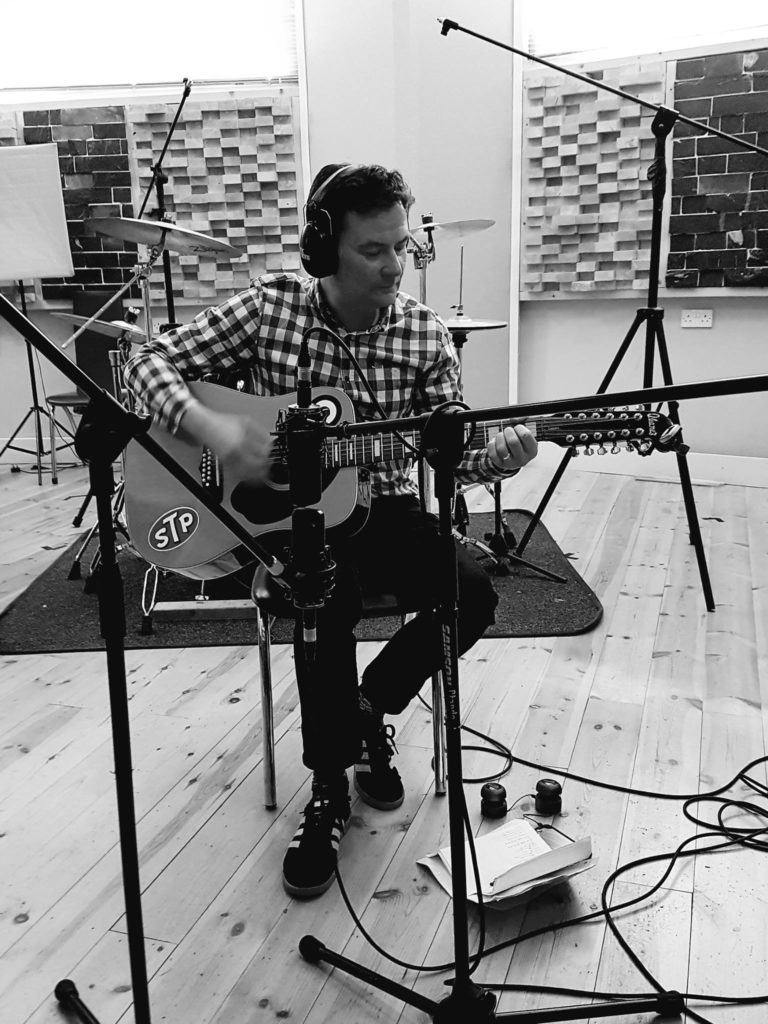 Paul Lake
'The Rubicon' has a more muscular sound, it sounds like a positive call to arms and criticism of the narrow minded. Was the political climate we have been living in over the last few years that was spark?
(Dave) Yes it was. I don't know if it is because I am getting older but the last few years I have noticed that some people are becoming more selfish, narrow minded, unhelpful and bitter. Life is hard, but we can all do something to improve that by being polite, helpful and accommodating to our fellow human beings. It's not hard. It also makes you feel good, try it!  That plus Trump, people being screwed around the world by Governments and Brexit, it wrote itself. I wanted the music to reflect the lyrics and Paul made the loudest (and best in my opinion) guitar solo ever. Paul played a Gretsch with a bigsby vibrato and we got a custom repeater pedal (like the Electric Prunes used) and a wicked custom fuzz pedal. Put them together with the amp turned up to 11 and you have that solo.
In classic Fruits de Mer fashion you've sprinkled magic over a 60s psych classic – why did you choose The Moody Blues 'Legend of a Mind' ahead of the many potential choices? It's an instrumentally ambitious track to choose.
(Dave) After finishing 'The Endless More & More', I was listening a lot to The Moody Blues 'In Search Of the Last Chord' and kind of got obsessed with "Legend of a Mind". I was also reading Timothy Leary's autobiography (Flashbacks) and thought we have got to cover this song but it was a huge challenge to do it justice and also give it a twist. So it just stayed in the back of my head until we knew we were doing the EP. I made a demo using a 12 string Rickenbacker and Paul put on some almost country licks on an acoustic guitar. I started laying some riffs down on the Mellotron (some following the original, some new) and it began to come together. We always thought the middle 8 was a bit weak, so we brought in some brass and added a fairground organ. For the rest of the song we added a healthy dose of fuzz guitar, analogue echoes, reverse noises and voila, we had our version!
You must have been nervous when you heard Ray Thomas was due to listen, but delighted when he said you 'made a cracking job of it'….
You never know what someone will think, when you cover their song. So to say I was nervous was an understatement. He turned out to be a true gent and was very gracious with his praise.
You've recorded a range of covers over years – what's been your favourite and why?
(Dave) 'Legend' because of the challenge to get it together (never give up!) and make a decent version. I am also very happy with our cover of Del Shannon's 'Silver Birch' because that song wasn't so well known and is one of my favourite songs.
(Paul) Dave and I take turns to choose the covers so whoever chooses a particular song arranges it and does the most work on it, so for example I did a lot of work on Hendrix's "Love or Confusion" and made it folky with 12 string acoustic and sitar while Dave added the mellotron flute and tablas. Dave chose "Legend of A Mind" and did fantastic 12 string Rickenbacker and mellotron work while I added the bass and slide guitar. For me these two would be my favourites because they are songs that we could have quite easily wrecked, but thankfully we just about got away with it.
Your last album 'The Endless More And More' received universal acclaim including Mojo, Q and Shindig. Looking back what's your reflection on the material and how it went?
(Dave) It was the first thing we have recorded in nearly 30 years, that when we finished and played it back, we were totally happy with and I still wouldn't change a thing. In typical Chemistry Set fashion, all the songs were refined several times before we got to the studio. We are obsessives about detail and getting the best out of a song. We knew in the studio we had something a bit special.  We were blown away by the reaction. I mean we finally got into the mainstream music monthlies. Q, Mojo, Classic Rock and Prog. They gave us 4/5 (8/10 Classic Rock). The editor at Mojo (Phil Alexander) really caught the bug and invited us to contribute a track for a CD they were releasing and also ran a competition to give away the box-set and played us regularly on his "Mojo Rocks" radio show. Steve Lamacq on BBC 6 radio also played the album. We have spent nearly 30 years in the underground and that is where we are happy and belong, but it was nice to get some mainstream recognition.
(Paul) I know this is going to sound horrifically corny but Dave and I really do have chemistry when we get in the studio, where we can kind of read each other's minds. Neither of us has to tell the other what to do because we already know! For example Dave knew what 'HP Lovecraft-esque' keyboard blips and licks to add to my cigar-box guitar riff on "The Open Window" and I knew what wonky fairground guitar break to add to Dave's wobbly tremolo guitar and weird stomp-box effects on "Albert Hoffman".
I think the songs really do reflect experiences we have had over the years and how emotionally we have dealt with things….both of us ended up writing songs that were deeply introspective in many ways from the emotion of "Elapsed Memories" to the pub knees up of "Crawling Back to You"….both of these songs each reflect our life experiences and perhaps an underlying melancholia yet sound poles apart upon first listening to them. We're both very self-critical and we really wanted to try and make every song as meaningful and as strong as possible. We would never be happy to record any filler material because that's totally pointless.
You've enjoyed a lot of success in Spain – are you still bigger over there than here in England?
(Dave) 'A legend in our own lunchtime' as The Rutles would say J. First time round we probably got better recognition in Spain (Top 20 charts) but I wouldn't say that is the case since we returned.  We have had some good recognition in the UK, USA and rest of Europe since our return. What we do get in Spain, that we don't get here, is more national airplay on the Spanish equivalent of BBC Radio 6 (RNE Radio 3). The new EP has been regularly played on 3 different shows already. We have also done sessions and interviews on the Radio. Plus half of our live band are from Spain and it's fantastic to play concerts.
How do you write and record your material – is it a solo or collaborative process?
(Dave) Both but regardless of who had the original idea, the song will change with input from the other person. As I mentioned above, we are obsessive about perfecting songs and they go through multiple cycles before we get into the studio. That is where the magic begins and even then the song can change again. I live in London and Paul in Cambridge, so we share lots of ideas digitally and bounce songs to each other. It is very organic and open and we are not at all precious about who does what.  Absolute credit must go to our engineer, Chris Coulter, who has worked on everything we have done in the last 9 years. He is the best engineer we have ever had.
Which artists past and present inspire you?
(Dave) Arthur Lee & Love, HP Lovecraft, Gene Clark, Pearls Before Swine, West Coast Pop Art Experimental Band, Fallen Angels, Moby Grape, Electric Prunes. There are a number of interesting worldwide contemporary bands giving psych a twist, like Hurricane Heart Attacks (Argentina), Psychic Ill's (USA), My Expansive Awareness (Spain), Lorelle Meets The Obsolete (Mexico) and Throw Down Bones (Italy).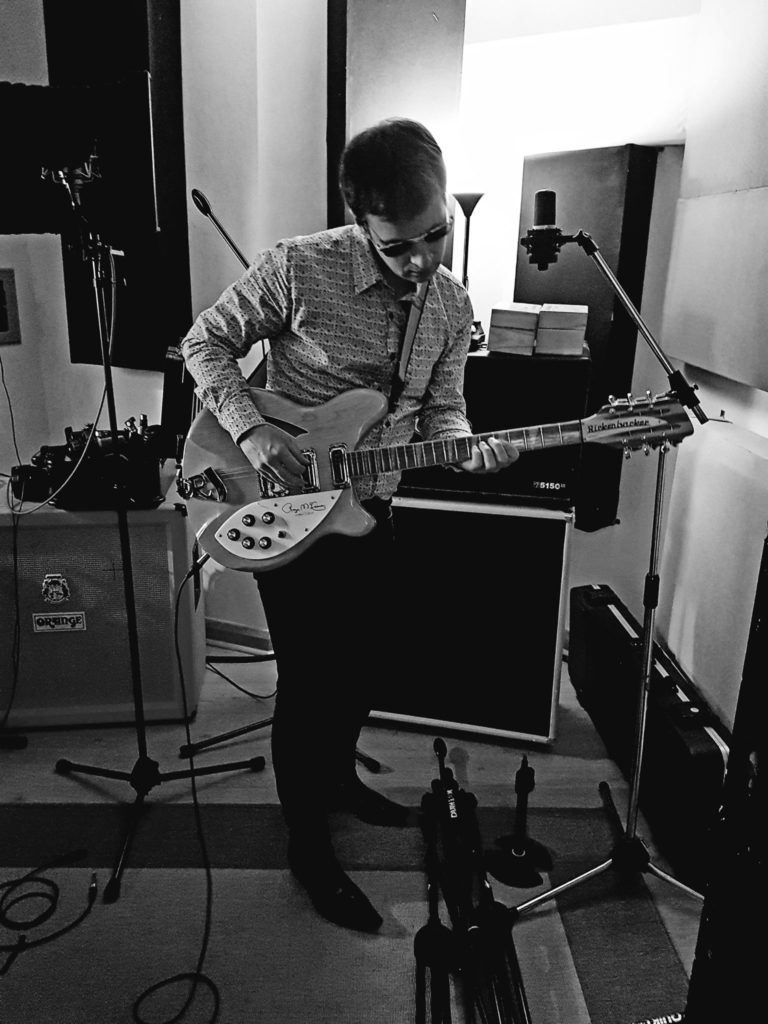 Dave Mclean
(Paul) The Beatles, particularly from '66 onwards, Rolling Stones 66 – 71 period, Jimi Hendrix, Bob Dylan, Pink Floyd, Traffic, Cream, Nirvana.
The Chemistry Set has been around for around for almost 30 years, how do you think your sound has evolved over the years and what tracks from your earlier material do you still like?
(Dave) I think when we started, we were actually more 'indie' than Psychedelic. We were an indie band with a psychedelic slant. There were some great times and great gigs but when I listen back to the recorded music I am not happy with it. The ideas that we had in our heads and in rehearsals didn't transpose into the recordings, which was a shame because we had some great ideas.
The difference today is that myself and Paul are totally 'tuned into' what we want to achieve and how we want to sound. We may encompass different styles of music but every song is embossed with a  distinctive Chemistry Set sound. We also produce ourselves, so this allows full creative control. We want first and foremost to produce a great song, with melody and harmony but equally we want the song to sound great sonically and allow the listener to repeat listen many times and hear something new. We have learned so much about sound in the decades since we first started and that translates into confidence in the studio. The key today is 'obsession' and 'enthusiasm'. We have both of these in abundance.
(Paul) We were barely out of our teens when we first started gigging around London. The band in those days was much more orientated towards playing live and we were a really great live band, so when we recorded in the studio we recorded as a live band too which gave an overall sound that maybe lacked finesse and was rougher than now but it had great energy. One of our greatest achievements was a fantastic performance supporting Hawkwind at Brixton Academy 1990. I still like "See Emily Play", "Don't Turn Away" (Romilar-D 1989 version), "Wake Up Sometimes", Under The Valley, "Some People Never Learn" "The Look Inside"  and "Orange Juice Sun"
What plans do you have in store for The Chemistry Set – another album, more live shows?
(Dave) I don't know whether we will do another EP before the next album or the album but we will be back in the laboratory for sure. Our 30th anniversary beckons, so would be nice to do some live shows.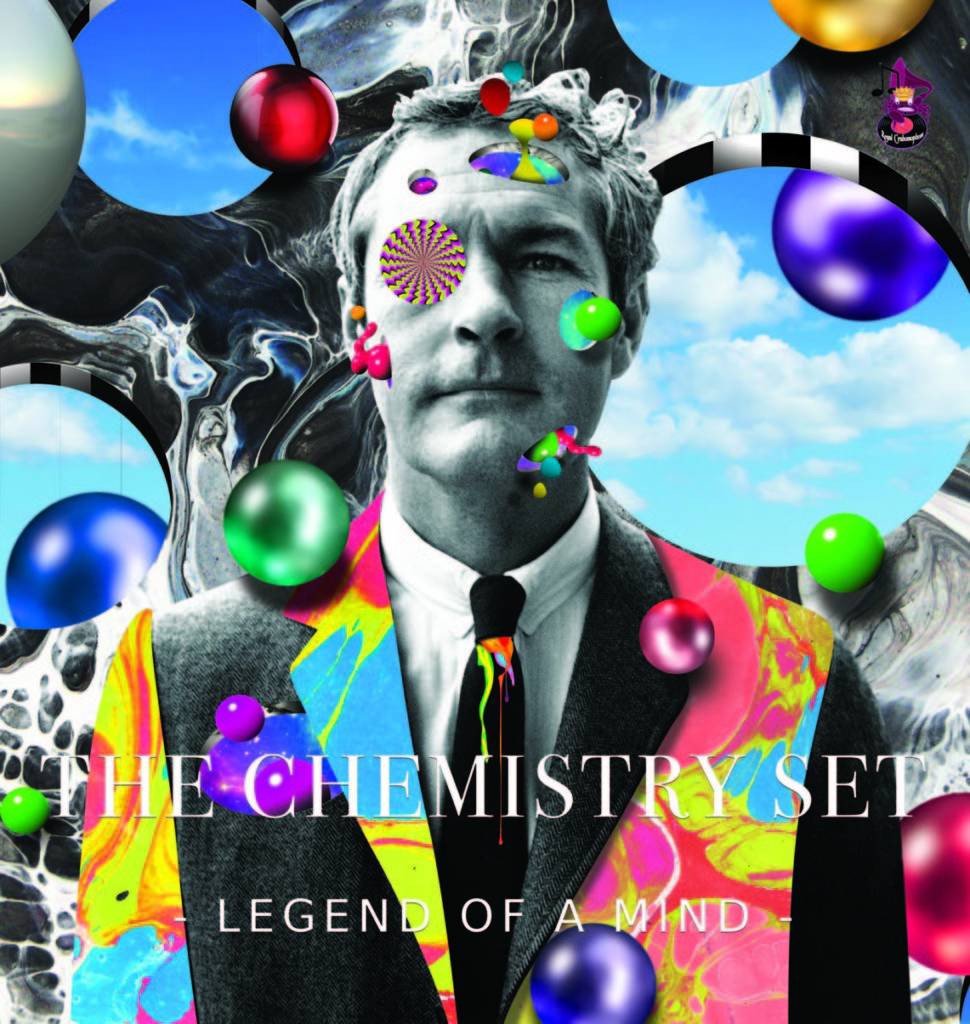 Finally, how do people connect with you and get the 'Lovely Cuppa Tea' 7″ EP?
Facebook (news, music, videos etc): https://www.facebook.com/TheChemistrySetUK/
Bandcamp (all our digital releases): https://thechemistryset.bandcamp.com/
Fruits de Mer records (for people in the UK who want to buy the EP): http://www.fruitsdemerrecords.com/cuppa.html
Shiny Beast (for people in the rest of the world who want the EP): https://www.shinybeast.nl/item/450800/chemistry_set_col_1_lovely_cup_of_tea.html
This post does not allow comments