With a CV to die for Michael Des Barres has successfully straddled the music and acting worlds for almost half a century. Already ahead of the curve by the early 70s fronting glam punk pioneers Silverhead he continued to release exciting, hip-swaying rock with bands Detective, Chequered Past and The Power Station plus his solo work.
After taking an extended break to act in countless TV and film releases Michael recently re-lit the touch paper to reacquaint listeners to authentic rock music with long player 'Carnaby Street' and live album 'Hot and Sticky'.
Michael spoke to The Strange Brew's Jason Barnard to put this all in perspective and share what's truly important in 2014.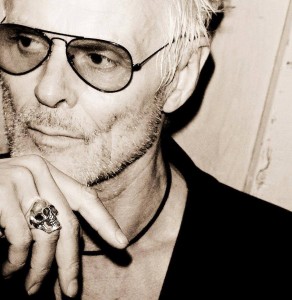 Michael Des Barres (from michaeldesbarres.com)
Late last year you released a live album 'Hot and Sticky'. There doesn't seem to be many rock albums out there at the moment, especially live ones.
The guitar is the new dinosaur isn't it. It's not the potent symbol that it was. The thing about my shit is that I've never changed. I've played nothing but Muddy Waters, Chuck Berry, John Lee Hooker rock and roll with a hint of Lord Byron. I've never played anything else. Even with The Power Station, when we played live which was all I did with them. We did a two and a half hour rock and roll show. We did White Light by Lou Reed and my songs. I never really wavered from the original vibe in 72 with Silverhead, dirty-bluesy sexy music that's really more celebrated from the waste down than the neck up. 'Hot and Sticky' in particular is important in a technical sense as it has no overdubs on it. I didn't put anything on it, tune anything, put a vocal on it or put a 'Baby' before the fucking solo.
It's amusing to me hearing about albums recorded in garages, but those garages are usually in Bel Air by indulgent rock stars. Mine was recorded at The Viper Room one night. It wasn't even recorded for an album. I record everything. I like to listen to it and learn from it. I thought that one was particularly chaotic. (laughs)
It sounded so spontaneous and fresh to me that I thought 'Fuck it. I'll just put it out.' I put everything out myself, I'm pretty autonomous. I don't have to bend or twist or break anyone to get something out. I'm proud of it. It's hot and sticky and got a tribute to Humble Pie, Steve Marriott my favourite singer. I think it's a very worthwhile piece of music for a dying art.
You play a few tracks off your previous album Carnaby Street. I've interviewed quite a few artists from the 60s and the thing I seem to get from them is the endless possibilities and the freedom to do things. Is that something you recognise?
The freedom was because that it was a precedent setting moment in rock and roll. Freedom is that you are able to access anything and reconsider it for the first time. That's why they consider the early 60s through the 70s a realisation of the hybrid of the blues, vaudeville, music hall, jazz, skiffle and country. The template was set then.  Everything that's followed has been influenced by those monolithic bands that began this whole trip.
I was fortunate to be in London as a teenager which was probably like sitting on the top of Mount Olympus surrounded by the gods. Every night there was an experience that you couldn't believe was happening. It was an amazingly spiritual, revolutionary moment. It was based on deliberation of restrictions on British society and a whole new way of thinking. Now you're smoking hashish on Kings Road wearing a velvet cloak going to see Jimi Hendrix. There's no velvet cloaks anymore except at raves. And they're not going to see Jimi Hendrix, they're going to watch a screen with Skrillex a few inches high as they dance together high on ecstasy.
I interviewed Moby the other day and he had a very interesting explanation for the difference between dance festivals and rock festivals. Today, the audience is the star in terms of dance festivals and DJs. In rock in the 60s and 70s, Jimi Hendrix was the star, the band was the star. We all went to be blessed, influenced and inspired by those people. Now it's a cerebral thing, the tribe is the star. There's nothing wrong with that. We needed the freedom to experiment and it was available as the morality of the time was shifting, in every way, in art, fashion and music. It was a new way of living. It was free, androgynous, sexual experimentation, breaking down the barriers without the fear of dying from it, not like we have now with the dreadful plague of Aids.
Today you have instant communications, and abbreviated careers. You're famous for the weekend. But in those days you were given a chance to work on your craft and make your second, third or even fourth album even if it didn't sell. It was a different climate, it gave you the room to have freedom.
I listened to your excellent Beatles show this week. Is that one of your key roots?
Oh, yes, absolutely. Everything comes from there as I was 19 in 1966. When I did that movie, To Sir With Love, that had such a cultural impact and therefore was given the privilege to sit in the front row and watch the faces. It was a very wonderful opportunity that I had in doing that movie.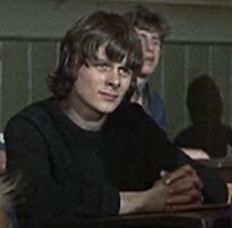 As "Williams" in To Sir with Love (1967)  (from michaeldesbarres.com)
The way I saw The Beatles was kind of interesting. I was at drama school. In the first few weeks they took me and five others, three girls and two boys, and we were the credit sequence on television on the BBC for a concert. The New Musical Express was an annual concert with everyone; Dusty Springfield, The Animals, The Hollies, Swinging Blue Jeans, Manfred Mann and The Beatles. That's how I got to see The Beatles. It was obviously life changing.
I'm glad you saw the Beatles show on Roots and Branches. I do feel emotional about it. It had a tremendous reception, hundreds of thousands of people watched it. The 60s remain tremendously important.
You sang 'The Sun Ain't Gonna Shine Anymore' at a Scott Walker tribute a few years back. Is he an artist you admire?
Oh, god yes. In every incarnation. When you're talking about Scott Walker, Scott Engel, you're talking about Serge Gainsbourg, Jacques Brel. The world would be very different without Scott Walker. He was David Bowie's inspiration. Anyone who had suss at all realised that Scott Walker was Jesus. He brought a whole other melancholy, a real sadness to pop music. The baritone, it was so emotional.
Montague Terrace.
Oh god. Then he turns into this avant-garde.
Nite Flight.
Yes, amazing, just staggering. When we did that it was curated by Allison Anders who I'd made a couple of movies with, an incredible director. There was Henry Rollins, John Doe and me. I could have sung anyone of those songs but I thought it would be good to close with the obvious because, that phrasing, its so of his career.
I do love the two Silverhead albums. There's loads of amazing songs; Long-Legged Liza, Ace Supreme, Only You. It's just staggering you didn't get the success. You seem to be more popular now.
Thank you. We do sell more albums now. You're obviously a smart guy. You know that the Dolls didn't sell any records, nor did the Velvet Underground. If you are ahead of the curve, this is not a good thing! (laughs)
It's a good thing for art and a good thing for people to be inspired by but not for riches, fame and sales you're too early.
If Silverhead weren't punks, I really don't know what is. I ended up in a band with Steve Jones and he stole that Silverhead album. He was 13 years old. It was like 'Let's fuck' music but also 'Fuck you' music. We did exactly what we wanted to do and pissed a lot of people off and the machine ground to a halt. Without the machine you get rusty. We disappeared in a cloud of hashish and glory. I'm so proud of that band.
They're putting out this best of which is unbelievable. Remixed, two new cuts that none of us remember recording (laughs); called 'James Dean' and Marilyn' after we came back from America. They found them and remixed them and they're putting them out.
Rolling With My Baby, sounds like pre-Thin Lizzy.
Well, I love Phil. I'd get stoned with Phil on many an occasion, chopping illegal substances with my credit card. And I loved their music. It's essentially English Blues. The great thing about Phil was that he was a black Irishman and I'm a black Marquis! (laughs) Black from the waist down. It's just a feeling. What's striking about music is the frequency, it's an energy. It's not notes or the virtuosity. It's a vibe.
You either feel that vibe or you don't. Jack White, The Alabama Shakes, The Vintage Trouble feel that vibe. There are still bands that feel that sultry, swampy, dirty, sexy music. The majority of artists today are angry, aggressive or apologetic. There's no celebration of hip thrusting or tail feather shaking rock and roll.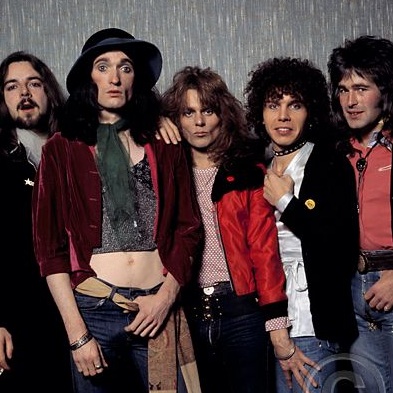 Silverhead
Phil was fucking amazing. To see him live and see him convey that vibe was shocking and really beautiful. Marriott could do that too. It's almost gospel. That's why I love gospel music. It's based on the notion of call and response. The singer sings and audience sings in response to that. Freddie could do it too. It's a magic moment. For me that kind of magic has dissipated somewhat.
With Detective you made a pair of great album with songs like 'Nightingale', 'Are You Talking To Me', 'One More Heartache'. Was it the Led Zeppelin influence that got you signed to Swansong?
We're often compared to them but I suppose it's true but it never struck me like that. I just wanted to make a heavy blues album. When you're exploring the same territory, of course you're going to sound like Led Zeppelin.
You had the same influences.
Exactly. Our drummer was very into Bonzo. Who the fuck wasn't. I'd rather be compared to Led Zeppelin than say, The Archies. We were a very powerful music. It also reflected the drugs we were taking. Silverhead was a cocaine band. Detective was a heroin band. Chequered Past, was for me a sober band as by then I was clean. The rest of the band were not which was a very interesting dynamic. You can tell the type of music I was doing by the drug I was on.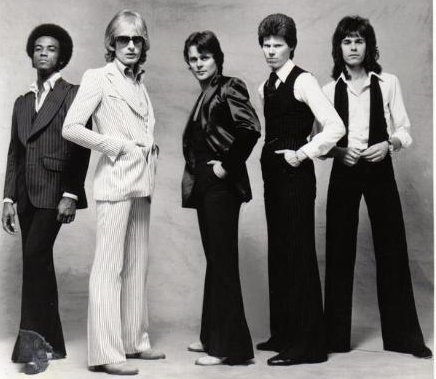 Detective
I interviewed The Pretty Things last summer and they were on the same label as Detective. They did get in the charts in America but they had mixed fortunes.
There was no label. The label didn't exist, there was no promotion, nothing. I don't say that in a 'You bastards…'. I love Jimmy, Robert and Mr Jones to this day. It was not a label taken seriously by Atlantic to give it the infrastructure to get it across. I couldn't even spell infrastructure in those days, I could spell heroin and velvet trousers but not infrastructure. I was blissfully unaware of the business and couldn't give a fuck. We spent a million bucks making it.
Robert Plant and Michael Des Barres, 1977, photo by Brad Elterman (from factory1977.com)
It wasn't that we were not given the money to explore these things. We waited a year for Jimmy to produce. If you get a new band and you give them a million bucks and don't do anything with them for a year you can imagine what's gonna happen! It was Los Angeles, 1976. Obviously we were gonna get strung-out and strung-up! (laughs) In terms of promotion there was none of that.
Didn't Kiss record or play 'Ain't None of Your Business' live?
Yes, Gene Simmons has been really good to me. He loves Silverhead and I interviewed him a couple of weeks ago. He put Detective on tour. I don't know if they put it out. We did the song, I love it, it's one of my favourites. I think maybe Peter Kriss sang it. He had a great voice. A hell of a song.
So was the next period when you decided to get clean and ditch the drugs?
June, 81. It was all absolute vanity. I looked in the mirror and thought 'Oh, Jesus'. I looked like Ava Gardner in her 60s. I got clean. Vanity got me sober however a few months in I realised it was a new consciousness. A new way of looking at the world in a spiritual awareness that gave me clarity. It's been an incredible journey.
I would never negate what I did because I learned a lot and had incredible experiences, both positive and negative. But the negative experiences drove me to the clean life that I live today. I've had an amazing career in so many different areas and I'm so grateful for it. To be able to get up and do something you love is a blessing. I would be a footnote underground in an unmarked grave if I'd pursued that bullshit.
So from Silverhead onwards into the 80s you weren't acting?
So initially I was an actor and did 'To Sir With Love' with Sydney Poitier, a huge movie, did television and a lot of theatre, Shakespeare, Julius Caesar, a lot of classical theatre. I was 19 I think and ended up in a nude musical in the West End called 'The Dirtiest Show in Town'. I played an androgynous rock star and Andrew Lloyd Webber saw it and said 'You are an androgynous rock star.' (laughs) 'Come with me.' So he got me a record deal. That was Silverhead. So until the mid 80s I played music. It culminated in the 80s when I replaced Robert Palmer in The Power Station and I also wrote 'Obsession' which was a number one all over the world and made me a fortune.
I put out a solo album which I was very proud of. It had Andy Taylor, Jim Keltner on drums. Unbelievable. The day the album came out the label collapsed. The guy who signed me went into rehab. It was one of those classic rock and roll anti-climaxes.
Within a few days I auditioned to play Murdoc in MacGyver for an episode. The fans really loved the character and I ended up doing it for the next six years. After that I established my acting credibility and I did every single job I was offered. Because I released that they thought I was a rock and roll guy. I had to prove that I could show up know my lines, hit my marks and give a good performance. It took them three years to realise I wasn't a maniacal heroin addict.
You worked with Steve Jones of The Pistols in Chequered Past. You seem to have something in common with The Sex Pistols, authenticity.
Completely, it's everything to me. Authenticity means if you're going to express yourself, you better know what yourself is. If you choose to present a persona of yourself you are merely a performer. You are not an artist. I had a very hedonistic life but 2014 is not 'Rolling With My Baby'. 2014 is about water, power, the lack of it and the abuse of it. It's about throwing the TV out of the fucking window and being authentic.
Muddy Waters didn't emulate anyone. The greats of today are influenced by authentic artists, or they are influenced by inauthentic artists which makes them inauthentic. Authenticity comes from understanding who you are and stripping away the bullshit and the masks; writing from the heart what you really believe. In that case anyone can be successful, success is dictated by how authentic it is, not by sales.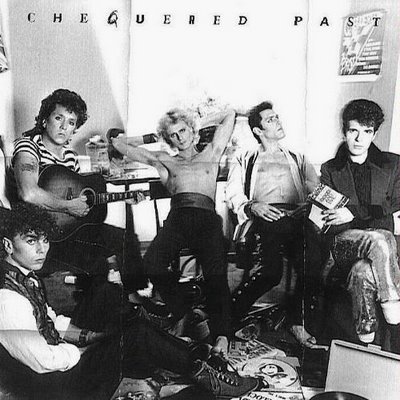 So if you aren't authentic you can't connect with someone.
Yes. If you're on a date and you present this person, what happens at 3am? Do you let your guard down or maintain this persona. How exhausting to keep that shit up. Both in your life and your art, to me they're the same, authenticity is everything. Steve Jones is my favourite guitar player as he's not bluffing, he plays exactly how he plays. He's influenced by Eddie Cochran and Thunders and he wears his influence on his sleeve but he's playing for himself.
He ironically used to put 'Guitar Hero' on his amp because it's such a ridiculous idea. He's a very intelligent lad. He might have come from the streets of the East End of London but there's nobody that's smarter than Steve Jones. He knows the street and he knows the human condition. He can smell bullshit a mile away. He really taught me a hell of a lot. We were complete opposites. I was a man from a very wealthy family and went to ridiculous schools. I call it the bipolar opposite of Jonesy. Reciprocally we learned a lot from each other. He's one of my dearest friends to this day. I spoke to him this morning.
I must mention The Power Station. Was it true you only had two weeks to prepare for Live Aid?
10 days. I was in Texas with Don Johnson, he was making a movie there, a remake of The Long Hot Summer. I got a call from Wayne Forte a promoter in New York. He said 'Listen, there's a band that wants to go on the road. They have a hit album and no singer, they dropped out'. I said 'Who is it?'. He said 'I can't tell you but would you go to New York and meet them?'.
You know Obsession was huge, it was 85. I was feeling really good about myself. I'd kept physically fit and would go to the gym so I was ready, raring to go. Chequered Past was on its knees because of the drugs. So I went to New York and to this office and there was a very nervous John Taylor with the brilliant Tony Thompson looking somewhat fearful because in 10 days there was a show called Live Aid. (laughs)
That little show!
Just that little gig. So we got along great and that night I got on Concorde and went to London. I went into a studio to meet Andy. He was 8 hours late and arrived in a billowing cloud of marijuana and two bodyguards. I'd already set up 'Get It On' in the studio. He walked in and I sang a version of 'Get It On'. He pressed the intercom button said 'Let's go shopping.' So I went shopping with Andy and bought 20 grams of Vivienne Westward. I came back to New York and rehearsed for a few days, a 2 and a half hour show. 33 songs, 10 of them were my own because they had one album. There you are at Live Aid. The next 6 months I spent with those boys who I love to this day.
Two things struck me about watching The Power Station at Live Aid, the girls screaming and your amazing confidence.
It was one of those days that you look around and think I had nothing to lose. This is a huge experience. I was in the trailer and I knelt down and I just closed my eyes and I had this epiphany. It was, as a performer you're not there to be worshipped. You're there to have a conversation with the audience. It takes two to fucking tango. Without them I'm just another dude. Without me they're in an empty parking lot. I thought 'We are doing this together.' It took away the nervousness. If you think you're on display and have to deliver the goods; that's why Tina Turner was writing the words on the palm of her hand a song she had sung a thousand times. People were so nervous. People saw Bob Dylan.
You saw it. A lot of the bands fell apart, choked because of the pressure playing to 2 billion people. Bill Graham was screaming at everybody. He even screamed at us. Andy's amp didn't work and we were scheduled to play longer but didn't. He said 'You'll never play ever again. You're banned for life!'. I just laughed. There's actually photographs of me laughing at him. I was so blessed to be there. How was I there? How did I end up on the world stage? From being in cult bands and suddenly I'm in a band that sells 3 million albums by then. I was so happy. It was confidence but it was also joy. Geldof was running around like the Prime Minister and barking orders at everybody. He's a miserable guy, he never really made it, he really wanted to be Mick Jagger and that didn't happen. So he got knighted for seeing a documentary on TV and doing something about it. God bless him.
You did record 'We Fight For Love' which was on Commando.
That was fun. I had the lyric and I knew the producer, Joel Silver and we put the two things together. It was great to record with Andy. Andy's a very underrated guitar player. He's a rock and roll guitar player and on his subsequent records you can hear it. Musically he's a great arranger, great songwriter. John I adore to this day.
Then you were hugely successful in acting.
I'd reached a point where I'd played every villain on every TV show on the planet. I'd killed people on telly every week, it was getting really repetitive. I'd had a vicious physical accident and broke my arm and my bones were shattered. I busted my wrist on several occasions falling off stage in fights and just the recklessness of being on the road.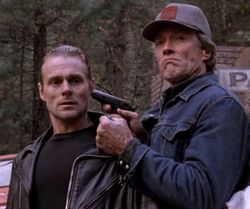 With Clint Eastwood in Pink Cadillac (1989) (from michaeldesbarres.com)
I went to Austin and stayed at my friend Jimmy Corr's ranch and there was a studio. I met these incredible authentic musicians there. We sat around and as part of rehabilitation I handled a guitar as it was really good for my fucked up wrist. I started to play and I had been writing a lot and I had something to say. I was involved in social media and I started to take those words and trust those writing. I started to play them in a bluesy context and rock and roll thing, slide guitar.
A V3 organ suddenly appeared and I thought great and it was like I was back to 18. I wrote Carnaby Street and then recorded and mixed it in 10 days. It did incredibly well, read the reviews. People went crazy. When I say that I don't mean it egoically. It was that it was a breath of fresh air from the past rather than creating new instruments. People had a chill in their spine from yesteryear.
I came back to LA and started to play clubs. We put a great band together. Eric from Iggy, Paul from Tina Turner's band. We just rocked and played and people loved it. Then we did the Viper Room and put that out.
Now I'm working with a guy, Jeremy Little, and doing a different kind of music. I was terribly amazed and intrigued by David Bowie's album that he's just released. I just thought that was such a bold and brilliant album. I started to think that I would just want to sit and create this music rather than plug in my Les Paul and rock. I wanted to give it more of my thought process. So I made this EP called 'Solutionism'. It's about the environment. I say in '2014' that a change is coming. We've hit a wall. The apocalypse is already happening, we've hit a wall. The system is like and ocean liner and has already started to turn. Unless we are part of the solution then we're all part of the problem. You're either on the side of the environment, clean water and equalities or not. Get on with what's important.
So people can get '2014' now?
Yes, just go to my website michaeldesbarres.com, amazon and iTunes. There's a YouTube thing. My website is great, it has all my blogs, archived shows and videos, all my stuff is there if you want it. There it is
We touched on Roots and Branches but you also do another show.
The Michael Des Barres show is the most important show to me. In Roots and Branches my awareness of music, I'll play Sonny Boy Williamson then I'll play Zeppelin and talk about the similarities. I'll play The Velvet Underground then I'll play The Strokes and talk about it. The Michael Des Barres show I call no holds 'Des Barred', it's an intimate conversation with someone who has something to say. I love that you brought authenticity up. That's what makes an interesting conversation. If two people are authentic people the audience will be engaged. If someone is selling themselves or what they think is themselves. you've got nothing, you've got bullshit, lies. Promotion, projects. Nothing. I'm not interested.
When I had Julian (Lennon) on I never used the word John or the word Beatle. I talked about what he is and he felt safe. When I had Melanie Griffiths on we talked about Dakota, her daughter doing 50 Shades of Grey, Don Johnson and epilepsy which she's been diagnosed with. We talked about real things that real people talk about with each other. The audience can take away more information about the human condition but through the eyes of this person I talk to. I don't have to talk to a celebrity, I'll talk to a valet at the Four Seasons hotel or the bass player who's staying on the floor of somebody's kitchen. That's more interesting to me than hearing Dave Grohl talking about how great Rick Springfield still is.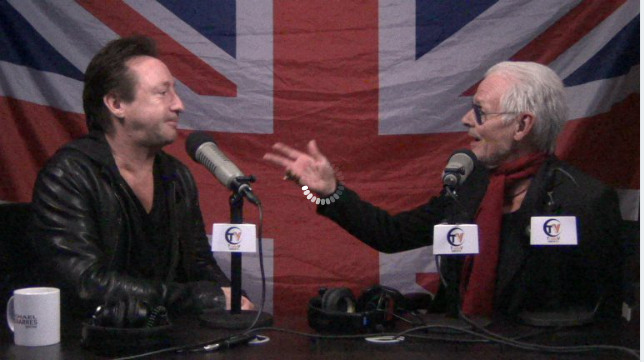 Julian Lennon and Michael Des Barres
I seemingly have this ability to make them feel safe and have an intimate conversation that's true and authentic. It also takes me away from my own narcissism and out of my own issues for a brief moment which is a vacation.
You do seem to have an insatiable lust for life.
Absolutely and it's a clean life. I'm 66 years old and I feel 16. '66 and savaged' as Nigel Harrison describes it. It's just a joy, I'm up early and in the gym. I have a beautiful woman in my life who I adore. I work my ass off. I do my shows, recording. I'm starting a new movie in Ireland in April and very excited about that. The internet is limitless and I'm reaching more and more people every week. I'm talking to people and playing music. What could be better.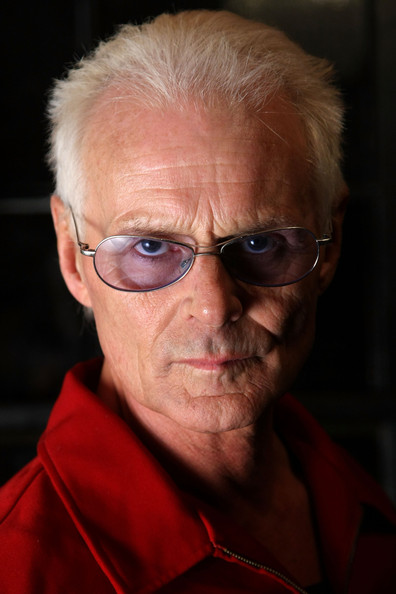 Michael Des Barres today
Finally, is there anything else you want to mention?
I would say to people to really work on stripping away the artifice and sticking with the art. Be kind, never complain and never explain. Just care for one another because when you look in somebody's eyes it's you you're looking at. We are the same, there is no difference between us. There's no division, we must unite and play, love and eat together. Enjoy great music and work for the betterment of the community. It's got to start in your own home town, in your own home. Thinking globally is great but it's abstraction. You have to look after the old folks and young in your community.
I'm doing a million projects and if you want to find them out go to my website. That's my living but my true motive is to just send out those good vibes. If we don't do that we're condemned to a grey Orwellian corporately owned world. It's really important in every way.
Michael, It's been an absolute pleasure to spend some time with you. I hope in my own small way I can spread the wisdom that you have and projects you're doing.
Bless your heart. What a pleasure it's been to talk to you. Keep in touch and I will too.
For everything Michael Des Barres visit michaeldesbarres.com
Copyright © Jason Barnard and Michael Des Barres, 2014. All Rights Reserved. No part of this article may be reproduced without the permission of the authors.