By Jason Barnard
As a founding member of The Moody Blues, flutist, singer and songwriter Ray Thomas chartered a path with the group from their early r'n'b days, psychedelia into symphonic prog rock.  
Now that Cherry Red/Esoteric releases a definitive 50th Anniversary Remastered Edition of  The Magnificent Moodies album; Ray looks back on his whole career with Jason Barnard, including the Moodies' formative years, shift to global superstardom initiated by Days of Future Passed as well as his solo projects.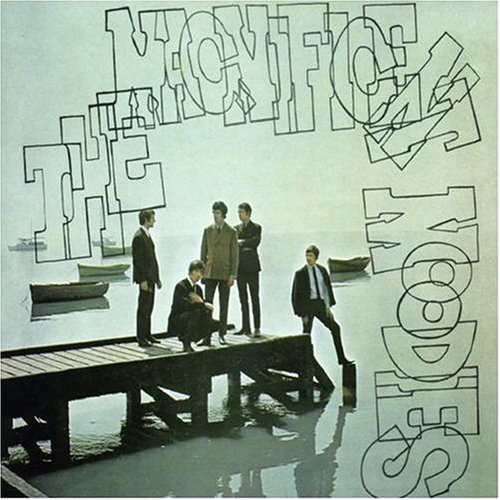 Hi Ray, it's great to speak to you. The first Moody Blues album 'The Magnificent Moodies' has been extended and remastered. What do you make of the new re-release?
It's half a century ago and I can't remember everything we recorded. I've had a listen and I was really pleased. We were a good band and some of the vocal harmonies were great. I think the box set is gonna be quite something.
Yes, it's over 50 tracks and it really captures the early years of The Moody Blues.
We couldn't remember doing the '23rd Psalm' either. I said I couldn't remember neither could Mike Pinder or Denny Laine. I started it singing it pretty straight and Denny took over and we turned it into a gospel thing. We did all that kind of stuff and must have been in and out of the studio like a fiddler's elbow!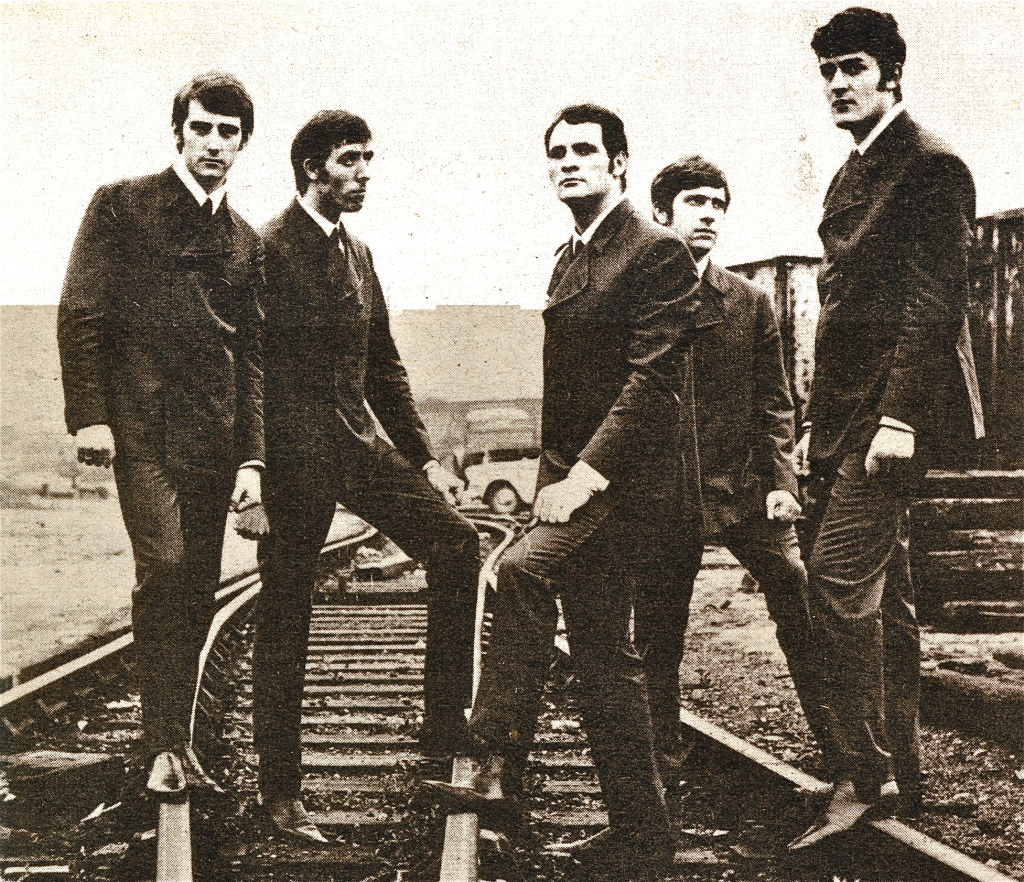 The Moody Blues 1964 (Ray Thomas far right)
Your first big success was with 'Go Now' which was a hit around the world, including the UK where you got to number one. I've read that recording 'Go Now' was quite a long process.
To tell you the full story, we first came down to London and started to play rhythm and blues. Different bands had a night at the Marquee Club such as Manfred Mann, The Yardbirds and Long John Baldry. One day Paul Jones got laryngitis so Manfred Mann couldn't play. We got a call in the afternoon and the Marquee said 'Will you come and step in?' Fortunately we hadn't got a gig so we were in there like a shot. The Marquee was the prime gig in London and we went down a bloody storm. They liked the fact we were from the north and we were playing slightly different music. We weren't playing heavy blues, we were playing James Brown and Rufus Thomas. So we were offered a night of our own and got involved with The Marquee that way.
The Marquee had started to build a studio in the back of the club and we were looking for one to work in. They said 'The studio is not finished although the control room is.' We said 'We don't give a shit. We'll go in.' So we went in after the builders had left at the end of their working day and recorded 'Go Now' under ladders and scaffolding, piles of plaster, god knows what. And that was the very first thing that came out of the Marquee studio. So that's why it was a long process because the studio wasn't finished.
I've read that the rest of the material that made up 'The Magnificent Moodies' was recorded much more quickly.
Yes, most of the stuff we recorded we were playing live and we knew all the songs off by heart. So what actually was on the album was our stage act.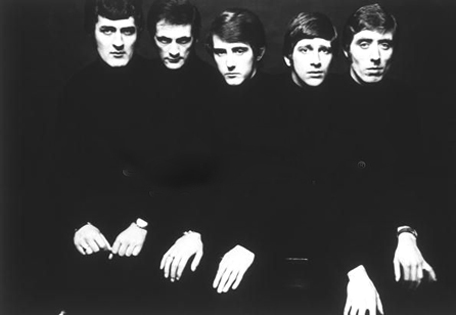 The Moody Blues publicity photo taken at Marquee Club for Go Now promotion (Ray Thomas far left)
You sung 'Ain't Necessarily So' on it.
I sung it because I liked it, Gershwin.
Another song from this period was 'From the Bottom of My Heart'.
That was recorded at The Marquee too. I played an alto flute for the first time on that track. It didn't do so well in the charts at the time but we liked it. Another of the songs that I like from 'The Magnificent Moodies' is a song that Denny wrote called 'Stop'.
That was a single.
Yes, it's got such an unusual beat.
You mentioned playing live. I've read that you toured with The Beatles in 1965.
Yeah, we did the very last tour they did over here. We knew The Beatles very well and they were always over at our pad. We used to bounce off them and they used to bounce off us. When they did Pepper they came over to the house with the tape and said 'What do you think of this?' Of course we were absolutely knocked out with it. They appreciated our opinion, and we appreciated theirs. The last tour with them was terrific, we had so much fun.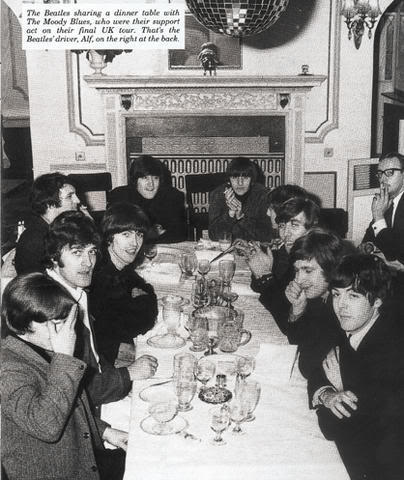 Ray Thomas sat next to George Harrison, 1965 – middle left
And you were managed by Epstein too.
Yes, we were managed by Brian although we ended leaving NEMS due to a French tour. We went into NEMS one day and they said they'd had this promoter from France on the phone and he wants to book you for a French tour. They said but 'You haven't had a hit in France since 'Go Now', it's not a lot of money but you'll get the exposure.' So we went over, got off the plane in Paris and there was photographers, press all over the place. We found out we'd been number one for weeks with 'Bye Bye Bird'. This promoter had got us for peanuts and we were a number one act.
When we went back we went to Brian's house and said 'Your company's not doing any research or anything.' We upset him saying 'You're the head of a crap organisation.' We all got on very well with him so he held a meeting the next day with his heads of department. He went round the table and said 'Well, what did you do?' The guy was saying 'We didn't do any exploratory work on it.', another said 'I didn't know they had a hit record.' NEMS was his baby so he hit the roof.
Anyway after he'd been round the table he slammed his fist down and said 'These guys are right. I am the head of a real crap organisation!' He turned to us and said 'What do you want?' We said 'We'd like our contract back.' He said 'Right', he sent for the contract and ripped it up in front of us. He said 'There you go lads. Good luck.' And that was it. But he could have held us to it. He was a gentleman.
You were still producing some great material like 'Life's Not Life' and 'This Is My House But Nobody Calls' even though they were not hits.
Yeah, I'm learning to enjoy them again. This guy from the States sent the Rufus Thomas songs taken from the New Musical Express concert. I was just knocked out with the vocal harmonies.
We used to travel home from gigs in a van and we'd have a drink and maybe another substance. We used to sing dirty rugby songs but in perfect harmony, or as perfect as we could get them. Basically that's how we rehearsed our vocals, we'd sing all the way home, sitting on amplifiers in the back of a transit. They were good days.
Was it because you weren't getting much success that Denny wanted to do new things?
As Denny was the lead singer he was getting a lot of press so he figured he'd try his luck solo. Funnily enough I think we would have gone more or less on similar lines. When Denny left he got a string quartet together. I guess that's what triggered him off, trying to marry different music together.
Yes, he released 'Say You Don't Mind' which had strings. Your bassist Clint Warwick left before Denny didn't he?
The thing was Clint, our bassist, was married with a couple of kids and his wife didn't want him on the road. His family had got a scrap metal business so he left and went to the family business. And I've known John Lodge since I was 14. We'd been in bands before and we couldn't get John in the band initially because he had a year to go on his apprenticeship and his dad wouldn't let him go.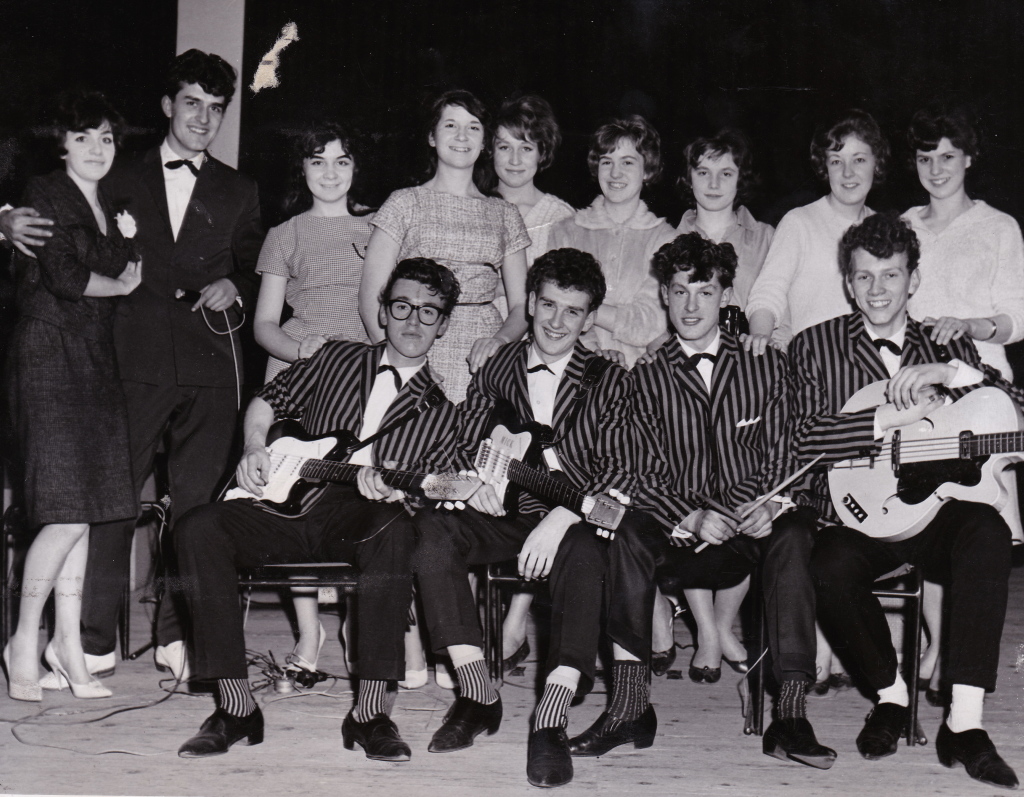 El Riot and the Rebels (Ray (El Riot) standing, far left. John Lodge far right, seated with his bass on his lap.)
I'm a bit older than John and I finished my apprenticeship. My dad said the same as John's, 'This is a chancy business. You might not make it but if you finish your apprenticeship you've got a trade to fall back on.' Good old northern thinking.
So that's why we got Clint in. From forming the band to 'Go Now' being number one was a relatively short period. But when he left I was straight on the phone to John and he agreed to join the band.
And Justin Hayward joined of course to replace Denny. I've heard about the story where the band went to the north of England and did cabaret.
It was a bloody disaster. Colin Berlin was doing our agency work and we were getting short of gigs, like you do if you haven't charted in a while. So he booked us into this cabaret thing. We went up there and it was all working class folk who sat on their hands like to say 'We've paid our money, entertain us.' Halfway through our act the club's manager phoned Colin up and said 'What the bloody hell have you sent me? My patrons and clients are leaving in droves.' We were trying to play stuff to entertain them and it wasn't our way at all, it was so bad.
When we came off stage there were tears in the dressing room. Some guy came in and he was ever so polite. He said 'I've just popped my head in to tell you that that's the worst bloody show I've ever paid money to see.' And we all thanked him! So that's when we decided, we called it 'Shit or bust', to write all our own material. 'If people like it, great. If they don't, well we'll enjoy it.' We couldn't go back to cabaret.
It was 'Days of Future Passed' that broke you.
Oh yeah but even in the States 'Nights In White Satin' didn't take off and they pulled it and put 'Tuesday Afternoon' out. It was that got people interested in 'Days of Future Passed' over there. We worked damn hard breaking the States. It's such a big country we were doing three month tours almost back to back. You've got to be seen over there and most of our success came by word of mouth right throughout our career.
Another thing that was strange considering a lot of our songs are romantic in feel was that 90% of the audience in the States was male. When people brought a female in they were looked at like 'What are you doing here?'
You wrote a few songs on 'Days of Future Passed' too.
Yes, we all split it up. We did like two each. I sang a couple of things for John, we all mucked in. Collectively when we were arranging we all put our two penneth in and say 'What do you think if we do that there?' So we thought we'd try it out. It was very democratic. Everybody had a say and everybody had a vote on things.
One of your songs 'Legend of a Mind' is particularly well known. That was where you sung about Timothy Leary.
People really took it seriously. At the time people where getting into this spiritual thing and I'd read a book of Tim Leary's. He was getting quite popular in America and I wrote the song as a bit of a piss-take. I could see the astral plane like a psychedelic biplane; you pay a few bucks and go around San Francisco Bay. I met Tim loads of times afterwards and when we played the Greek Theater in LA he came backstage. He said 'Can I have a quiet word?' so I said 'Yeah.' He took me to one side and said 'If you ever tell anyone about this I'll deny saying it. But that song made me more famous than I did.' [laughs] I always describe him as a mischievous Irishman. He used to wind people up on purpose. He was a lot of fun.
In this period The Moody Blues released a string of classic albums and key to them all were your material like 'Eternity Road'.
I was born in 1941 and during the war I was taken down the air raid shelter. There was our family and two other families who were our neighbours. Sometimes the Luftwaffe were all over us before even the sirens came off. Every night my grandmother would go 'Hark' and her friend Mrs Ackland, next-door, would go 'Listen'. Mrs James lived on the other side would then go 'Here he comes.' So they became known as 'Hark', 'Listen' and 'Here he comes.' So that stuck in my head so that's how I started 'Eternity Road'.
I pick up on things that are said or experiences I've had when I'm writing. With 'Veteran Cosmic Rocker' some reporter from The New York Times came to one our gigs in the States and he referred to me as the 'Veteran Cosmic Rocker'. At the time I thought 'Bloody cheek. I'm not veteran.' And then I thought 'That sounds good actually.' So I nicked it and wrote that song.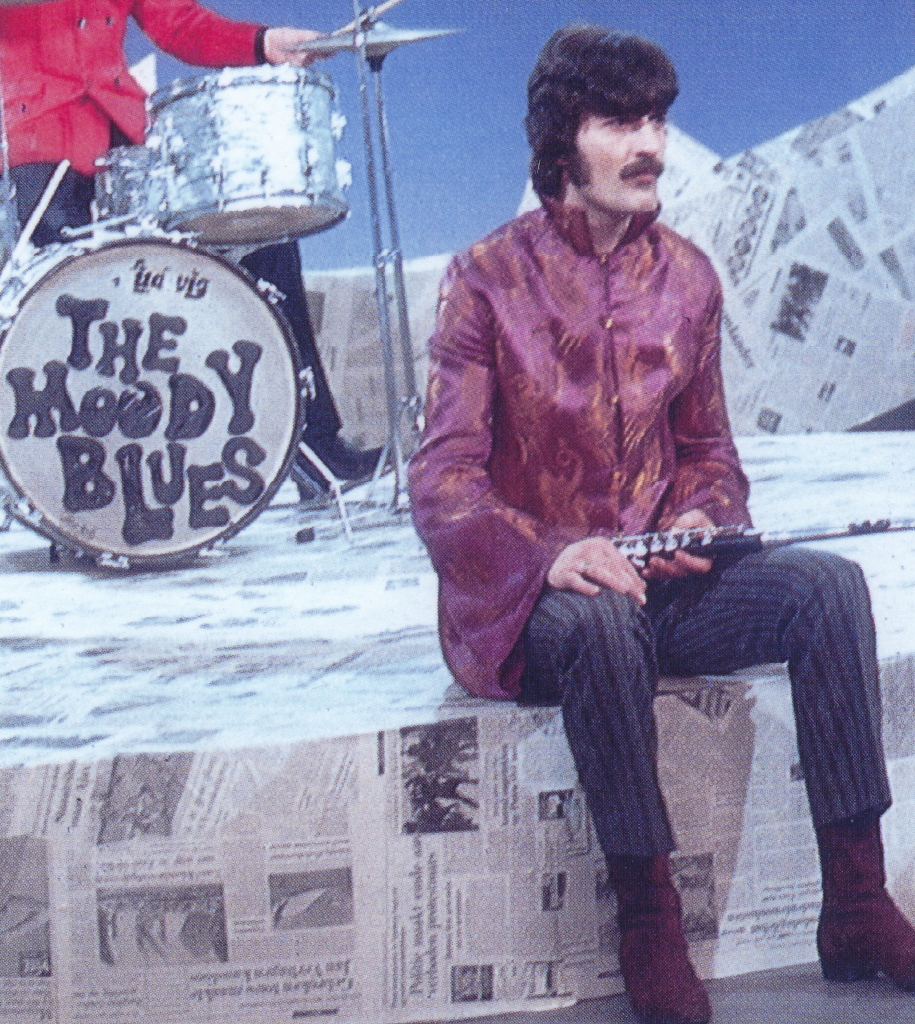 Ray Thomas, Dutch television performance, 1968
You wrote some good songs on 'Long Distance Voyager'. Another is 'Painted Smile'.
I call that my three piece suite because you've got 'Painted Smile', 'Reflective Smile' and then 'Veteran Cosmic Rocker'. It was two songs and a poem together. I used to like playing all that as it went on for such a while. The audience used to love it.
Another track of yours that should have been a single was 'For My Lady'.
I started playing 'For My Lady' on the orchestral tour and the first time I'd really played it live was at Live at Red Rocks when we played with the Colorado Symphony. It's just a love song really.
And I guess by 1973 you guys had been together so strongly that you needed a break.
That's right. We had been living in each other's pockets for years. We used to tell jokes by numbers because we'd heard them all before. Everybody had told the bloody things god knows how many times. It got testy you know? So we decided that we needed a break from each other. Everybody was keen to work with other musicians and get other influences.
So the band embarked on solo projects. Your first album was 'From Mighty Oaks' which includes 'Adam and I', one of my favourites.
My son is now 41 with a couple of sons but he was only a little toddler when I wrote that. I think that song is self-explanatory but it is one of my favourites too.
You hooked up with Nicky James for your solo projects didn't you?
Yes, Nicky and I wrote most of it together. Actually I'm about to start another solo album and I think I'm going to cover one of his songs, 'Troubadour'. I don't know if I can do it justice as Nicky had such a lovely voice, versatile as well. His second album was called 'Thunderthroat'. I think he was one of the best singers to come out of the Midlands, I really do. He worked right up until his death. He never really cracked it like he should have done. God rest him.
Another highlight of 'From Mighty Oaks' is 'Hey Mama Life'.
That was about drinking too much and saying that the streets aren't paved with gold. I thought that after I'd opened with the overture I'd start the thing with 'Hey Mama Life'. I was drinking quite heavily at the time.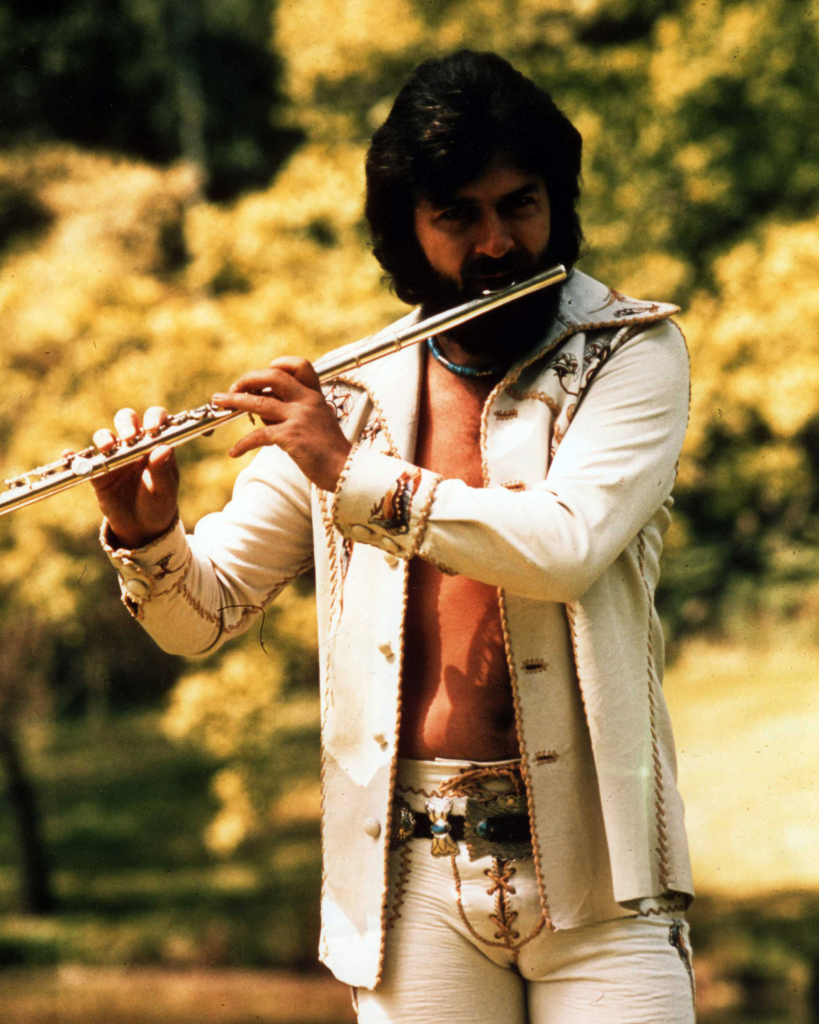 Ray Thomas, promo photo for From Mighty Oaks, 1975
Your two solo albums got repackaged and remastered about four years ago.
Yeah, in a box set. We found a film of song that we were going to put out as a single called 'High Above My Head'. I think it was 1975 and we did a video but it was never ever used. My wife come across it in a closet, still in its canister in pristine condition, never been played. Nicky James and the band were on it. I was knocked out by it as it swings like hell. We were thinking of going out on the road but that didn't come about because we were still writing. So I decided to go back in the studio and do 'Hopes, Wishes and Dreams' because I hate having songs lying about. Once I've written one I like to record it and get it finished. If you're writing other stuff you want it out the way.
I particularly like 'Migration' from your second album 'Hopes, Wishes and Dreams'. Is wildlife a key thing in your life?
Oh yes. I've loved fishing ever since I was a little kid. Long after I'd written 'Migration' I was fishing in France and I saw the migration of the cranes, thousands of them coming from Siberia down to Africa. It's all another world, it's fantastic.
I worked with Professor Terry James, a Welshman on 'Migration'. Most of my band were Welshmen actually. Terry was the principle conductor for the BBC Light Orchestra for a long time and if you listen to the way he did the strings on 'Migration' it's fantastic. It really does give you that open wild feel about it.
The other song that I got inspiration more or less the same was 'Nice To Be Here' which is one the favourite songs that I wrote. I used to camp out by a lake a week at a time fishing. At first all the wildlife buggers off but after you've been there for a few days they realise that you're not any threat to them. They run all over your feet, I've even had kingfishers landing on the end of my rod.
I also used to like writing kids songs like 'Another Morning' on 'Days of Future Passed'. So I got a great kick out of writing 'Lovely weather must climb a tree.' I was a little kid again. And I just went through a band really, 'Silver minnows were devising. Water ballet so surprising.' I asked Justin if he could play the solo on just one string as I had a frog strumming a banjo on one string. He tried it out and he could make it on one string but he made it on two. [laughs]
So after your solo records that were really well received you guys got back together to enter a new phase of The Moody Blues. I really like 'Celtic Sonat' from 'Keys of the Kingdom'.
I'm going to re-record 'Celtic Sonat' for my new solo album actually. I've become very friendly with Finbar Furey and he played on one of my tracks that I put on my box set. I'd like to re-record it with Irish pipes as it would really lend itself to that. Sonat means a lone vibrant voice and I was going to just sing it with no backing whatsoever for 'Keys of the Kingdom'. I got talked out of that. Bias Boshell played harp on it on keyboards, a big harp – not a harmonica.
The Moody Blues' 'Strange Times' from the late 90s had your 'My Little Lovely' on.
That's for my grandson. He's 18 now, that's how long it's been. It was another kiddies flavoured song with pixie glue and fairy dust and god knows what.
So you left The Moody Blues about 10 years ago and took a break from the music industry. However a few years ago you played flute on 'Dear Dairy' from 'Moody Bluegrass Two'.
Yes, Moody Bluegrass recorded their first volume and sent me a copy and I was absolutely thrilled with it. Those pickers from Nashville are brilliant. I sent them a letter back saying how much I enjoyed it and that they'd made a great job of our music. I sent one of the guys a little silver flute and I put on the case 'This is the only thing missing' as there was no flute. They wrote back and said they were doing volume two and were going to do 'Dear Diary' and would I put flute on it. So I said 'Yeah, great' so they sent it over and I went in the studio and put two flutes on. Fortunately it was in the same key as I'd written it so that wasn't a problem. Then I got a letter back saying that not only was I the first rock and roll flute player 'but you're the first Bluegrass flute player.' [laughs] So that's my claim to fame now.
So you're embarking on a new era of your music career, recording again and releasing new material.
Oh yeah and there's a lot of guys that I've previously worked with involved. Finbar wants to come and play his pipes. Paul Bliss who played with us in the Moodies has a great falsetto voice so he's coming in as well. Tracey who was our backing singer wants in. John Lodge wants in too. I've just finished recording with John actually. He wrote a song for his grandson and he wanted flute so I went in the studio and we did it. What a lovely day that was, it was just like going back in time. We worked exactly the same as we always did, I was making suggestions and he was picking on his guitar 'Let's try this'. It turned out a treat.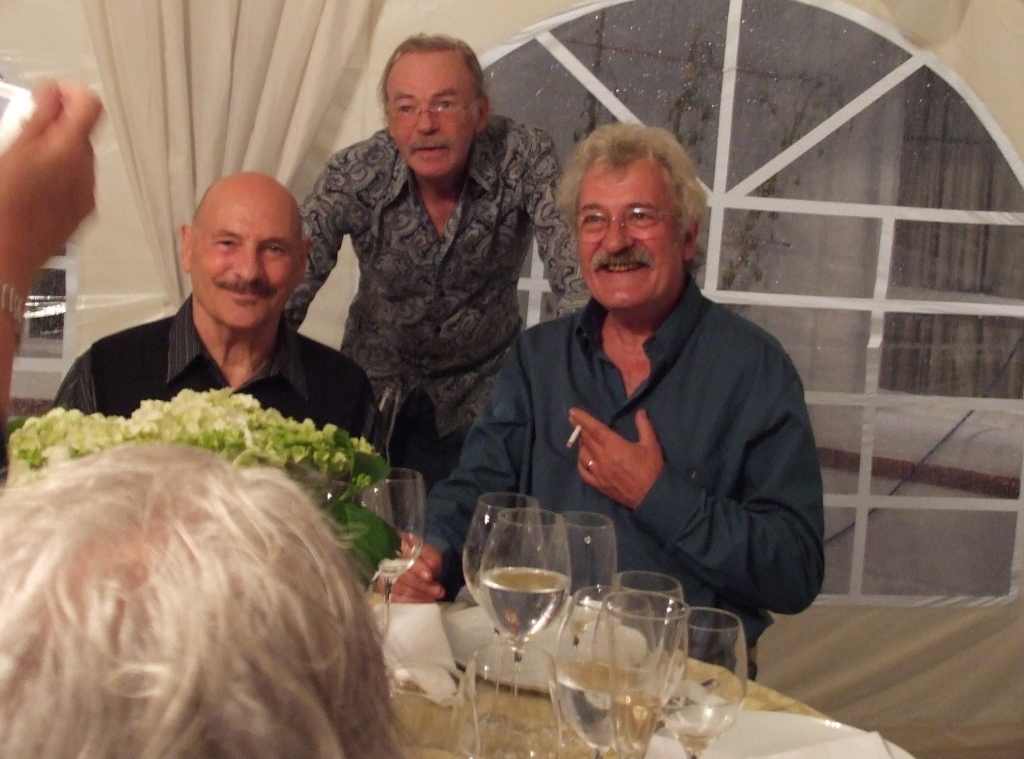 Mike Pinder, Tony Clarke (now sadly passed away), Ray Thomas Reunion – 2009
I've also been working with some unusual bands. There's a prog band in Italy called Syndone who are very big. I did a forward for a book that a DJ wrote, they read it and got in touch with me and asked I could play flute on one of their tracks. I had a lot of fun doing it because it was different to what I was used to playing. About a month after I'd done the recording a great big cardboard box arrived at my home and it was full of pasta from Naples; all different shapes and sizes. It was bloody lovely stuff. That was my fee! [laughs]
I also worked for a Ukrainian band called Melting Clouds, which was prog-prog, I played harmonica on one track and flute on another. They were thrilled with that and said it was exactly what they wanted even though I said they could tell me if it wasn't!
So to finish off it's been 50 years since 'The Magnificent Moodies'. Does it feel like 50 years?
It feels like longer now that I'm doing these interviews. It's trying to remember everything as there's been a lot of music that's gone under the bridge since then. My wife has done a hell of a lot of work on this box set getting it all together.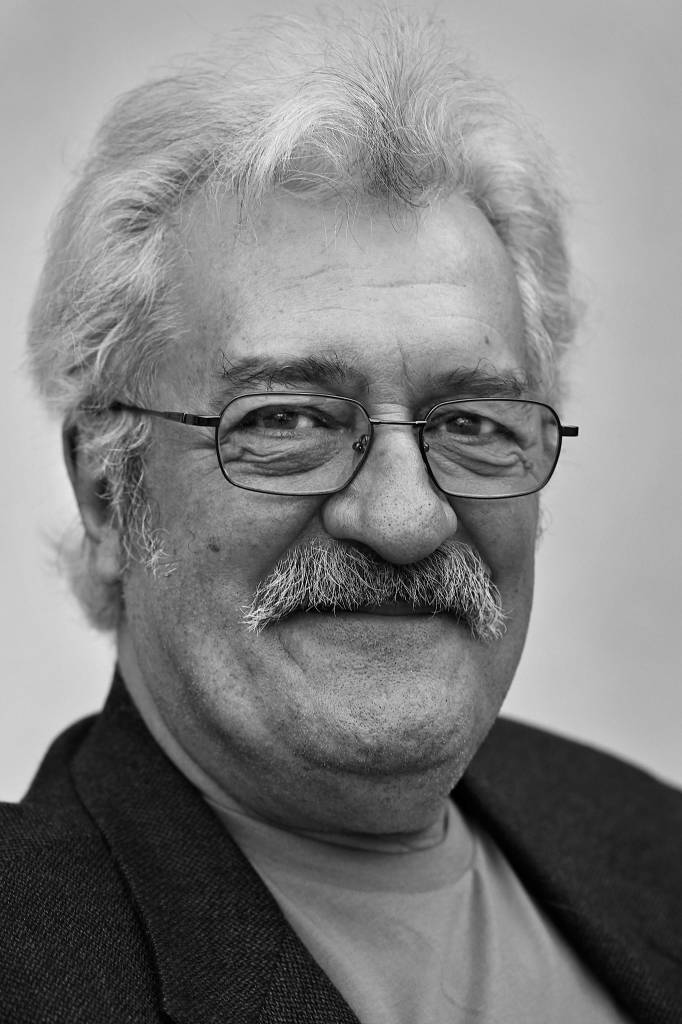 Ray Thomas, 2009, photo by Carlo Chiavacci
It really is the definitive story of The Moody Blues from 1964 to 1966.
Thank you, it's been lovely speaking to you.
It's been a privilege, honour and pleasure and more, thank you.
To find out more visit http://raythomas.me/
Plus to grab a copy of the 50th Anniversary Remastered Edition of  The Magnificent Moodies album go to: http://www.cherryred.co.uk/shopexd.asp?id=4902
You can also hear an audio version of this interview, with accompanying music on a special Ray Thomas Podcast show on the Strange Brew. 
Many thanks to Ray and Lee Thomas for their help and support. A special thanks also goes to Cherry Red Records for their assistance.
Photos used with kind permission of Ray and Lee Thomas. Copyright © Jason Barnard and Ray Thomas 2014. All Rights Reserved. No part of this article may be reproduced without the permission of the authors.
Ray Thomas died on 4 January 2018, rest in peace Ray.