By Jason Barnard
From 1968 to 1974, amateur songwriters Peter Howell and John Ferdinando crafted a series of privately-issued albums rarely heard outside their East Sussex base.
Over the years these records sold for astronomical sums due to their rarity, quality plus attribution to semi-fictitious groups including Ithaca and Agincourt.
Jason Barnard speaks to Peter and John to uncover their story as their material is released in the A Game For All Who Know: The H & F Recordings Box. This set gathers the first four albums and plus an unreleased-at-the-time fifth, the Friends LP Fragile. Fragile was abandoned at acetate stage after Peter joined the BBC Radiophonic Workshop full-time.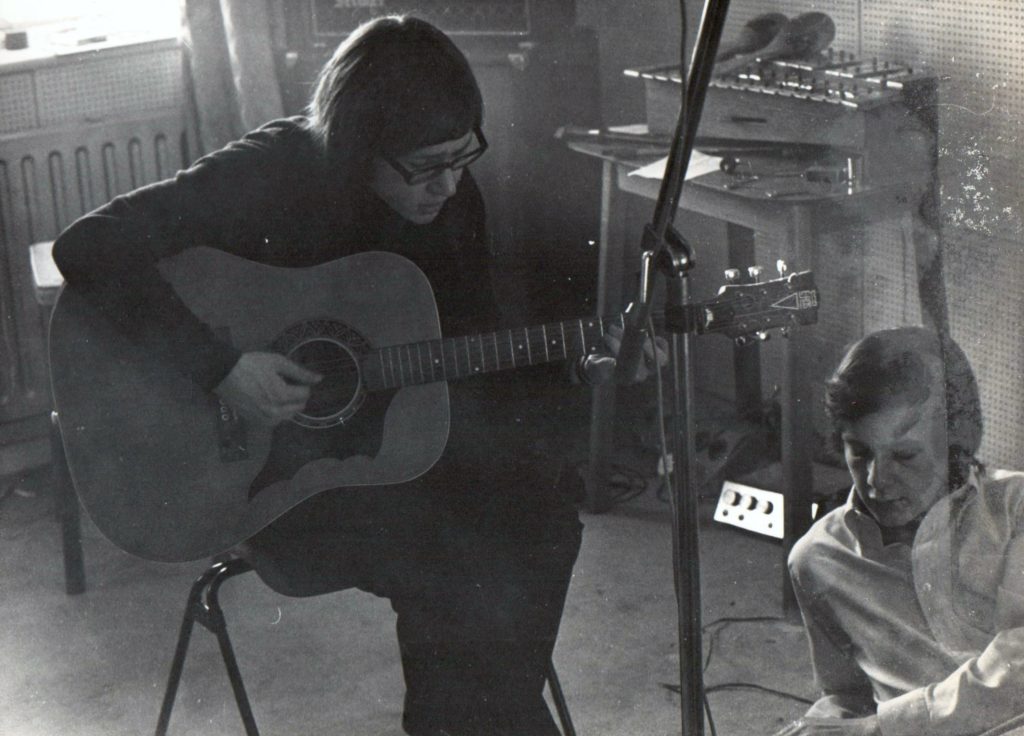 John Ferdinando and Peter Howell
Hi Peter and John. Let's start at the beginning. I understand the roots of your collaboration was in The Three Musketeers. Can you tell more about the group and how/why this evolved into you working as a duo?
John
The Three Musketeers was really a school holiday band that played a few village hall type gigs and private parties employing the most basic equipment and amplification! My elder brother (who incidentally plays a short classical piece on the Ithaca album) was involved with this band along with a guitarist called Martin Garrett with whom I had been at school but he had also been at school separately with Peter. Martin was therefore my link to Peter. The Three Musketeers folded, followed by various subsequent reincarnations, namely The Tudor Mood, Merlin's Spell, and The Modern Guitar Quartet.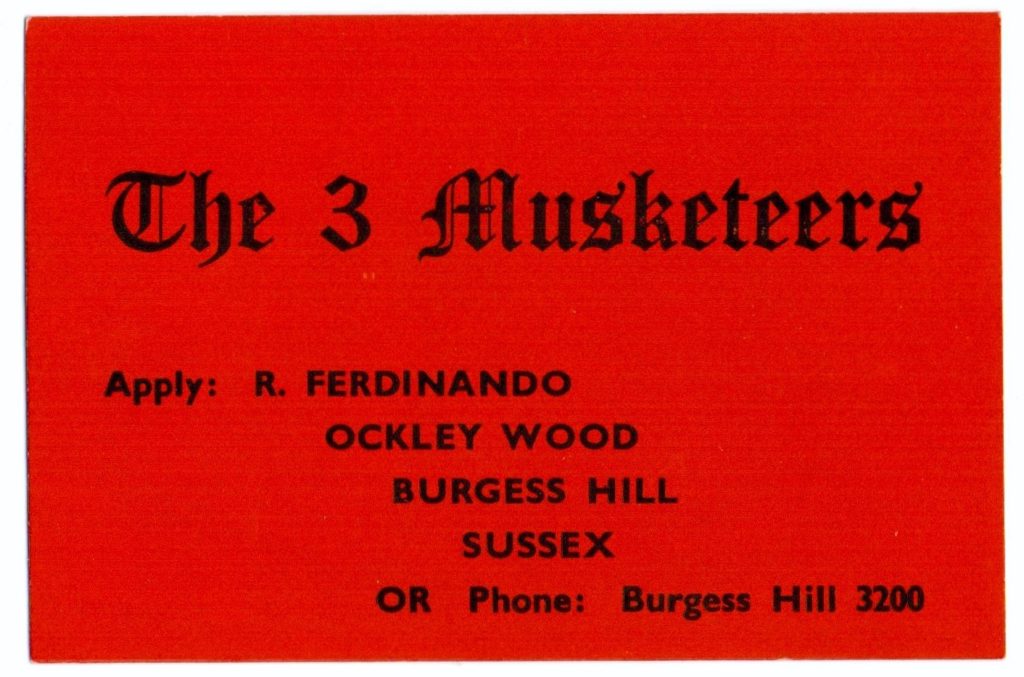 However, during this time, Peter was developing a keen interest in tape recording and would often bring a demo-tape of one of his new instrumental compositions to rehearsals. (Those tapes still exist somewhere in the vaults!) It may seem odd now, but the Swinging Sixties were only just beginning and our influences were the still-popular instrumental bands, most notably The Shadows. However, as the popularity of instrumentals waned in the face of an overwhelming demand for vocals, so did our interest in playing live with an increasingly restrictive playlist.
This culminated in an uncomfortable appearance at Godstone Village Hall when the band narrowly avoided a lynching! The ramifications were discussed around a kitchen table late into the night as was customary and it was perhaps no surprise that this period eventually surrendered to a greater interest in recording. In hindsight it was perhaps an escape route to a place of some musical safety. Of course this change of direction would probably never have happened had Peter himself not been a natural songwriter and tunesmith. Peter I shared this enthusiasm and so our collaboration was formed.
How did you get involved with amateur dramatics group the Ditchling Players?
John
I have lived in or near the village of Ditchling for many years, a known haunt for arts and crafts, a touch of the Bloomsbury Set prevails about the place to this day. My family has a theatrical streak running through it and it was therefore no surprise that I joined the backstage crew in 1966 for a production of The Deep Blue Sea. This was 3 years before Alice Through The Looking Glass.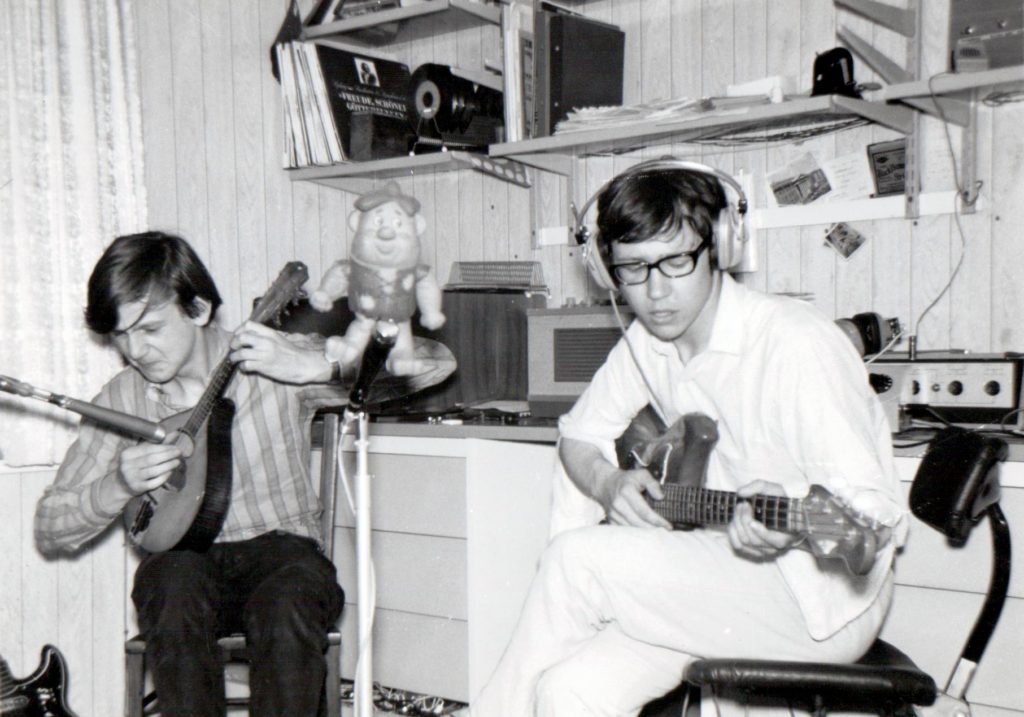 Peter and John circa 1969 working on Alice
Can you describe the writing and recording process for Alice Through The Looking Glass?
Peter
I had a very primitive recording setup in my bedroom at my parents house in Hove. Although it was very basic, I had bought a good tape recorder, a Revox 736 (it is still in my garage). This machine had one amazing feature without which none of our music recordings would have been possible; it was able to record on the top track of a stereo tape, and play that back whilst adding a new line and recording the result on the bottom track. This so called 'track bouncing' was at the heart of the first three albums. We also had a love of odd (and cheap) musical instruments and sound sources; an old telephone, a party whizzer, a duck call, an old mandolin, an even older autoharp and so on. My father had a Hohner electric organ which he refused to let out of his study, so we wired the output of it back up to my bedroom and used that on several tracks, including the Alice Overture.
John had already got strong links with the Ditchling players, and knew that they were interested in someone doing the music for their upcoming production of Alice Through the Looking Glass. He and I had already been using the recording setup to do some stuff for the band we were in, so he suggested that he and I put together some music for the show. It was a very memorable production and still gets talked about in Ditchling even to this day, so we were very lucky to have been involved in it, and that their request for music came at a time when we were eager to get creative with our recordings.
How did the album differ to the stage production?
John
Well, without wishing to state the obvious, the stage version was a highly visual piece of theatre whose success was very largely due to the Wardrobe department whose creative team exceeded all expectations in reproducing the feel of Tenniel's classic illustrations. Some of the animal heads have been preserved for posterity. Though this and the original music are what made the production a success, much was also owed to the young girl who was available to play the part of Alice, one Martha Kearney of BBC fame. This spectacle was never going to be captured in a purely audio format which is why we separately recorded extracts from the performances that were dropped into the album to set the scenes, albeit at a loss of sound quality but I think that in itself lends a sense of realism. We added 4 bonus tracks and Peter substituted for the White Knight on one track "A-Sitting On A Gate" but otherwise the intention in making the album was for it to be a faithful keepsake in so far as a soundtrack would allow.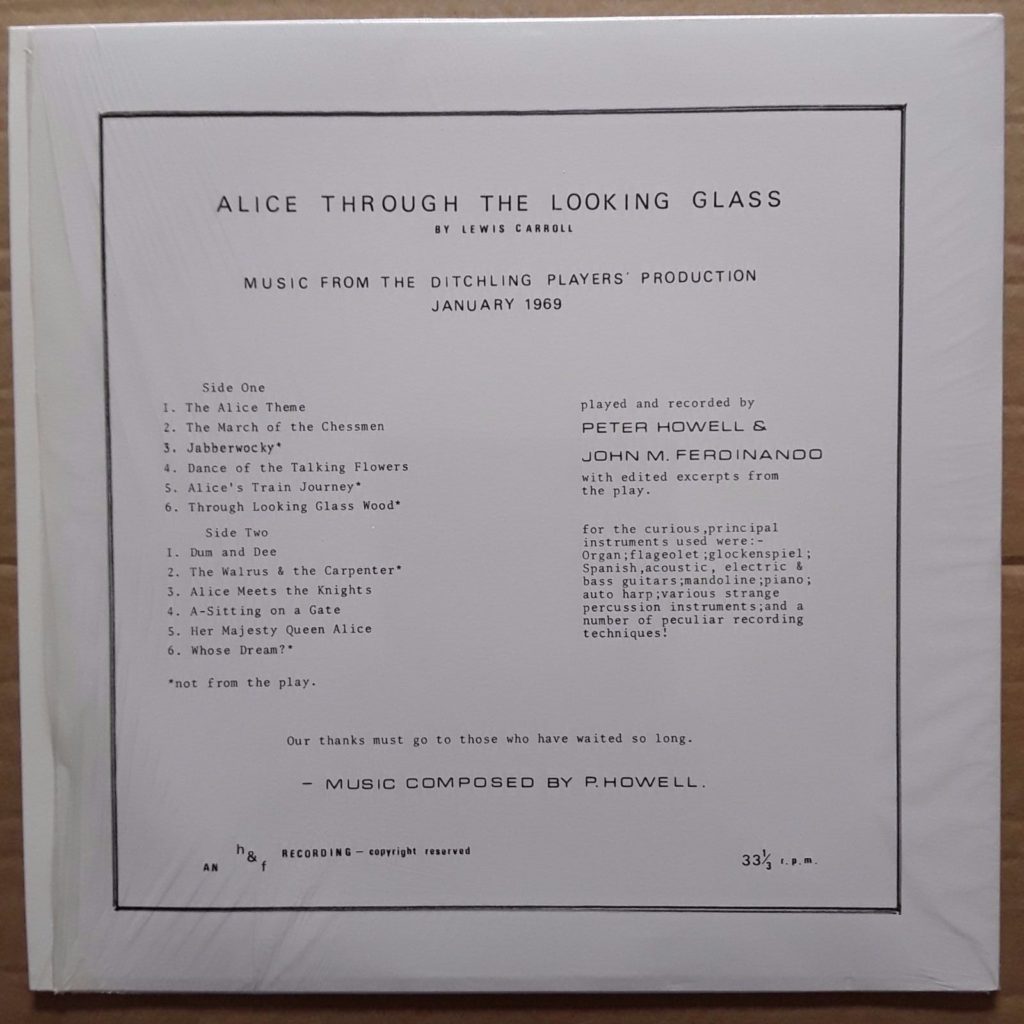 What led you to recording the project for posterity and selling a limited run of vinyl albums?
Peter
There was a lot of audience interest in the music. You have to remember that at that time, the use of recorded music in amateur productions was quite basic and the apparent complexity of what we were delivering took some people by surprise. That and the wonderful costumes and production made people want to have a momento of the experience. So we took orders from them after the performance. It became clear that a run of fifty would easily cover prospective sales (in fact a run of thirty would have covered prospective sales but the record pressing company had a minimum order of fifty!). Eventually one or two of the purchasers must have sold them on, and gradually the records will have filtered out onto the open market.
How did the concept of Tomorrow Come Sunday come about including to film it?
Peter
I am a failed lawyer. My father, a local solicitor, very kindly suggested that after my ignominious law exam results I might like to do something else (no doubt to protect his reputation). After many attempts to get into the theatre or to broadcasting , I landed a very lowly job at Glyndebourne Festival Opera just outside Lewes. Whilst I was there, I met Ian Hamilton, who was intending to make an amateur film which was to be a musical. He and I discussed the project in between operas and came up with Tomorrow Come Someday, and decided to film it in the small village of Lurgashall in West Sussex. Again, as with Alice, the production came before the music, and in many ways gave me the experience of applied music which I would use for all those years at the BBC. It was a vastly over ambitious project and was very hard to do, but the music has survived. I have to admit that of all of our five albums, this is my least favourite, musically, performance-wise and virtually every other 'wise'. Still it does have some fans. I remember turning up to do an interview for Resonance FM on one occasion only to find the DJ setting up Tomorrow Come Someday on the turntable. It was his favourite H&F album.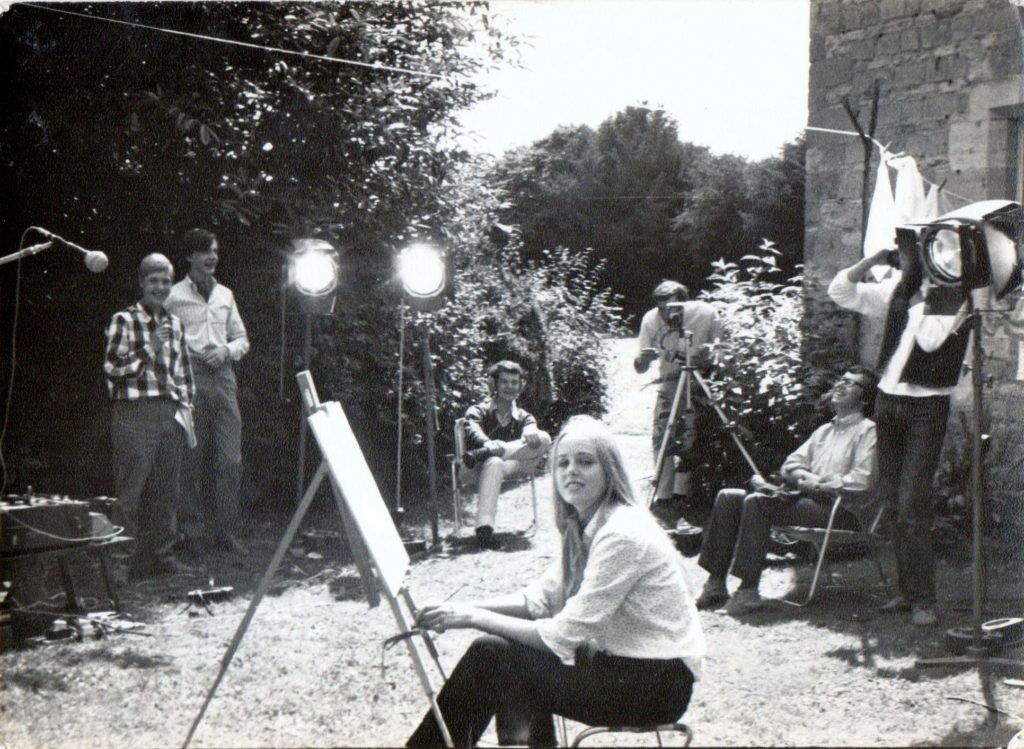 Tomorrow Come Sunday cast and crew, from left to to right: Nicholas Starkey, Peter Howell, Andrew Lowcock, Emma Stacey, Ian Hamilton, John Ferdinando, Hugh Palmer
How do you think Tomorrow Come Sunday compares with Alice? Were the same cast involved?
John
As projects they were so different in just about every way imaginable. There was no cast overlap although one or two of the chess pieces were crowd extras in the film. The objective of the film, apart to have some fun along the way, was to win a competition run by Moviemaker Magazine, a mission that failed in spectacular fashion. Rather ironically, the judges concluded that the film had the look of a filmed version of an amateur stage production. In my view, they were right. The cast of Tomorrow Come Someday were all friends of someone and none were able to sing particularly well. We have always considered this to be our worst album, but it wasn't the music at fault so much as the poor performances. Can we move swiftly on?
Agincourt – Fly Away seems to mark the high point of your collaboration. Was it because you had more freedom on this project e.g. not constrained by plot?
Peter
Fly Away remains, I think, the best of the bunch. The albums that came after were well written and well thought through (especially John's), but if fans are interested in an album that was very freely produced and represented the feeling of that time then Fly Away would be the one. We were lucky enough to come across Lee Menelaus whilst we were working on the album, and her input was invaluable. The unusual sound of her voice added enormously to the feel of the album. My parents had moved house and I had now acquired the use of a large spare bedroom, which was fitted out as a small recording studio, with good acoustic treatment and a very small control area for the tape machines etc. We were very lucky to have this and it had a great effect on our ability to gradually put together new material. Of course, Fly Away was the first of the albums that was not attached to a play or a film, and so had much more scope creatively speaking. The style of the album just grew along with the tracks that we produced, and is the result of many happy hours of music making in a safe and quiet studio in Hove in 1970, and for me it is still a wonderful memento of that time.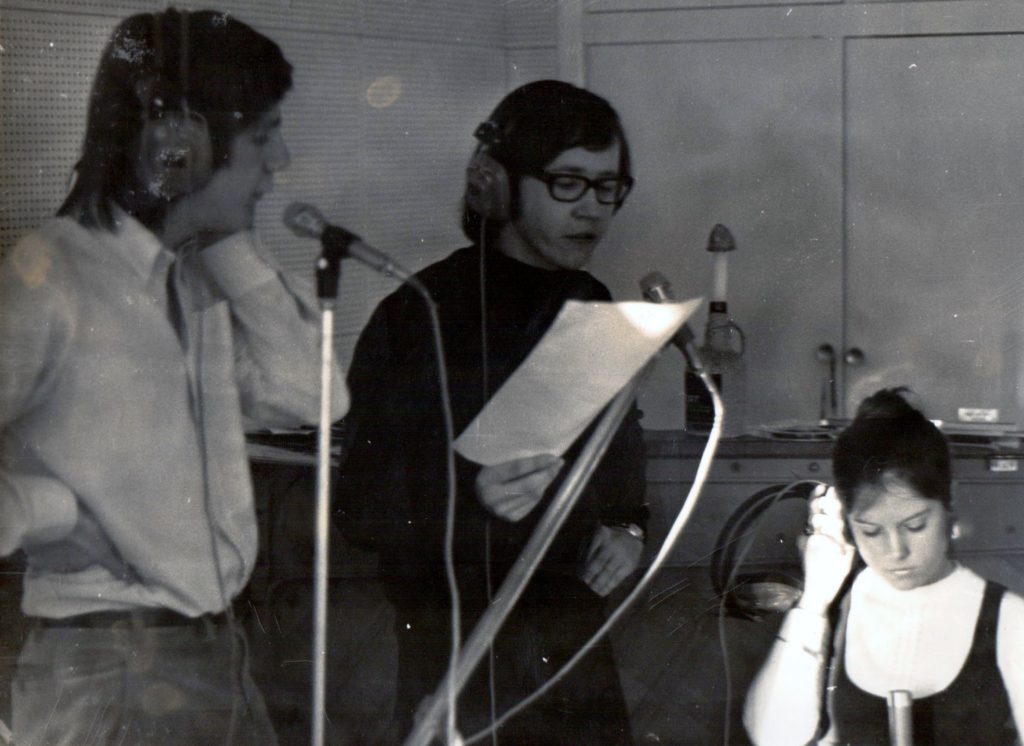 Recording the Agincourt album, Peter, John and Lee Menelaus
How did you get to work with Lee Menelaus and what do you think she brought to your music?
John
I don't think Peter & I would describe ourselves as singers as such, but at least we could sing in tune. However, we wanted a change of sound that only a female singer could bring and so placed what must have seemed a rather spurious audition advert in the local paper. Of those that applied, Lee shone out because she was the only one that could sing the style we wanted. (She was also the most attractive and I was 22 years old!) Since there is inevitably a boy/girl thread running through a lot of our songs, I think Lee's voice adds an appropriate dimension to help make sense of the lyrics. There is a very delicate tone to her voice, almost fragile at times (no pun intended) and I cannot imagine all those tracks without her. Tangentially she was also incredibly patient as well, the recording process being what it is, and she laughed at our jokes too!
Your next project came out as Ithaca – A Game For All Who Know. It's more progressive in style, what was it's concept?
John
My contribution to the Agincourt album encouraged me to compile an album of my own although it would rely a great deal on Peter's production skills. I already had a few ideas in the locker and decided to go for a concept type offering which was much in vogue. I confess to being a fan of The Moody Blues who were huge at the time, notably in America and I did get a bit caught up in a sort of parody of their cosmic phase. "What's it all about, man?" just about sums it up and of course as one gets older one does find out exactly what it is about as one's youthful ideals quietly sail away on the wind. I have been very genuinely surprised as to how well the album has been received.
How much time did the the albums in this period take to write and record and was it difficult as this was alongside your day jobs?
John
I still have the recording notes for the Ithaca album which serves to remind me just how much was involved. Fortunately we could indulge in the luxury of time which Peter's studio gave to us in abundance. Most of the sessions took place in the evenings after work or on Sundays and individual tracks might be assembled over several sessions. In all, it would seem that it evolved over a six month period. This modus operandi worked well alongside the day job because there was no pressure and it was simply a very enjoyable time.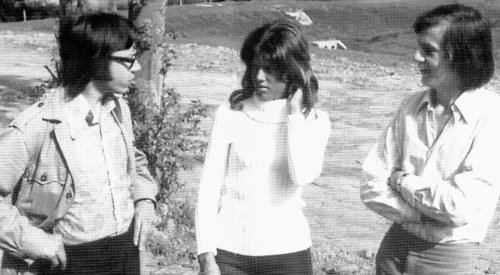 Ithaca – John, Lee, Peter
Friends features Ruth Cubbin, who sings lead on a few tracks including the superb 'Once In A Winter Town' bringing in a folkier edge. Was this Ruth's influence?
Peter
Ruth was a colleague of mine at the BBC. I had only just got the job at Broadcasting House as a studio manager (responsible for playing tapes discs and mixing on live radio programmes). She was a keen folk singer and got me interested in the genre, I think several of the songs on the Friends album were influenced by that. This was a time of great change for me. I was now employed by the BBC in London, but remained committed to producing an album of songs that I was accruing around that time. Ruth represents a bridge between the worlds of London and Hove, but by the time the album was ready and a test pressing had been made, I was already involved in other projects in London such as the BBC's own amateur theatrical group called the Ariel Players, for whom I was in the process of writing music for one or two of their shows. As a result the run of vinyls was never made and the record remains part of the cannon of H&F but only just!
Was Friends intended to have a full release and did you ever try and get record company interest?
Peter
(see above and also…)
Because of my other projects in London, I never approached a record company.
Can you tell me what you did next, professionally and musically?
Peter
(see above and also…) After about three years as a studio manager with the BBC, I was lucky enough to get a job at The Radiophonic Workshop, where I stayed for 26 years. Following my early excitement at writing and creating music, it was a real dream job to get, but also a very hard job to do. I am not musically trained and fall short in many areas, but my objective still remains the same today as right back at the beginning; to produce the most original music I can as well as I can, and without looking over my shoulder at anyone else's work.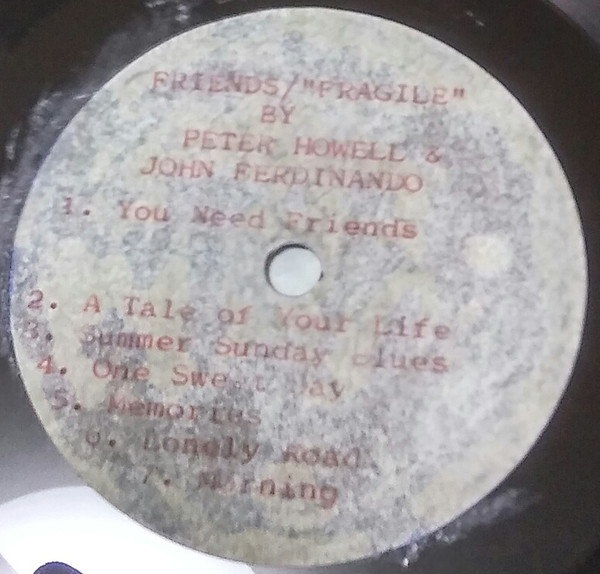 John
Believe it or not, I managed to qualify as a chartered surveyor. I was desperate not to get stuck in an office and this job got me out and about. Musically, on reflection I do find it almost unthinkable that the Ithaca album was pretty much the last thing I ever wrote. It was a great shame that Peter inevitably took a different road, not only careerwise but also geographically. Otherwise, who knows, there might have been another album! In 1989, I joined some friends to play bass guitar in a pub band which lasted about 10 years, in the end playing to black tie events and even weddings, it was immensely enjoyable and in many ways perhaps compensated for the less successful gigs of those early years.
When did you know that the original vinyl albums were gaining a cult following and what did you think about this?
John
I suppose the penny should have dropped in 1990 when a collector came calling out of the mist with an offer to buy my remaining few albums which I thought were worthless. I had no idea that their existence was gaining a following. What did I think? I was perplexed and then curious but genuinely surprised, but I suppose ultimately I was annoyed that someone had taken financial advantage of my ignorance of the market.
Are there plans to give your later work in the Whizz Theatre a wider release?
Peter
John and I are very keen to see the music from our Whizz Theatre Company shows released. Just like the five albums, there were five shows occurring after the run of albums, all featuring a lot of music. Much of this music was made using professional gear, and some of the later stuff also using early synthesis techniques, which would be of interest to anyone keen on vintage electronics. The writing is ambitious but OK, and always entertaining.
John
Peter wrote some really good material for our theatrical phase which I think does deserve a wider audience. I would love to see the whole output packaged up to round the circle, so to speak. Perhaps it will happen, Peter and I would certainly be interested. The tracks had a limited "release" on cassette to cast and audiences. We have never authorised any reproduction.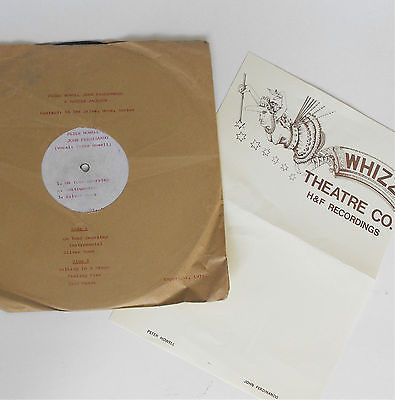 Looking back which tracks from this box set are you most fond of?
Peter
I can still play the title piece from Fly Away and not flinch. Once in a Winter Town from Friends is OK. I am as fond of writing words as music, and I like the lyrics to that. Also, because I now live close to the Thames, I often find myself singing River Song in my head (embarrassing but true). I find the music and the lyrics team up nicely in that one. And finally I just like the whole of John's album. Firstly it is easier to objectively like something you didn't write (!), and also considering the limited techniques at our disposal, I am very pleased with the level of production we were able to achieve in that little haven in Hove.
John
I am proud of most of it quite honestly. Tomorrow Come Someday is not a favourite although there are some good individual tracks on it. I particularly liked A-Sitting On A Gate from Alice, and Kind Sir off the Fly Away album stands out for me. Of my own contributions, I was happy with All My Life and Peace of Mind (both again off Fly Away). As a concept, the Ithaca album would seem to have worked, I think the opening track was quite a successful production number bearing in mind the limitations of the studio facilities at the time which owed much to Peter's inventive skills. Peter is a natural when it comes to a catchy melody and on his Fragile number both Come Inside and Once In A Winter Town have a special resonance but quite frankly it is all good stuff.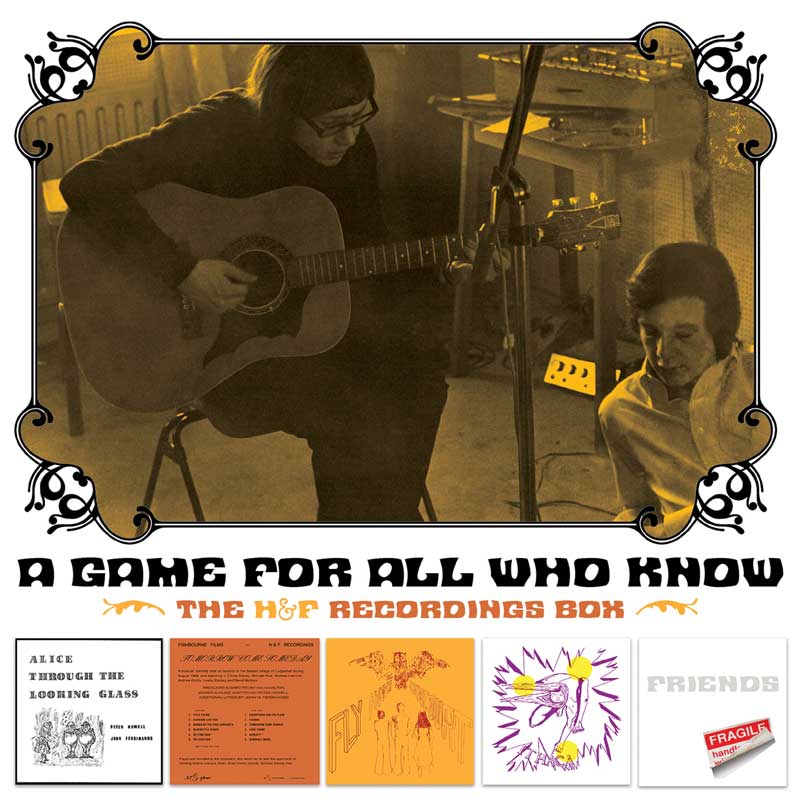 Peter and John, thanks for taking the time to answer my questions on this superb box set. I look forward to hearing about the Whizz Theatre Company material when it gets an official release.
A Game For All Who Know: The H & F Recordings Box collects the five albums recorded between 1968 and 1974. Remastered from the original master tapes, the set features a new 7000-word essay and previously unpublished photos: https://www.cherryred.co.uk/product/a-game-for-all-who-know-the-hf-recordings-box/
This post does not allow comments