nick nicely is one of the most innovative artists of the post-psych era, with his 1982 EMI single masterpiece "Hilly Fields (1892)" acclaimed by the NME as "the best psychedelic record since the '60s". Despite being admired by contemporaries Robyn Hitchcock and Andy Partridge, his singles brace of psychedelic electronica in the early eighties did not garner the commercial success they deserved. 
Later that decade, inspired by the second summer of love, nick embarked on a new period of creativity. Renewed interest was assisted by his repeatedly reissued "Psychotropia" collection, praise for his track "49 Cigars" from Noel Gallagher and support from psychedelic adventurers The Bevis Frond. Over the past few years he's collaborated with Unkle and  undertook a string of concerts including the prestigious Green Man and Terrastock festivals whilst releasing a reworking of "Hilly Fields 1892" and hitting a creative peak with the album "Lysergia". nick gives Jason Barnard of The Strange Brew an extremely rare career spanning interview.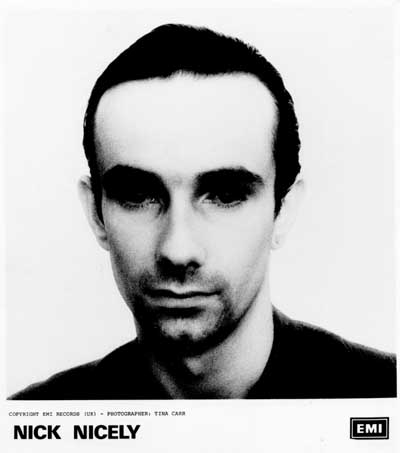 nick nicely EMI publicity photo c1982 (used with kind permission from http://www.willem.to/nicknicely/pictinacarr2.htm)
Hi nick – it's great to speak to you. I admire your creativity and the ambition of your records. Ultimately, that's what many of the best artists were doing in the late sixties but that came to a halt and now much of what is seen as a psych is often a sixties pastiche. This is what seems to set you apart from many of the artists since that era who claim to be psychedelic.
That's music to my ears. I don't want to knock anybody who listens to bands who remind them of bands that they liked when they were younger. It's all subjective. But where I draw the line is that when I get reviewed by what you could call the psychedelic establishment. They believe that I'm trying to produce exactly the psychedelic sixties soundscape and failing. I have been reviewed like that in the past. That's unfair. I completely agree with what you've said. One of the main things is that between the sixties and now is that we've had the dance revolution. We are different people now than we were then. We're used to more rhythmic music and luckily I've been able to adapt and adopt those sounds. Psychedelia for me is the spirit of the sixties which was breaking out and using the latest technologies. If you took all the sixties guys and placed them now they would be going right off and using the latest technology.
Yes, even then you had bands experimenting with technology like The Silver Apples. 
One thing I'd say about the guys from the sixties is that they were much nearer to the time of classic song writing. They grew up hearing the perfect verse, chorus, verse from the forties and fifties. So they still believed in writing wonderful songs. One of the problems we have these days is that much of that is lost. I could tell you about the length of time it takes to produce my songs, the sound and arrangement but really it's trying to get the song right. 
To help produce tracks, I learn how to use computer by parrot fashion. All the computers and stuff are all from the last century.
So you're not doing things on a Mac then? 
I am, but a really old one, a G3.
nick nicely c1982 (used with kind permission from http://www.willem.to/nicknicely/pictinacarr.htm)
Going back, who inspired you in your formative years and who does that for you today? 
My brother and I turned on the radio from the early sixties when I was really young. So I heard it up until 69 when I turned it off. You had the pirates. I heard all those songs at the most impressionable age. I love a great song and if you've got one you can go straight off into wild psychedelia and come back to the song. 
In terms of inspiration that's different to what you love. For example, you have the punks. You hear about all those musicians going down The 101 Club who heard the music and thought "I can do that". They were definitely inspired but not necessarily loving the songs.
So when it comes to inspiration when I listen to a bit of Dylan I feel up for it. I also get my white strat out after I hear a bit of Hendrix. 
The other side of being inspired is being intimidated by great music. There was a CD out recently on a wrinkly mag cover with new bands doing "Dark Side Of The Moon" covers. I was heavily intimidated by that. There is great stuff on there, knocked out in an afternoon presumably. So 'inspired by' has many different sides rather than just loving something.
Did those artists inspire you to pick up an instrument? 
That would be my friend Mick who played guitar. He stopped playing guitar pretty quick but I was mad on it. I started playing in the early seventies and was copying Dylan. I'm inspired psychedelicly by The Beatles, particularly the "Tomorrow Never Knows" period. It seemed to hit me in the late seventies. I heard it when it came out but it blew me away later. The whole Beatles psych period, "It's All Too Much", "Rain" and of course "I Am the Walrus". 
Did hearing Kraftwerk and Gary Numan also influence you? 
Yes, that's absolutely right. In 1979 I went to America and I didn't feel at home musically at all. I missed the Tubeway Army success that year and I came back in late 79. My enjoyment of American music seemed to disappear. I became excited about the new analogue keyboards. I knew a guy called Geoff Leach who had one and it just knocked me out. My song "Treeline" had a Gary Numan-esque bit that got thrown out but you can still faintly pick it up. I loved Kraftwerk and also Donna Summer. I've noted, particularly since her death and the exposure the track got , how much I have been affected overall by "I Feel Love" over the last 30 years. In the eighties I loved New Order's "Blue Monday" and their album "Power, Corruption and Lies". Later, even though I didn't buy records I bought Spaceman 3. My track "Wrottersley Road" has got a bit of Jason Pierce in it. 
I understand "1923", dating from 1979, was recorded at home. How did you get such a great sound and can you tell me about your life around that time? 
Someone asked what I would take off my "Psychotropia" album and I said "1923". But the reason it's on is that so many people like it. It was made in Breakspears Road at a big house in Brockley, London. Tyrone Thomas from the punk band Alternative TV lived underneath me. He was asking me to keep the sound down! It was made on a 4 track. Geoff Leach was playing piano as well as making those abstract sounds that I taped and put onto the track. However Heath Levy, the publishers weren't into it.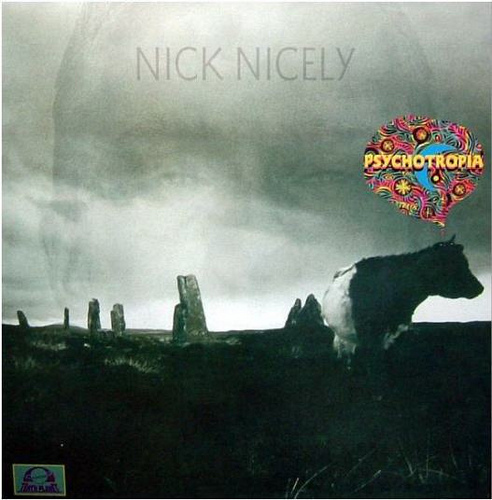 nick nicely, Psychotropia LP, Tenth Planet, 2004
It was a big Victorian house on a tree lined street. In 1978 when I moved in it was full of hippies and we all used to club together to buy rice. By 1979 it was full on punks who were tearing down bits and burning them in the conservatory.
Were you based down there in your childhood?
Yes, I'm all London and Home Counties.
How did you venture into the music industry?
A friend thought I was really good and then he started playing bass with me. Then we met someone in the college bar and he could play guitar. But the key to him was that he wanted to be a banker. He said look "If we all pay two quid a week each we can buy four track recording equipment." That's what happened and meant I had a four track from 1976 onwards. When college finished I worked constantly in my four track studio and I got a publishing deal in 78 with Heath Levy.  
I understand Strange Brew favourite, singer Kris Ife gave you a helping hand.
Kris took me to Heath Levy and oversaw my first period there. He took my stuff to other artists and managers but without success.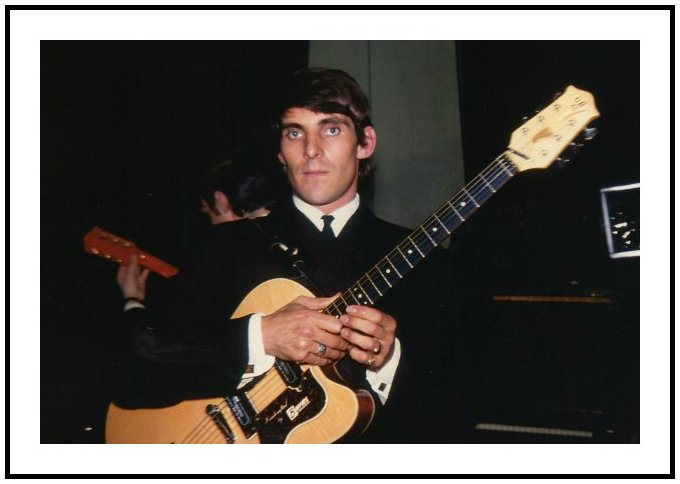 Kris Ife
What type of material did you make, was it more conventional? 
Yes, I'm not entirely proud of it. Some Beach Boys type songs, joky material, dope songs. I was looking around to find out what I could do. When I came back from America in late 79 and went up to the Heath Levy engineer and said "Look, teach me this studio and I will stay up all night to make music." I could sense they were going to chuck me out because things weren't going well. So that's what I did and how "DCT Dreams" and "Treeline" came to be. I would arrive as the last session finished and I had to be out before the cleaners at about seven in the morning.
So the songs weren't written before you went in?
"DCT Dreams" no but for "Treeline" we had done a previous demo. So I recorded "DCT Dreams" and finished it in April 1980. Health Levy called me in to sack me. I played them this track and to their credit all talk of me leaving disappeared instantly. They said they wanted to bring it out. I took it to 4AD, I sat down with Ivo Watts-Russell and Peter Kent and talked about doing that, then I went to Charisma. But in the end nobody wanted it so I brought "DCT Dreams/Treeline" out on my own label. Heath Levy had their own plugger who was supposed to promote it. I remember one embarassing scene there in a lift with him where I said "What's happening?" In the end, the head of Heath Levy said "Why don't you plug it?" So that's what I did. 
Heath Level was at Regent Street right near Radio One so I started going there. I found that when I was intoxicated things would go very well but if I went straight and nervous, things wouldn't. I saw all the top producers of the big daytime shows including John Peel. They liked it and started playing it. It was a novelty to see the artist. Although I said I was a plugger they could see my picture on the sleeve. Radio stations across the country started playing it and it was all going very well. It took a long time. Then the label Hansa wanted to bring it out but not until the following year. By that time the radio programmers here decided it was old product. In the end "DCT Dreams" did well across Europe but Heath Levy never passed the money on to me.
So you had success with your first release.
Yes, on my own label. I must credit the punks. They had a DIY vibe and that's what seeped through to me.
I like the feel of "DCT Dreams/Treeline", blending the ambition of psychedelia with the latest sounds.
To make "DCT" I had to sell my four track studio to Geoff Leach. We worked at night and I'd always take longer than you can believe to finish anything. He walked out and didn't want to do anymore work so I sold him my studio cheap and gave him some cash. I went over to Geoff to record and made my first demo of "Hilly Fields" in November 1980.  
Why weren't you following the synth fashion?
I was obsessed by psych. People suggested I carry on with the sound of "DCT Dreams". "DCT" was very much in keeping with the nascent New Romantics scene. Stevo, who put out seminal compilation Some Bizzare for his label (that included Soft Cell, Depeche Mode, The Normal) wanted "DCT" on that album. But as it got on daytime radio he changed his mind and asked for another track. He didn't like "Treeline". 
I have to follow what I like. This is partly because I have to work so hard on the tracks I have to really like them. I can't work for that length of time on something I don't like. I got wind that Heath Levy were corrupt so I worked at a studio called Alvic. I carried on to 1981 but I ran out of money and had to go back to Heath Levy and finish "Hilly Fields" there. 
I took it round the labels and they weren't interested except for one chap who wanted to sign me up for management for "DCT Dreams". That was Hugh Stanley-Clark of EMI who had Marillion and Kraftwerk. We got on really well so that led to "Hilly Fields" coming out. The b-side "49 Cigars" was different. We had two or three days before I had to deliver. We had "GB Obergine" but I wanted something else. 
I was producing a band in the Heath Levy studio called The Heartbeats and they were doing a track. I thought "That's a great beat." So we repeated that and I think I had "49 Cigars" written by the time I went into record. However I had to make up a lot of the lyrics when I came to sing. That was an unusual track as it was finished in just two days. 
Yes, and to a certain extent it's those two tracks that you are best known for. A high tide of creativity.
Yes, I'm very happy with them both. They both sound pretty good to me.
You must have been taken aback with the NME review of "Hilly Fields" describing it as the best psychedelic record since the '60s.
Yes, but on my "Captured Tracks" record, Elegant Daze (released in Dec 2011), I sent the label four reviews to print on the sleeve that say that nick nicely and "Hilly Fields" is a piece of shit! Jake Burns of Stiff Little Fingers said it was appalling. It got slagged. Steve Sutherland in the NME and the Melody Maker were positive though. There was a tiny psychedelic revival going on at the time. There was a club in London called the Groovy Cellar. I went down to it once but I thought they were more into the clothes, but I don't want to knock them. 
I knew I had done a good record but it was so out of touch. It was all Tears For Fears and Depeche Mode. A movement I had deserted for psych!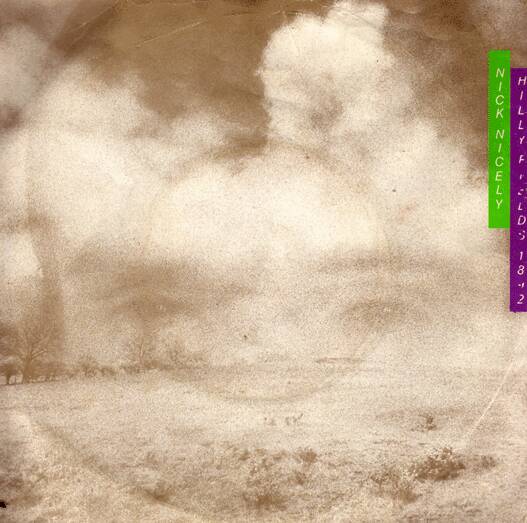 nick nicely, Hilly Fields (1892) single sleeve, EMI, 1982
You signed to EMI, was that a one single deal?
Yes, it came out on January 8th 1982. It was played quite a bit for a weekend but that was it. I played it to someone unrelated to music and he said "What happened in the middle? The "pimply little post boy bit." I have a feeling that the acidy section there frightened off the daytime radio programmers. It was a dead record commercially after a few days. 
It was music that didn't fit in at all. I was on my own. That's not necessarily a good place to be.
Yes, it must have been very different then compared to today with the internet.
Yes, I also didn't play live at the time. I don't know 100% why I didn't attempt anything. People like Orchestral Manoeuvres were using backing tapes. I'd played live in bands in the 70s but it wasn't nick nicely music.
You caught the attention of legendary producer Trevor Horn.
Yes, he hadn't quite finished ABC who were still hanging round the studio. I spoke to him quite a bit but I was intimidated. I was like a studio animal.
He said to me "Look. I tell you what." He loved Yes, and still does. "One of the Yes albums, the peaks and troughs of that, let's do a whole album just like that." I remember thinking "Oh!" At that time it took me ages to finish one track. I would never be able to keep up with Trevor Horn. He also said "You want to produce your own material." I must've given him that impression.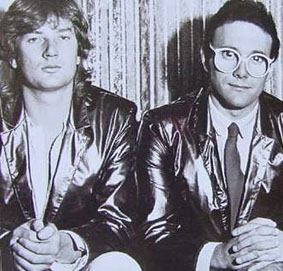 Trevor Horn as one half of Buggles (right)
I understand the excellent "On The Coast" from 1982 was considered for your third single but was not released. Why did that happen?
I felt at the time that it was trying too hard to be commercial. I think I felt that we'd made a mistake with the rythym. Ian Pearce who was also our drummer on "Hilly Fields" and "49 Cigars" was great but he did a pattern that I felt just wasn't right. It wasn't his fault thought, it was mine. It stopped "On The Coast" being what I thought it could be. I didn't know I wasn't going to come up with more fantastic stuff straight away. So I said to Hugh, "No, let's not." He was going to put it out. But EMI had done nothing for "Hilly Fields" at all which I thought was a great record. Why was I going to give them a record if they wouldn't do anything with something I felt was fantastic? 
But I also slightly blame myself. I didn't have album product for them and I wasn't playing live. 
I should also be honest and also say that before it eventually came out on "Psychotropia", I tweaked a little bit here and there to improve it. It sounds better than it did.
I signed off from EMI after recording the "Elegant Daze" track. I was never actually sacked or dropped. I just reached such a low point I stopped communicating. All they did was fund cheap studios. They didn't actually give me much money. I just spent that on living. Unfortunately I didn't have a home studio which would have been my means of generating more stuff. For "The Other Side" and "On The Coast" EMI hired me a Prophet 5 synthesizer and an 808 drum machine but that was just for two weeks. I was lost without a proper studio and that was the root of the problem for me through the 80s.
So you left the music industry?
I left it in the sense that I didn't have the proper equipment to do anything and I felt disconnected with it all. 
The last track I've heard from the eighties is the catchy "Marlon" from 1986.
"Marlon" is different because I had a mate who I'd met through friends in a studio. We started working in his 4-track studio and we made several tracks, one of which was "Marlon Brando". Not really his style, more mine. I really enjoyed doing it. In 1986 I was coming out of a real trough. I can't hide the fact that from 1983 to 1985 I had a terrible time. I just blamed myself for everything. I got part time jobs. My year of change was 1989/90. 
I assume you're referring to the house music scene?
Well first of all it was Maggie Thatcher stoking up the housing market. I got bought out of my tenancy for ten grand. For someone in my situation that was life changing. I could buy a studio and away we went. It was perfectly placed. Everyone had a sampler and a drum machine plus maybe a tape recorder, then sync them all up. Suddenly I had frontline equipment for the house world.
I didn't get sucked into the house scene until I began putting on some of those notorious giant raves with other people. It was on all the front pages of the tabloids – The Sun and The Star! Plus the third item on News at Ten – terrifying stuff!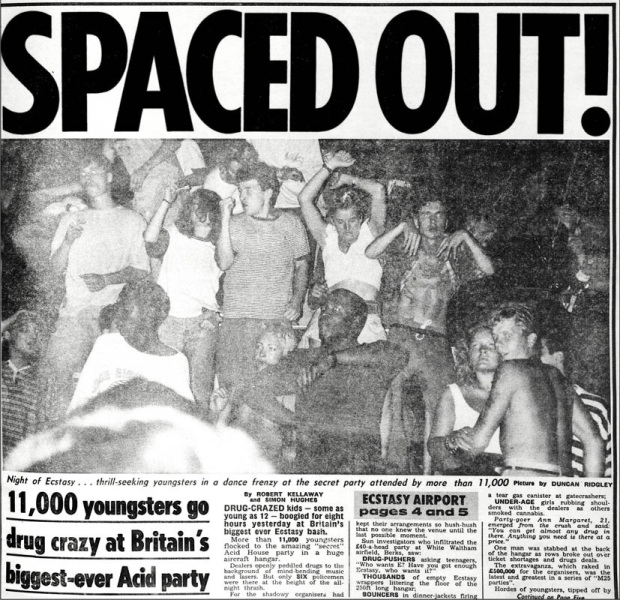 Acid House Media Storm, The Sun c1988 (from http://dangerousminds.net/tag/The-Sun)
Ecstasy meant that ordinary white guys could get into different soundscapes. Verse chorus verse disappeared. I did feel there was connection to the original acid scene to tracks like "Tomorrow Never Knows". "DCT Dreams" was made with a drum machine and is similar to house. It was no great leap for me. However, dropping song writing was a temporary thing. 
How do you see the tracks you made for the house scene alongside your solo tracks?
I love playing with the filters in house and making it really trippy. For most of the records made as Psychotropic my DJ friend took a lead. He's gone on to become a great success in his world. The one track that did stick with me was "Psychosis". I have two big concerts coming up and I'm actually using an acid house backing track. 
The scene had newness and was futuristic. It has none of that now.
It's almost retro! 
Yes, they're repeating themselves and starting to be generic. There are some changes but most of it is not moving on.
From the late 90s, there was a renewed interest in your solo career.  Your collection of solo tracks "Psychotropia" has been released three times, reflecting great interest in your music. It has been very well received and hangs well together despite the span of time it covers.
Thanks. I think of it as all one album, just a lot of years between it.
One of my favourite tracks from "Psychotropia" is "On the Beach (The Ladder Descends". Can you tell me about the track's meaning and origin?
It's my favourite too. It's generally bad to discuss lyrics but I'll make a slight exception with this. On the east coast, Essex/Suffolk there's several islands there. I just saw a story about how a depressed post-natal woman had got up at four in the morning, walked out of her house, into the sea and drowned herself. I had very low periods in the 80s, very dark times. The first lyrics are about how pointless everything is and the others about the concept of self-destruction. 
There's also a Vimeo video of it made by someone with Super8 film of their holiday. 
It's unfortunate that at the time I could only master it onto cassette recorder. So unfortunately it's not as fabulous quality as it might be. Some people have talked about covering it. I love the song. It's got the right atmosphere. It comes from some recording I did in 1997/98. "Everyone Knows" comes from this period too. 
They sound fine to me from a layman's ear.
If you're doing music that's slightly rough i.e. not standard studio quality you can be sweeter. You can get a different balance and make things still work. Like "Wichita Lineman" from the sixties has a coolness now but at the time it sounded sweet and saccharine. Now it sounds rougher as its forty years old.    
People say go into a large studio and make a commercial quality sound. That can undo you. Maybe that's part of the problem I had at EMI. 
You released the album "Lysergia" last year.
Yes, it came on an American label, Burger, and sold out. They were all new tracks. It's pretty solid stuff, I like it. A re-release is not looking so likely at this point, but I'm not worried as it's very good and it will find another home. 
nick nicely, lysergia, Burger Records, 2011
I really like the video to your track "London South" which is from "Lysergia". It really captures the song visually.
The visual material came from some of my friends in Holland in 2008. I re-edited it to get the right pace and spent a lot of time on it. That's the only video I've made so far and I'm glad you like it.
"Wrottersley Road" is another track from that record that continues a theme you've had in much of your material of capturing the environment around you. 
When you take some acid it can heighten your perception of the place around you. Going back to "London South", many people who've liked that have been depressed. It covers the dreadfulness of certain parts of Woolwich and Catford.
You've worked with Unkle, on the track "Puppeteers". You seem to share an affinity with them. How did the collaboration come about?
One of Unkle liked the "Psychotropia" record so they called me in. At the time I understood that they were going to do a different record than normal, with more psychedelia. It seemed like it was going very well. But later they went back nearer to their usual kind of area. I do look back sometimes on the two or three months I spent and on the three or four separate demos and wonder what I got out of it. "The Puppeteers" demo is available to hear on several internet sites.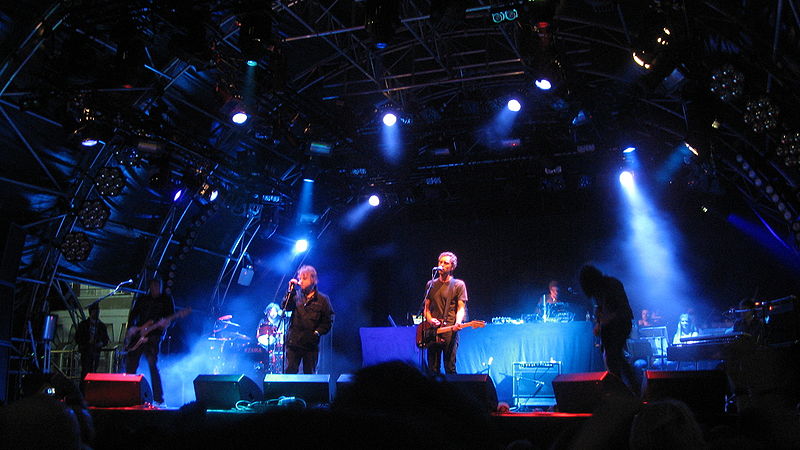 Unkle
What inspires your writing, a musical phrase, a beat?
Probably a musical phrase that gets me excited. However, the house backing track I mentioned earlier that has a beat is starting to pull ideas and melodies out. Different things at different times influence the lyrics. At times I'm almost subconsciously reaching back to early Joe Meek material like "Johnny Remember Me", the spookiness of it.
Continuous sounds excite me. Other times it's the guitar drone, like Jason Pierce and Spaceman 3. "Wrottersley Road" is coming out as a single, and it's being remixed and I had to take it to bits. In the course of that it sunk me into a different track which is now going to be the second track in my live show built on that "Wrottersley Road" guitar sound. I'm very excited about it indeed! 
When you're playing gigs now, how do you approach playing your material live given the complexity of some of the material?
From 2008 to 2010 I had a six piece band and I let them have free reign because they were good musicians. One was the lead guitarist with the Bevis Frond, Paul Simmons, Eliza Skelton who's a wonderful singer, Vic Vibrato on bass plus The Dammed's sometime drummer. I would give them a rough area of how it should be and let them do the psychedelic end of their stuff. It was absolutely great when it worked and we got great reviews. One of the highlights was the "A Monstrous Bubble" show in London with Hawkwind and Comus. Originally Noel Gallagher was going to play but Oasis split up. That was disappointing, it would have been a big step forward for me and the band. 
When I was asked by some Belgians to do some shows I laid out the expense and they said "Why don't you do it on your own?". There's a DIY lo-fi scene with Americans like Aerial Pink, John Maus and Gary War. It's quite common for them to perform on their own with backing material. It's an exciting process. I have two very long tracks for a new album with the working title "Twelfth Corridor". I reckon I've got half of it made for the start of the live show. There is guitar in there. I sing into two separate mics, with different effects on each. The rest of it is on tape. We'll see if it works. It's an experiment.    
You recently re-recorded "Hilly Fields (1982)" for the Fruits de Mer label, giving it darkness, stripping it back to acoustic guitar. It sounds as fresh as ever and sold out straight away. What led you back?
They're very good at the label. It was nice of them to bring it out. Music is really about putting over emotions and that's what I try and focus on. I was not trying to reproduce it, it was the feeling. 
So finally, looking forward, you have forthcoming gigs. You also mentioned that there are plans to release "Wrottersley Road" as a single. 
Yes, there's a band called The Oscillations, they're pure psych. It's their label and their remixing it now and so it hopefully will be come out later this year.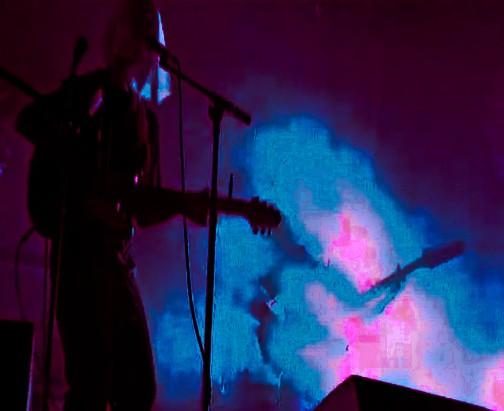 nick nicely, live at the Green Man Festival, 2009 
nick, thanks so much for giving us a rare insight into your career and your music.
Thank you. 
For more information, please go to http://www.myspace.com/nicknicely and http://www.willem.to/nicknicely/ 
Copyright © Jason Barnard and nick nicely, 2012, All Rights Reserved. No part of this article may be reproduced without the permission of the authors.