By Jason Barnard
Welsh group Soft Hearted Scientists are one of the most innovative, talented bunch of musicians around. Their refreshing take on psychedelia combines modern life with Syd Barrett plus a myriad of other influences. Their infectious song-writing has gained critical praise from a who's who of the music press including the NME, Q, Independent and Uncut. As they prepare to launch another exceptional album, "False Lights", the band's Nathan Hall speaks to The Strange Brew's Jason Barnard.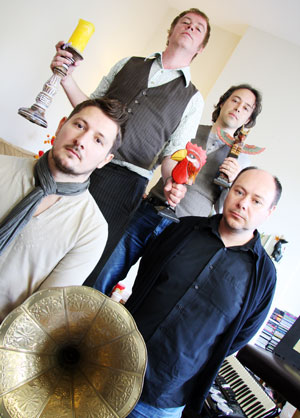 Hi Nathan – Thanks for taking the time for speaking to the Strange Brew, I particularly admire the ambition of The Soft Hearted Scientists "WE WILL create music with a sense of wonder". For the uninitiated how would you do describe the group's sound?
Our sound is kitchen sink psychedelia. That means it can literally include kitchen sink percussion as well as everything but or including the kitchen sink production but also that it throws the mundane up against the outlandish. Parking tickets and Northern Lights can coexist in our songs. 
What do you see as psychedelia? 
Anything that transports you and makes you feel pleasantly under the influence of something even though you might only be drinking tea at the time. A sort of woozy feeling that is kind of sensual. Which is ironic considering that 99.9999% of our fans are blokes. Where are all the psychedelic women? I demand to know! 
Is there something in the River Taff? There's been some brilliant psych from Wales from Meic Stevens, Gorky's, Super Furries to Colorama. Do you see yourselves connected with the scene? 
Gorkys and Super Furries between them made my favourite 3 albums of the 1990s. They completely raised the game. And they brought psych to the foreground. How they did not kickstart a full blown psych revival I don't know but I was certainly taking notes from the sidelines. 
How did you form, was it through shared musical interests? 
A little poster in Spillers record shop ensnared Dylan Line the keyboardist into my evil plans and it grew from there. We took an anything goes attitude and after a slow start it suddenly ignited and the songs started to flow.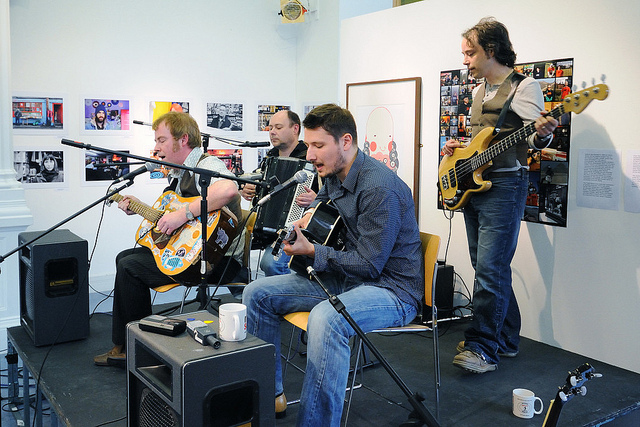 Which artists do you most particularly admire? 
Early Pink Floyd, Beach Boys, Incredible String Band, early Furries and early Gorkys, and a band called Kingsbury Manx who like us refuse to go under despite an acute lack of commercial success. 
Can you introduce you and your band mates and respective roles? 
Me on lead vox and guitars and keys and electronics and sound effects and percussion

Dylan on keys and electronics and sound effects

Paul on guitars, banjo and mandolin

Mike on bass

Frank on drums and production
You signed to My Kung Fu records and released your debut album "Uncanny Tales From the Everyday Undergrowth" in 2005. The NME described it as a "new legal high is introduced" and Marc Radcliffe called it a "magical little fairyland of a record". Praise indeed.  
Is there a Beta Band influence to "Uncanny Tales"? "Wendigo" reminds me a little of the excellent 3 EPs.
Most certainly the 3 EPS made a big impact on me. I never really connected with them after that but they captured something great on that first record.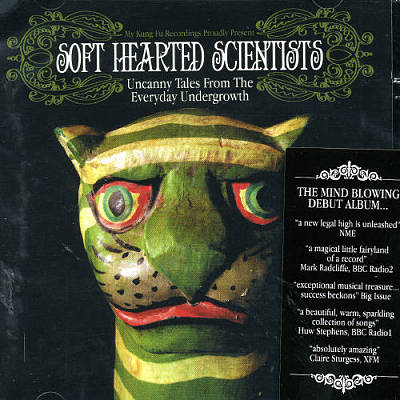 Then followed "Take Time to Wonder in a Whirling World". I particularly like "Eyes", which seems to reject the banal and mediocre and embracing of the wonderful aspects of life. How did the film made by "Anton Van Korneusburg " for the "A470 Song" come to be made?
That's just another of Dylan's pseudonyms! He is a skilful practical joker. It probably translates as Anthony Shoestring Budget.
[tubepress video=p9xEjJfQ7iY] 
You seem incredibly prolific and also released the home recordings compilation "Scarecrow Smile" (one highlight for me is "The Strangest Scene"). How do your demos compare to the full studio treatment? 
Another demos collection is overdue. Songs divide up into those that could benefit from fleshing out in the studio, to those that really seem complete as home demos. The old less is more cliché. They tend to stay as demos and gather dust until we put them out as home demos collections. Strangest Scene just did not need re-doing as it has a real atmosphere. On the other hand "Westward leading" off Wandermoon grew from a 6 minute demo sketch to a 10 minute epic in the studio.
[tubepress video=B8hNp_4WLQM]
The "Wandermoon" album also received very positive reviews (including Q and The Independent). Is it frustrating that it seems to be difficult to convert the huge amount of critical support to commercial success? 
You have no idea. But we have had to come with terms with it. You either stop doing it and nurse your wounds or adjust your expectations and continue. Its a painful transition but we've sort of managed it. I'm already demoing the next album so False Lights may sell 10 copies or 10 hundred or 10 billion but my head is already elsewhere.
[tubepress video=QpLpVnQFWYw]
Can you tell us about your song writing process and what inspires you? No topic seems out of bounds with an always interesting mix of the abstract, psychedelic and what would usually be seen as mundane. 
Anything. The silver centaur sculpture on a roundabout in Uttoxeter I saw the other day has got me going. I mean how weird is that? Marvellous juxtaposition of the mundane and mad. It can be anything from reading about how vile the Romans were to the evil banks. 
Do you play many live gigs and what should audiences expect when they come to see you? 
We play very few gigs as we have no manager or agent and we all work. 
The excellent Fruits de Mer vinyl compilation "Whatever Happened to" sold out in three days. How did this come about? The tracks really hang together well. 
Keith got in touch and it went from there. He did a great job. We left the tracklist mainly to him as we did not want to face infinite choice and squabbles. The sleeve is a lovely job too.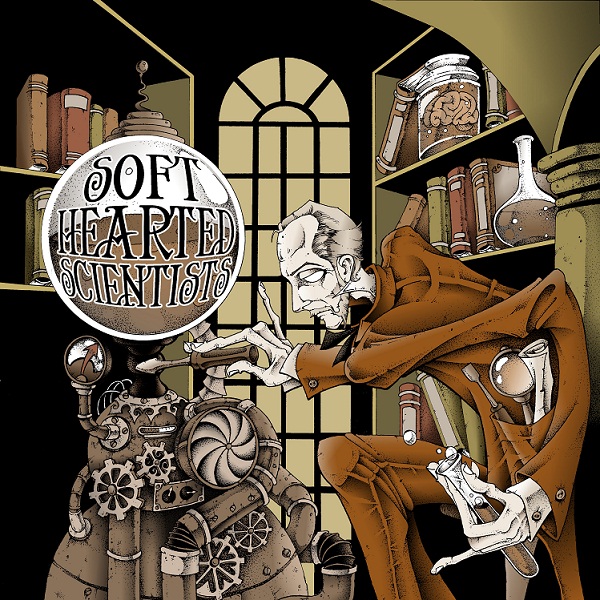 You describe each album is a little world unto itself. What world would you describe new record "False Lights" as inhabiting? 
A darker one. A lot of reality in it but looked at through a bit of a subjective prism. It does end on an optimistic note though with the last 2 songs stepping out into fresh air and deciding that despite economic woes and evil in all its forms, life has its good moments. 
My favourite track is the darkly gorgeous "Golgotha" that reminds a little of Fairfield Parlour. 
Someone said it made them think of King Crimson. A new one on me but i do like In the court of the Crimson King. Must be the mellotron! 
Is humour an important part of your work? It seems to particularly come across in songs like "Seaside Sid and the Giant Squid" and "Halloween People".
It is. Gallows humour in those two.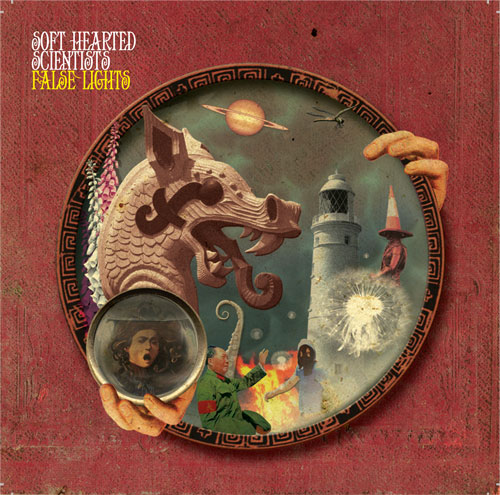 What are the future plans for the Soft Hearted Scientists? 
More albums that cram as much life as possible into them. A few interesting shows. I propose we play live in Caerleon Amphitheatre on the longest day. Cheaper than jetting out to Pompeii. 
Thanks again Nathan. I strong implore Strange Brew readers to go out and dive into the worlds of the Soft Hearted Scientists.
http://www.softheartedscientists.com/index.html
Copyright © Jason Barnard and Nathan Hall, 2013, All Rights Reserved. No part of this article may be reproduced without the permission of the authors.