Mark Nevin rose to international acclaim as a songwriter and guitarist with his band Fairground Attraction who won two Brit Awards: best single for the Number-One hit "Perfect" and best album "The First of a Million Kisses". However, as he tells The Strange Brew's Jason Barnard, his story goes back much further: to the music that inspired him, his first forays in the industry to his work with Kirsty MacColl and Sandie Shaw.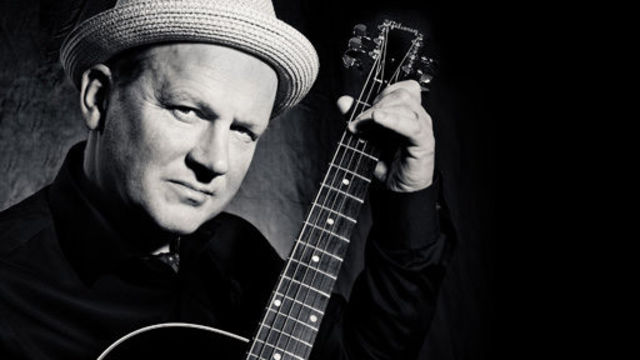 After Fairground Attraction broke up Mark formed Sweetmouth, with Brian Kennedy on vocals, and released the excellent album "Goodbye To Songtown". Also around this time he formed a song writing partnership with Morrissey, and recorded the "Kill Uncle" album plus a string of hit singles including "Sing Your Life", and "Pregnant For The Last Time". Moreover, one of their tracks for Morrissey's next album "Your Arsenal", "I Know It's Gonna Happen Someday" was covered by David Bowie for his album "Black Tie, White Noise".
While continuing to write songs for and with artists such as Ringo Starr and Carole King, Mark stepped out into his solo career in the late 1990s and has never looked back. With a new universally acclaimed album "Stand Beside Me in the Sun" steeped in late sixties and early seventies influences Mark reflects on his fascinating career.
Hi Mark. Thanks again for picking some of your favourite British tracks of the sixties and seventies for the Strange Brew Podcast. On the show you vividly describe how many of those records were formative in your childhood like "Jeepster" by T. Rex.
There's something about that single that has darkness to it. I remember going to Saturday morning Top Rank in Reading when I was about 10 to 12. It was a Saturday morning kids disco and was where I first heard records really loud. "Jeepster" was pretty special.
The Kinks "Wonderboy" was also a great choice.
I had it on a Pye 7 inch. I loved "Wonderboy". There's something about the piano, the atmosphere. When I started working with Morrissey. He asked me who I liked and I said the Kinks. He asked "What's your favourite Kinks song?". I said "Wonderboy". He went "That's mine too!". It was kind of a bonding track.
Alex Harvey's "Next" too.
The first band I ever saw was Alex Harvey. I went to see Slade and they were the support band. I'd never heard of them. I remember thinking "They're the Sensational Alex Harvey Band?!" Even at the time I thought that was incredible, "I can't believe they've called themselves that." They were awesome.
When I saw Slade, Noddy had the mirrored top hat. It was absolutely amazing! His head was like a mirror ball, reflecting it all across the Colston Hall in Bristol. His voice was huge and the sound they made was the most exciting thing that had ever happened to me in my life at that stage. I supported them at the Hammersmith Odeon years later being back stage before the gig and walking into the toilet. Dave Hill was sitting there with his trousers round his ankles! It's a moment I'll never forget. This guy I'd seen on Top of the Pops a hundred times sitting there with a big goofy smile. It was very funny.
We mainly focus on the British music scene for the podcast. What other artists that we didn't cover have been influential?
In terms of falling in love with music there's a lot of American material like Paul Simon as well as the great soul records. Marvin Gaye and Robert Flack's first albums were hugely influential. But the starting point was Bowie, The Kinks and The Beatles. That's what I listened to non-stop when I first starting listening to music. And when I started to play the guitar, I got interested in guitar players like jazz people such as Barney Kessel.
You were in the music industry well before Fairground Attraction. Can you tell me a little bit about your music career before Fairground.
Eddi and I were 28 when we got Fairground Attraction together. I came to London when I was 18 and done all sorts of stuff like playing with Jane Aire. I also played with Sandie Shaw when she was doing The Smiths thing. That was how Morrissey got to know about me.
I first played with Kirsty [MacColl] just after she made "Girl Works Down the Chip Shop". She was signed to Stiff but the stuff we recorded didn't come out. We did a version of "You Broke My Heart In 17 Places. Shepherds Bush Was Only One" which became the title track of Tracy Ullman's album. Then I lost touch with Kirsty for a long time, until Fairground came out. She got back in touch with me because she wanted me to play on some demos she thought I'd done 10 years before. After I got to her house I found that I hadn't but said would play one them anyway. That's how I got back in touch with her.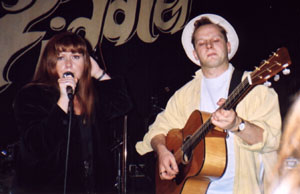 One of the first things, proper sessions, I did was in Abbey Road Studio 2, the Beatles studio. I was absolutely terrified. When I first came to London I went to a Job Centre. I said "Have you got any jobs in the music business?" They said "I'm not sure about that mate." They took my number and I forgot about it. Six months later they rang me up and said "We've got you a job." I said "Where is it?" They said "Abbey Road Studios." I said "You're kidding?! Doing what?" They replied "Washing the dishes." So I went and washed the dishes and Paul McCartney was in there that day. The next time I went there was a proper session with Tommy Boyce who wrote and produced The Monkees.
Boyce and Hart?
Yes, he did "Last Train to Clarksville", "The Monkees Theme", "I'm Not Your Stepping Stone", all those songs. So I got this session and it was so bizzare. It was two drummers. One of them was John Maher and the other was from Elton John's band, keyboard player, singers, bass and a guy playing the steel drums. Tommy Boyce was out there. He looked like Andy Warhol, he had white bleached hair. He must have been into his late fifties. He walked through the door with this woman who looked about 17. He was obviously off his head and a bit of a megalomaniac. I was nervous and he was very strict. I was tuning my guitar while he was talking to someone else. He turned around and shouted "Don't play while I'm talking!" So I'm like "Alright, alright". I was about to have a heart attack. It was an exciting experience to be in there.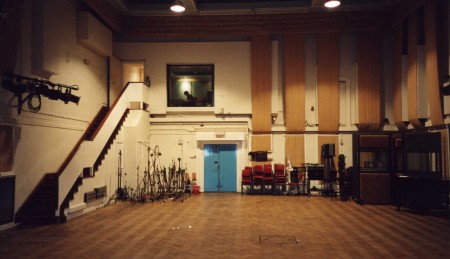 The thing that strikes me about listening back to Fairground Attraction was the sound of your records is organic. Records from the late 80s often have electronic drums and a certain "sheen". Your sound feels analogue and has a timeless quality.
I was not a fan of the way music was going at the time and I valued good playing. When I saw someone standing there with one finger on a keyboard with a Linn drum banging in the background I was horrified. I didn't want any part of it.
I just wanted to do everything opposite to what was current as possible and didn't expect anything to happen with it except producing a record that I really loved. That's what I wanted to make. When it took off no one were more surprised that we where. We thought "What on earth is going on?!" We made this record that we though was indie, with a few hardcore devoted fans and ignored by everybody because it was so unfashionable. It flew against everything. It was very surprising.
What's also odd is the analogue thing. "The First of a Million Kisses" was one of the first all digital albums. It was recorded on multitrack digital tape, mastered digitally, and its on cd. In those days they'd only just started cds. So it's DDD.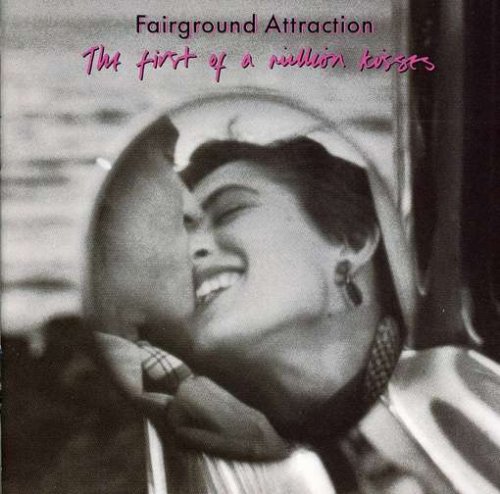 How you managed to get that sound is fantastic.
The thing is that what's being recorded is real instruments being played. We didn't use any click tracks so it was kept in time by us and not machines. That's why it won't ever sound old-fashioned, acoustic guitars and Eddi had her own thing that was pure.
You got to number 1 with "Perfect". Was that your debut single as well?
Yes, it was mindbending.
You were the biggest British band for a year.
It's hard for me to be objective about it because I was in the middle of it. It was so sudden. Eddi lived in a pre-fab from the war in Lambeth. It should have been knocked down but never was. I always remember when we listened to the chart rundown it went in at 38 in the first week. Eddi was doing the gardening. They said "New in at 38, Fairground Attraction and Perfect". You expect fireworks and things to happen. But of cause it doesn't. The traffic rumbles by and the world goes on! You think "We're in the charts. How weird." It went flying up to number one and then the next thing we were on Top of the Pops being number one. Since you're a kid you watch Top of the Pops and the idea of being on it seemed otherworldly. It was very strange.
There's a line on your website that says you won the best album and single at the Brit Awards and then six months later you broke up. A short span.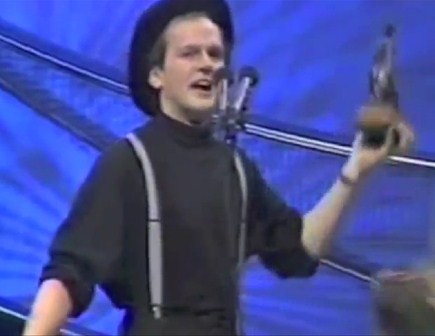 Yeah, it was. What happened was that after the record took off Eddi was pregnant so she had to stop anyway. Suddenly after working for years toward this we had to put everything on hold. Then when she came back we did a big tour. When we then started doing the second album it all became obvious that it was not gonna happen.
A lot of those tracks meant for Fairground came out on the "Sweetmouth" album with Brian Kennedy didn't they?
Brian had been the support of the Fairground Attraction tour and we got to know him. He had this lovely voice. He had made his first album but I don't think it had taken off as much as they'd hoped. He had this great voice and I had a whole set of songs and on the same label. It made sense for us to do that together. It's interesting now after all this time how many emails I get about that album. Because it was coming after Fairground which was so huge at the time I thought of it as a real damp squib; a sort of failure. But while it didn't match commercially what we did with Fairground a lot of people love that record. Brian's just recorded a couple of mine for his new album as well.
You also worked with "Air that I Breathe" songwriter Albert Hammond around this period?
We did a couple of songs. One of them was covered by Julio Iglesias and the same song was done by Curtis Stigers. He is a character. I went out to Los Angeles. It was the day after we won at the Brit Awards. I was feeling pretty weird. You had the whole strange thing with Sam Fox and Mick Fleetwood "the worst television programme in history". I went out and got there and couldn't find my driving license. And of course if you turn up in LA it's a nightmare. I had to get a taxi from where I was staying in Beverly Hills to his house in Tarzana. I got this taxi and it was this taxi driver, an Iranian guy with one hand missing! He'd obviously been done for nicking things. He drove for miles, got completely lost. There was 150 dollars on the clock and this was about 20 years ago. Albert was fuming. It's so weird going to Albert Hammond's house in LA anyway but then to be lost with a one handed Iranian taxi driver and Albert ringing up his manager saying "What's this guy doing ripping my friend off." It was very strange.
Moving onto your work with Morrissey I understand you sent tapes over to him. Was it difficult handing over the reigns for someone else to flesh the songs out with lyrics?
We were making a Morrissey record so it was for him. The songs that I have written with Morrissey and Kirsty I felt very different about compared to the songs I have written the lyrics to. The songs I've written lyrics for I feel as my songs. The others I co-wrote. When someone says "I love "I Know It's Gonna Happen Some Day" " I think "Yeah, he's great, isn't he Morrissey!". I feel weird in a way taking praise for it whereas songs I written myself I feel "That's my song there." I don't have the same emotional connection to them. I'm very proud, particularly the Kirsty ones that we did, but I feel like I am the co-writer and they're the boss, you know?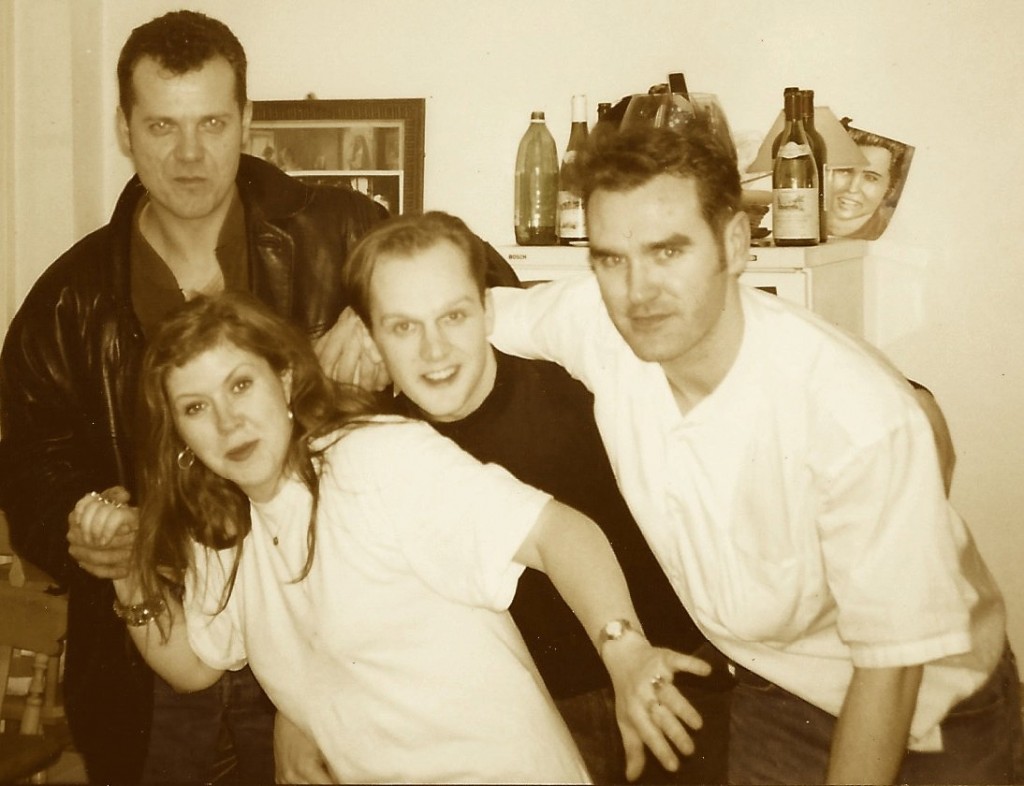 "Kill Uncle" is one of the oldest cds I've got and although critically it's not seen as one of the best Morrissey records I've always had a particular fondest for it. It's quite a short album and great songs that are very Morrissey, like "There's A Place In Hell For Me And My Friends" and "Sing Your Life".
It's funny that people knocked that album and were really vicious about it. The Melody Maker review said it was "so bad that it could only be an act of spite." I felt "Well, that's a bit strong, isn't it?!" But it's the same as Sweetmouth, that people have a real fondness for it. I really like it. It's got pathos that some of the records Morrissey made after didn't have. They feel a little one dimensional in comparison. One of the things that I feel about Johnny Marr's songs that he wrote with Morrissey is that they had that pathos, something really heartwrenching about the guitar chords and the harmony that complimented the lyrics so prefectly. To me that's the last record, "Kill Uncle", that he did that had that quality. After that it became obvious or something.
Yes, he has his sound now and sticks with it.
The other thing is that the demos that we did were much more guitar based. When Clive Langer and Alan Winstanley produced them they took a lot of the guts out of the tracks. The guitars are thin and they put pianos in, that Madness type piano thing. When we did the songs that are not on that album "Pregnant for the last Time" and "My Love Life" they were much more like the demos. We did them very quickly; we had a day or two in the studio. They sound much more like what I wanted "Kill Uncle" to sound like. Those are the ones that people like more. But strangely enough I'm not credited on those records. They got the credits wrong. "Pregnant For The Last Time" and "My Love Life" lists guitars by Boz Boorer and Alan Whyte. Alan wasn't on either and I was on both.
But that was why we got Mick Ronson in. It was my suggestion. I wanted a guitar player to produce it, to crank up the guitars. Mick Ronson came in and did the "Your Arsenal" album and featured the guitars more. Everybody went "Oh, it's much better. They've got rid of Mark Nevin." I though "That's unfair!" (Laughs) I finally get it the way I want it and I got criticised.
I loved those Mick Ronson records and the tours in the mid-70s when he came to Bristol which was where I was living at the time. There was a little red flexi disc that came with the programme. It had little clips of the album and him talking between them. I always remember at the end he goes: (adopts Northern accent) "It's like when you're a teenager and you're in love and it goes wrong and breaks up. It's like the end of the world!" The riff from "Slaughter on10th Avenue" comes in. When I worked with him on the Morrissey record I said to him "I loved that red flexi disc that you gave away on that tour." Every now and then someone would go "It's the end of the world! End of the world!" (Laughs)
"Your Arsenal" still has a couple of your songs on it.
Originally I was going to do the whole album. I was going through these old cassettes I have yesterday that has Morrissey's handwriting "Kill Auntie" which was what he were calling the next album. "I Know It's Gonna Happen Someday" and "You're Gonna Need Someone On Your Side" are on there but what happened was that I didn't go on tour with him and he went off. I was sending tapes to him and he was sending letters back saying "Great, we've nearly got the whole album now." So he was working on the songs in hotel rooms around the world.
One day Boz came round and said can I go through the songs because Morrissey wanted to use the live band on the record. Boz had a cassette, with those two tracks on it and loads of others. He'd changed his mind and decided to ask them to write some tracks. That's how that started. I felt "Aw god, he could have said something." I rang him up. Usually when you ring Morrissey up he doesn't answer the phone or in those days it would go to a fax line. But for some strange reason he picked up. I said "I don't understand. Boz has come round and it's only got two of my songs on." He didn't really like it. He doesn't really do confrontation or know what to say.
David Bowie covered "I Know It's Gonna Happen Someday" for "Black Tie, White Noise". It must have been one hell of a moment.
Yes, it was. It was just unbelievable. I remember how I found out about it. It was with Kirsty in Los Angeles. We were out there doing a gig. We were staying at Dave Stewart's studio because Steve Lillywhite was producing Seal there. We were hanging out, it was all very LA! I remember Wendy and Lisa from Prince's band came round for breakfast one day. I thought "This is it. I'm living the dream!" (Laughs) Morrissey was in town playing a gig. We went over to the hotel where they were and were hanging out with them. Alan Whyte turned to me "Oh, I've got some news for you. David Bowie's going to do your song." I went "This a wind-up." He said "No. He's going to do "I Know It's Gonna Happen Someday." He's already recorded it. I couldn't believe it, as you can imagine I was very excited.
You also did a song with Ringo Starr.
What happened there was Miles Copeland, Sting's manager did this thing called Eight Days a Week. He's got this huge castle in the south of France. He'd invite different songwriters to collaborate and we'd be there for eight days. Sting's cooks were doing all the food so the food would be unbelievably good. The castle was like a Disney one and was completely surrounded by fields of sunflowers. You'd get up in the morning and today so and so is in that room with that person and so on. One day I wrote a song with Carole King which was pretty exciting.
One of the songs I wrote there was with Mark Hudson, he's a producer and writer who's worked with Aerosmith and Alice Cooper. He was also a friend of Harry Nilsson. I was telling him that I loved Harry Nilsson and he was talking about him. I was playing these Nilsson type chords and we started to write this song "I'm Yours". We demoed it and that was that. A few months later I was back in England I got a call from Mark who said "I'm producing Ringo's album and he want's to do our song and write another verse." I said "Ok, great." So he wrote another verse so I never even met Ringo Starr but that song was written by him, me and Mark.
Around this time I was living in Camden, I came out of my house and I bumped into Mark. I though this is a bit strange "What are you doing here?". He said "I'm up in Air Studios in Hampstead tomorrow. I'm recording our song. Do you want to come over?" I said "Yeah, brilliant." So I turned up and walked into Air Studios. The only thing on the tape at the time was my guitar part. I'd sent a tape of it through the post to LA. It was transferred onto the multitrack and Ringo's voice. George Martin was there because he'd done the string arrangement and was conducting. So it was my guitar, Ringo singing and George Martin's orchestra. I was sitting there thinking "This is a good day out!" George Martin was telling all these fantastic Beatles stories, "Revolver" this, Paul that, John this. I was trying my best not to look as excited as I was.
It doesn't get much better than that does it?
No, it was fantastic actually. You look back on these things and think "Did that really happen?". It was surreal. If I had not walked out of the house that exact minute to go get some milk from the corner shop I wouldn't have done it.
You released your first album in 1999. Was that the first time you'd sung lead?
That was something I never though I would or ever could do. I got so tired of the politics of singers. A friend of mine Anthony Thistlethwaite of The Waterboys said "Sing your own songs" as he'd done his own solo album. Eventually I thought I'd give it a try. So I booked Pathway Studios in Islington which was a small studio, not around now, where I'd done the Kirsty demos many years before. "My Aim Is True" by Elvis Costello was recorded there. Stiff Records used it as it was cheap and small. I went to do it and I was really nervous so asked to sing in the dark. I just stood there with my guitar in pitch black and sung loads of songs. It was pretty awful but the world didn't stop turning and I survived. I thought "Well, that wasn't that bad was it." I kept on doing it. Before I made that album I made another that was never released. It was a lot of the same songs but much bigger versions with huge arrangements. The whole kitchen sink! Because I was so nervous I was overcompensating.
The full Phil Spector?
Yes, one day I thought "This is ridiculous." I'd spent so much money. So I though I'd record it all live instead. I got in Roy Dodds from Fairground on drums and Roger Beaujolais on vibraphone and bass player Julian Crampton. So I went back into Pathway with Liam Watson, an engineer who went onto The White Stripes years later. In two days we recorded all those songs and that was the album. It was a terrifying weird step for me to take. That was a long time ago and I enjoy singing now and doing gigs. I wish I'd done it sooner. I wish I'd done it when I was 18. But my dad like proper singers like Mario Lanza and Harry Sycombe. I remember that around the time I was recording the album I was doing a show with Billy Bragg and I mentioned what I was doing. He said "If I can do it, anyone can!" I thought "You've got a point there." (Laughs)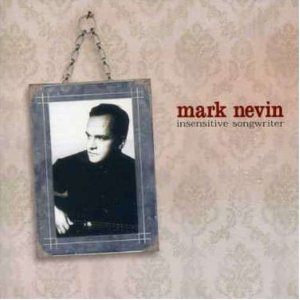 I really like the last song "Thank you. Goodnight".
My dad was ill. He had emphysema. The doctor had given him seven days to live. We went down to see him, I'm one of eight kids. It was his birthday. It was very emotional. At the end of the day I was going to Huntsham in Devon as Chris Difford runs these things like Miles Copeland for songwriting collaborations. I was really upset.
I was put into this team with Jenny Jones and Joey Tempest from the band Europe. I was telling them about the situation with my dad. Joey wrote part of the melody and I finished it off on my own. What happens on those days is that you have dinner and afterwards everybody performs their songs to everybody else. We performed the song and I explained it was about my dad and it was very powerful. After Joey said I've got a song that me and Jenny wrote while Mark was finishing off his. They started to play a ballady song and then realised it was a slow version of "The Final Countdown". It was very funny. What was even weirder was that my dad didn't die. He kept on living. I'd recorded the song for the album. I said to my mum "Look. I've got this song." and explained the whole thing. She said "Why don't you play it to him." I thought "Oh no." But I told him the situation and I played him the song and it was one of those very emotional moments. He was really touched by it. He died a year after the record's release.
Your next album was "The Mighty Dove". Ian McLagan of The Faces played on it. That must have been great.
Simon Edwards who played with me in Fairground Attraction plays with Billy Bragg and The Blokes. They had Mac playing with them for quite a lot of their shows. I said to Simon that it would be great to get Mac to come down. He said "Yeah. I'll ask him." Mac came down and brought this big Hammond organ into the studio. We did a whole day with him. Always when I had someone playing the keyboards I said "Can you play it like Ian MacLagan from The Faces?" Then I had him but asked "Can you play it like Roy Bittan from The E Street band?" How could I do that! But he was very cool and such a great player.
Your new album, "Stand Beside Me in the Sun". Do you think that's your best work? It's got universally good review and loads of great songs.
Thank you. I do love this new one. It's a long time between the two. For nine years I did hardly any music at all. I came back to this one with all the freshness of a new record. I'm in a really good place personally in my life now. I thought "I'm just going to have a really good time." And that's what I've done. I'm disappointed that there are not more people who know about it and have bought it. But it represents some sort of completion for me. The person who went into Pathway all those years ago terrified is a singer of history now. I love singing live and I've found a way to make my shows work really well. I came out of a band with Eddi Reader singing with this fantastic voice. When I first was doing gigs I thought people would say "Oh shut up. Where is she?" But I don't think people think that now. It was a long time ago. I'm just doing something completely different and I feel liberated. It's great fun.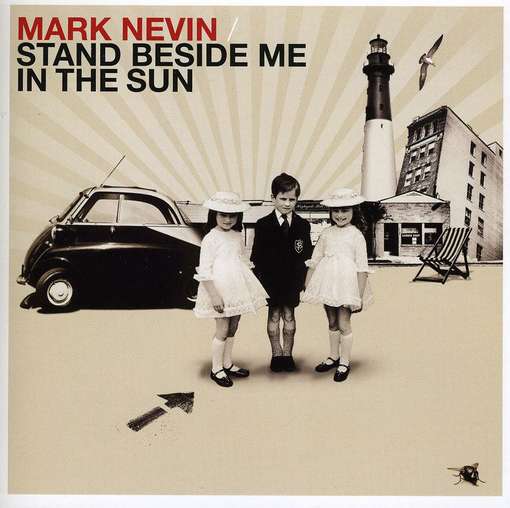 I think the opening track "Girl on the Motorbike" has a bit of a Village Green feel.
I've always liked that English-British thing on songs. There's this whole alt-country scene going on with these bands from Lewisham singing about Texas. I was writing a song with this bloke once and I had to keep asking "Why do you want to shoot someone with a gun!" It was very funny. You have Ray Davies, and the Beatles "Penny Lane". There's so much to write about here why do all that stuff.
Your music videos work really well like "I Know Where Ray Davies Lives".
When we where doing that video Ray was in the next street doing his press conference as he was about to start Meltdown. There was all these cameras filming Ray Davies in one street and me and one camera in the next singing this song about Ray Davies! At one point I was standing between takes and I saw him look over as he was driving past.
And the song is a true story?
Yes, although not all of it!
So you're not stalking him!
No, but the part about the pub and him sitting down next to me and watching Arsenal. I was thinking "This is amazing. It's Ray Davies. I'm going to pretend I don't know him as he just wants to watch the football and not be bothered by questions about Wonderboy and Apeman." So I just did that we watched and talked about the football.
I love that glam riff in "Oh Mama".
Thanks. It was great fun doing that video with all the mums with the prams too. Both those videos were made by people I met through my kids at school as there's a lot of people in the television and film business. David who made my Ray Davies video was also doing "Clash of the Titans" at the same time!
Yeah, a similar budget!
(Laughs)
As you've recently released some of your best material what's next?
I'm certainly focussed on my own material now. I want to do some more gigs but no long tours as I've got children. I want to develop my life. There's a few things on the horizon. Do some gigs and develop at a natural pace.
It's been an absolute pleasure to speak to you Mark and thank you for choosing some of your favourite songs for the podcast. It's been very enjoyable. Thank you.
Thanks Jason.
For further information please take a look at Mark's excellent website and grab a copy of his excellent album "Stand Beside Me In the Sun": http://www.marknevin.com/
Copyright © Jason Barnard and Mark Nevin, 2012, All Rights Reserved. No part of this article may be reproduced without the permission of the authors.
Update 2014:
Read my second interview with Mark two and a half years later that talks about his follow-up album; the critically acclaimed 'Beautiful Guitars':
http://thestrangebrew.co.uk/articles/mark-nevin-love-love-love