By Jason Barnard
When I last spoke to Mark Nevin, he reflected on his music career; from the huge success of Fairground Attraction, songwriting partnership with Morrissey and others. At the time he'd found his voice with the acclaimed solo album 'Stand Beside Me in the Sun' so I was especially intrigued what he'd do next. However when I first heard the first single 'Love = Love = Love'  from his new album 'Beautiful Guitars' it was clear he was making his most personal statement yet.
Mark and I met at the Coach and Horses Soho, London, a pub that is significant to his story, to talk about 'Beautiful Guitars' and how this new album reflects his life today.
Mark, it's great to speak to you again. You've said that your new album 'Beautiful Guitars' is your best. What have you brought to it this time around?
I'm just easier, it's what I do now. Way back when I did my first solo record it felt very odd to be 'centre stage', I had to settle into it over a long period of time. Now it feels natural.
What do you think of it being released on vinyl? The format is undergoing a massive resurgence at the moment.
Yes, I am delighted. I have been going through a real re-discovery of listening to music on vinyl and can't wait to hear Beautiful Guitars coming out of the grooves. It is a different listening experience than the digital formats, besides the warmth of the sound, I think we are inclined to listen more actively to something that we handle and 'put on' and 'take off'. The label is owned by a guy called Chris Topham who is also an airline pilot, he actually flies Jumbo Jets for a living! Hence the label's name, 'Plane Groovy'.
You've recorded tracks that you've written for other projects as well as new songs. How do you think they blend together?
I hope they blend together well. To me, I don't really make that distinction. They just feel like 11 of my songs. My songs are the story of my life.
As we covered so much when we last spoke I thought I'd ask you about each of the tracks from 'Beautiful Guitars' in order. 'Love = Love = Love' is a great opener for the album. It's got airplay on the BBC already.
I wasn't planning on making a new album, I'd had the idea of doing a new record of my old songs at some point, but it was somewhere vaguely in the future. This record came about because, a couple of years ago, around the 25th anniversary of 'Perfect' being number one, a promoter was trying to get Fairground Attraction to reform. I didn't want to reform 'proper' but thought it could be healing for us all to do a small handful of gigs to celebrate what we achieved together. We had an email discussion between the members of the band, but it soon became obvious that it wasn't going to happen.
Eddi was lobbing the email equivalent of hand grenades and I thought 'how tedious, don't you ever get tired of hate?' However, what was good about it was that it inspired this batch of new songs, such as 'Love = Love = Love' which is 'don't you know thats things expand if you come from a position of love? they 'multiply' opposed to with a 'fists-up' style of negotiation,' then, it's ever decreasing returns, 'it's a simple equation, it should be easy enough'.
So it has a universal theme but stems from something specific.
Yes, I was brought up in as in a Catholic family in a street full of curtain twitchers. Plenty of guilt going around and if someone said anything bad about me, I would take it personally, at face value. It took me a long time to realise that, 'It's none of my business what other people say about me'. When people say bad things about you, it generally reveals more about them than you. So 'all of a sudden' I had 6 new songs and decided to make this record with old and new material mixed together.
Your second song on the record is the title track of 'Beautiful Guitars'. What was your first guitar and was it beautiful?
[laughs] No, it was a £5 awful thing. A nylon string guitar with steel strings on it, it was junk. The one after that, my first electric, was a Futurama. There's a picture of one like it in the little video I did for 'Beautiful Guitars', it was Japanese, looked cool. My first 'proper' electric guitar was a Gibson Les Paul Deluxe, I've still got it, and my first decent acoustic was a Gibson Mk81. It's the one I am playing on the barge for the 'Perfect' video. It was damaged by airport baggage handlers a while back, so I never play it now.
The song is about going down Denmark Street and looking at guitars. I love the whole energy of the place and the guitar as a symbol of hope and transformation, y'know, 'If I had that guitar… who knows?'. I'm teaching one of my boys now.
There's a line in the song.
'I got a wife, I got a family, and I've got bills like everyone. My glory days are behind me, these days I teach my son about beautiful guitars.' I saw a documentary about Phil Everly and there's a quote from him that I have used in the liner notes for the album, about how his dad's guitar got him out of the coal mines of Kentucky and how he taught his son's (The Everly Brothers) to play and how they taught their sons, it carries on from one generation to the next.
There's another line; 'We had a band, we made a record.'
Yeah, bands can be great and they can break your heart, like families or love affairs. I suppose it is the story of so many bands.
And you've created a beautiful guitar for the artwork.
An artist called Vic Lee put a picture on Facebook of (what I thought was) a guitar (it was actually a ukulele) that he had done this incredible ink drawing on, when I saw it I thought, 'Wow, look at that beautiful guitar!' So I got in touch with him and put him in touch with the guitar maker Alister Atkin. Alister made the guitar. It's a lovely thing, all mahogany, it doesn't just look great, Alister's guitars are fantastic.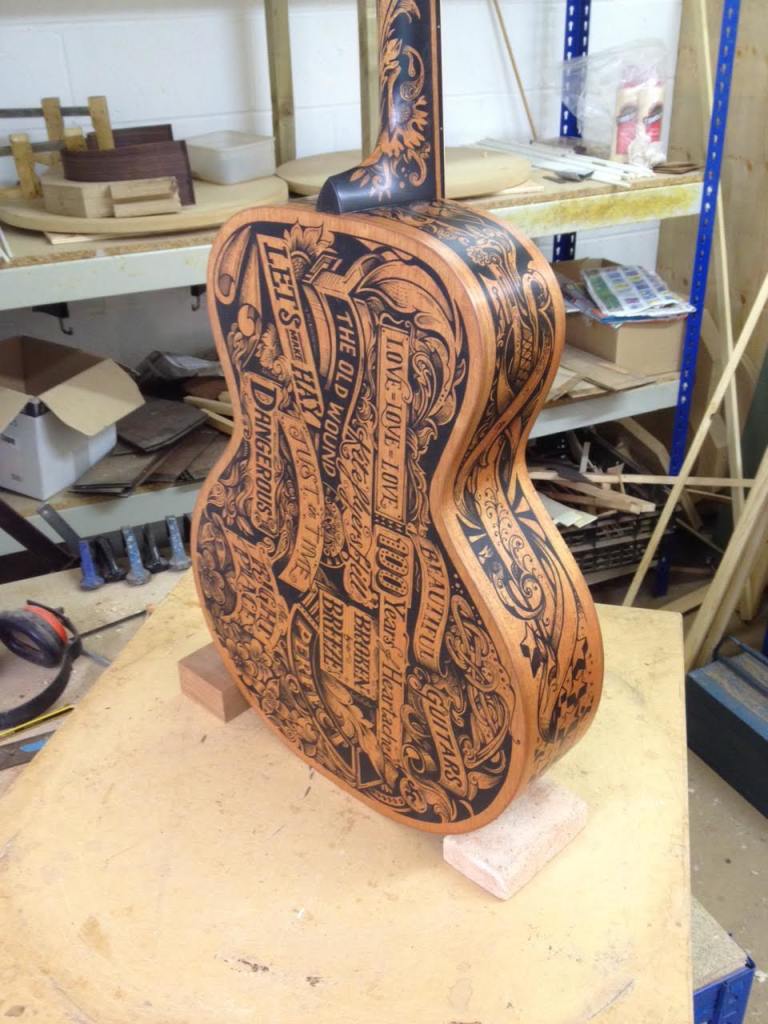 Vic did the wonderful drawings on it, all by hand. Then Laurence Stevens, who designed the sleeve for 'First of a Million Kisses', created the cover. Alister is also making the guitars for the Buddy Holly foundation, who donate them to iconic musicians as a way of keeping the memory of Buddy Holly alive. The most recent one he made was for Paul McCartney.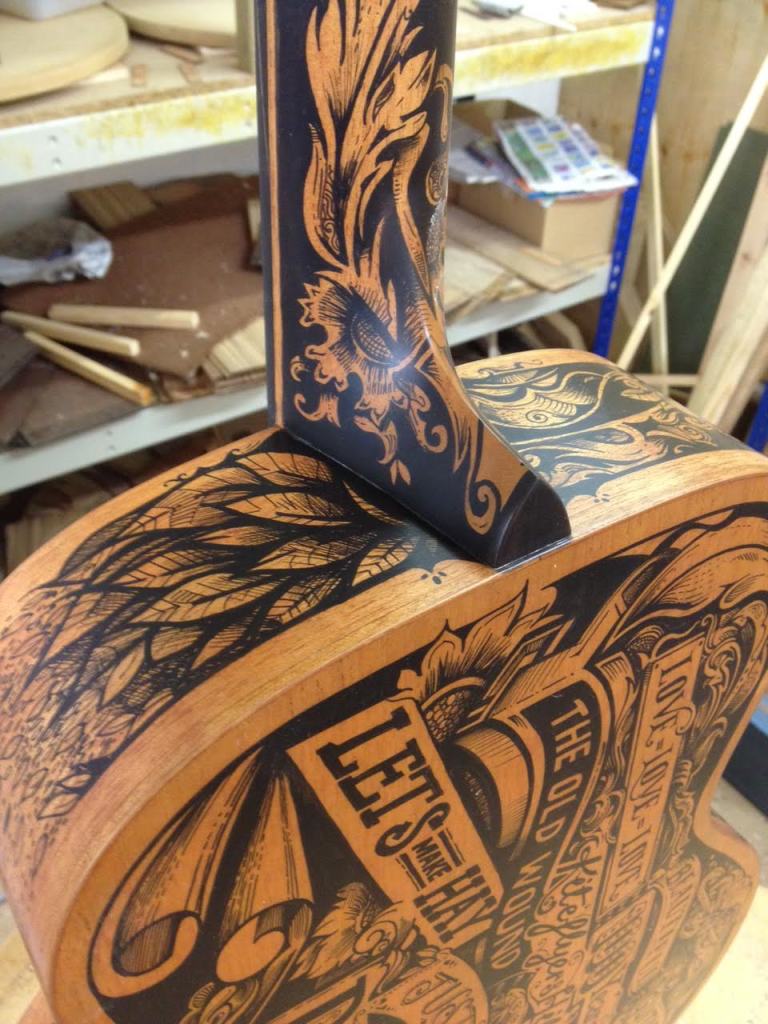 '100 Years of Heartache' seems like another song that shares your current feelings.
It's another song from that period. It was cathartic, the feeling of closure.
It was putting it to bed.
Exactly, I hadn't realised how much this feeling had been there all these years. I got on with my life, but underneath everything there was this feeling 'Maybe one day we'll play together again, do the old songs, bury the hatchet etc.' So, when the last bit of that hope was snubbed out, it was actually a great relief. It was '100 years of heartache are over now' (100 sounds better than 25!)
The first track from the album that you'd written before is 'Kiteflyer's Hill' that was originally released by Eddi Reader.
There is a long story to be told about this song, too long! Eddi and I had a difficult relationship. I am sure that the fact that we both came from such big families, full of sibling rivalries and all that goes with them, came into play.
Love, hate?
I was in love with the fantasy person I had created on the records, the combination of my words and music and her voice, which was greatly at odds with the real person. We had very different agendas and both ended up extremely frustrated with each other. When we got the band together it was at the foot of Parliament Hill in Hampstead, where people go to fly kites. It was there that we had the discussion about becoming a band.
So when we split up and I wrote 'Do you remember when we used to go up to Kiteflyer's Hill?' I was referring to that, and that dizzy heights feeling of an unsustainable love affair, that holiday romance sort of thing. We tried to record it for Eddi's second solo album, her first for Warner Brothers. We went to Los Angeles, to the legendary Oceanway Studios and worked with a producer. He and I were at odds from the start and we didn't manage to get a decent version of the song recorded.
When we got back to England, Rob Dickens (head of Warners) said, 'When I listen to the original demo that you did with Eddi, it makes me want to cry, but the version you did in LA (with the producer) is crap'. I agreed, so I didn't understand why they wanted to go back and try it again, with him and without me. It all got very ugly when I refused to let them. I decided that I wouldn't work with Eddi again, because I believed and still do, that she was complicit in their intention to take my song away from me against my will. It really disgusted me.
So did it get recorded with you producing in the end?
No. Like I said, I didn't let them record it for that album, but it got done a while later for her next one. She called me out of the blue, for the first time in a very long time. She said 'They (Warners), want you to record Kiteflyer's Hill with me,' and I said, 'You know what, I just can't face it. You go and do it and get it over with. The only condition is, don't mess with the lyrics, sing them exactly as I wrote them or not at all'.
She agreed to this and I sent her the lyric sheet, but of course, she messed with the lyrics, it was like she had to do it to get one over on me. So I refused to let them release it unless she went back into the studio and changed the words back to what I had written, then I was the 'difficult one'. That was the last time we ever worked together. So that song is loaded with history and emotion all the way.
It has resonance with some of the themes of your album.
Yes, which is closure and taking back my 'babies'. 'I'll sing mine, you sing yours'.
Is that a similar theme to 'The Old Wound'.
Not really. Years ago, I did a songwriters workshop with Kirsty MacColl at an event called 'North by North West' in Vancouver. She and I were on a panel of writers, with Bob Thiele Jr (his dad wrote 'What A Wonderful World'), Jan Arden, a Canadian singer songwriter and a veteran Nashville writer called Ralph Murphy. One of the questions the audience asked the panel was 'What makes a great songwriter?' Ralph Murphy gave an answer that stunned the rest of us. He said 'Child abuse.' We were like; 'What?' Later, I sat in the bar with him and we had a long conversation. He told me the story of his life and explained his opinion further and I thought he had some really interesting ideas.
Over the years I have read a lot of biographies of artists that I respect and I think that what drives people is not as specific as child abuse, but it is some kind of early trauma or loss. Lennon and McCartney both lost their mothers and Ray Davies lost his sister as teenagers. So often, there is this theme. This urge to create something in an attempt to repair or replace something that has been lost.
I have always had this terrible feeling in my stomach, like a brick was in there and I never knew what it was. I thought 'Does everyone feel like this or is it just me?' Sometimes it would be ok and sometimes it would be awful. It felt so bad and I knew it was this thing that compelled me to write songs. I felt like it was like that with Kirsty and Morrissey too, especially Kirsty, a kind of wounded feeling. It was like we both understood some un-spoken thing about each other.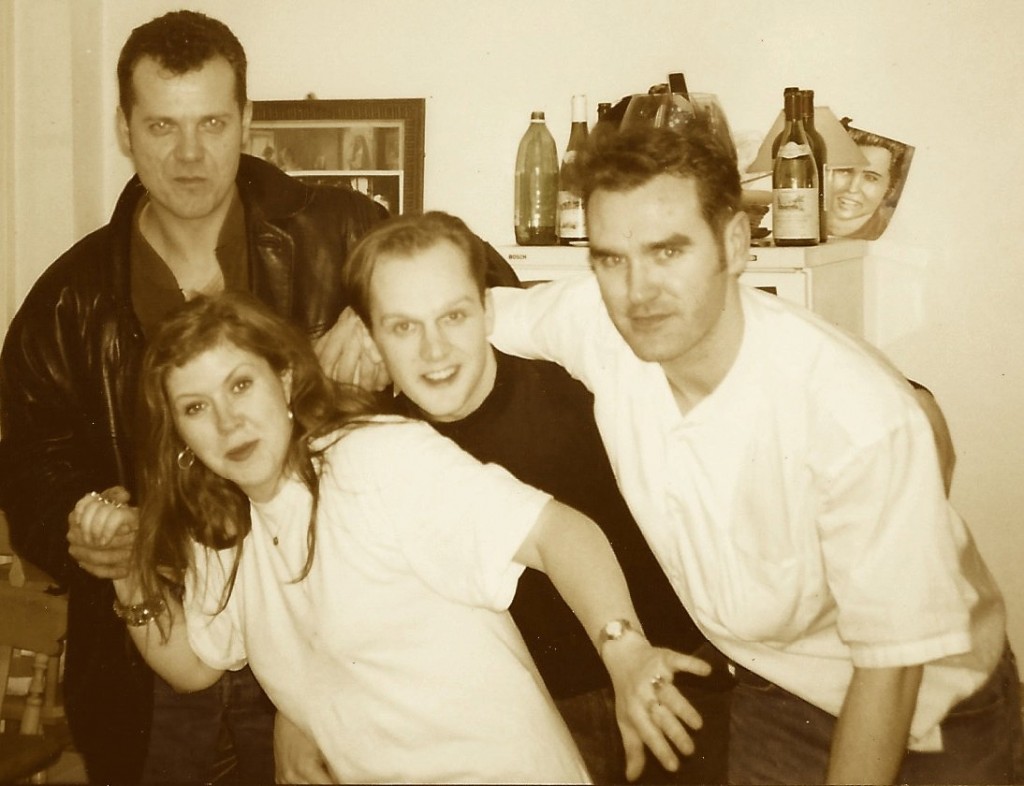 Left to Right – Peter Hogg, Kirsty MacColl, Mark Nevin, Morrissey – Hartland Road, Camden 1991 (used with kind permission of Mark Nevin)
I'm the sixth in a family of eight children. My mother and I both nearly died when I was born, but we survived and she was soon pregnant again, this time with twins. So when I was 15 months old my twin sisters were born. My older sister told me 'Oh I remember when you were a little baby, you were so terrible and needy. You just cried and cried. We couldn't shut you up. Then mum used to say 'take him out in the pram and don't bring him back until he's stops crying.' Then my sister would walk me around and around the block. When she brought me back, I'd still be crying and my mum would yell, 'Get him out of here and don't bring him back until he's stops crying!' Then I'd go around and around the block again until I learned to stop crying.
When I heard this story, I thought 'That's the feeling'. I'd swallowed my pain, and when I wrote songs I could express myself and it was a huge relief. So that's what it is 'The Old Wound'.
That was a theme on John Lennon's early solo records.
Yes, definitely. I relate to those records.
You also are a psychotherapist.
A long time ago, I started reading psychotherapy text books. I became more and more fascinated with it. Eventually I did a five year training and got an MA. That was a big deal for me, because I left school when I was 15 and all I had was an O-level in Art. I've been in private practice for six years now.
To me it's very similar to writing songs 'metaphors, intuition, energy, jamming'. I think I'm at an advantage as a therapist, because I started out as a songwriter, songwriting and therapy are both about giving words to feelings and I have been doing that for most of my life.
The next song on 'Beautiful Guitars' is 'Broken By a Breeze'. It was recorded on the Sweetmouth album but you also played it live in Fairground Attraction.
That was going to be on the second Fairground Attraction album. It's probably my favourite song of all and I've always thought it should be up there with 'Perfect'. If the Everly Brothers or the Righteous Brothers had done it, it would have been one of those songs that everyone slow dances to at the end of a disco in the old days.
'Let's Make Hay' on the album is typical of your work in that it has great production and features The Kick Horns too.
I have worked with The Kick Horns on and off for a very long time and it is always a great pleasure, they are brilliant musicians and top blokes. They take everything to another level in an incredibly short amount of time.
'Just In Time (To Be Late)' seems to have a little bit of revenge in it.
Not revenge, I don't believe in revenge. It's my 'Frankly my dear, I don't give a damn' song. You know, there are only so many times you can extend the olive branch. If someone uses your openness as an opportunity to deal a sucker punch, then it is folly to remain open to them. When I sing 'I've been waiting for this for so long', I mean that moment when you are liberated from caring whether they scream, shout, cry, beg, apologise or accuse you of whatever they like. It makes not a crumb of difference, they have used up all their second chances and are now powerless, it is simply too late. It is an invigorating feeling, a sort of giddy relief.
You really get that across in the song when you hold that long note and laugh at the end.
(laughs)
I assume one of the reasons you included 'Perfect' for the album is that you play it in your live set but have reclaimed it in your own voice.
When I came to record it I knew that I had to do something different and I have always loved The Dirty Dozen brass band, those brilliant New Orleans horn players. So I spoke to Simon Clarke from The Kick Horns, who did a fantastic arrangement. When we recorded it, I thought the tuba player (Nick Etheridge) was going to pass out! At the end of the song, I went over and shook his hand, he was just amazing. Singing a song like 'Perfect' when you're my age is different to singing it when you are 20, so I like the slightly cynical twist we have given it.
I was reading your PR pack that says that your life can be split into two sections; before and after 'Perfect'.
Yes, very much so.
You used to do session work.
Not really, I did bits and pieces. I used to come here a lot [Coach and Horses, Soho] because I used to work up just up the road in Covent Garden doing market research. It was full of out of work actors and musicians who worked on an ad hoc basis – you'd phone up the day before 'Have you got any work tomorrow?' and they'd say 'Yeah, come in.' We'd do these awful telephone interviews. It was a grim time. I read the first review of the First of a Million Kisses album here in this pub (in Time Out magazine) and it was beyond belief when 'Perfect' was released and went to number one.
You thought you were just going to be a little indie band.
Yeah, although we were more 'alternative cabaret' than indie. On a small label, doing little gigs, funny little songs, that is how I imagined it would pan out.
You were signed to a major label.
Yes, RCA, but they didn't expect it to take off in that way. They gave us a two album deal. Their plan was to let us do it exactly our way the first time, build it up a bit and then mould us into something more sale-able once we had 'failed' on our own.
And make you sound more like the 80s?
Yeah, get some keyboards, drum machines, make us sound like that. But it was like 'ka boom', number one, that was that, 'We're in charge'. It completely worked our way, so we had we stayed together we would have had an unbelievable amount of artistic freedom on a major label.
What was the span of Fairground Attraction, a couple of years?
Yeah, we signed in October 1987 and ended late 89, certainly by early 1990.
Which takes us to Sweetmouth and your song, 'Dangerous', that you've also recently redone.
That song was written earlier, before everything took off with the band. When I do a gig someone nearly always comes up to me and says 'I love the line in that song' and I know which one they mean, the one that goes; 'Someone could have lived off the heartbeats I missed'. People seem to love that and I love that song, the chords and the structure are quite different. To me, some of the old songs I did are the most important.
So 'Beautiful Guitars' ends with 'The Right Place', ending the record on a positive note.
Yes I am in the right place now. That song was written just before I went to Los Angeles to record that 2nd Eddi album and I imagined us in 'the right place', driving along, blue skies. It was a bit like that. Things were actually quite happy before it went horrible. There was a pocket of time where it was really great fun. But now I'm singing it and it means something different.
It really does fit the album.
Lyrically it could have been written specifically to end this album, but it wasn't. But all these lyrics are the story of my life. That's why I love writing songs, they are my therapy.
It's been really well received.
Yes, the reviews have been great. Although these days it's sort of crazy to make an album with Spotify and everything and I wasn't going to do one. It was a labour of love, no one's going to get rich out of making records like this anymore.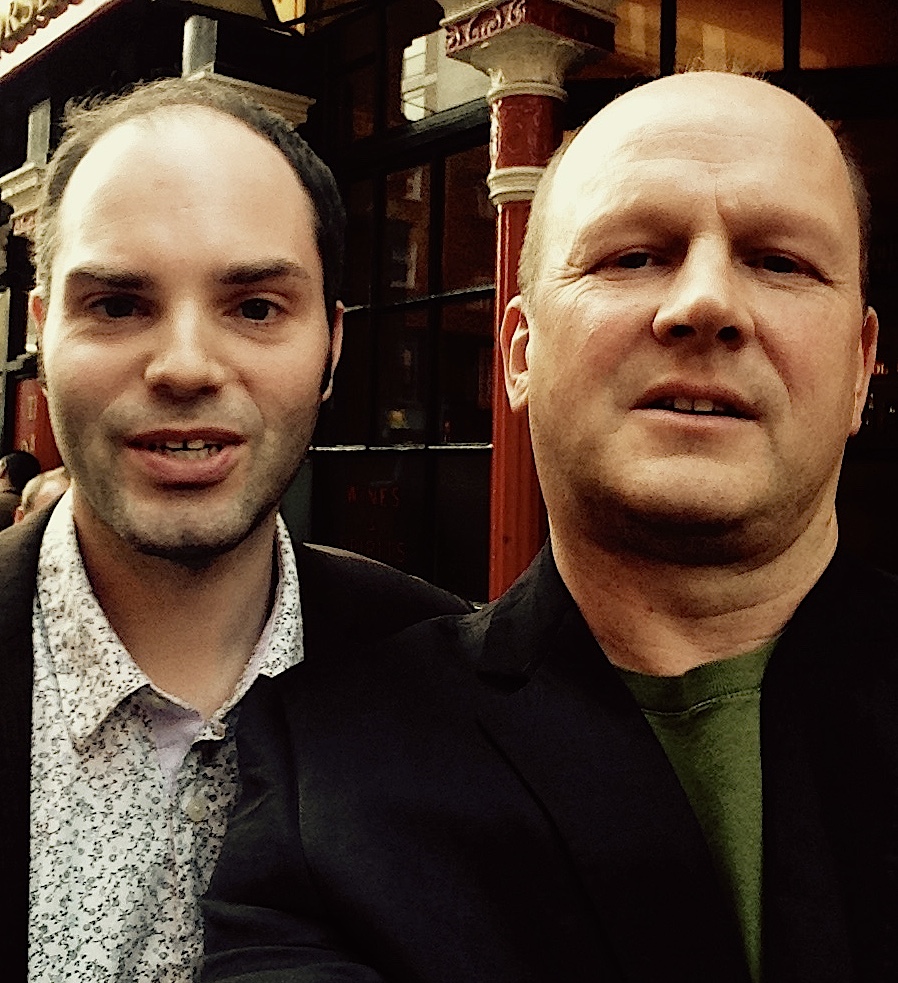 Jason Barnard and Mark Nevin, 2014, outside The Coach and Horses, Soho, London
It certainly shows. And finally, when we spoke two and a half years ago you had just released 'Stand Beside Me In The Sun'. Before I came down to meet you, my wife wondered if Ray Davies has heard your single from that album 'I Know Where Ray Davies Lives'?
Thank you, yes he has. Every year where we live we have the Highgate Festival, which is held in Pond Square in Highgate. They asked me to do a little spot and sing that song. I was a bit worried, as it was very near to Ray's house. I was about to go on and Louise, my wife, said, 'He's here you know,' and he was.
Standing right in front of the stage, so I had to go up and sing it to him! [laughs] I focused on a tree at the back of the square and at the end of the song I turned and raised my hat to him. He was laughing, so he did enjoy it. I still see him around, but I duck behind the back of a car or something! [laughs]
It's been great to speak to you Mark and catch up. Thank you for being so honest and open.
For further information please take a look at Mark's website: http://www.marknevin.com/
Beautiful Guitars vinyl release, Plane Groovy Records, cat no. PLG032: http://www.planegroovy.com/planegroovystore.html
On CD, Raresong Recordings, cat no. markncd4,  digital, from all usual outlets
Copyright © Jason Barnard and Mark Nevin, 2014, All Rights Reserved. No part of this article may be reproduced without the permission of the authors.