By Nick Warburton and David Mandel
Malcolm Tomlinson, who died 2 April at 69, was a veteran of the London rock scene during the early-late 1960s, backing visiting soul acts for Roy Tempest's Agency and cutting a BBC radio session with Elton John. He transplanted to Toronto in 1969, forging a solid reputation as a noted solo artist and as a seasoned side musician for artists like Rick James.
                                      Malcolm Tomlinson, late 1970s
Born on 16 June 1946 in Isleworth, Middlesex, England and raised in nearby Cranford, Tomlinson was a pupil at Spring Grove Grammar school whose famous alumni included future [Small] Faces keyboard player Ian McLagan, Searchers bassist Frank Allen and journeyman drummer and classmate Mick Underwood.
Inspired by his idols Little Richard and Gene Vincent, the young teenager had his heart set on a career in rock 'n' roll – that inspiration and his natural pitch resulted in a distinct lifelong, very rock 'n' roll vocal style. According to school friend Tony Bramwell, he initially learned guitar on "an almost unplayable white painted Rossetti Lucky" guitar but later switched to drums, sitting in at practice sessions at the local church hall in Cranford before joining The Panthers in early 1963. A natural behind the kit, the 16-year-old soon demonstrated his superb drumming abilities; his technique of holding the stick in his left hand through his thumb and fingers mirrored that of Buddy Rich, Charlie Watts and Ginger Baker.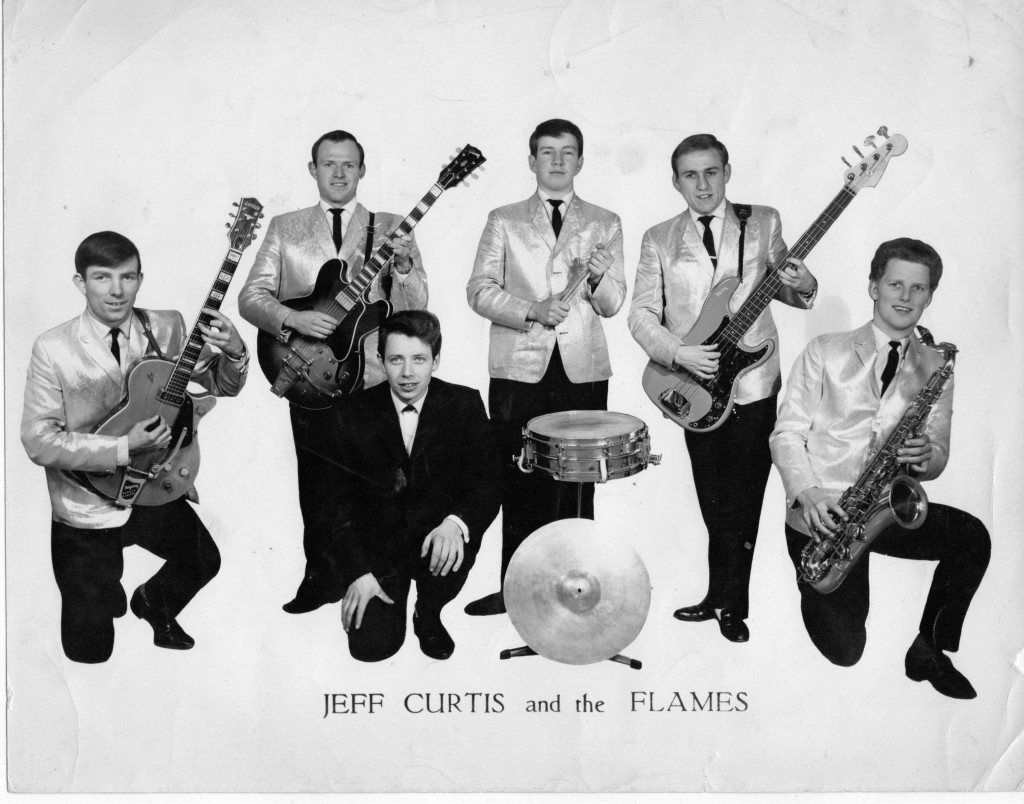 Jeff Curtis & The Flames. Left to right: Louis McKelvey (lead guitar); Keith Gardiner (rhythm guitar), Jeff Curtis (lead vocals); Malcolm Tomlinson (drums); Dave Wigginton (bass) and Malcolm Tagg-Randall (saxophone) (photo courtesy of Malcolm Tagg-Randall and Keith Gardiner)
Guitarist and soon-to-be-lifelong friend Louis McKelvey was playing with local rivals Jeff Curtis & The Flames when he first came across the youngster and was knocked out. McKelvey lobbied for Tomlinson's inclusion into The Flames in spring 1963.
Contemporaries of The Rolling Stones, Jeff Curtis & The Flames were regulars at the Ealing Club and also often played at Eel Pie Island and Goldhawk Social Club. The group's most notable outing, however, was as part of the Rock Twist Jive Channel Crossing, a rock extravaganza that took place on the English Channel ferry, the M V Royal Daffodil on 1 June 1963 and also included The Outlaws (featuring Mick Underwood and Deep Purple co-founder Ritchie Blackmore) who were backing the headline act, Jerry Lee Lewis.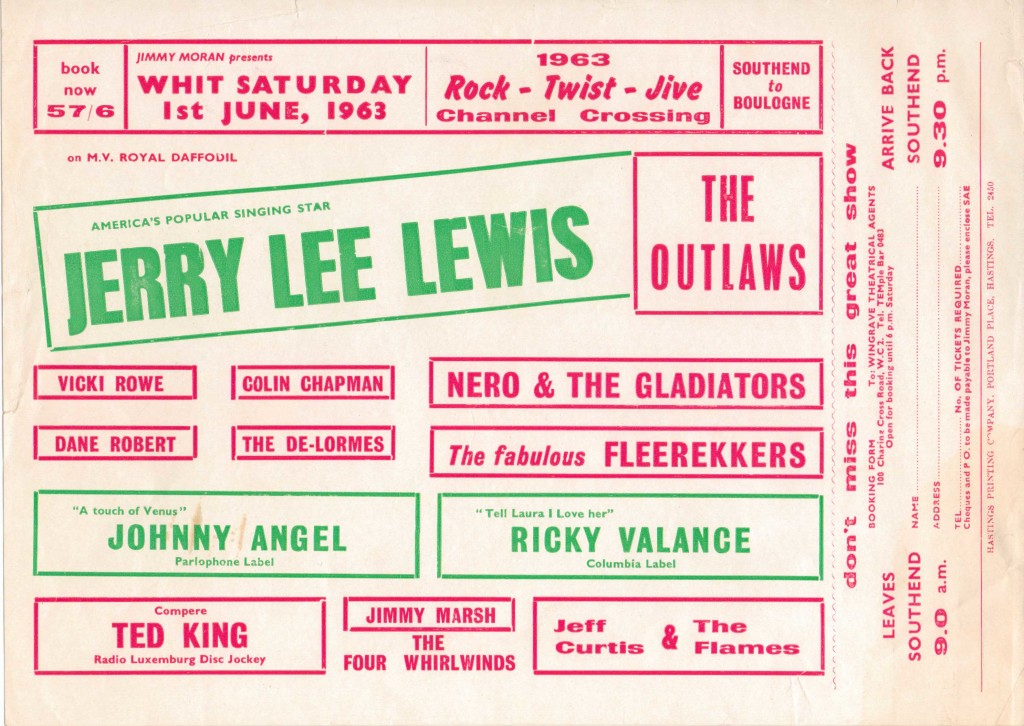 Later that year, Jeff Curtis & The Flames auditioned for HMV and recorded a four-track demo, including Bobby Troup's "Route 66", picked up by Acid Jazz for its Rare Mod Volume 5 CD compilation in 2013.
Jeff Curtis & the Flames – Bye Bye Johnny (excerpt):
Landing a job at Drum City on Shaftsbury Avenue, Tomlinson joined singer Jimmy Marsh's Del Mar Trio in June 1964 – signing up with Bob Gaitley's Beat, Ballad and Blues Agency in Bognor Regis – and gigged locally along the south coast. Billed as James Deene & The Del Mar Trio, the quartet recorded four demo tracks for EMI at Abbey Road in February 1965 under Bob Barratt's supervision before heading to Bavaria to play the club scene around Furth, Nuremburg and Munich for a year. Drummer Malcolm briefly split and spent three months working with a local German group.
In June 1966, Marsh and Tomlinson signed up with South African vocalist Beau Brummell's former group, The Noblemen, alongside original members bassist Bryan Stevens and keyboardist Mick Ketley. The group auditioned for sax players via industry mag Melody Maker and hired Birmingham musicians Chris Rodger and Martin Barre – the latter an accomplished guitarist who later found fame with Jethro Tull.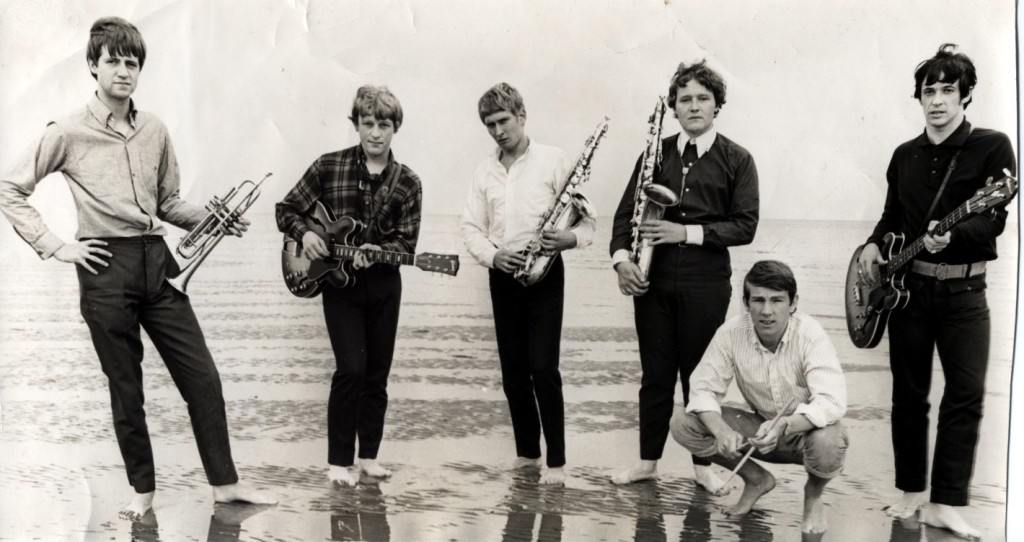 The Noblemen, Summer 1966 (Malcolm Tomlinson – second from right, Martin Barre – second left) (photo courtesy of Mick Ketley and Bryan Stevens)
Signed to the Roy Tempest Agency, The Noblemen spent four months supporting visiting US soul acts, including The Coasters, The Vibrations, Edwin Starr, and Alvin Robinson, among others. Remodelled as The Motivation, the sextet landed important support slots on the burgeoning London club scene, opening for Peter Frampton's band The Herd twice at the Marquee.
               The Motivation, 1967 (photo courtesy of Mick Ketley and Bryan Stevens)
During a six-week spell at the Piper Club in Rome during April 1967, Jimmy Marsh punctured his vocal chords and bowed out. Chris Rodger was also gone and former Clayton Squares frontman Denny Alexander was leading the line when The Motivation opened for international superstars Cream at Billy Walker's Upper Cut club.
Through Pete Hockham, a former agent at Bob Gaitley's agency who'd secured a job with Brian Epstein's NEMS, the now-more-psychedelic-looking Motivation, rechristened The Penny Peep Show, signed up with the agency and landed a recording deal with Liberty Records – where a young Reg Dwight (aka Elton John) was an in-house songwriter.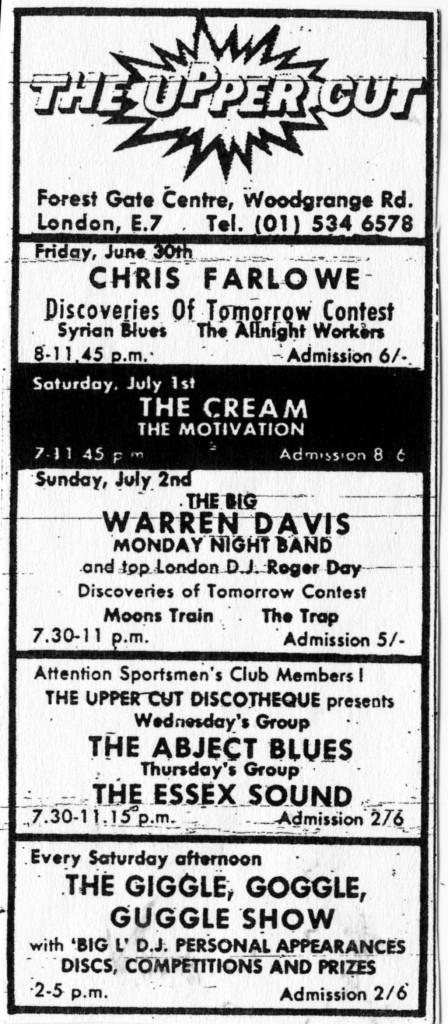 The Motivation at Upper Cut 1 July 1967
Alexander secured a song-writing deal, and the Penny Peeps were hired as session musicians to back Denny's demo recordings in the studio behind the Marquee on Wardour Street. Three completed tracks, unreleased at the time – "Helen Doesn't Care", "Into My Life She Came" and "Meet Me at The Fair" – were finally given an airing on Rev-Ola's CD compilation, Psychedelic Jumble Vol 1: What's The Rush Time Machine Man?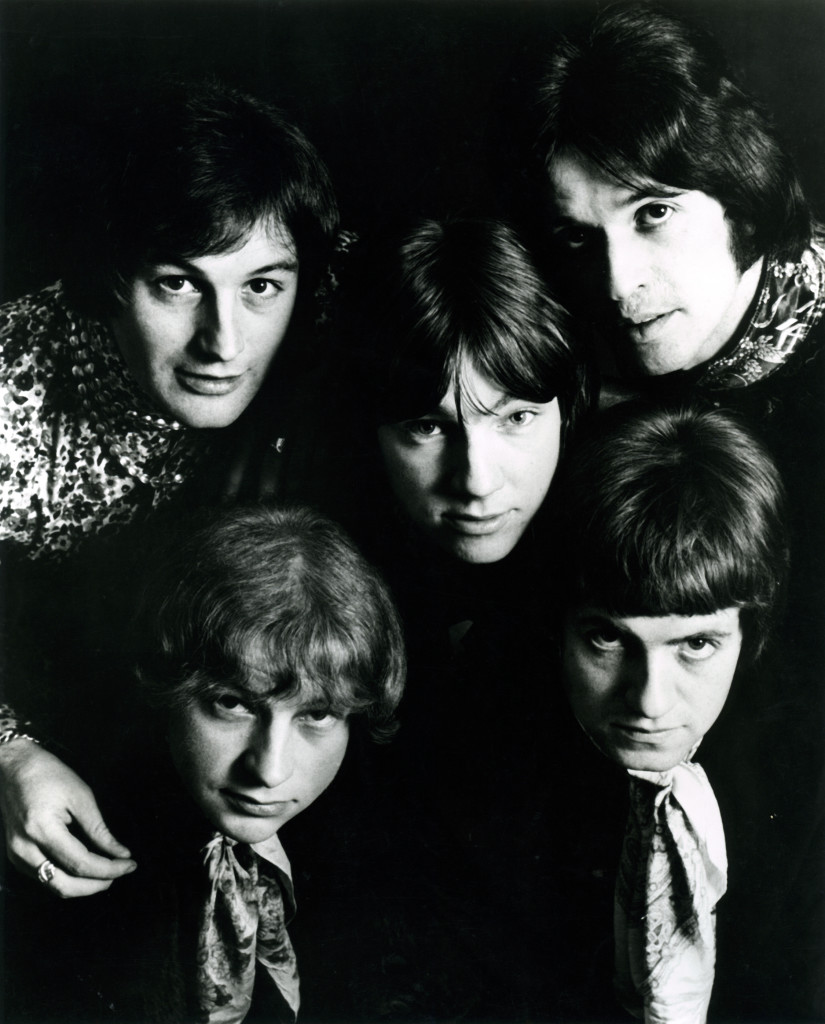 Penny Peeps 1968, Malcolm Tomlinson centre
More importantly, Liberty released two highly collectable Penny Peeps singles during 1968, including the pop-ish Les Reed-Barry Mason penned "Little Man with a Stick", with Alexander's mod-rock classic "Model Village", as the B-side. "[Tomlinson's] high harmony voice on Model Village added something special to the recording," says Ketley.
When Alexander left, Tomlinson stepped into the vocal spotlight. The burgeoning blues scene had again prompted a name change – to Gethsemane. For this new iteration of the former Noblemen, The Band's Music from Big Pink was never far from the record player.
"Malc had a very high pitched but soulful voice; I will always remember his rendition of 'Chest Fever' by The Band," remembers Ketley. "He sang from his drums and it used to go so well and stop people in their tracks."
"And then he learnt to play the flute – he became pretty good in a very short time. He and Martin Barre would busk a solo together in the middle of 'Work Song' while I played percussion using the harmonic tabs on the Hammond. Their sound together was amazing."

Through Liberty Records, Gethsemane had met Elton John –who taught the musicians "Lady Samantha", although allegedly he never liked their version. That alleged dislike didn't stop the up-and-coming songwriter from securing Tomlinson's services for a recording session at Aeolian Hall, BBC London's Studio 2 on 28 October, where the musicians cut "Lady Samantha", "All Across the Havens" and "Skyline Pigeon", and broadcast on 3 November on BBC's Stuart Henry Show.
During the Gethsemane iteration of Noblemen/Penny Peeps, Malcolm heard Jethro Tull and suggested that Barre check the group out. During an interview for Brian Rabey's 2013 A Passion Play: The Story of Ian Anderson & Jethro Tull, Barre confirmed that it was Malcolm who alerted him to the [Tull] opening and said he would be a good fit in Jethro Tull because he played flute and guitar. Malcolm and Barre being good friends, both auditioned for the Tull gig without animosity.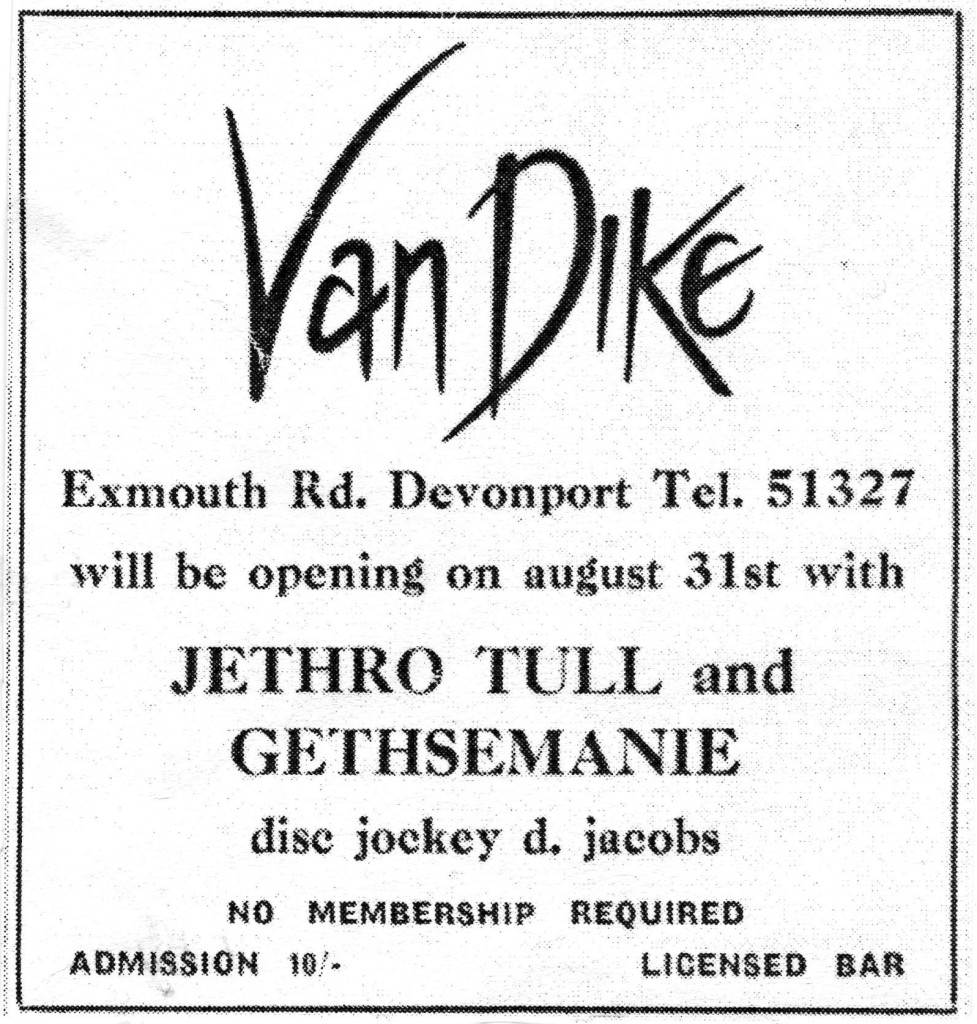 Through Robert Stigwood, Gethsemane cut a version of Tony McPhee's "Grease Monkey" and also participated in an aborted session with Jeff Beck. Despite upstaging Pink Floyd at Dundee College of Art in December, Gethsemane had run its course and Martin Barre took the proffered opportunity to join Jethro Tull.
By this point, Tomlinson's former bandmate Louis McKelvey had returned from Toronto and the pair rekindled their friendship. With few prospects on the UK scene, and fascinated by McKelvey's tales of the Canadian rock scene, Tomlinson sold his drum kit to finance the flight to Toronto. Apart from a brief trip back to England in the late Seventies, it would be the last time he would step on British soil. Even so, he would remain an ardent, lifelong Chelsea Football Club fan.
Milkwood, summer 1969, left to right: Ron Frankel, Jack Geisinger, Louis McKelvey, Mary Lou Gauthier and Malcolm Tomlinson (photo courtesy of Rosemary White)
The pair soon formed the Anglo-Canadian rock band Milkwood, featuring former King Curtis drummer and Montrealer Ron Frankel and his already-renowned Quebecoise vocalist wife Mary Lou Gauthier. Milkwood provided the perfect vehicle for Tomlinson to showcase his breadth of talents – sharing lead vocals with Gauthier, reviving his guitar skills, doubling up with Ronnie on drums and displaying his superb flute skills.
According to Billboard, the group inked a deal with the extremely selective Polydor Records, after submitting a demo tape and before playing a single show – Polydor rarely considered a rock band good enough for their prestigious label. Meanwhile, during their live debut in May 1969, Jimi Hendrix caught Milkwood performing at the Penny Farthing club and shortly waxed lyrical about them in Cashbox magazine – he was especially impressed by the incredibly tightly coordinated and funky percussion Tomlinson and Frankel created.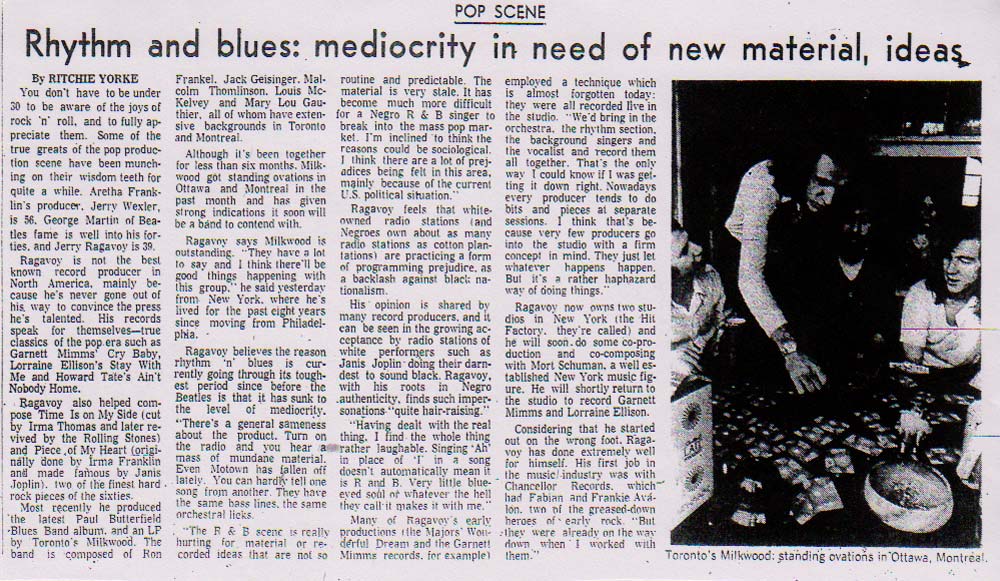 Milkwood, Globe and Mail, November 1969
That spring Tomlinson also added drums and flute to local singer/songwriter Jay Telfer's Perch album, which was subsequently shelved. His flute playing found its way as well on to Polydor label-mates, Montreal outfit Life's eponymous debut album on the track 'Lovin' Time'.
Jay Telfer – War Baby (Baby) (excerpt):
In July of that year, Milkwood travelled to New York's Hit Factory to record the Milkwood album with renowned producer Jerry Ragavoy, who also supplied piano on the sessions, and noted engineer Eddie Youngblood. The recordings went well and Tomlinson shone as the multi-talented, polished instrumentalist and singer he had grown to be. Members of The Band caught some of the sessions and were suitably impressed.
Back home, Milkwood got to work preparing for its forthcoming appearance at the Toronto Rock 'N' Roll Revival Show on 13 September. "The then unknown Alice Cooper had been asked to back up Gene Vincent," remembers roadie Dave Mandel. "Cooper's manager Shep Gordon and Milkwood's manager Richie Miller were old friends, which is how the Cooper invite was arranged. Cooper and Gene Vincent practised for the gig in the basement of our house."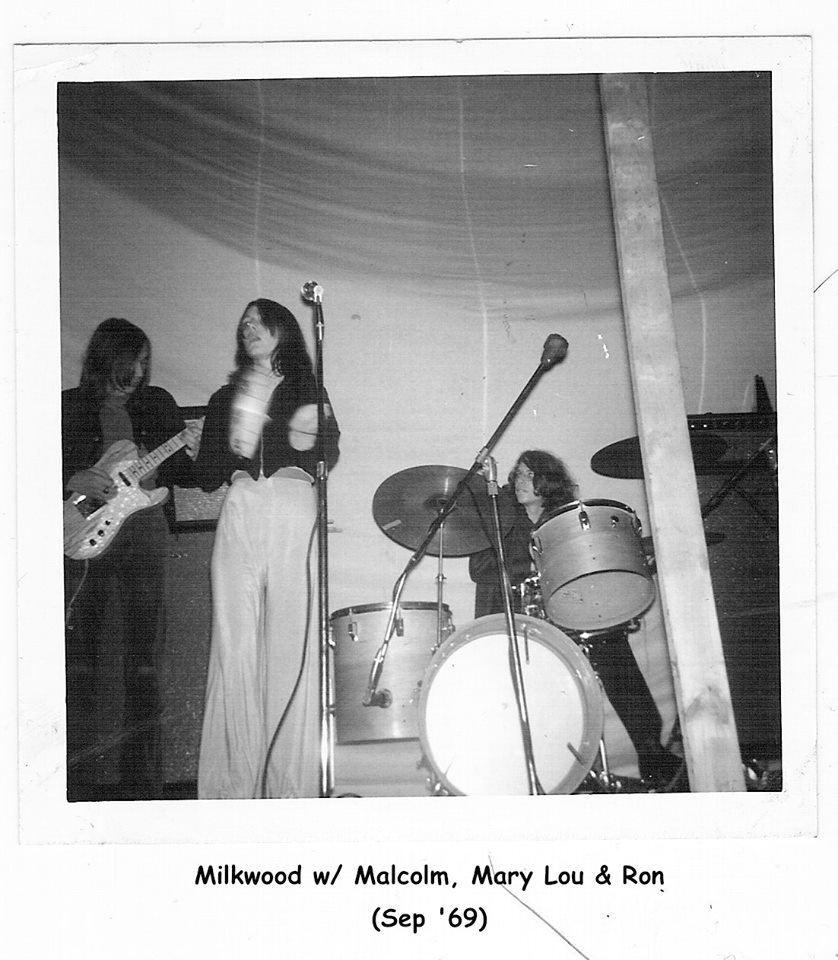 Milkwood, live in Etobicoke, Ontario, September 1969 (photo courtesy of Kid Carson)
A Canadian tour followed during which the band crossed paths with McKelvey's musical hero Van Morrison at Ottawa's Café Le Hibou. "We went down to see his show and Malcolm and Mary Lou got up and sang 'Come Running' with him," recalls the guitarist.
Unfortunately, Milkwood's early promise was soon to be dashed. Despite Ragavoy's encouraging review of the album sessions in Toronto's Globe & Mail that November, a dispute over distribution between manager Miller and Polydor delayed the album's release and the record was subsequently shelved. Milkwood imploded.
Heartbroken at the loss of the Milkwood effort, Tomlinson and McKelvey formed the short-lived heavy rock outfit Damage before going their separate musical ways – tho' remaining lifelong friends.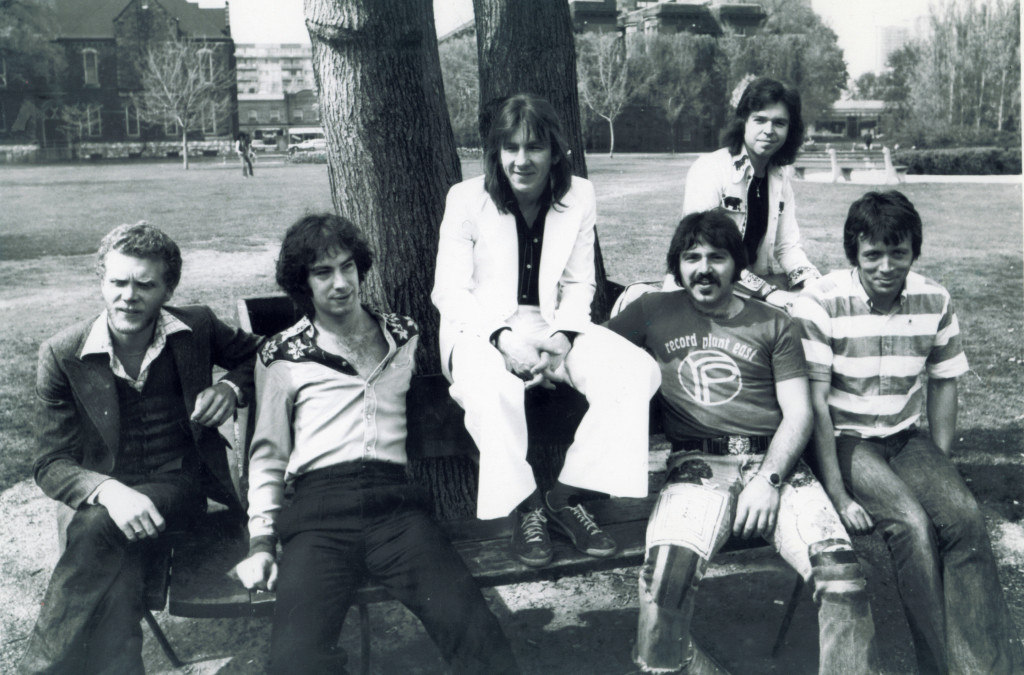 Zig Zag, 1971 (Malcolm Tomlinson is in white suit in the centre (photo courtesy of Danny Marks) 
In 1971, Tomlinson landed a brief gig with former Elektra Records band, Rhinoceros, which was cut short when he broke his arm. Recuperated, the drummer picked up work with local bands, Zig Zag, Rambunkshish and Syrinx. After recording albums with Bill King and John Mills Cockell, Tomlinson ran into future Motown star Rick James, who hired the drummer for his Stone City Band in late 1973. The musicians recorded an album at Bruce Anthony's home studio, Tatsi – but the material remained in the can.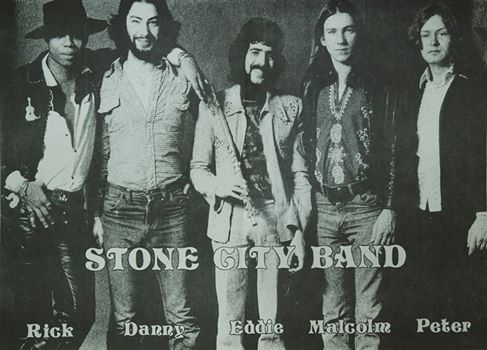 Stone City Band (photo courtesy of Danny Marks)
After appearing on Jay Telfer's Time has Tied Me album and recording with Bearfoot, Tomlinson formed his own band in the late Seventies and recorded two albums for A&M Records – Coming Outta Nowhere in 1977, which featured the acclaimed jazz-and-pop-horn-wizards the Brecker Brothers, and Rock and Roll Hermit, issued two years later. His band also opened for The Average White Band and Meatloaf.
Over the next two decades, he retired from the music business but made occasional forays on to the local scene, most notably recording with Toronto blues rock exponents The Cameo Blues Band. In 2007, Tomlinson returned to the kit for a one-off reunion for seminal Toronto 1960s bands Kensington Market and Luke & The Apostles.
Suffering from recent overall poor health, Tomlinson died on 2 April after battling liver cancer. Malcolm had two daughters, Celeste (deceased) and Leigh, and one son, Ry. His first wife, Gail Tomlinson née Dorazio, known to friends as "Rabbit", was mother to Celeste and Leigh, and predeceased Tomlinson by many years. His second wife, Judith Tomlinson, mother to Ry, also predeceased Malcolm. This very special musician and longtime cultural contributor to his contemporaries is survived by Leigh, Ry, his long-time partner Henrietta Walmark and his younger brother Graham. Malcolm will live on in the hearts, ears and memories of his family and his many friends and fans.
Available here to listen is the Malcolm Tomlinson special from Danny Marks, JAZZ FM91, Toronto:
This post does not allow comments