Man of Many Faces
Jason Barnard talks to Jeff Christie of the Outer Limits and Christie
Jeff Christie will forever be associated with the country pop rock smash hit "Yellow River" which hit the top spot across the globe in 1970. However, his career in cult sixties band The Outer Limits and subsequent releases demonstrate that to pigeonhole him would be to greatly underestimate one of the most talented songwriters of the era.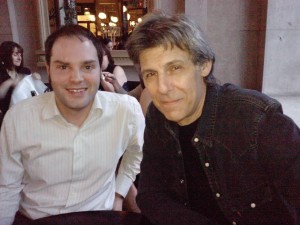 By the dawn of the seventies, Jeff had played in bands throughout the past decade and had already released classic singles as lead singer and songwriter of The Outer Limits including "Just One More Chance" and "Great Train Robbery". The band played alongside almost all the big sixties acts, including the famous 1967 tour with Jimi Hendrix and Pink Floyd, before their disintegration was captured in the television documentary "Death of a Pop Group" in 1969.
After The Outer Limits split, Jeff soldiered on as a songwriter, and after the Tremeloes passed on "Yellow River", Christie was quickly formed as a vehicle to capitalise on the song's strength. Over the next few years Christie continued to have hits but there was always a tension between the need to stick to the winning formula and branch out into more of a heavier sound. Jeff tells his story – from the early days right up until today.
When you were growing up in Leeds in the 1950s did the austerity at the time lead you onto the work like the Great Train Robbery and Yellow River which drew upon tales from the old West?
'I'm a man of many faces' goes the song and it reflects my need to diversify my songwriting and draw upon any area that fascinates or interests me. I went to America when I was 16 in '62 when I was still banging out Shadows numbers with the Tremmers. It was that which changed me. I just fell in love with it- California- the whole way of life. I didn't see beyond the veneer- there were plenty of problems. But when I compared what I saw over there to over here. I would come back and look at England. Everything was dinky and small minded and parochial. I just thought that this is not where it's at!
However out of that dinky place came great talent and creative forces, which shaped me, but the US had a massive affect on me. Like all other kids I grew up with cowboys and Indians. I was always somehow more in tune with the Indians. I knew the names of many of the tribes and was fascinated by the whole Native American culture. I still am to this day. The whole thing about the mythology of the West epitomised by the old John Ford Westerns like 'Stagecoach' with great panoramic vistas presented a world so different and exciting to the world I came from.
A big contrast to Leeds…
I was completely besotted with it. We were gonna go to the States. The reason we didn't go was that my brother and I would have been conscripted to Vietnam. My mum's sister lived in San Francisco. My mum and dad went to the American Embassy and the guy said to my dad that if you come over your sons will be eligible for the draft. That was it- the decision not to go was based primarily on that.
You seemed to be into music from an early age?
Yes, my mother was a ballet dancer and seriously pursued the classics, had a great knowledge of theatre and was very culturally aware. She came from a European background. My dad was a Northerner, born in Hull, so was from this part of the world and was into Bing Crosby and the crooners of the time. So between the two of them there was a tremendous love of music. I had a lot of support from my mother particularly. My dad said that we'll give you a bit more time but you've got to start thinking about a serious job!  In the end he became a great champion of my abilities and tramped incessantly to London and back to help me get a break.  His belief and support were major factors in my breakthrough.
My genesis was The 3G's Plus One. Everyone's first name started with a G- mine was the only one with a J. All the guys were two or three years older and at university. They were a little bit square but for me it was a chance to get up and play a little bit. One of them was called Gerry and he came with me to the Tremmers while the other guys went off and did other stuff. I taught Rod Brooks bass and then we got Stan Drogie who was a weightlifter. We just went from there- that was the Tremmers.
The Shadows thing went for so long and then we were into R'n'B. We started off doing not only Shadows but Ventures. A lot of instrumentals. Then we got a few vocalists and got more bluesy etc. Then that morphed into the Outer Limits.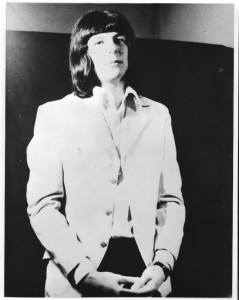 The Outer Limits were more soul influenced?
We came away from the instrumental stuff and became more r'n'b and blues, Smokestack Lightning and all that. We then went onto the Tamla stuff. We were playing with people like Spencer Davis and Stevie Winwood and John Lee Hooker at The Club a Go Go in Newcastle and other places like The Twisted Wheel in Manchester and Blackpool, the Mojo and Esquire clubs in Sheffield helmed by Pete Stringfellow.
We experimented with musical styles – it was of the times. This was me paying my dues, learning my instrument, assimilating all these different influences.
The first thing was the university record "When the work is through".
We were trying to be a little white soul group. Now you can be more kind to the pretentiousness and audacity of it as it came from a deep respect for those great delta Bluesmen who inspired many English musicians of the time, but if you look at the real mccoy it doesn't stand up. We played with all these bands the Ram Jam Band, Groundhogs, Chris Farlowe the Graham Bond Organisation, Cream. You name 'em we played with 'em, you really had to try and live with these people.
We did that record but somebody else wrote it.
Were you writing songs at the time?
I started writing just after that. I think I may have altered the chorus, but it was eventually credited to me on the Floored Masters CD. We tried to find the guy even though no money was made from that record anyway. As a matter of fact just getting it all tweaked and ready for mastering cost me several hundred quid!
So that was 1965 and "Just One More Chance" was released in 1967. That was such a big change. You wrote it?
Yeah, by now I was really getting it together as a writer. From 1965 we were doing record auditions and doing covers. One A&R man said it's a good little band you have there but you have more chance of getting a deal if you start writing.
In terms of writing did that alter the sound?
It's a good question. I was experimenting with sound and feel all the time, and especially by using different guitars. But it just felt a natural progression… I used to play semi-classical piano, and was not that great at it. I would get bored and start doodling. It came out later when it grew into writing songs.
"Just One More Chance" is a defining track.
Originally it was called "If I try". We did a demo of it and sent it down to London, a telegram came back from our Agent saying "That's a single". So we went into a studio and we were as nervous as hell as it was the first time we had been in a London recording studio. I had a terrible cold when we did the b-side "Just Help Me".
The difference between the two sides. You wouldn't almost recognise them as the same band.
It was the two sides of me. "Just One More Chance" very much epitomises the love of melody. The melodies just work their way in to your brain. "Just Help Me" was what we were more like on stage – very hard driving. We did a great version of "Price of Love" by the Everly Brothers.
You've said before that "Just One More Chance" entered the bottom of the charts. You still had to shift quite a number of records.
You're right.  It might have been enough for a number one these days, I was very pleased with it. It opened the door.
How did you get to work with Andrew Loog Oldham and release the "Great Train Robbery"?
Andrew liked the band and wanted to produce the single himself after we were recommended to Immediate by Tito Burns, our Agent at the time. "Great Train Robbery" was on Immediate but they created a sub-label called Instant as it was a little more poppier.
Were you based in London at the time?
No, we were taking tapes down.
"Sweet Freedom" was the b-side and is a brilliant song.
Well there's an interesting story. When we were on the Hendrix tour we used to open it and Amen Corner were coming after us. We'd do 10 minutes, 15 minutes tops. Even the top of the bill did 35-40 minutes back then. We were still doing Motown and soul stuff, I was writing but didn't have the confidence to play my songs in a live context. That was the turning point. On that tour we were doing "Reach out I'll be there" and "This old heart" and so on and then one day for some reason I decided to put "Sweet Freedom" in. Without having a hit, in those days it was very difficult. Everybody did everybody else's stuff. If you got a hit you could do what you wanted. We stuck it in and it was well received. Lee Jackson (The Nice) came up to me afterwards and said "What was that song you did after Reach Out" I replied that it was one of mine it's called Sweet Freedom and he said "That's what you should be doing". The Nice were in ascendancy and that gave me confidence. That was an amazing tour to be on and I went up a level. By 1970 I had an amazing CV and played with anybody who was anybody.
Was that after "Great Train Robbery"? I wasn't sure.
No, the tour was late 67. "Great Train Robbery" was just after it.
In terms of the tour, there were great bands like The Pink Floyd, Hendrix, The Move, Amen Corner, The Nice, Eire Apparent. Did you hang out with those guys or get to play with them?
All the bands would hang out back stage to watch Jimi. I wasn't really into Floyd. They were more interested in their light show. The Move were great. Roy Wood was an inspiration and Carl Wayne was a great frontman. He stood next to me backstage watching Mr. H at Newcastle City Hall when Jimi threw his Gibson Flying V at his Marshall stack and it exploded, as did the audience in disbelief, I think that was the true beginning of Shock and Awe!  Lemmy was one of the roadies on that tour!  Rock'n'Roll History.
In terms of the single "Dance Round the Maypole"…
That's not me. It's misinformation. Nothing to do with me at all. The Acid Gallery/Epics were Vic Elmes and Mike Blakely.
Did you get to play with Hendrix?
There was a bit of a jam. One day, at one of the venues I can't remember where it was. He was sat in the dressing room jamming and there were a few of us. I picked up a guitar for 10-20 seconds and played a couple of chords but I don't think I added too much, it was enough to be there, a great memory.  He filmed all the bands onstage during the course of that tour, I never did see Jimi's super 8 film of the Outer Limits, maybe one day it'll surface along with all the other bands – that would be interesting.
Another great track from the time is "The Dream".
My father wrote the lyrics. That was a projected single. I put it to music and it was very Procul Harum-ish. Bill Landis produced it who did Barry Ryan's "Eloise".
Of the Outer Limits demos recorded which are your favourites?
"Mr Magee's, Incredible Banjo Band" I love that. I wanted to have loads of banjos playing. "Funny Clown" was based on the Pagliacci opera. It's been used a lot- the clown laughing but tears inside. A lot of these songs would have been enhanced by better production, although they do have character and a certain organic charm.
Where they all recorded at the same time?
They were all recorded over two to three years [1966-68]. The tracks would have formed the basis of singles, b-sides and album tracks.
How did the Death of Pop Group documentary come about?
I was going out with Liz Fox who fronted a Yorkshire TV programme called Calendar at the time and she introduced me to the producers. At the time the band broke up there was no money. You can see how jaded we were. Someone thought it would make a good TV programme and Austin Mitchell was a sympathetic interviewer. The band all wanted to quit but I didn't. I was always the engine of the band, I would find the songs, learn the chords and do the arrangements in the band so it wasn't that bigger step to focus on my song writing which I concentrated on after the break-up.
There's at lot of the reference material saying that the two singles by the Outer Limits released after the split were by the band like "I'm Not Your Stepping Stone". But this isn't true is it?
Right. It was a mystery to me. We were named after the sci-fi series. I don't know who the others were.
Read the second part of our Jeff Christie interview by viewing the "Jeff Christie – Christie and Beyond" feature:
http://thestrangebrew.co.uk/articles/jeff-christie-christie-and-beyond