Singer-songwriter Ian Gomm made his name as one of the guitarists/vocalists for pub rock legends Brinsley Schwarz. Known for their great live shows and unwillingness to bend to the vagaries of the pop scene, one of the band's superb live sets was released last year. Ian regales Jason Barnard about his career with pit stops on The Who, Pink Floyd, Paul McCartney along the way.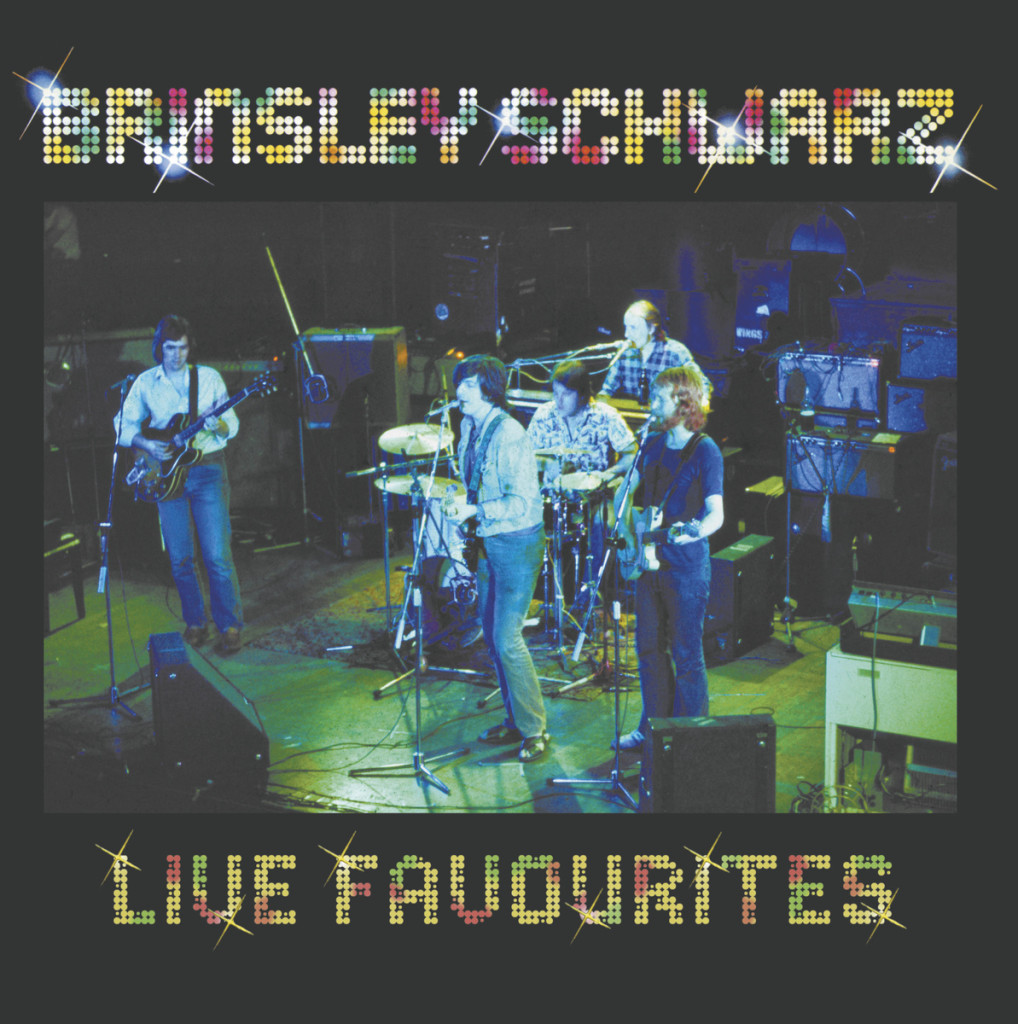 Hi Ian – We are here today to discuss the release of the Brinsley Schwarz album 'Live Favourites' although it's already sold out! It was recorded just after the band recorded its Dave Edmunds produced 1974 album 'New Favourites Of Brinsley Schwarz'. What do you remember from that tour and the Cardiff show?
We were on a UK tour with Dave Edmunds who used to come on after Brinsley Schwarz had opened the show with their set. United Artists decided to record the whole show that night at the Top Rank in Cardiff. The label had hired The Rolling Stones mobile for the night. That's why it sounds good because everything was miked properly with professional microphones on stage and then cables to the professional recording studio vehicle parked outside. 'Live Favourites' was recorded in Cardiff, we played Swansea the next night. Poor old Dave was having a bit of trouble in his life not helped by his intake of mandrax and whiskey! This was one of the good nights.
Two tracks from Dave's set that night can be found on his 'Subtle as a Flying Mallet' album. He took those tracks back into another studio and added more stuff on them to rock it up a bit. He was not happy with his guitar that night.
It sounds superb and Brinsley Schwarz were known as a really good live band. Surely that makes for a good record.
It does. Even though it says on the sleeve that it's our drummer Billy Rankin, it's not! Billy had an accident. We lived in Beaconsfield and he was going back to see his mother in Tonbridge Wells. We all lived in a commune, in a big house, just about everything was shared. We had bought a brand new van, we were on the up. Mostly we used to rent vans. Billy decided not to go round this roundabout but straight over! As he hit the wall of the roundabout he had his hands on the steering wheel and broke both of his thumbs. He ended up in hospital. We had this tour coming up and we had to get somebody else in. It was Pick Withers who we knew from Rockfield connections. He went on to being the first drummer in Dire Straits.
What did you do before joining Brinsley Schwarz?
I was in groups in the sixties. I'm from Ealing, West London and there was good music scene there. I used to hang around Jim Marshall's shop in Hanwell when I was a teenager. Jim was a dance band drummer, he got arthritis and had to give up his career in big bands. So he opened his music shop and used to give drum lessons. One of the guys who worked behind the counter was John Mitchell.
Mitch Mitchell from The Jimi Hendrix Experience?
He was John then and having drum lessons from Jim Marshall. But I was always in groups. I was in The Generation, I think The Who nicked that from us. I was in a three piece Tamla group called The Triangle. I was in another called The Unknowns who were Jewish apart from me; I only joined them because they had really good guitars. We used to play at The Ealing Jewish Youth Club and every weekend we were the support act. Every month a group would come called Del Angelo and The Detours. Del Angelo was the singer, his brother was the drummer, on lead guitar was Roger Daltrey, on rhythm guitar was Pete Townshend and on bass was John Entwhistle. I got quite pally with them.
I was doing five year electrical apprenticeship at EMI as well as playing in groups. I was working in workshops, that sort of thing and so was Roger Daltrey. He had made his own electric guitar really well. He said to me one night at the youth club "I'm sick and tired of this bloody guitar. Do you want to buy it off me?" Why didn't I buy it Jason?!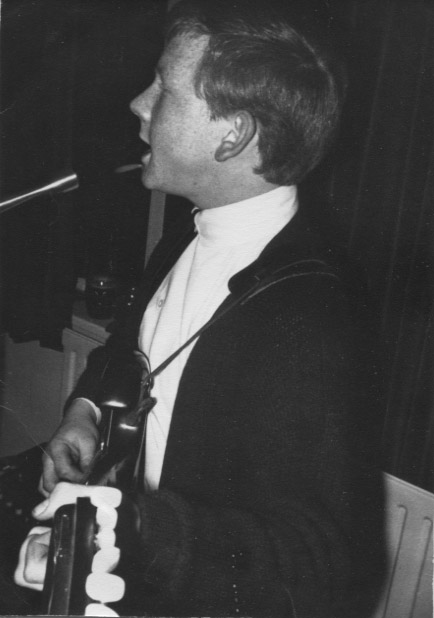 Ian Gomm playing with one of his early groups, Unit 4 (photo from Ian Gomm, more information at Nick Warburton's feature of Unit 4 at garagehangover.com/unit4)
There was a place called The Boathouse at Kew Bridge and they had weekly gigs called 'AFO Presents' it actually was, 'The Arthur Forest Organisation Presents'. The Boathouse had a terrible reputation, a hard core rock & roll establishment where fights were a nightly activity. There was a scam where they used to get ten groups to come and play and Arthur would say "I need you to audition first boys." You'd turn up and there would be another nine groups in the hall and he'd charge people to come in to watch. You'd do your audition for nothing and he'd take the money. We passed our audition as The Triangle the Tamla Motown group.
One night we supported the embryonic Pink Floyd at The Boathouse who were only starting off in showbusiness. Their idea for a light show was a blue light that flashed on either side of the stage. We started off with the Tamla stuff and then they came on, what they were playing was very weird . I was stood next to Arthur Forest himself and I said to him "This is really interesting. I quite like this." He said "It's f***ing rubbish!" The crowd were bovver boys, with braces and crew cuts, they didn't like it and jumped on stage. Somebody pulled the microphone out of Roger Waters hands while he was singing and shouted down it "This group is f***ing shit we want the other group back on!" The crowd started throwing stuff at the Floyd and they ran off. Arthur Forest said "You've got to go back on again." So we went on to the hugest applause you've ever heard!
I used to work at EMI Electronics in Haves, Middlesex and EMI Records head office was in Manchester Square, London. All their records were pressed at their pressing plant in Hayes, Middlesex where I worked. Somebody at work said to me "You're in a group why don't you audition for EMI Records?" EMI had an internal mail system so I wrote a letter to Sir Joseph Lockwood, the head of EMI. I got a reply back which said "Come up to Manchester Square and have an audition with Norman 'Hurricane' Smith. He was The Beatles engineer and Pink Floyd producer. The other two lads in our three piece didn't work for EMI and EMI were thinking they were getting an all EMI group. Norman put his hand around my shoulder and said "We like you but could you get rid of the rest of the boys." I said "I can't do that." So that was it.
I went on to train as a draughtsman and used to be in an drawing office full of middle-aged draughtsmen surrounded by about thirty of them. While I was there I was thinking "I can't wait to get home and rehearse and do music in the evening". I kept on hearing the older draughstmen saying to me, "When I was your age I could have been a professional footballer. Why didn't I do it?" I thought I'm not going to be like them sitting around at 50 going 'I could have been a musician.' I thought "I'm going to do something about it."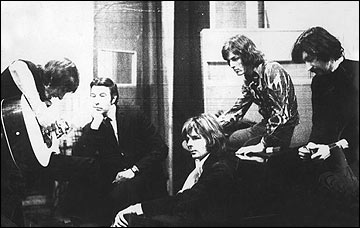 Norman 'Hurricane' Smith (second from left) with Pink Floyd
At the time there was a knack to reading Musicians Wanted column in the Melody Maker. I read an advert one day and thought "That's me." In answered it and it was an interview with the Brinsley Schwarz group. I went to it with my girlfriend, who is now my wife, on my motorbike. As we walked in another guitarist walked out with his guitar case. He looked like the archetypal musician. I looked so straight, ginger hair and didn't dress like they did. I started jamming with them and did about half an hour. I am pretty good and just did it. They all came over and Nick Lowe said "You got the job man." Apparently they were all tripping and Dave Robinson, their manager arrived back. He wasn't there when they were auditioning me and he hit the roof because they'd taken somebody on without him even seeing me. Then I got another message saying "You're not in. You've got to come back and audition again when we're all straight and he's there." I was still good and they asked me to join. That was the weekend and I went into my job at Addo Electronics in Rickmansworth the next Monday. I said to the boss "I'm sorry I'm leaving. I'm going to be a professional musician." He said, "You can't do that, you've got to give three weeks' notice." I said "sorry but I'm rehearsing at The Lyceum in London tomorrow." That was it.

The group had a house in Northwood, London, that is where the album 'Silver Pistol' was recorded. They all lived communally. After my first audition when I was told I was in and then I was out Karen and me went and sat on the lawn outside when they continued playing. They played a song, I think it was called 'The Slow One'. I sat there and thought "I've got to be in this group. They're brilliant."
It was hard though. They'd been to the Fillmore East in New York and there I was so green. It went on for years "We're the group and this is Ian!" [laughs] By the time we were finished I was writing some of the songs. When we played live I did half the songs. I was the one with the soul voice, it was my background. I used to love Cliff Bennett and the Rebel Rousers and used to do all American soul covers.
I started off listening to Chuck Berry and Bo Diddley. The first 45" record I bought was Adam Faith's 'What Do You Want' and then I bought the follow up 'Poor Me'. By my fourth record I'd wised up and I got 'Cathy's Clown' by The Everly Brothers. Little did I know that in the future Phil Everly would record one of my songs.
Brinsley Schwarz toured with Paul McCartney after you joined them.
We were asked to open a club in London in 1973 called The Hard Rock Cafe. In the audience happened to be Paul and Linda McCartney. They asked us to be their support act for their first live tour with Paul McCartney and Wings. We did two UK tours with them. He hired the same coach from The Magical Mystery Tour from Fox's Coaches of Hayes. Everybody would travel in the same coach. I used to sit next to him and we'd sit there for hours talking. He used to enjoy having a chat.
Paul would bring his little kids with him. We were going up to a Birmingham show on the M1 motorway. The coach stopped at the Blue Boar Services. Paul and Linda would always go out to the far end of the car park to stretch their legs. Paul had two of his kids there and I said "I'm going to the shop over there to buy some sweets. Would you like any?" They said "Ooh, yes please." and they gave me a little order, Smarties and so on. I said "Have you got any money?" They said "We don't have money." It was because they didn't go out in case anybody kidnapped them.
I've read you influenced Paul to play live some Beatles tracks.
Perfectly true. He used to like going back to his house in Central London but some nights we'd have stay over after the gig. It was always in a really good hotel. We had a great time. His personal assistant who'd been with him in The Beatles said "It's such a shame Paul doesn't play Beatles songs anymore." We said "We know what to do if you can set this up." So he made sure Linda had an early night, we went into the assistant's hotel room. We had two acoustic guitars and two bottles of whiskey. So we were having a sing song. The guy looked at me and gave me a wink as if to say now. So I started playing 'Love Me Do' and Paul played the other guitar which was right handed back to front as he played left handed. It got to the middle eight and he looking at me for the chords! We did a couple more Beatles songs. He realised he was enjoying it and then started playing Beatles songs again live.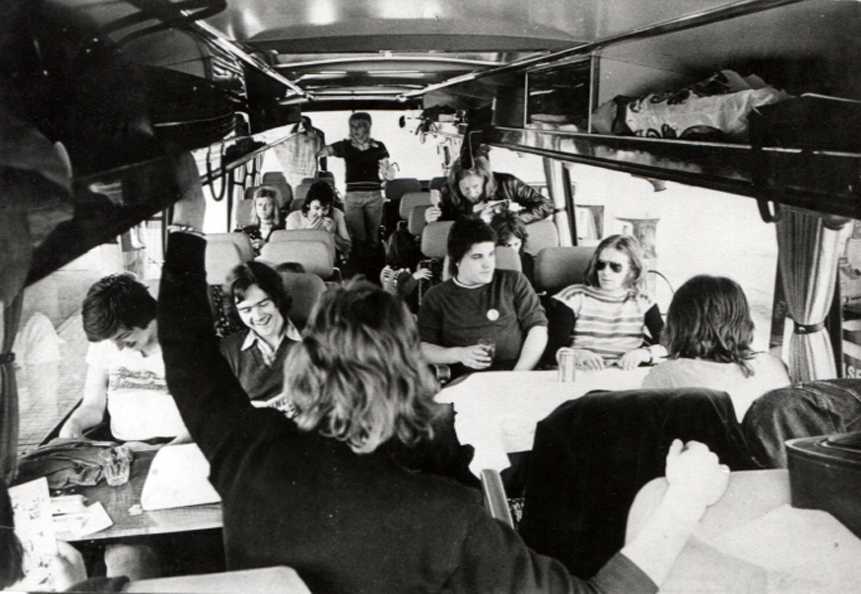 On the Wings tour bus
The band worked a lot with Dave Edmunds. What are your memories of him?
Dave was having troubles on the 1974 tour. One night I stood behind him shoulder to shoulder, back to back, holding him up live on stage, I thought to myself I know we're the support group but this is ridiculous!! We'd go on and do our set and then we had a little routine, a little medley of all his hits. Nick would then say "Ladies and Gentlemen. We want to bring you the man who brought you such hits as 'I Hear You Knocking' (cue riff) and so on. It would build up and Dave would come on to big cheers. What we didn't know at the Swansea gig is that he'd collapsed back stage. Someone said his hands had locked and he'd been rushed to hospital. So we did the big build up and Nick said "Here he is, " and our roadie was tugging at my trouser leg at the front of the stage. I was going "What?" and the roadie said "He's not going on. He's gone to hospital." This was just as Nick Lowe said "Dave Edmunds!". So we had to play our set again.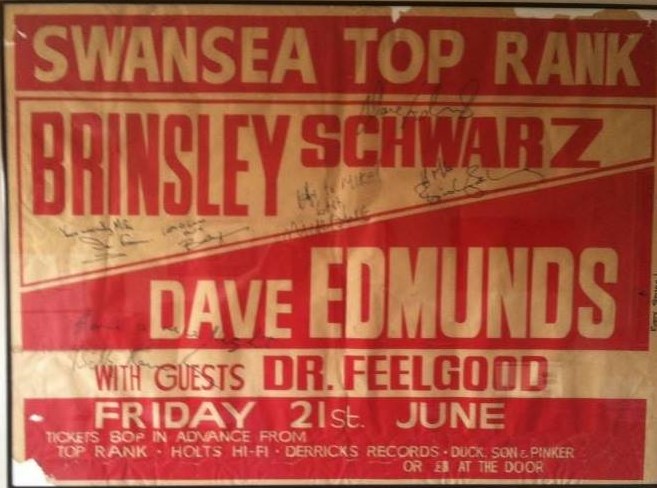 We used to call him 'Rusty Studs'. It was at Hemel Hempstead Pavilion. He used to have an echo box to give him that rock and roll sound on his vocal mike, it was really good. Somebody had left the foot switch behind and he couldn't find it. He wouldn't come on. Nick had to persuade him so he did. At the end of his set Dave collapsed on the floor in the dressing room, he used to have wear black leather stage suit.. We thought 'We cannot leave him here.' Nick and me had to take his suit off whilst he was semi-conscious. That's when we noticed that the studs on his suit were rusty.
He was a great producer. We did one our best albums The 'New Favourites Of Brinsley Schwarz' and Dave produced it at Rockfield Studio in South Wales. He lived in Monmouth and his wife had left him. I took it upon me to be his buddy and keep him going. He would take me to the little studio at Rockfield where he recorded 'I Hear You Knocking" and had a litre bottle of whisky on him. He played it and turned it up so loud my eyes were watering and my ears nearly popped. I used to go back to his house to with him to make sure he was safe and sound. I used to sleep over there to make sure he would wake up in the morning and get him to the studio.
New Favourites Of Brinsley Schwarz
On the Dave Edmunds tour the band played your song 'Hooked On Love', later recorded by Glen Campbell.
When I had my solo career my manager went over to Los Angeles 1980 and was hawking my songs around. I got a message from him saying that he'd met a publisher and Glen Campbell was going to do 'Hooked On Love'. I thought 'Great.' Then when I heard it, it was all speeded up. Trust me to have my song covered during the height of Glen's cocaine addiction. I originally wrote that song when I got married in the Brinsey Schwarz group, it's all there in the lyrics.
Did you and the band realise you were onto something when you first heard 'What's So Funny Bout Peace Love And Understanding'.
Nick and me lived in two communes and lived together for about five years. Around the time of 'Silver Pistol' the band asked me to come up with some songs, I did four. Dave Robinson then said "Why don't you and Nick write some songs together?" I can remember knocking on his door in the house one night and said "Fancy writing some songs Nick?" He said "No" so that was it for about a year and a half!
We got to our second commune in Beaconsfield. It had a nice kitchen and we'd sit around. There was one night where we wrote six songs together. We were talking about Lennon-McCartney, and we were Lowe-Gomm. We both said "I'm fed up with all this. Instead you'll have three and I'll have three." Guess which one of us got a million dollar check from The Bodyguard? It's just the way things are. He won't remember this. There was a lot of dope smoking going on.
What are your favourite albums and tracks from Brinsley Schwarz?
'Silver Pistol', 'Live Favourites' is fantastic. There's an unreleased one available from my website. For five years we played all over the UK and Europe. The audiences loved it. We were really good live; I don't think we ever really transferred that over to our records. Especially in small clubs. When we did the pub rock gigs the oil crisis had started and when you added up the cost of fuel you'd wonder why you bothered travelling so far. So when the pub rock thing started it was much easier to stay in London.
Even when we went further away from London we kept costs low. We had a gig in Glasgow but couldn't afford to stay there so we decided to do a one night stand from London to Glasgow and back. We used to hire vans and the company had a deal where the first 30 miles was free and so much per mile after that. As I was mechanically trained l used to take the cable off the speedometer and put back on later so it would only look like we'd only done 15 miles! We used to do this regularly. We did the gig and were coming back through Lockerbie and the front wheel bearing broke on the van. The band were saying "It says here in the book that you can get the AA." I said "Lads, just think about it. They will tell the van company where we broke down." Look at the speedo, we've only done 10 miles! So we had the bearing fixed and finally got back to London and it was left up to me. They said "What are you going to do?" I said "Somebody told me that if you take the speedo cable out of the gearbox and put an electric drill on it, you can wind it forwards. They'll know we've been in Lockerbie now and we'll have to pay. We're sunk either way." So I get under the van with my electric drill and the speedo was slowly going backwards! In the end I managed to wind it on by taking the speedo unit apart.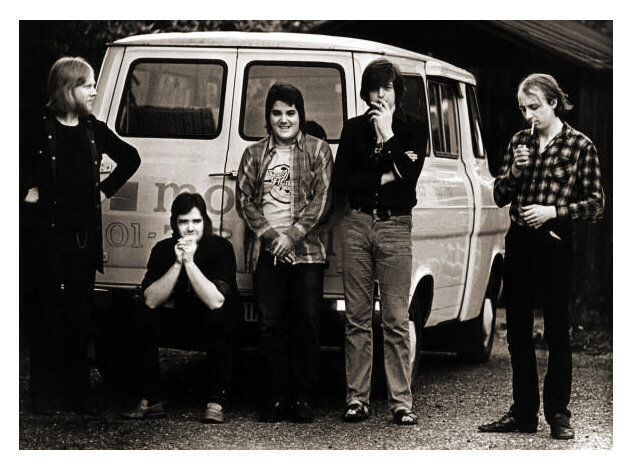 So ultimately, why did The Brinsley's split up?
We kept releasing these albums and even though we were successful live we hardly sold anything. John Peel thought we were fantastic but at that time it was all glam rock. Our agency was NEMS, a leftover from Brian Epstein's organisation. We were country rock and would just go on and play. The times we'd be in the dressing rooms and we'd see these lads put on their high heel boots, capes, and all this makeup. We had to go to the NEMS office in London, our booker said "Now come on boys. Look at this." He had a list of the gigs on the table. He said "Here's your gigs for the next six months. It's a quarter inch thick. Here's the glam rock boys. It's bloody three inches thick! Come on boys, just dress up!" We said "No!" We turned down Top of the Pops twice because we wanted to play live. In those days they wouldn't let you. Our whole thing was 'Keep it live and real. This is who we are and what we do.' We were crusading and cut our own throat in the end. We were the first group to ever play live on the Old Grey Whistle Test. If you look closely at the early Whistle Test clips like Bob Marley you'll see that they have four microphones. So you had to go in days before and record the backing tracks which they would play and you could only do the vocals for Bob and two Wailers, they also miked up the congas. The rest was miming. They used to give the drummer rubber cymbals.
In The Brinsley's we had our own PA, mixers at the back at the hall, a separate vocal PA and separate backing PA. Brinsley and me used to build the loudspeaker cabinets and I used to wire it all up before you could buy all this type of equipment. All we had to do was play quietly on stage. It was advertised in The Radio Times that we would be on The Old Grey Whistle Test that Saturday night. When it came for us to record the backing tracks we just didn't show up! The BBC were panicking. The studio was just a tiny little room at the BBC Television Centre. They said they only had four microphone inputs and two TV cameras. So we turned up to play live. They said "What are you going to do?" We had got some of our PA cabinets and built a little area, which you couldn't see, that contained our PA mixer. We then miked all our back line like we'd usually do on stage. The BBC engineer said "We're going live in two hours what are we going to do?" I said "There's four microphone inputs there. We use the three for our vocals." I handed him a wire with a cannon plug on it and said "there's the backing all you've got to do is use it and put the vocals on top." We did it and it was such a success they did all their shows live after that!
Anyway, ultimately we weren't getting anywhere, we were going back to the same places with the same people in the audience. Especially after doing the Paul McCartney and Wings tours you realise that there are other things to do, new horizons. It just got a bit stale. We were with a record company called United Artists. Island Records came onto the scene and they made us an offer. We really wanted to go to America and start playing there as we were sure they'd love what we were doing. All we needed was somebody to give us the money to relocate and start again in America. Island Records thought it was a great idea and were going to do it. The only thing was that United Artists were sticking to their contract, "You owe us three more albums and we're not going to release them." So we split up. United Artists were so stupid, if we had made it in America our old United Artists albums would have sold by the bucket load.
So what did you do after you guys split?
I came up to Mid Wales to work at Foel studios near Llanfair Caereinion, Powys after the Brinsley's packed in. One of my best friends was Dave Anderson who was in Hawkwind. He had bought a small farm in Montgomeryshire and after the Brinsley's split up I didn't know what to do. He said "Do you want to come up and help me build this recording studio?" Over a couple of years we turned an old cowshed into a sixteen track recording studio. The first group we ever had in was The Stranglers. One of my ex-managers from Brinsley Schwarz days in had just discovered them in London. We wanted to try the studio out to see if it worked. They had the lure of a free week in a 16 track recording studio. They turned up in Jet Black's ice cream van, which came through a field full of sheep, them and their equipment! I said "Are you kidding? Is this real?" so he put the chimes on.
I then started recording solo records in the late 70s. In 1979 I released my solo album 'Gomm with the Wind' on Stiff/Epic Records in the USA. The single 'Hold On' from it took off on US college radio and climbed to number 12 in the top twenty national chart over there. When I had a hit in America me and my band did the five week Sultans of Swing tour with Dire Straits in the States and then straight back to the US for another three week tour with just my band.
What are you up to at the minute?
I've just recorded a song called 'The Brimmon Tree' which my son Sam Gomm wrote about saving an old oak tree that's 500 years old. They are constructing a new by-pass near us in Newtown and want to chop the tree down. All they need to do is move the proposed new road by 15 metres to protect the tree. It's my protest song. I've also been doing stuff with an American singer/songwriter called Jeb Loy Nichols. But it's so hard for kids trying to make their way in music these days. There are so many people doing it and hardly any money in streaming. That is why all big bands play live gigs.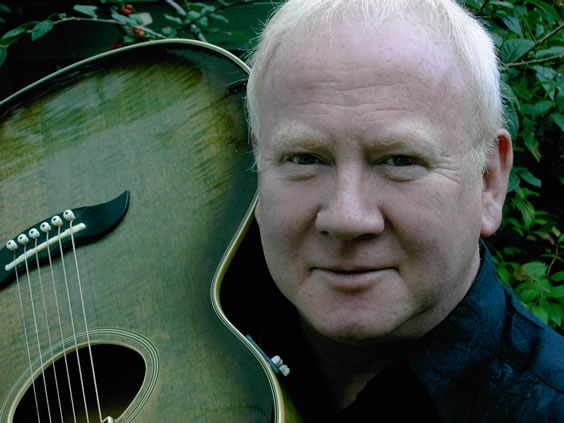 You've got a website.
It's www.iangomm.com and I'm on Facebook as Ian Gomm. There is even a Brinsley Schwarz Facebook page too.
'Live Favourites' by Brinsley Schwarz has now sold out on Mega-Dodo records. Do check out their other marvellous releases at www.mega-dodo.co.uk
With thanks to Ian Gomm and John Blaney at Mega-Dodo for their help. Photos used with kind permission of Ian Gomm.
Copyright © Jason Barnard and Ian Gomm, 2016. All Rights Reserved. No part of this article may be reproduced or transmitted in any from or by any means, without prior permission from the author.
This post does not allow comments