Hedgehoppers Anonymous – Part 1
By Nick Warburton
Tainted as one-hit wonders after the UK top-5 smash hit single, the tongue-in-cheek protest song 'It's Good News Week', Hedgehoppers Anonymous never achieved such dizzy heights again despite the stewardship of producer/songwriter Jonathan King.
When follow-up single releases on Decca Records failed to chart, the British music press announced the band's demise in early 1967. At least, that's what record buyers were led to believe.
[tubepress video="Q4KzGKnuUuc"]
In fact, drummer Glenn Martin revived the name with a new line up and toured the UK for eight months before coaxing original singer Mike Tinsley back for a swansong Swedish tour later that year.
In the first of a two-part series covering this criminally overlooked band, The Strange Brew discovers how ground crew in the Royal Air Force came to record a hit single and the struggles they endured to maintain a profile in the fickle world of pop music.
The story begins in November 1959 in rural Cambridgeshire where five aspiring musicians are working as Royal Air Force ground crew and servicing engineers at RAF Wittering.
Originally known as The Trendsetters, the very first line up of the band that would become Hedgehoppers Anonymous comprised former Electrons lead singer Mike Tinsley; lead guitarist and singer John Stewart; rhythm guitarist Tony Cockayne; bass player Ray Honeyball; and drummer Leslie Dash.
The Trendsetters made way for The Hedgehoppers in 1964; a nickname for the "V" bombers at the RAF station, which were famous for using the technique of flying a few hundred feet above the ground under enemy radar to avoid detection and ground-to-air missiles.
As Tinsley points out, this was the strategy planned for the RAF bombers during the Cuban crisis in 1962.

The most famous Hedgehoppers Anonymous line up, summer 1965, left to right: Tinsley, Laud, Stewart, Honeyball and Dash
By the time they had changed name, the quintet had debuted at the White Lion pub in nearby Whittlesey, Cambridgeshire and extended their range to Cambridge where they performed at the Dorothy Ballroom and the Corn Exchange.
Stuart Dingley, their Cambridge agent, landed The Hedgehoppers a prestigious opening slot for The Kinks at Peterborough Palais, which led to further work, performing on the same bill as The Hollies and The Swinging Blue Jeans.
Soon after changing name to The Hedgehoppers, a civilian living near RAF Wittering, 17-year-old rhythm guitarist and singer Alan Laud replaced Tony Cockayne in what would be the first in a succession of personnel changes to inflict the band over the coming years.
Laud's arrival coincided with the band's "big break" when Hedgehoppers were spotted playing at the Corn Exchange in Cambridge by Trinity College student Kenneth King, who was working as an independent producer at Decca Records through his own company "Jonathan King Enterprises".
The aspiring producer was on the verge of releasing his solo single, the chart topping "Everyone's Gone To The Moon" under his recording name Jonathan King and approached Hedgehoppers to see if they would record another of his songs – the tongue-in-cheek protest tune "It's Good News Week".
King, who had ambitions to be a producer rather than a singer, suggested that the band add "Anonymous" to the end of their name so that the musicians could maintain their fan base but protect their anonymity, particularly from the RAF, which was unaware of the recording opportunity on offer.
While the producer/songwriter was impressed by Hedgehoppers Anonymous' infectious pop approach and helped them to sign to Decca Records in the summer of 1965, King chose to bring in session players in the studio to underpin Tinsley's impassioned lead vocal.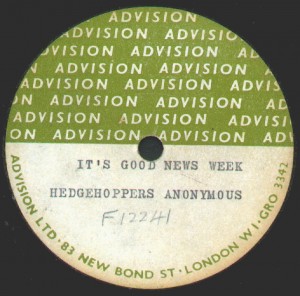 "As producer I booked the musicians and the studio," explains King. "I ran through the arrangement I wanted with Arthur Greenslade, my arranger, singing him the different parts. I think Big "Jim" Sullivan was on guitar. Jimmy Page had played on 'Everybody's Gone To The Moon'."
Released in September 1965, "It's Good News Week" backed by King's "Afraid of Love" generated significant publicity in the music press, not least due to its reference to an atom bomb being dropped.
Overnight, Hedgehoppers Anonymous became a huge media sensation, which threatened to derail the band's career before it had even begun. The problem was that most of the band were still members of the RAF and had not obtained the proper authority to find employment outside the Armed Forces.
On Mike Tinsley's website, the singer recalls: "We were starting to get into deep water over recording a song while still serving in the RAF without proper authority. The record was released on Decca and started bringing newspaper reporters and photographers to the base along with young girls seeking autographs! That got us even more into deep water!"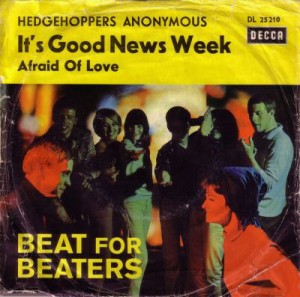 As the single stormed up the UK charts that October, the four RAF members applied for a discharge from the service but had an uncomfortable wait while the authorities considered each musician's case.
By late November, Tinsley and Stewart had managed to secure a successful discharge but Honeyball and Dash were turned down, forcing the band's manager Ken Cox to find replacements to promote "It's Good News Week" on the road and for TV appearances.
A temporary replacement for Leslie Dash had already been lined up during early October. Glenn Martin, the resident drummer at the Ad-Lib Club in London's West End, had just finished working with singer Ayshea Brough when the offer was presented to replace Leslie Dash for live work. Initially a temporary fill in, Martin soon became a permanent replacement.
"Ray Honeyball did do some gigs but Leslie Dash didn't," says Martin. "As soon as 'It's Good News Week' charted and the band had to go out on the road, I was pulled in immediately."
To cover the gigs that Ray Honeyball couldn't make, Ken Cox lined up former Von Dykes member Keith Jackson, who was put on a retainer while negotiations proceeded for the bass player's release throughout late October and November.
"I did a photo session with them and a rehearsal but I never actually did a gig," says Jackson. "They were all in the Royal Air Force and were on duty. When they couldn't get away [to gig] I was supposed to fill in but it never actually happened."
This unwelcomed interruption in the band's seemingly unstoppable rise, meant that Hedgehoppers Anonymous' agent Chris Peers' management had to turn down an offer to join Gene Pitney's UK tour in October 1965.
While the loss of Dash and Honeyball threatened to derail the band's career at this critical juncture, Hedgehoppers Anonymous were in heavy demand as a live act.
In early November 1965 "It's Good News Week" shot up the UK charts and peaked at #5 and also became a minor US hit, reaching #48 on the Billboard charts.
Seizing on the band's overnight success, Decca rushed released a second single, the King written "Don't Push Me" c/w "Please Don't Hurt Your Heart For Me" but the record sold poorly.
[tubepress video="KoMUz2b2crk"]
"It was a lack of good PR work and radio promotion," Tinsley argues. "It was presumed that 'Don't Push Me' would automatically make a chart entry…but the presumption was a huge mistake. More should have been done to promote the band after the huge success of 'It's Good News Week'."
Despite this setback, Hedgehoppers Anonymous' future looked bright. Tinsley and Stewart's release from the RAF enabled the two remaining original members to concentrate their efforts on the band. What's more, having a seasoned, professional drummer on-board placed the band in a much better position to promote the singles on the road.
The line up received another boost when Keith Jackson, who had been playing some gigs with John Mayall's Bluesbreakers while he was on a retainer with Hedgehoppers Anonymous, departed to join Gary Farr & The T-Bones (and later The Nice) and the late Tom Fox from London bands The Beat Boys and Barry Edwards & The Semi-Tones took over.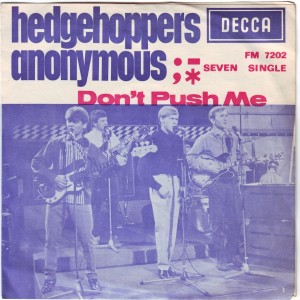 With a stable line up in place, Hedgehoppers Anonymous began to scout around for suitable material to record the all-important third single.
In April 1966, the musicians discovered a demo recording of Chip Taylor's "Wild Thing" at Dick James Music and, realising it had hit potential, decided to record a version.
"We did a very lush recording [and] I remember the solo in the middle," says Martin. "What we did was John Stewart played the chords on the guitar and I drummed up and down the strings. It was very dramatic. We did a beautiful big arrangement [and] we had strings coming in."
A release date was set for Hedgehoppers Anonymous' version of "Wild Thing" but the day before the single was shipped, King called the band into Decca's offices for a meeting with the head of the A&R department.
Neither was that keen on releasing the track and convinced the musicians to record King's ballad, "Baby (You're My Everything)", backed by "Remember", instead.
"The demo of 'Wild Thing' was first played to me by the publishers," says King. "I loved the song and allowed the guys to play on it but their version wasn't even as good as the demo so I passed and the song was given to Larry Page who produced it with The Troggs."
Tinsley, however, has his own take on events: "I'm quite sure our version with more work in the studio to please all concerned would have produced a number one. The skills of the group members were improving greatly with playing experience on the bookings roundabout."
For Tinsley and Martin it was the defining moment in Hedgehoppers Anonymous' career. While King's ballad stalled in the charts, The Troggs' own version of "Wild Thing", released only a short while later, topped the UK charts.
"They chose [our demo] out of [Decca's] basement unknowing and went into the studio and recorded it in 20 minutes and next week I turn the radio on and I heard The Troggs with 'Wild Thing' at number one," remembers Martin.
"That was Hedgehoppers Anonymous' third release. If Decca had let us release that record the next day, there's no doubt in my mind whatsoever it would have been just as big if not bigger than it was for The Troggs."
Dissatisfaction over the direction that Decca was pushing them prompted the musicians to take over creative control for Hedgehoppers Anonymous' fourth single, and arguably their finest outing on disc – the mod/freakbeat classic "Daytime".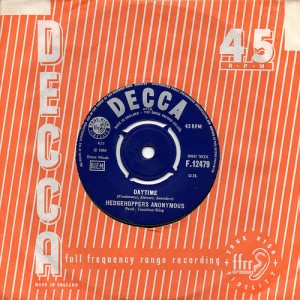 As American rock music journalist and webmaster at the Garage Hangover website Chris Bishop explains: "[The song was] an adaption of Les 5 Gentleman's 'Dis-Nous Dylan' (originally co-written by Jean Fredenucci of Les 5 Gentlemen and T Saunders) with English lyrics by John Stewart."
Les 5 Gentlemen, incidentally, also recorded "Daytime" with Stewart's lyrics for a release on the Major Minor label as Darwin's Theory.
Backed by "That's The Time", Hedgehoppers Anonymous' move towards a more harder-edge rock sound bode well for the future.
With The Beatles and The Rolling Stones leading the charge, the UK rock scene was undergoing something of a musical renaissance with most of the leading pop/beat bands fully embracing a move towards more progressive rock music.
Driven by its buzz-saw lead guitar and psychedelic undertones "Daytime" should have been the hit single to put Hedgehoppers Anonymous back in the UK charts. Despite charting in the Scandinavian market, the single failed to breakthrough in the UK on its release in August 1966 and Decca began to lose interest.
That December Hedgehoppers Anonymous returned with their final disc outing, the Alan Laud penned "Stop Press" backed by "Little Memories". Notable for its newspaper press sound effects, the single was another bold step forward but was a chart failure.
"To imitate the sound of the presses rolling and newspaper publishers, we used boxes of matches, and I was shaking them like maracas," says Martin.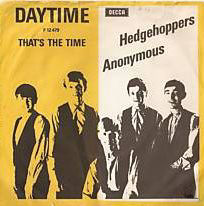 Not surprisingly, the band's dramatic reversal in fortune prompted considerable soul searching among the musicians and before long Hedgehoppers Anonymous began to disintegrate.
In its 14 January 1967 issue, the New Musical Express announced that Hedgehoppers Anonymous would be splitting up on 11 February.
On the same day the NME article appeared, Mike Tinsley released his debut solo single – the Jonathan King produced "Let It Be Me", signalling his intention to break out on his own.
Likewise, the other remaining original member – John Stewart decided to move on and initially planned to form a trio with Alan Laud and Terry Widlake from The Overlanders.
Whether this project ever got off the ground is not clear. What we do know is that Laud abandoned any musical aspirations soon after and later moved to Spain where he was last heard running a bar in Torremolinos.
Stewart, who was intent on pursuing a career as a songwriter, subsequently relocated to the United States where he works as a studio engineer in Tennessee.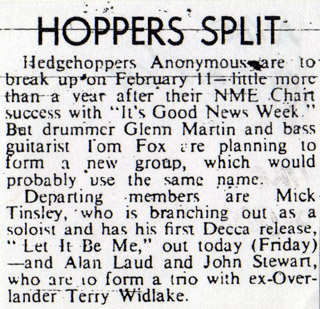 Newcomers Glenn Martin and Tom Fox, however, were not quite ready to abandon Hedgehoppers Anonymous and initially announced their intention to form a new group that would probably use the same name.
These plans were put on hold briefly while the pair hooked up with blues singer Kenny Barnard, who had landed an opening gig at London's Bag O'Nails club after The Peddlers had moved on.
But the union proved short-lived. By late February Martin had got married and moved with his new wife up to Halifax where he revived The Hedgehoppers Anonymous name with an entirely new line up.
"Ken [Jonathan King] actually gave me permission to use the name in the future, which is why it was always me reforming the band," says Martin. "I was the professional musician who was going to continue on musically."
With Tinsley preoccupied with his solo career, Martin's first choice for the band was lead guitarist Ian "Junior" Atkinson from The Morton Fraser Harmonica Gang, who immediately recommended his friend, the late Howard Livett from Leeds on bass.
"I knew Junior before I moved up Halifax. He was a very fine, professional guitarist," says Martin. "I said to Ian I was thinking of reforming the band and he said he knew a good bass player."
For what must have been a matter of weeks, keyboard player Vincent Crane, who'd just broken up his own combo, joined the band on the road but soon departed to form The Crazy World of Arthur Brown.
"I do remember Vincent did a couple of gigs [with us]. I remember him because of one specific incident that nearly got us killed," says Martin.
"We were doing a club somewhere I think in London, a really rough docklands place and halfway through the gig this woman gets up and starts doing a striptease. All these dockers started clapping. Vincent says, 'This is disgusting', gets off the keyboards and walks out. I thought we were going to get murdered so ended up doing a drum solo to the stripper."
Chris Lazenby, a young keyboard player and singer who'd previously worked with Ian Atkinson in the Bradford rock ensemble the Del Rio 4, took Crane's place while a second lead guitar player called Pete from the Manchester/Oldham area also signed up.
"Glenn decided that they should have a keyboard player and Junior put him straight on to me, already knowing me very well," says Lazenby.
"The band turned up at my home one day and asked if I'd like to join. I was 19 years old and had embarked on a course at Batley College of Art. I was doing gigs in the evening to pay as I couldn't get a grant."
The new line up spent the next six-eight months gigging extensively around the country and increasingly incorporated more soul/rock material into the set list to augment material by the original band.
"The stage show consisted of only three tracks original to the [first] band – 'It's Good News Week', 'Don't Push Me' and 'Daytime', which was probably one of the best songs," continues Lazenby.
"The rest of the show we did cover versions, though not copies; we tended to do our own thing and didn't really cover chart stuff but more 'esoteric' songs."
Despite not scoring a hit single for over a year, the keyboard player recalls that Hedgehoppers Anonymous were still popular enough to "top the bill" and mostly had support bands appearing with them.
"At one time, we had the dubious reputation for being the second only loudest band on the road after The Small Faces," he laughs. "I seem to remember the most powerful amp was a Vox AC100!"
Around September 1967, however, Chris Lazenby and Pete, the second lead guitarist, dropped out of the latest version of Hedgehoppers Anonymous when Martin coaxed original lead singer Mike Tinsley back for a forthcoming tour of Sweden and Lapland.
"Glenn was talking about getting Mike Tinsley back before I left," remembers Lazenby. "I think he felt it needed the original frontman."
"Ken said, 'Go on use the name in the future if you want Glenn' and that's why I was keen to get Mike back in once I had reformed the band," adds Martin.
"To me if it hasn't got Mike Tinsley in it, it's not really Hedgehoppers Anonymous. I can't remember us doing anything in this country. We possibly did a few gigs but the first thing I remember is that we did the Swedish tour."
Scandinavia had always been a solid market for Hedgehoppers Anonymous and "Daytime" had secured a Danish release such was the band's popularity there.
With a line up comprising Mike Tinsley, Glenn Martin, Ian Atkinson and Howard Livett, Hedgehoppers Anonymous received a rapturous welcome from the Swedish audiences but as soon as the band returned home in late October 1967, the musicians decided to put Hedgehoppers Anonymous to rest.
"To be honest, Mike and I fell out on the tour," says Martin. "It was entirely my fault and I've since made my peace with him and apologised. We fell out at the end of the tour. Mike said, 'Right, when I get back, I'm going my own way again' and that was it, the band folded."
Tinsley duly resumed his solo career and in 1976 he sang "Wrap Me In Love", which was co-written with Peter Hawkins of Pickettywitch, at the Yamaha World Song Festival in Tokyo, Japan.
[tubepress video="thP1zbLlNqw"]
Tinsley met Ellis Ellias from Red Bus Records, who encouraged the singer to write songs. Together with Peter Yellowstone and Steve Voice, he co-penned hit singles for singers Kelly Marie and the late Joe Dolan among others.
More recently, his song "My Survival" has appeared on an album released by the British Academy of Songwriters Composers Authors' label, and co-produced by the singer with Tony Swain.
Only last December, Tinsley performed at the Amersham Rock and Roll Club with Chris Farlowe, Vanity Fair, The Searchers, Alan Warner of The Foundations and Colin Hare from Honeybus and continues to pursue a solo career.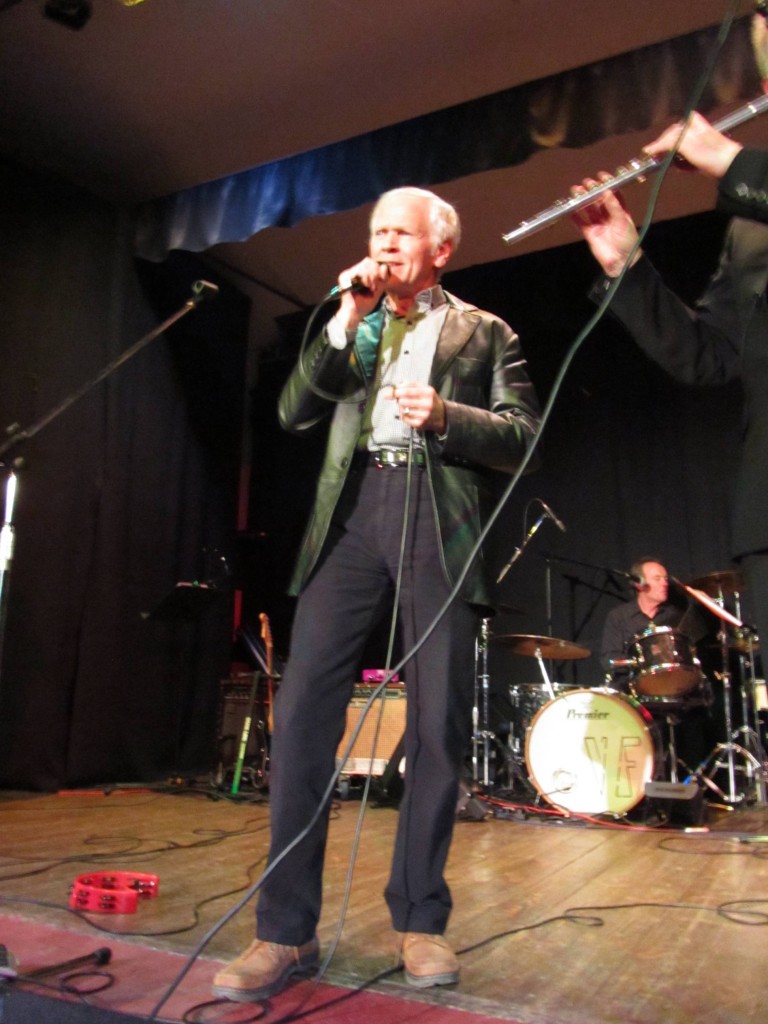 Martin meanwhile accepted an offer to join Sandie Shaw's backing band, The Streamliners and stayed with the band for several months before later working with the house band at Butlins in Cliftonville near Margate, Kent where he reunited with Chris Lazenby.
After working as a session drummer for the last 40 years, Glenn Martin currently holds the position of drum chair at the Surrey Jazz Orchestra.
[tubepress video="NdB2Agc6kVU"]
"I am still playing professionally. I am currently freelancing and doing session work," says Martin. "[Over the years] I've backed virtually everyone from Gene Pitney to Ken Dodd and Bob Monkhouse. I've been doing cabaret backing and that sort of thing for god knows how long."
As far as Tinsley and Martin are concerned, Hedgehoppers Anonymous' Swedish tour in October 1967 marked the end of the band.
But as The Strange Brew reports in part 2, an entirely different bunch of musicians would resurrect the name in 1968 and eventually take it to South Africa for some fascinating recordings, released on CD for the first time in the next few months:
http://thestrangebrew.co.uk/articles/hedgehopperspt2
Many thanks to Mike Tinsley, Glenn Martin, Chris Lazenby, Jenni Livett, Jonathan King, Keith Jackson, Tertius Louw and Chris Bishop. Thanks to Leslie Dash, Jenni Livett, Mike Tinsley, Perry Smith and Tertius Louw for assisting with photos.
Nick Warburton is a UK freelance writer, who has written for Shindig, Record Collector, the Garage Hangover website and Richard Morton Jack's new book, Endless Trip. Visit: www.nickwarburton.com
Copyright © Nick Warburton, 2011. All Rights Reserved.