By Jason Barnard
Originally hailing from Birmingham – England, Edward Rogers moved to New York as a child and started in music as a drummer. However over the past decade he has released a string of solo albums whose hallmark has been the sound of his formative years, British beat and rock from the 60s and early 70s. As Edward releases his current album Glass Marbles in the country of his birth, Jason Barnard caught up with the man whose music is gaining praise on both sides of the Atlantic.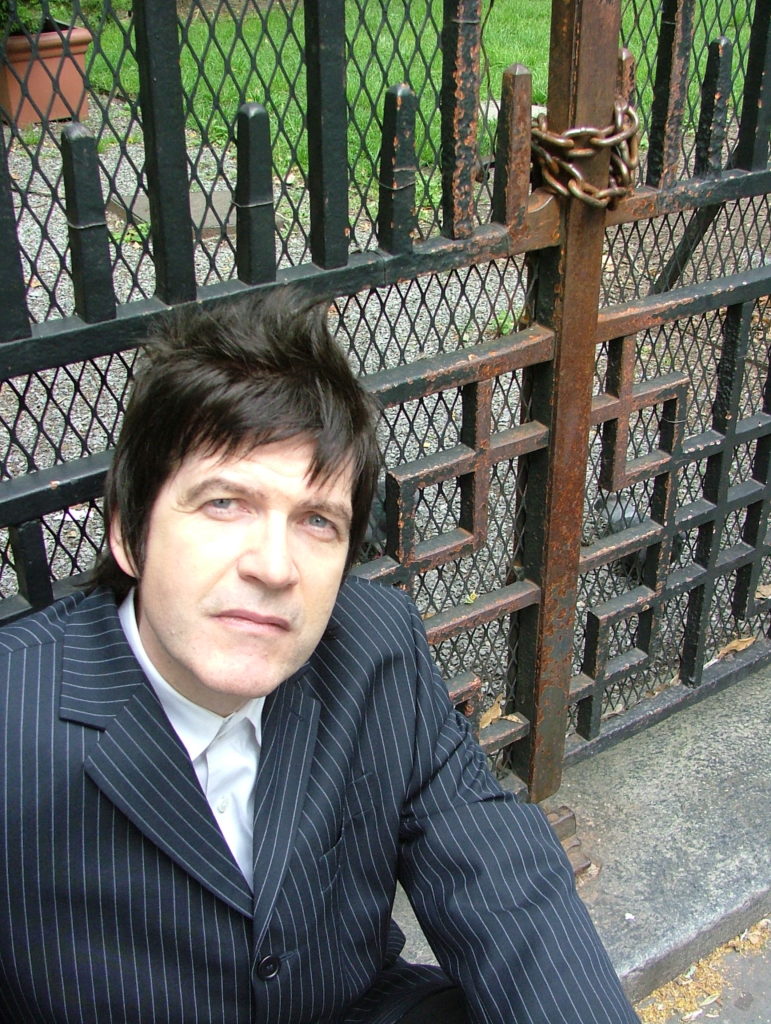 Hi Edward, firstly congratulations on producing yet another excellent album with Glass Marbles.
Cheers. Very nice of you to say that.
What was the catalyst behind it, and what would you say are the overarching themes of the record?
Little stories in my mind collected over a period of a year, I ended up with 50 demos. There is no set running theme, but this record is a look back at how life was in the '70s when we used to go to Blackpool for our holidays, how important Denmark Street was to me the first time I went there…or, just as a kid, going to a Jumbo sale and buying that used shirt, jacket or record with my weekly allowance.   
What tracks are your favourites?
"Blackpool Nights" is one, as I feel the lyrics are inspired via a Ray Davies landscape. Also, "Denmark Street Forgotten" which I wrote when it looked like it was going to be torn down. I'm so glad it's still there. I thought it was lost forever. "Bright Star" because it's an innocent song of hope, written through the eyes of a child. There something can be said about all of them as they are my little stories – some true, some made up, some borrowed and some blue! 
'Denmark Street Forgotten' highlights how London has been redeveloped, with some of its cultural landmarks lost. What inspired you to write it?
I think I answered that above! We did a show with Dave Davies this past December in Islington, and when I asked the crowd what happened to Denmark Street, they told me it had been saved! It was too late to change the lyrics, but I'm so happy the street still exists. We went back in April of this year and played at The Borderline (with Colin Blunstone) and made a point to visit and take in the sights, sounds and smells of Brit pop history on that street. But, yes, like New York City, it's sad to see so many of the old neighbourhoods torn down to make way for the new high society glass buildings. 
How did you go about recording Glass Marbles – how long did it take and what musicians did you work with?
The record was done in separate sections, using a different studio for each. Overall, it took two months to complete. The hardest part is always the artwork, as it seems to take so bloody long!
The core band on my last couple of albums are all mates of mine. Don Piper is a producer and engineer and multi-instrumentalist; James Mastro comes up with amazing guitar parts via his experiences playing with Ian Hunter, The Bongos, just to name two; Sal Maida is a natural. He has been playing bass for over 40 years with such bands as Roxy Music, Sparks, Cracker, Milk N Cookies and more; Dennis Diken you might know from The Smithereens or Dave Davies, he's another lifer. Once the core songs are done, we then brought in different players to work on other songs to create variety in both the musical approach and the styling of the songs. There are so many guest musicians, check the album credits!
Was the album cover taken in your home town in Birmingham in the UK?
I toured the UK in May of 2015, and while I did visit Birmingham and my childhood home, the cover was actually taken in Liverpool during that trip.
There is a magical square mile area that was condemned but not yet torn down. The houses were all painted black and the area was used as a backdrop in a number of science fiction films. A last minute reprieve by the Liverpool Building Council saved the condemned buildings because one of the houses was where Ringo Starr was born. I'm curious to visit when they refurbish the area.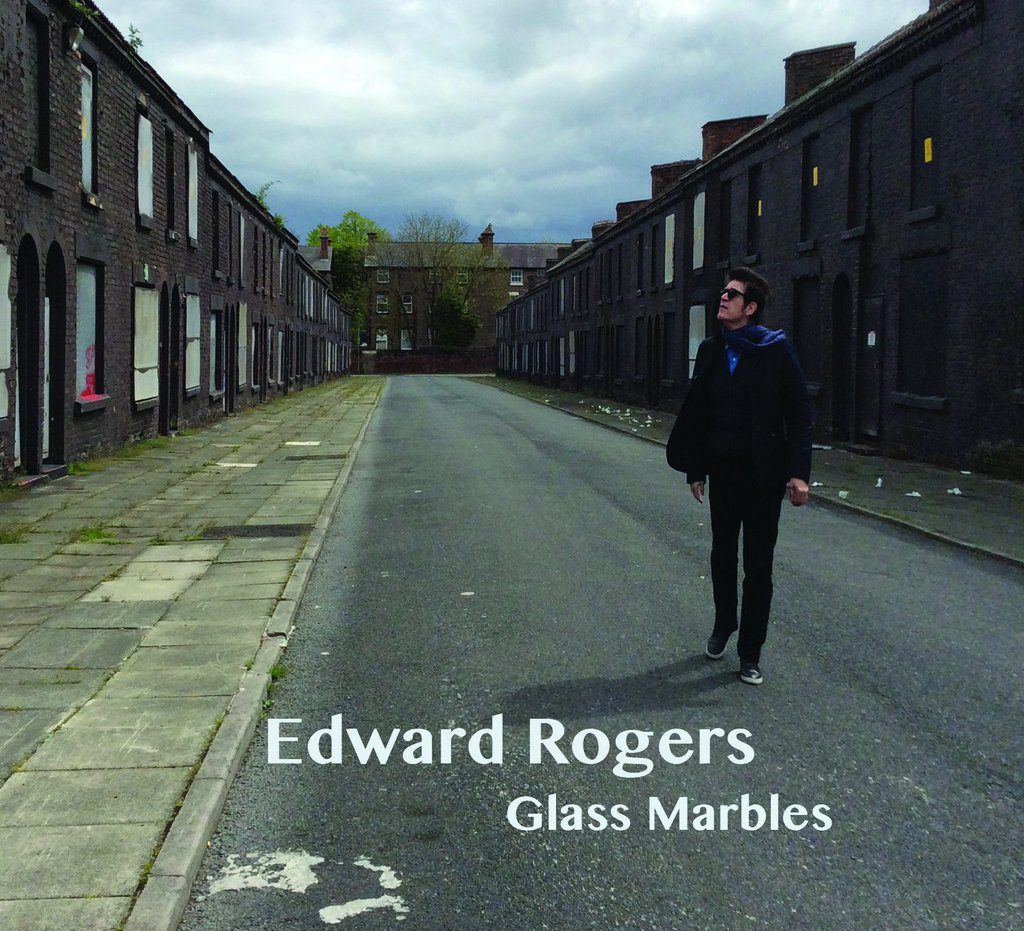 Your song Peter Pan's Dream is a great psychedelic track; it seems to give you and the band space to branch out from the confines of a pop song.
From my last album, Kaye, you should have heard the 26-minute version of Peter Pan's Dream that we edited. The song was recorded in one take live in the studio. It was a mind-blowing experience, and hats off to Don Piper for the editing. Glad you liked it.  We've gotten requests from Japan to release the full version, so maybe… 
What British artists and tracks of the 60s influenced you the most?
Wow, what a question! Well, Billy Fury, Joe Meek, Bowie, Bolan, DC5 (vastly underrated), The Hollies, S.Marriott/R, Lane, Duncan Browne, Curt Boettcher, The Kinks, Scott Walker, Pete Dello, Jimmy Campbell, Clifford T Ward, Junior Campbell, to name a few J 
What songs remind you most of Birmingham?
"Blackberry Way" by The Move (I'm a huge Roy Wood fan), "Geno" by Dexys Midnight Runners (Geoff Blythe, a fellow Brum, was a member of the original group and played sax on Glass Marbles), "Go Now," The Moody Blues (I so wanted to go back to Birmingham when I first heard that song). 
At what age did you emmigrate to New York and how did it shape your music?
I came here at 12, what a year to leave the UK! English music was totally being blasted on every American radio station, but I wanted to be back in the UK and be a part of it. I used to go to Bleecker Bobs Record Shop and buy all The Small Faces singles. The sales clerk at the time was Lenny Kaye of Nuggets/Patti Smith fame. Being away from my English roots gave me more passion to incorporate my heritage in my music via NYC.
You started as a drummer, what made you take the leap into being a singer-songwriter?
A major subway (tube) accident resulting in the loss of my right leg below the knee and my right arm put a swift end to that career J  As I was still obsessed with music, I devoted my energy to writing and singing, which I find more rewarding.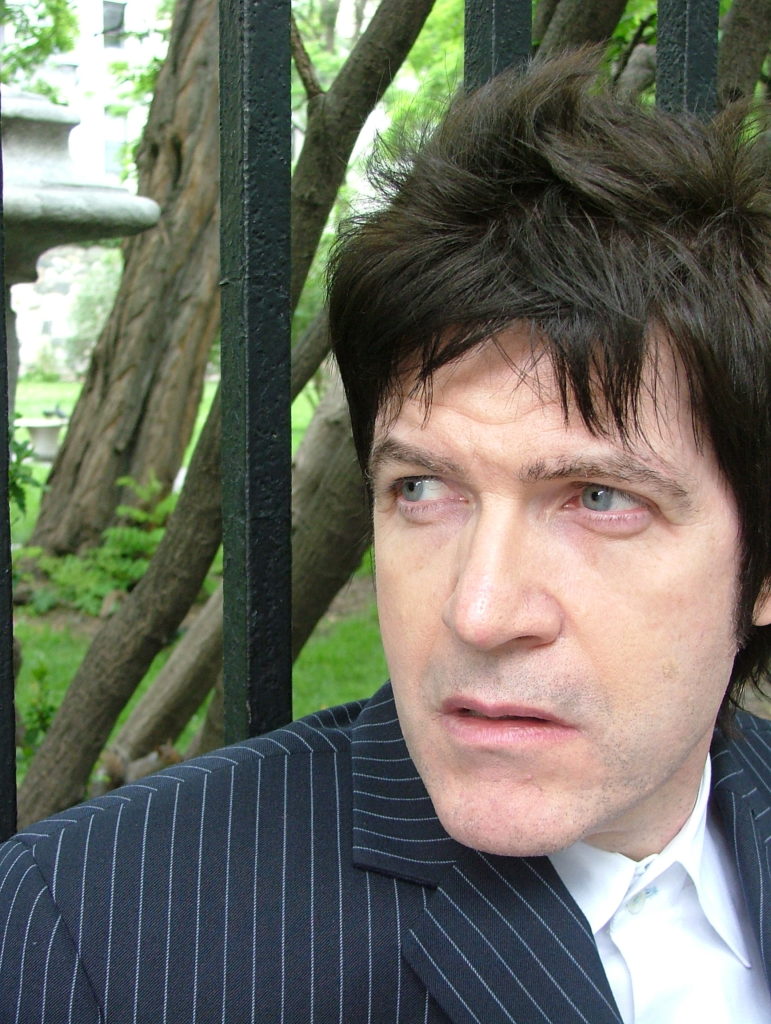 How did you get to become friends with Colin Blunstone and how much have you played with him?
As a passionate fan, I was fortunate enough to work on a compilation for Sony Legacy of Colin's early solo work ("Some Years: It's The Time of Colin Blunstone"). My mate, James Spina and I went through all the early albums and chose what we thought needed to be on a 'best of.' It was a labour of love. As a result of that project, I ended up meeting Colin and becoming good mates with him. He is truly one of the nicest people you could meet.
A couple of years ago, I decided to devote all my time to my music. The first thing I got to do was open for Colin on his first US tour in over 40 years. He's always been extremely supportive, and this year, he invited me to open for him on several UK dates. Can life get much better?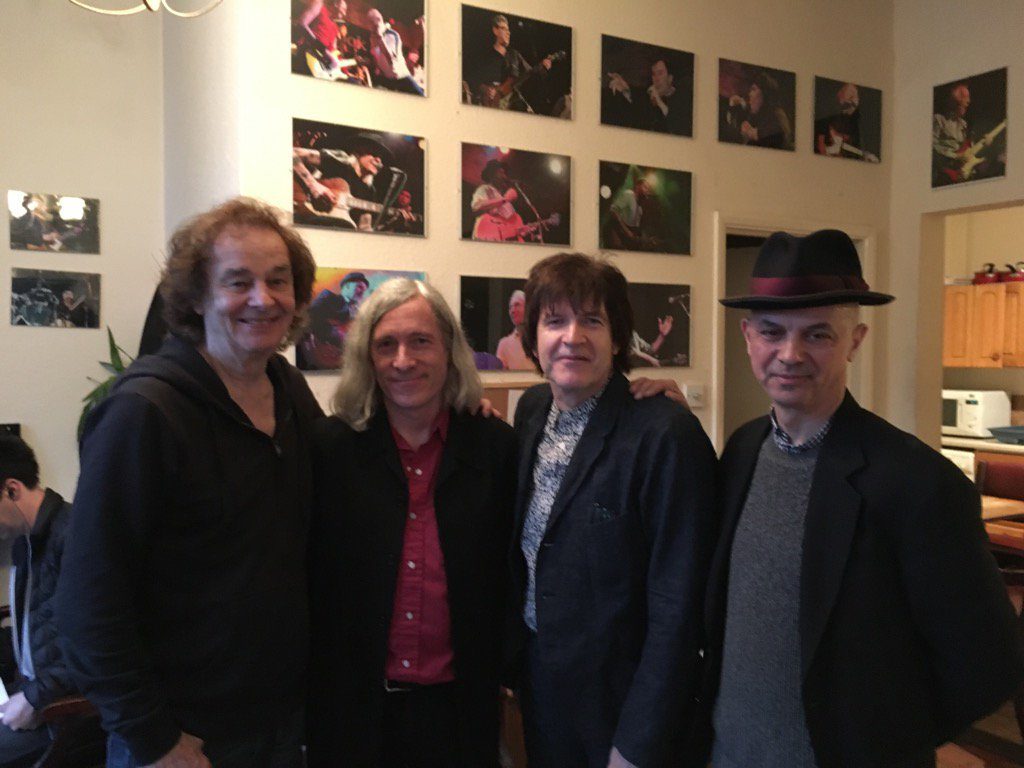 Colin Blunstone, Don Piper, Edward Rogers and James Mastro
Reviewers, including myself, have compared you and your music to quite a range of artists. Which comparisons are you most proud of?
Wow, you are digging deep! Comparisons to Ray Davies always make me proud as I feel he's one of the finest English songwriters. 
What was it like touring with Dave Davies?
It was great getting to meet and share a stage with one of my childhood heroes. He came over to me at soundcheck and said, "I've got the same shirt as you," which immediately broke the ice. We also chatted about our Dad's always wearing scarves, especially on Saturday nights. Everyone involved with his touring family was extremely welcoming. I guess the US dates went well, because I was invited to open for him in Islington, London (December 2015).
Glass Marbles is your first album with a UK release, do you have plans to come over here and play more shows?
I would love to come over and play some dates. It's just finding the right bill and keeping the expenses reasonable. I love England and playing there. The audiences have always been very receptive. Hey, mate, I welcome any ideas you have to get me over!
What's next for you and where do people find out more?
Actually, as I'm writing this, Don Piper, my producer is working in the next room editing a demo for my next album. So far, so good.  Thanks so much for listening and your continued support.
Check me out here!
www.facebook.com/edward.rogers
This post does not allow comments