Gregory Curvey, co-founder of psych-rock stars The Luck of Eden Hall has helped produce a sensational string of releases for over 20 years. Jason Barnard speaks to Curvey as he is about to embark on a pioneering tour of the UK:
29 July – Kozfest, Devon
4 August – The King Arthur, Glastonbury
6 August – The 15th Dream of Dr. Sardonicus Festival, Cardigan
10 August – Half Moon, Putney, London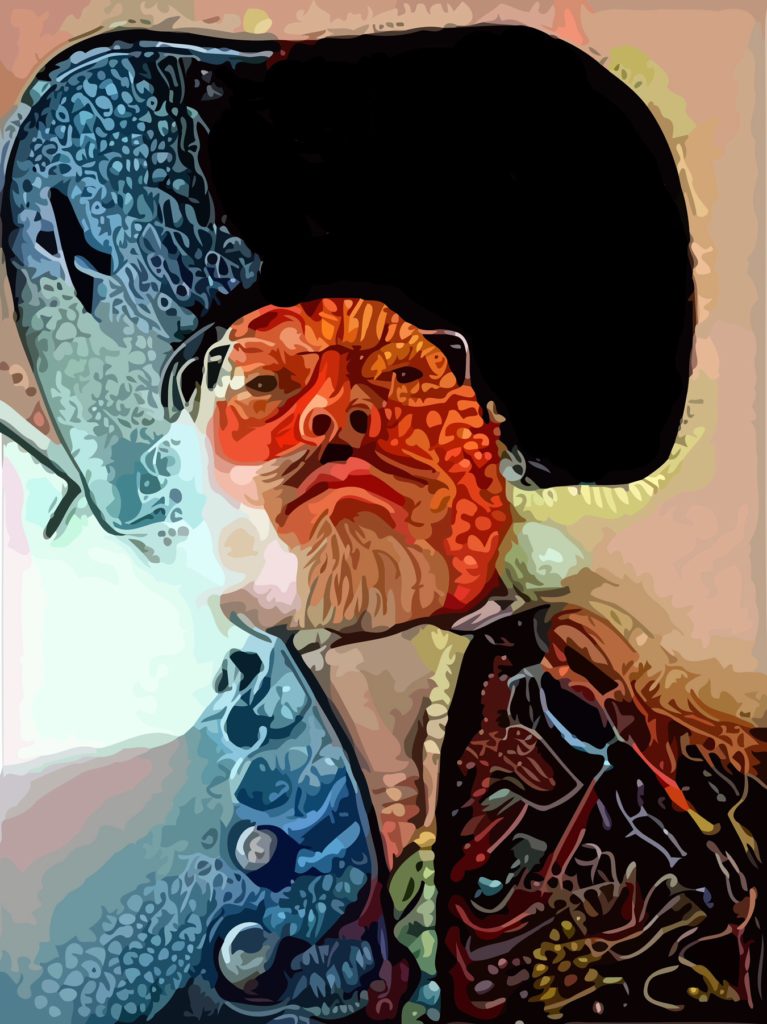 Curvey – portrait by Shane Swank
It's great that you're coming back over to the UK shortly. Can you tell me about your forthcoming solo tour?
Yes! I'm really excited. I wasn't sure I was going to be able to make the trip over seas again this year, but when The Luck of Eden Hall was asked to play at Kozfest I knew I had to, so I started planning. Initially I had hoped Lofgren would join me, but he didn't think he'd be able to swing it, and I knew that there was no way I'd be able to fly the entire band over again, since I'm still paying off debts from TLoEH's 2015 tour, so I asked Cary Grace, Andy Budge and Andy Thompson, all of whom backed me up last year in Cardigan, if they'd be up for doing it again, and much to my delight they not only agreed but Cary's entire band joined on.
Cary then told me their guitarist had split and they hadn't replaced him yet, so we decided that I'd step in for a few shows this summer, which is a real treat for me. Cary has some wonderful songs, especially her new track Without A Trace, and I don't get the chance very often to just play my guitar and not be the leader, so I'm really looking forward to it. Cary booked both bands a show in Glastonbury at the King Arthur, and along with the Kozfest gig, I'll be playing at the 15th Dream of Dr Sardonicus Festival in The Cary Grace Band this year. Three shows in all. Then, Pete and Keith Jones at Fruits de Mer Records had been planning a show in London and it just happened to be the right time, so Pete asked me to be on the bill, which will be my first real solo acoustic performance in the U.K., and to have it take place at the historic Half Moon in London is a blessing.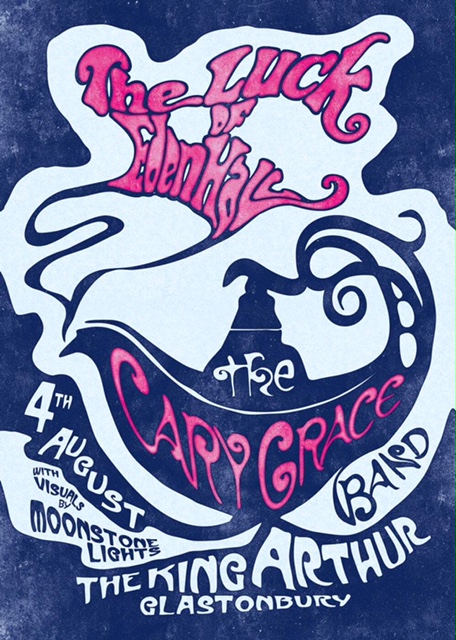 Have you played solo shows in the States before?
Not very often, and hardly ever by myself. Usually Lofgren and I would play acoustic shows together, which we did more frequently in the early days. My first real solo performance was just this year at the International Pop Overthrow Festival in Detroit. I was a bit shaky so I booked another one in Chicago at Vintage Vinyl on National Record Store Day and that one was much better, which gave me more confidence. I think the London gig is going to be fun. I love London.
How will you approach playing your music without the guys from The Luck of Eden Hall?
I sent the tracks to be included on the set list to everyone in the U.K. a few weeks ago and they've been rehearsing on their own. Andy Thompson will be playing Mellotron and Cary will cover all of the synthesizer parts, plus Cary's keyboardist Victoria will be playing, so it's going to be monstrous.
What will you play while over here – any surprises?
We're only doing songs I've written, as it wouldn't feel right playing Lofgren's, plus, since this is an alternate group of musicians I've decided to do some different songs and we've learned Make Way For The Mighty Machines and Another High Speed Blowout. As a matter of fact, these two shows will probably be the only time you're going to be able to see the twenty three minute long Mighty Machines performed live. The entire set list is: Make Way For The Mighty Machines, Arthropoda Lepidoptera, The Happiness Vending Machine, Another High Speed Blowout, Slow, plus Sassafras Overcoat and Dandy Horse.
You're backed by the wonderful Cary Grace and her band on some of the shows. Have you played with her before and what do you think of her music?
The only time I played with Cary was when she backed me up last year in Cardigan, so I haven't played any of her songs before, but we traded CDs a couple years ago and I really enjoyed Tygerland. When I first started to learn her songs for these shows it was difficult not to just play what the guitarist had done on the recordings, especially the solos, but as I got to really know the songs better I was able to adapt my own ideas. I'm looking forward to trying it all out at the rehearsals next week.
I've heard that you're recording with Sendelica while you're over – how did this idea sprout wings?
When Pete heard that I'd be back in Cardigan he extended an offer for me to join them in the studio again, which is always a lot of fun and an incredible honor, so I'll be playing drums along with their new drummer on a couple of Sendelica tracks. It will be my third time in the studio with Sendelica, who are a great bunch of guys. Glenda has generously offered me a room in his beautiful home during my stay in Cardigan again. It's very peaceful there. Working with them in the studio is a refreshing opportunity and very different from how I work in the studio on TLoEH tracks. Pete usually has a basic song structure worked out in advance, but from there on out it's very intuitive, at least from my perspective.
You and the band have many fans over here in the UK, helped by the great support from Keith at Fruits de Mer. How does your following compare on both sides of the Atlantic?
It's hard for me to keep track of. The only tools I have to work with are Facebook and Bandcamp, and I know there are a lot more people out there. Reverbnation had a world map of fan's locations, but I cancelled my account when they tried to charge me money for a service I didn't ask for. There are way too many sites out there that claim to help bands, but really don't, and the last thing you want to do is join their Pro version and bleed more money every month. I think it's best to put that money into more product and albums.
I'm forever in debt to Keith at Fruits de Mer. He's really given TLoEH a lot of exposure over the past seven years. Good god, almost a decade already. Mega Dodo, Shindig and Prog magazines, radio and all of the blogs like Strange Brew have been pivotal in keeping the buzz going as well, and I thank you very much for your valuable support. It's harder in the States, but we have some very solid support here too. Just, no label support, which makes a big difference. Not only do I work with Fruits de Mer and Mega Dodo Records in the U.K., but Headspin Records in the Netherlands is responsible for putting out those really high quality LPs and now Vincebus Eruptum in Italy will be releasing Make Way For The Mighty Machines as one side of their Psychedelic Battle Vol 4 LP this October. I wouldn't mind getting something going in Germany too. I've approached a few labels in the States, but everyone's usually already booked way into the future, or broke. It certainly would be a lot easier to tour here at home and I hope I can get the right connections to make that happen. We'll see what the future holds.
You and the band have recorded a 23 minute epic 'Make Way For The Mighty Machines'. Your last album 'The Acceleration of Time' had shorter rockier psych tracks. Is the long form a new direction for the group?
Yeah, that track was specifically composed for the Vincebus Eruptum release. Last August I moved from Chicago to Detroit, and the initial due date to submit the track was in January. I was freaking out because not only did I have to tear down and pack my studio then set it back up, but I had to get my new house ready to move in to, and it needed a lot of work just to be a livable space for my family. I also had to paint and tile a room in our new basement just to have a temporary space for recording. All of that work took a couple months, which left me four weeks to work on the track. Then my recording studio computer had a melt down and my ancient recording software refused to work anymore, which meant I had to buy a new computer and recording software a couple weeks before Christmas. Those were stressful times. Anyway, I had hummed a bunch of ideas into my phone's recorder, but hadn't done anything else. Since the rest of the guys were still over three hundred miles away in Chicago, and I didn't have any time to waste, I dove in and started recording as soon as the studio was up and running, which ended up being in mid January. None of the ideas I'd hummed into the recorder blossomed, but in between all of the mental weeds I found a flower, which developed into Mighty Machines. In February Davide at Vincebus Eruptum told me the release date had been moved back and I breathed a huge sigh of relief. The track had been recorded, but the extra time gave me a chance to produce it properly.
I've been going back to Chicago to rehearse for TLoEH's gig at the Kaleidoscope Eye Music Festival in September and Lofgren told me he has a few songs ready for our next album. I definitely have enough songs for an album.
How many songs have you already written for the next The Luck of Eden Hall album and what sound/themes do they have?
I probably have fifteen songs, a handful of which have lyrics. One's about a pretty girl on a motorcycle. One's about a lady that gives candy to the neighborhood children. One's about white trash. One's about the struggle of making it to tomorrow. I'm a music man and lyrics are hard work, so I tend to wait until a song's nearly finished to complete the lyrics, but those four songs are done. As for the overall sound, it'll be more of the same sounds and production that I've been developing. Mellotron for certain, and I've climbed up another rung on the guitar playing ladder this past year, so maybe I'll highlight some more solos, I don't know. We'll see where it all goes once we start laying down tracks. The Acceleration of Time is going to be hard to follow up.
What projects should we look out for you and The Luck of Eden Hall?
Keith at FdM has asked TLoEH to contribute a song for a 2018 release he has planned. I plan on submitting versions of Relected by Alice Cooper and maybe As You Said by Cream. I hope one of them will make the grade. Plus, I'm hitching up with Icarus Peel and Crystal Jaqueline for a couple of days during my stay in the U.K. and who knows, maybe we'll get a little recording in. We recently worked on a track together that I composed titled Empyrean House. Also, I recently got my hands on and restored an old Harmonium, which has been really inspiring, and I'm thinking about doing an acoustic, electricity free project including Harmonium, Double Bass, Guitar and Drums. My friend Tom Negovan has an old Edison recorder and it would be really fun to record a track on it. I'm not sure if I can get him to come to Detroit from California, but we'll see. Either way, the Harmonium project will happen in one form or another.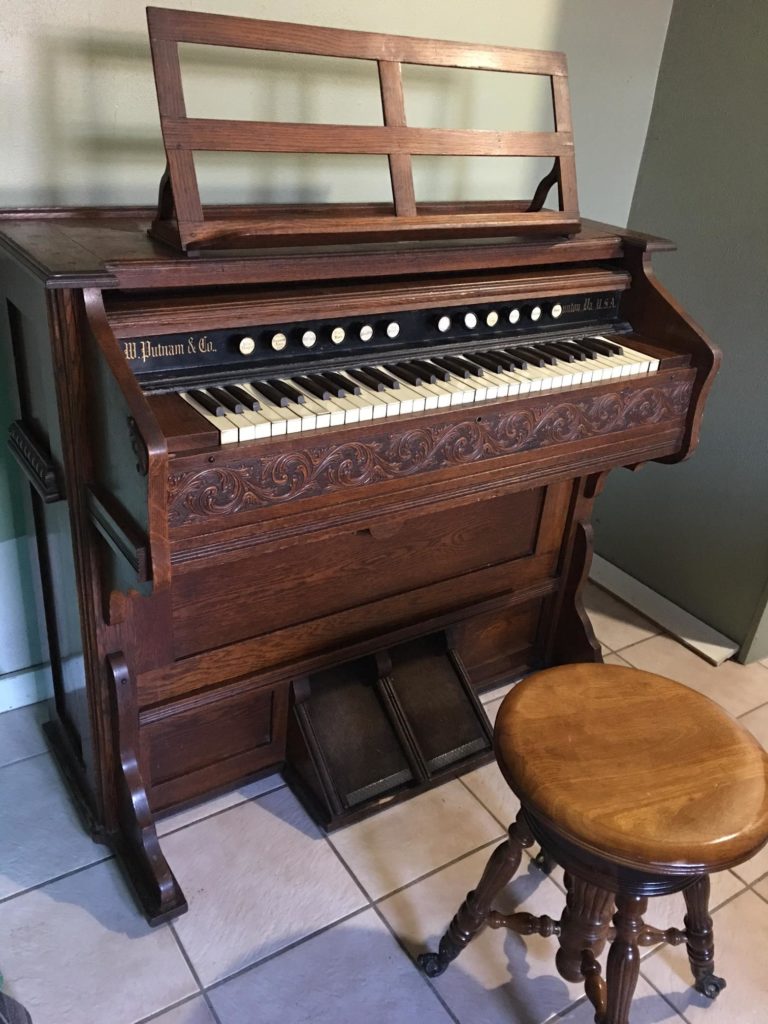 Wouldn't it be fun to be able to set up in a park, without any amplification, and play a TLoEH set? I think about packaging waste and environmental issues a lot and hate the thought of making more landfill. I remember coming back home after spending some time in India, where people lived happily in small homes made out of cow dung with banana tree leaves for a roof, and realizing how much stuff we all have and how much of a burden it all can be. I actually sold my Marshall half stack and a bunch of guitars when I returned, and up to that point in my life, I had held on to every guitar and instrument I'd ever owned. In time we have to let go of everything, but I still really love making music and I don't want to stop. Making music makes me happy and I'm truly honored that my music makes you happy too.
Thanks Curvey, all the best for the shows – I look forward to hearing your forthcoming releases.
This post does not allow comments