As the lead singer of one of the greatest bands of all time, The Hollies, Allan Clarke sang and, in many cases,  wrote the songs that defined the sixties and seventies. However, he also carved out a criticallyy acclaimed solo career and his new 'Sideshow' solo collection repackages many of those great recordings.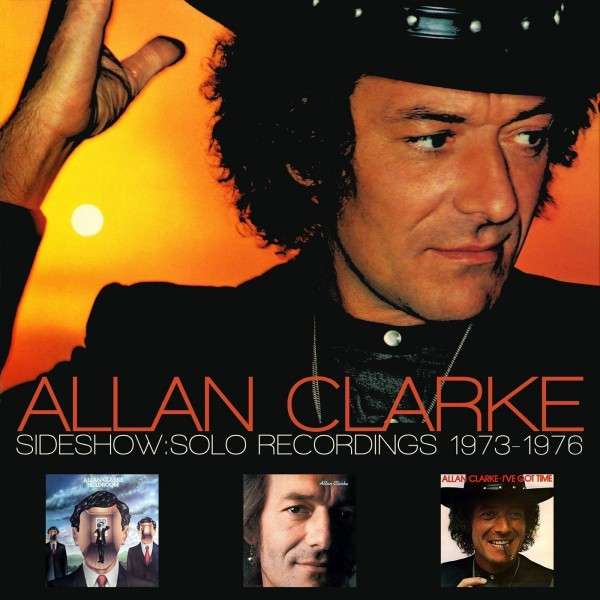 It's clear that to fully appreciate the breadth of his work that you need to delve much deeper than The Hollies hits alone.  To do so, Jason Barnard is afforded the rare honour of an extensive career spanning interview with the Rock and Roll Hall of Famer.
Jason
Firstly, there's an RPM/Cherry Red re-release of your 'Sideshow' solo collection that brings together three of your solo albums you made in the mid 70s. You do a fantastic version of 'Born To Run'.
Allan
You're the first person that's ever said that to me. (laughs) I was introduced to Bruce Springsteen's music back in the early 70s when he was coming on the scene. I went to music publisher which a friend of mine was running. He said 'I've got this guy from America who's just sent me quite a few of his songs. I think he's gonna be quite big.' I said 'Let's hear it'. So we sat down and he put the tape on and two hours later after listening to some brilliant, brilliant music I said 'Wow, is there any chance of having any of these songs?' He said 'Well, there's nothing planned in terms of bringing anything out but I suppose it would be ok.' So I chose three songs that I liked which were 'Born To Run', 'Sandy', and a very unknown song called 'If I Were The Priest' which I don't think that he ever put on an album.
Well, I was just knocked out with the sound and the energy of 'Born To Run'. It made me just want to do that track, I just wanted to sing it. So I went in the studio and I recorded it. I was very, very pleased with the outcome. I took it to EMI who said 'Hey great. Good job.' They then sat on it. It was ready to be released as a single but they went on strike.
Jason
That's the seventies!
Allan
Yes, and when they came back unfortunately for me Bruce had brought his out. So it was me against him and obviously he won.
Jason
That's from 'Sideshow'.
Allan
Yes, it is. That's from one of the albums I did in America with Spence Proffer called 'I Got Time'.
I started recording solo albums in 1972, my first was with Polydor. 'Headroom' was the first with EMI. The three albums there were all different. The first one was produced in a loose way. I recorded it with my mates. When you listen to the music you can tell we were actually having a good time, in all ways!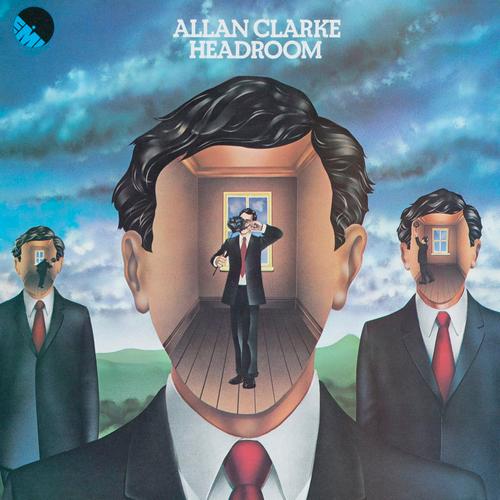 Jason
Is it true that you and Graham Nash go back to your childhood and that formed the core of The Hollies?
Allan
Well it was the furthest thing in our minds when we met when we were six years old at a school in Salford called Ordsall Board. I had nowhere to sit when I was taken there for the first time. Graham put his hand up and said 'Why don't you come and sit next to me?' Which I did and that was the beginning of a friendship which has gone on until now. We used to sing at school together. We went to a lot of clubs and we ended up at the Salford Boys Club. It's quite a well known thing now and a lot of guys that are now in bands remember the Salford Boys Club. We were in a Minstrels band and sang there. At the age of 14, skiffle came in and we fell in love with the Lonnie Donegan sound. I suppose that happened with a lot if kids in England at the time. It gave kids the opportunity to pick up the guitar, learn three chords and sing skiffle. It was a very exciting time.
We had got at least 20 skiffle songs together when one day we were rehearsing in my brother's sweetshop in Salford. He said 'Well, you sound pretty good. Why don't I take you up to a club where they have acts on and see if they will give you a spot.' So at 14 years old he took us up to Devonshire Sporting Club in Salford. We went on and sung 'Cumberland Gap', 'Bring A Bit Of Water, Sylvie', four skiffle songs. We went down very, very well and I think it was because we were kids in short trousers but it wasn't sympathy. The guy said 'That was great.' and gave us 10 bob between us, five old shillings each and said 'Will you come back tomorrow and do some more of our other clubs?' That was the start of Graham and I getting even more interested in music. That went on until we turned into The Hollies.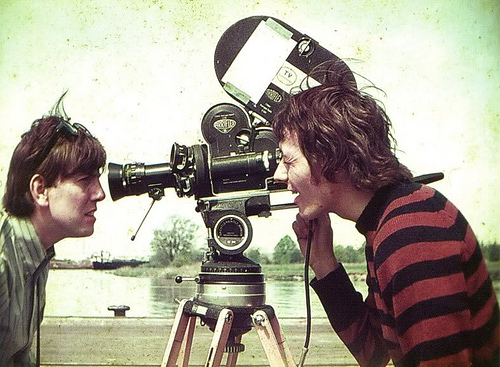 Graham Nash  and Allan Clarke
Jason
Your early work singles were covers from America.
Allan
When rock and roll came in most of the groups were doing the songs of the American singers and ignoring what was happening in England. That's where the very rough Liverpool and Manchester sound came into being. We were doing a lot of songs like Sam and Dave and 'Twist and Shout'. I mean The Beatles weren't the only ones doing that song. But out of that combination of doing songs in that live situation with no echo, it had energy. That's what really made it explode and come onto the scene with The Beatles getting there first.
Jason
As you became established you took on songs by other writers.
Allan
At the beginning we really weren't writing songs at all. We were doing B-sides and things like that. It wasn't until we did a song called 'We're Through'. Ron Richards, our producer, thought it was good enough for an A-side so that's where it really took off with Graham and I and Tony in writing our own stuff.
Let's not forget we weren't the type of writers that would turn down a song which was good for us. That's when 'Yes, I Will' came in, 'I'm Alive' and all the ones that went in between the 'Carrie Anne's', the 'Carousel's' and the 'Jennifer Eccles'. We weren't the type of group just to turn down songs and wanting to put our own stuff out because we thought it was better. We were very sort of loose in accepting in things like that.
Jason
'I Can't Let Go' is fantastic.
Allan
Well, that's one of the songs Tony Hicks found. He went around all the publishing offices looking for songs and he brought this one in. Again, it was instant with the rest of the guys. We thought 'Yes, let's lay it down.' Of course our producer did a very good job on it. It was a huge hit but one of the things that came out of that was that Paul McCartney thought that Graham's part at the beginning of the song was a trumpet. And it wasn't, it was Graham. I love that song, we used to do it a hell of a lot on tours.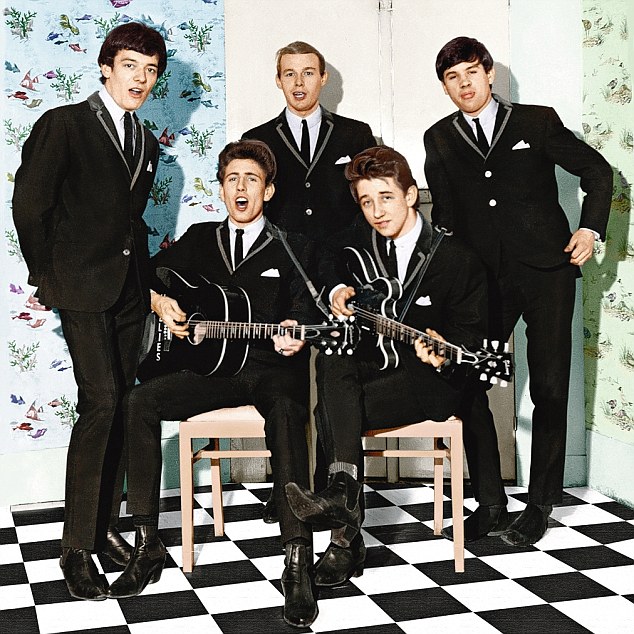 The Hollies 1964,  (from left to right) Allan Clarke, Graham Nash, Bobby Elliott, Tony Hicks and Eric Haydock
Jason
I assume The Everly Brothers were a massive influence, especially on the harmonies.
Allan
When Graham and I first heard the Everly Brothers we used to go out dancing every Saturday night. We went to this favourite club of ours and we walked through the door and all of a sudden we heard this song 'Bye, Bye, Love'. The guitars and energy in that song. We thought 'Wow, there's somebody doing it the way we are.' We thought then that we were a part of The Everly Brothers sound, only English. We made that part of our repertoire when we went out because we could do it so well.
The first meeting we had with them happened after we heard they were playing The Free Trade Hall in Manchester. Obviously for Graham and I it was the most important thing in our lives to see these guys so we queued up and got tickets and saw the show. It was absolutely fantastic. We decided later on we would try and find the hotel where they were staying. The Grand Hotel in Manchester was where all the big stars used to stay so we went there and stood outside. We were there for about three and a half hours and at about one o'clock in the morning the Everly Brothers came walking up the road. They stopped and we chatted with them for about half an hour. We said 'Hey, we're two kids who love your stuff. We more or less do all your songs on stage.' They said 'Hey guys, keep on doing it. One day you may make it. You never know.'
Who'd have thought that all those years later we would be on in the studio with them recording songs that we'd written that they'd be singing. Hence the album 'Two Yanks In England'. I think that was one of the best times in my life.
Jason
Much of 'Two Yanks In England' album is credited to L. Ransford.
Allan
The record company was telling us that our names were too long to fit on the record, it was Clarke, Hicks and Nash. We said to Graham 'What should we do?'. He said 'We should put my grandpa's name down.' which was L. Ransford. We still got paid! (laughs)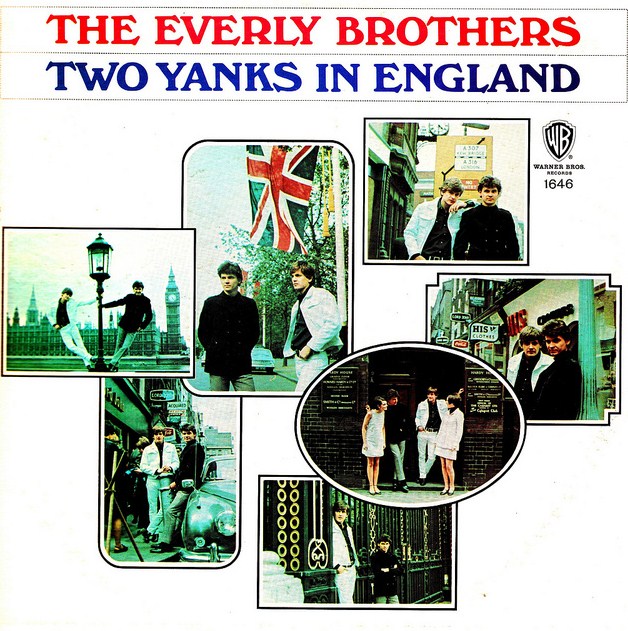 Jason
The songwriting you did seemed to bring a maturity into the group which set you apart to many of the acts that kicked off in 63 and 64 that fell by the wayside, especially in Merseyside. 'Stop, Stop, Stop' for example had incredible production as well.
Allan
It was one of the first pop songs that had a banjo on it. We were in New York and playing a big theatre there. The chap who was running the theatre had a club who said 'You should go down there. It's a bit different. It's a Turkish club and you'll have a good time'. We walked in and Tom Jones was there. In the evening there was cabaret, it was a sort of drinking club. The cabaret come on and it was this belly dancer which we'd never seen live before.
We didn't actually think of the song then but the idea of singing a song about a belly dancer came into being at that moment. It was much later on we started writing it going to Top of The Pops one day. The song was more or less finished in the back of a cab. We took that to Ron Richards who said 'Hey, we've got something here. Let's work on it.' I think the banjo, with slap echo, that Tony played had a lot to do with making that song a little bit different to anything around at the time.
Jason
Was that one of the songs that kick-started you in America?
Allan
Well, that was very successful along with 'Bus Stop'. We should have sold more in America and I think it was probably because we didn't tour enough. We should have gone there more times than we did really and get the exposure, but we didn't do that. That's because we were so busy doing all the other countries where we were number one and number two. We were very popular in Germany. We had about 30 number ones in South Africa but weren't able allowed to go there because of Apartheid and we didn't go there until more recently. We went to Australia and things like that. It was a worldwide thing but I think we should have gone to America a lot more than we did.
Jason
There were number of Clarke, Hicks and Nash cover versions released in the 60s such as 'Pay You Back With Interest'.
Allan
'Pay You Back With Interest' was one of the best songs we wrote. I was quite surprised when I reviewed the work you were doing that there was an album that had different people who had recorded our songs. I'd forgotten, sitting here in my home, what people were doing out there these days. I was pleasantly surprised and it made me go back and I remembered Paul and Barry Ryan did one of our songs, The Searchers, there were a lot of different people who did our songs at that time. It did give us a boost, we were that little bit more confident about what we were doing with our songwriting.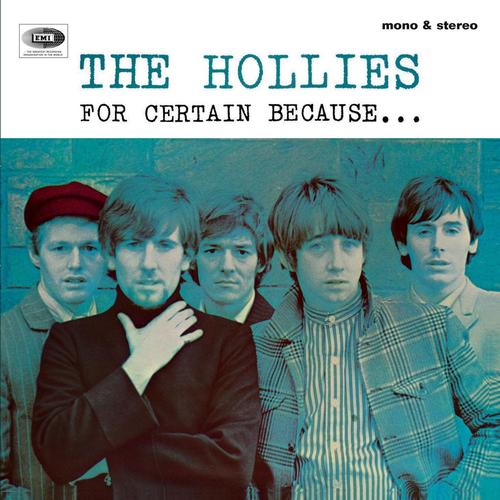 Jason
'For Certain Because' was one of the first albums where you wrote all the songs including 'Have You Ever Loved Somebody' and 'What's Wrong With The Way I Live?'.
Allan
Yes, a lot of good songs on that. Although it was such a long time ago and we made so many albums and so many songs it does make you think, which song was on which album.
Jason
There's some amazing footage of the recording of 'On A Carousel' on the 'Look Through Any Window' DVD.
Allan
It's there to let people see that when we did record we were doing the three harmonies together rather than super-layering and things like that. When we used to write songs someone would come in with 'How about this for the start of a song?' When you do that and you haven't got anything going in half an hour, it ain't gonna go anywhere. But that was one of those songs, I won't say wrote itself, but it came quite easy to us from the ether somewhere. Again it was a song very much the same as 'Carrie Anne' and 'Jennifer Eccles' where we thought people will like this. This will make people happy.
Jason
I've read that The Beatles were recording 'Penny Lane' next door at the time.
Allan
(laughs) Yes, they probably were. They were always next door when we were there. We used to fight who would have number two studio in Abbey Road. They usually won but there you go.
I recently went back to Abbey Road and took my grandson. It brought back a lot of memories. I showed him the number two studio and there's a banister that goes down a set of stairs there. I used to tell him stories about Peter Sellers coming in and sliding down the banister and running towards us because we were doing a record with him about a film he had just written and was in called 'After The Fox'. We were doing the title film music with Burt Bacharach. That was a memorable day, singing with Peter Sellers. Wonderful.
Jason
You wrote a gorgeous song 'Lullaby to Tim' for The Hollies 'Evolution' album released in 1967.
Allan
I wrote that about my son on my own. The only thing that I hated about that was that our producer said Graham should sing it. I thought 'Why the hell should Graham sing it?' But he got away with it. It's the only thing that I regret in the recordings that I didn't actually sing a lullaby that I'd written for my son.
Jason
It's got a sixties effect on the vocal.
Allan
It's got a wobble on the vocal. Maybe Graham was on something that day, you never know!
Jason
That's why I like The Teenmakers cover version because it's more simple.
Allan
Well, it was a lullaby. Miky Dolenz recorded that too. It was on one of his box sets that was sent to me.
Jason
There's a song released in 1967 called 'Bird Has Flown' by The Socitie. I understand you produced it?
Allan
We used to have a publicist called Alan McDougall. It was his son's band that they asked me to get involved with them. So I took time out to help with the recording. Unfortunately it didn't do anything which was a shame. Recently somebody sent me a disc from Australia with all the things I was involved with, publishing rights. I thought on listening to it that it was too echoey. There was a lot of echo used in those days. But that was just a one off to help somebody.
Jason
You didn't produce much else at the time.
Allan
No, I was busy with The Hollies. I recorded Gary Leeds of The Walker Brothers and did a single for him that was very good. I don't really know what happened to it. I would have thought it would stand half a chance being it was Gary Leeds, but he was never the front man.
Jason
Which track was that?
Allan
'Hello, How Are You'.
Jason
You wrote 'Would You Believe'. The Hollies and Nicky James did it and you did also recorded it solo.
Allan
Yes, I did it when I wasn't in The Hollies. I decided that the version that I did with them wasn't what I wanted to do. Although it's down as Clarke, Hicks and Nash it was my song. So when I decided to do the Headroom album I decided to re-record it the way I thought it should be done. I really think that I produced a better song.
But Nicky James was one of the crowd that used to hang around with us in Hampstead. I lived there and there were always people around that we got together with and maybe helped each other as songwriters or get them a publishing deal. Nicky James was one of those guys. He was a friend of my family. Mind you I don't think I've ever heard his version. I don't think he had a deal or that it was released. Was it?
Jason
It was a single on Philips but it must have sank. The 'Butterfly' album which featured The Hollies version of 'Would You Believe' was the last LP you made with Graham.
Allan
Yes, it was more or less the album he took over and decided that the songs the he'd written that he wanted to sing and do the harmonies. We let him have his way. We thought 'Maybe this guy has something that we don't know about'. Ok it was alright, it sold very well but didn't take us into the stratosphere. I've spoken to Graham about this when I've been in the States. At that particular time he was very unhappy with the group. It wasn't going in the direction that he wanted it to go.
I suppose Graham got tied up with Crosby, Stills and Neil Young who he'd met previous to that when we went over to Los Angeles when we were all mucking about musically. He fell in love with that way of life and wanted to be a part of it. I think he tried to do that with us but it didn't work. We weren't a West Coast group, we weren't American. We were just guys who got together and wanted to do good music and I think that came across with most of the hit songs that we had. Graham wanted more than that.
Jason
There's another great song off 'Butterfly', 'Step Inside'.
Allan
I really like 'Step Inside', it's a good song that should have been a single. That should have been a follow up to 'Bus Stop' or 'Look Through Any Window'. It had that kind of feel to it. But the powers that be said no.
Jason
I must mention the song, 'Wings' that you wrote with Graham.
Allan
George Martin came to us once and he was doing this album for wildlife, one of these charitable things that Spike Milligan was involved with. He asked us if we had any songs that would be good for that type of thing. So we wrote 'Wings' for that album and gave it to the album. I think The Everly Brothers did 'Wings' later on too, I'm not too sure.
Jason
After Graham left you carried on and came out with some massive hits. The next single you did was 'Sorry Suzanne'.
Allan
Well, you know, what are you supposed to do? I had a family, I had to earn the bread for them to eat and I had to get on with things. I suppose Graham did me a favour by leaving. It was not one of the best things to happen to me but it made me grow up in the way I had to take over things. I had to make decisions that maybe Graham used to take. Terry Sylvester took over very well from Graham. 'Sorry Suzanne' being there at the right time was the right type of song for The Hollies. I think it made number two and making number two after Graham had left was like having a number one. There was no gap in between Graham leaving and us having a hit single. I don't think that it ever crossed Graham's mind that he thought 'Hey, you're not going to get anywhere without me.' But we proved him wrong.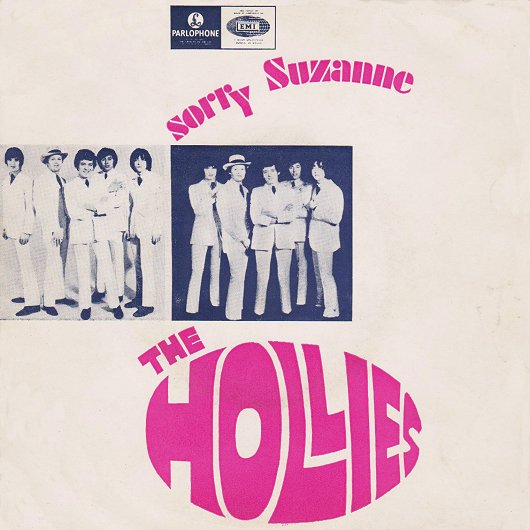 The Hollies, Sorry Suzanne, Portuguese EP, 1969 from holliescollection.co.uk 
Jason
And, I'm sure that it wasn't the intention, but you proved him wrong in an even bigger way with 'He Ain't Heavy, He's My Brother.'
Allan
A fabulous song that came out of the blue again. It was one that Tony found. It was just on a publisher's desk. Tony said 'What's that?' and he said 'Have it. It's a song called He Ain't Heavy.' He brought it again to Ron Richards. We thought that maybe ballads weren't our thing at that time but the actual message of that song got through to us. We thought that we've got to give this song a chance. It was beautifully orchestrated, the production on it was marvelous and we got really good vocals out of that.
It took a while to get into the charts but it did slowly and went straight to the top. To actually find a song like that, which to me is a classic, it has to prove itself to be played time and time again. It always tugs at your heart strings. It's been a hit three times in three generations. I wasn't on the last one, it was for charity and was for a good cause. To have a hit with 'He Ain't Heavy' in 1969 and 1988 it just shows you just how good the song was.
Jason
Elton John was on piano on that wasn't he?
Allan
He was. I think he played on a couple of our hits, I can't remember the other.
Jason
'I Can't Tell The Bottom'.
Allan
Yes, it wasn't my particular favourite but it did its job.
Jason
He did a version of that.
Allan
Did he? I'd like to hear that even though we didn't write it. We used to have Elton John's publishing. We signed him to our publishing company and Dick James stole him. (laughs) Just as he was getting well known.
Jason
Can you tell me about 'Long Cool Woman'? There's loads of versions. It's now a country standard and there's even a hard rock version by Vince Neil of Motley Crue.
Allan
My favourite song, the stories about that. 'Long Cool Woman' was on an album called 'Distant Light' which we were very pleased with. I wrote this song with Roger Cook who produced the second album which is on 'Sideshow'. I used to meet him in Park Lane where he had an office for Air Studios. One day I had my guitar and we had a bottle of brandy between us and we wrote 'Long Cool Woman'. It was very different from what I usually write. I went into the studios with The Hollies and Ron Richards was ill and got into starting 'Long Cool Woman'. Tony said to me 'You wrote it. You play the guitars.' I said 'Ok.'. I'd laid the guitar tracks down with Bobby, and Bernie on bass and then put the vocal on in two takes. The engineer mixed it and put the slap echo on my vocal and we said 'Right. That's a great album track.'
It was put on the album and then I left The Hollies. Not that I wanted to leave The Hollies I just wanted to do something different. I was writing things with Roger Cook and a lot of other people and I wanted to do things my way. The way I look at 'Long Cool Woman' is that was where I wanted to be, an off the cuff thing, and it happened so quickly.
I got a phone call from America from a company called Carlin Music and I wanted to know why they wanted to publish it. They said 'Well, it's racing up the charts. The Hollies have got a hit with it.' And there I was, I was the guy that sang the song. I was the guy that played guitars and I wasn't going to be able to go over there to promote it. But you know it made number two in America and virtually number one everywhere else in the world but in England. And in the end people like Motley Crue, Texas, quite a few people covered it. In the end it wasn't a bad thing to have done and I wish I had kept that song for myself. (laughs)
Jason
And around that time you released 'My Name is 'arold'.
Allan
'Long Cool Woman' would have been on that album.
Jason
There's some great tracks on there like Gerry Rafferty's 'Mary Skeffington' and 'Nature's Way of Saying Goodbye'.
Allan
That's right. Gerry Rafferty and Joe Egan of Stealer's Wheel played on 'My Name is 'arold'. I did 'Walpurgis Night' on that. I also did another song of there's called 'Johnny is a Poker Player' that didn't make it on to the album. Gary Brooker was on that album as well.
Jason
You worked with Gary with The Hollies in the late 70s didn't you?
Allan
The Hollies did for while I wasn't there again a second time but it didn't last long.
Jason
Didn't you work with him on 'Say It Ain't So Joe'?
Allan
It wasn't with Gary. 'Say It Ain't So Joe' was a brilliant song. I heard it and thought we've got to do it. At that time we were really doing some nice stuff with Ron. I thought that should have been a single. It may have just been a little bit long for a single but as a complete song it's fantastic.
Jason
'Who?' from your album Headroom was described as one of the greatest nearly-hits of the decade.
Allan
I wrote that when I was in a very sad mood. I like that song for its simplicity. At that time I was going through some difficulties really. That was my outpouring. People listening to it have their different minds about what it means but I know what it means to me but I can't tell you.
Jason
And that was released instead of you version of 'Drift Away'.
Allan
Yes, I found the original by Mentor Williams in a publisher's office and thought what a great song. So we went in and just did it like we were doing a gig. I thought 'That's really good, 'Drift Away'. That should be a single.' But as you say they wanted something else. I was quite pleased they chose 'Who?' as it was my song and it was representative of how I would sing that type of song. I think it has a lot of emotion in it.
Jason
You went back into The Hollies. I understand they asked you to come back in the fold.
Allan
Yes, they did. I think it was about a two and a half year gap. Well, you know I didn't want to leave in the first place. It was thought that if I was successful in the first place that they would have to go on and replace me anyway. So they decided that I should leave and do my solo career and never come back. I had a meeting with Tony one day. He said 'Look, we're missing you. Do you fancy coming back to the group and carrying on as we were?'. It was a no brainer to me. I said 'Yeah, let's do it. Let's get on with it. Let's write some songs.' I think the first song I wrote was 'The Day That Curly Billy Shot Down Crazy Sam McGee'. So I wrote that song in mind that it could probably be a follow up to 'Long Cool Woman' but the gap had been too long. But it was a hit.
Jason
The big hit off that album was 'The Air That I Breathe'.
Allan
'The Air That I Breathe', another song just like 'He Ain't Heavy'. A classic song and again that's where Phil Everly came back into my life. I went to that same office where I wrote 'Long Cool Woman' in one day. The secretary of Ron Richards said that she'd just listened to a Phil Everly album and there was one song on it which was beautiful. She thought that I should do that song, obviously she meant with The Hollies. I listened to it and obviously felt that I wasn't going to be able to do it as well as Phil. So they said 'You gotta try. Do it the way Phil would sing it'. And that's what I did when we recorded it.' It's a beautiful song to sing, 'Harmony wise, Terry did a great job on that. To me, that's again a classic that will go on, and on again.'
When I look back at our past now, most on the songs that are played regularly are 'Bus Stop', 'He Ain't Heavy' and 'The Air That I Breathe'. People have tended to forget all the other songs that went in between all those. I think we had 35 or 36 hits. There's a lot there now-a-days that people don't know about The Hollies. We weren't just a three hit wonder.
Jason
I have a relatively recent double CD 'best of' The Hollies and I think there are 49 tracks and all of them were hits in some part of the world. Going back to your solo career, 'Don't Let Me Down Again' from the Allan Clarke album in 1974 was another case of picking a song from a relatively unknown artist about to go massive.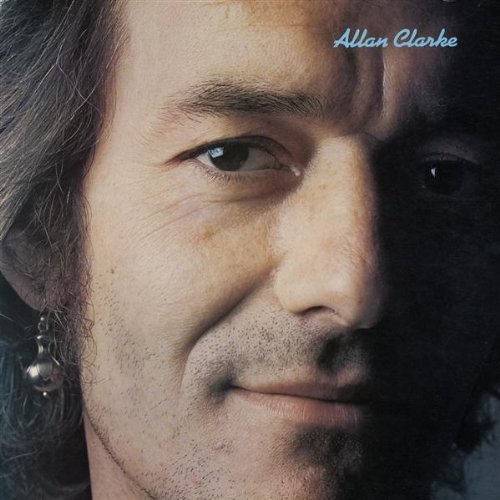 Allan
A friend of mine, Ray Glynn, did a lot of work on the album. He said that he'd heard these two, this sound, Buckingham-Nicks and that I should listen to the album which I did. The track that stood out was 'Don't Let Me Down Again'. Just wonderful. I thought 'These kids are great. Why aren't they bigger than they are?'. Well it was probably something that I probably saw before they did because they became Fleetwood Mac really didn't they?
I chose 'Send Me Some Lovin' for that album because I love Little Richard and he did that one even though he didn't write it. That's why I did 'If I Were The Priest', still don't know what it means!
Jason
In late January 1974 'The Air That I Breathe' came out and then just a couple of months later your 'Sideshow' single was released. How do you compete?
Allan
The 'Air That I Breathe' came out and it was a big hit and the guys weren't really doing anything at the time of the follow up, even though we were trying very hard. Going and doing an album with Roger was something that we both really wanted to do. He'd written what he thought were great songs that I could sing, things he's wrote with Herbie Flowers. So I said 'Let's go into the studio and let's do it. As long as I can pick three or four things I want to do on the album.' Really it wasn't trying to be competitive with anything that The Hollies had done. It was just something that we wanted to do.
We thought that 'Sideshow' was probably the one that would be more accepted by the public because it was more like the hits that we'd had before like 'We Ain't Heavy' and 'The Air That I Breathe'. It was more pop-ish. So we did that because we thought that was the way it should be. There are a lot of other great songs on there.
Jason
'I Wanna Sail Into Your Life'.
Allan
I know. Epic. That was Roger's baby, it was his song.
Jason
Great songwriter.
Allan
Fabulous. I'm still in touch with Roger. He lives in Nashville now. He's always saying 'Come on over. Let's write again. Let's write some cowboy songs.' (laughs)
Jason
You recorded 'Blinded By The Light', another Bruce Springsteen song, for your next album 'I Got Time'.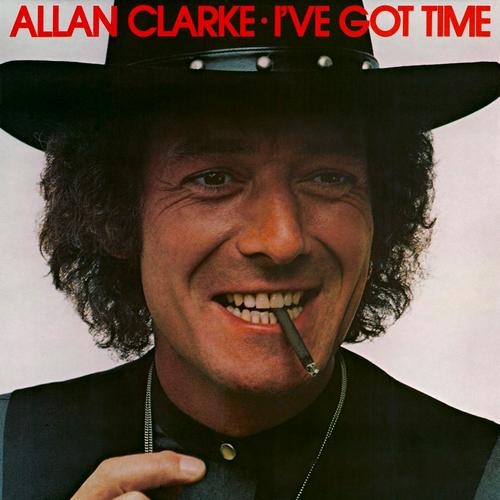 Allan
That was another that I'd heard off Bruce and was the choice of Spence Proffer, the publisher. I left it to him to pick the tunes. We collected 24 songs that he wanted to represent my voice and we boiled it down to the ones that are on the album. How can you not want to sing that song? We tried to do it a bit different to what Bruce did. It's a good cover, I enjoyed doing it.
Maybe not my favourite on that album. The two that stood out the first time around were 'Stand By Me' by Chip Taylor and 'The Long Way' by Dan Fogelberg who I always admired. When I first heard 'The Long Way' I thought that'd I'd really love to sing that song and I thought that I could do a decent job. I thought that it could have been the type of song that could have been the follow up to 'The Air That I Breathe'. It has a really good sentiment about it. 'Stand By Me' is rock and roll really and in my heart I'm a rock and roller.
Jason
There's a song The Hollies released in 1980 that I love by Mike Batt, 'Soldier's Song'.
Allan
We went in and we did three tracks with Mike and 'Solider's Song' was orchestrated. I could probably sing it a lot better now than I did then. I think it was a good song and should have charted. We actually did a song at the same time called 'If The Lights Go Out' which Katie Melua did and I thought that was a brilliant song. I thought that should have been the single and not 'Soldier's Song'. It was one of those songs that when you hear it, it gives you the feeling that you want to hear it again and again. A great song, should be put out.
Jason
Is that in the vaults then?
Allan
It's on one of the box sets called The Hollies 'The Long Road Home'. Most of our stuff is on that, but not all of it.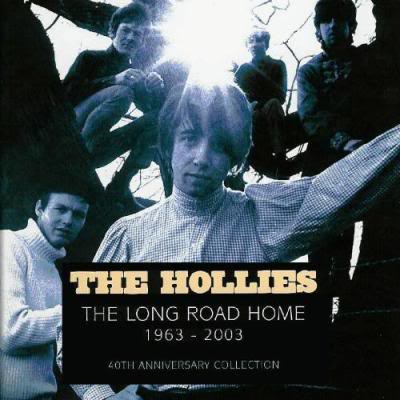 Jason
Last year there was a Hollies tribute album called 'Re-Evolution: Fruits de Mer Sings The Hollies'. I was privileged to write the sleeve notes. It's a whole load of new bands singing mainly the material you wrote with The Hollies in the 1966-68 period. For me it represents the legacy of the Hollies. I don't think it's just with the pop hits, it's also with some of the more psychedelic stuff.
Allan
I'd like a copy. It's forever changing with the times. We had such a prolonged career you can't stay the same all the time.
Jason
You were inducted in The Rock and Roll Hall of Fame a few years back as part of The Hollies.
Allan
It was fabulous. There was a little bit of a worry that I wasn't going to make it. I was emailing Graham and he was emailing me. Tony and Bobby weren't going to go. I thought 'This has got to happen. You can't just say no to something like this'. At that time I thought 'I haven't been singing for the last 12 years. Am I going to be able to do this?'. Graham just said simply 'Just leave it to me.' That was good enough for me so I said 'Yeah, let's me and you do it.' That's what happened.
It was one of the best things that I've ever done and I will remember it for the rest of my life. It was just a magic evening. To be presented with such an honour. To be put in The Rock and Roll Hall of Fame with the likes of Buddy Holly, The Everly Brothers, Elvis Presley, Prince and all those over people, was just a great thing to happen for me. For somebody that used to work in the mill.
We did 'Bus Stop' and 'Long Cool Woman'. It was great because I had to teach the band to do the riff for 'Long Cool Woman' at the beginning. (laughs)
Jason
There's a song that I love of yours from your solo album 'Legendary Heroes' called The Survivor. I think that's one of the best songs you've written. It's absolutely fantastic.
Allan
I met a guy, Gary Benson. He had a number one hit with one of his first records. I did a lot of writing and did about four albums with him. There's more stuff out there that people haven't heard unfortunately. I was proud of every one I did with him.
Jason
You had a hit, 'I Will Be Your Shadow In The Street', with him didn't you?
Allan
Well you say a hit. It was top 30 in America. I would have liked to have got in the top 10. That would have made a whole lot of difference.
Jason
You were at the Royal Albert Hall with Crosby, Stills and Nash a few years back.
Allan
The Buddy Holly Education Foundation made 25 copies of Buddy Holly's guitar that he wrote all his songs on. It's quite an iconic guitar. They took all the frets from the original and put one fret in each of the copies. They wanted to present me one with and other people like Phil Everly and Graham. It was when I went down to The Albert Hall to have the guitar presented to me by Graham he said 'Do you want to come up and do a song?'. He had said it in his email previously and I didn't think he'd done it seriously. He said 'Yes, just come on and let's sing 'Bus Stop'.
So I was at The Albert Hall with Graham Nash and David Crosby, opening the second half. Graham introduced me, I walked on and I got a standing ovation at The Albert Hall which was nice. We did 'Bus Stop' and that I thought I sounded ok, not my best but it was a happening for me. It went viral on YouTube and all that sort of thing.
I've got the guitar for life and it has introduced me to a lot of people who I wouldn't ordinarily have met. I went to Abbey Road Studios last week and I met all these wonderful people, Albert Lee who was one of my favourite guitarists, was presented with a Buddy Holly guitar. I was there with Bruce Welch. It was a wonderful day out. I'm doing as much as I can for the Buddy Holly Education Foundation which has been set up for underprivileged children who wouldn't ordinarily get a chance to be involved in music.
Jason
Are you writing material at the minute Allan?
Allan
Well, I've never stopped. I jot lyrics down. At the moment I've got somebody doing a song that I wrote called 'A Love That Never Blooms'. I sent the lyrics to this particular person that I like and she's putting music to it. So I'm just waiting to see how that turns out and get back into doing a few more lyrics and maybe doing a few vocals here and there. But never going out on tour or anything like that.
Jason
Nothing too big.
Allan
(laughs) Well I did that for over 40 years. And though I miss it slightly I wouldn't want to go out and do the tours that I do with The Hollies which they're still doing by the way. I wouldn't want to be a part of that sort of circus again. But how knows? I've had lots of offers by lots of people but I'm not really ready for that yet.
Jason
You seem in a good place.
Allan
I am in a very good place. I've got a great family and have got great grandchildren. Life's been good and I hope it carries on being as good to me.
Allan Clarke at the Rock and Roll Hall of Fame Ceremony, 2010
Jason
That's what's important.
Allan
It certainly is.
Jason
Allan, thank you so much for your time. I can't tell you how much of a privilege it's been. It's been amazing to be able to spend some time with you.
Allan
If you ever want to do an update just let me know. Thank you.
Allan's excellent Sideshow (Solo Recordings 1973-1976) CD set is available now on RPM Cherry Red.
More information can be found at an official Facebook  page devoted to Allan.
Copyright © Jason Barnard, Allan Clarke and Cherry Red 2014. All Rights Reserved. No part of this article may be reproduced without the permission of the authors. Photos where uncredited are assumed to be in the public domain.