By Jason Barnard
Long out of print, John Lydon's excellent 1994 autobiography, Rotten: No Irish, No Blacks, No Dogs sees a welcome reissue. It's a vivid picture of John's childhood and formative years until the break-up of the Sex Pistols. Unrelenting honest and darkly funny, it vividly captures his time growing up in an Irish family in the north London in the 1960s and 1970s. Amongst Lydon's memories is his dogmatic refusal to accept the status quo and railing against issues and contemporaries is (school, monarchy, Malcolm McClaren); a theme that would shape his life.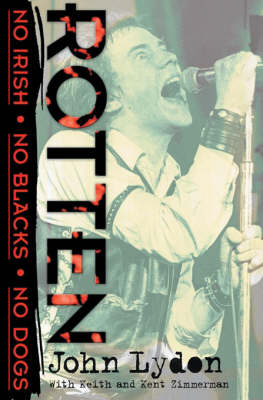 He gives over sections of his story to his friends, plus a piece from his father giving a touching perspective. His time in the Sex Pistols is covered in great detail, almost repetitively so. However what it does show is the tension between band members and the different forces that created such a incendiary band – Glen Matlock's commercial edge, Steve Jones and Paul Cook's power tied to John's sneer and cutting lyrics.
It's difficult to articulate this better than the man itself so I will give John the last word: "You cannot separate the Sex Pistols from the real world, which is what past publications have tended to do. In order to understand why people do what they do, you must first understand why they've done it, who they are and where they come from." Indeed.