Review by Jason Barnard
Expanding the template that English psychedelists The Chemistry Set successfully laid out in their recent releases, new long player 'The Endless More and More' is another essential record.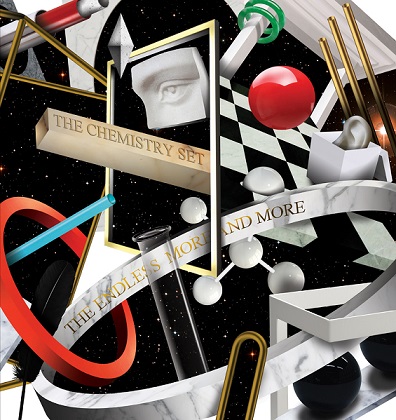 With a stunning gatefold sleeve and gold vinyl the contents live up to the presentation. Opener 'The Splendour Of The Universe' shows the best of the group bringing Arthur Lee, UK indie and English vintage psychedelia into one intoxicating mix.
Dave McLean and the guys had to much to dream with 'The Fountains of Neptune' before placing EP favourites wistful psych 'Time To Breathe' and instant anthem 'Come Kiss Me Vibrate And Smile'.
'Winter Sun' reaches back production wise to 67 Hollies and Traffic tied to its gorgeous melody. 'Albert Hoffman' conversely gives us a more Barretesque, Arnold Layne, take on the era. 'A Cure For The Inflicted Afflicted' gives a cutting response to the vacuous social media celebrity culture tied to a blistering guitar riff.
The Maccaesque 'Crawling Back To You', and archetypal Chemistry Set tune, 'Elapsed Memories', share lyrical themes albeit different aural palettes. Closing with 'The Open Window', which brings their Indian influence to the fore giving us time to breathe.
March 2016 update – The Endless More And More – Plus Bonus Tracks edition is currently available through Bandcamp:
thechemistryset.bandcamp.com/album/the-endless-more-and-more-plus-bonus-tracks
See also
www.facebook.com/TheChemistrySetUK/