Bitter Buttons records
Review by Jason Barnard
Bristol's Schnauser has been crafting left-field psych pop  for the best part of a decade and recently released their latest offering Where Business Meets Fashion. Brewing elements of The Beach Boys, Odessey and Oracle and The Flaming Lips their new platter has been on constant rotation on the Strange Brew hi fi. This is due to the strength of their song writing that echoes the sort of thing that it would be lovely to see Andy Partridge doing these days.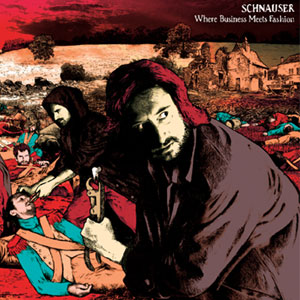 Opener "Showers of Blood" is a rocky opener that blends into a gentle chorus and a Broadcast like middle eight, "Walking stick and cat" wouldn't be out of place on a Bonzos LP with its quirky lyrics and Neil Innes melody. "I Would" goes all Burt Bacharach mixed with a smidgeon on Curt Boettcher.
"Dinner Party" and album closer "Westward Ho"" turns up Brian Wilson to 11. This is all washed down with lead singer Alan Strawbridge's eye for a witty lyric plus always inventive musicianship from the whole group.
[tubepress video=em8PlOvCTg4]
Please do check out this great band and their excellent new album Where Business Meets Fashion:
http://schnauser.bandcamp.com/music