Celebrated singer-songwriter Roy Harper, embarks on 4 live dates in the UK to celebrate his 75th birthday this September. With a string and brass ensemble he plays Birmingham, Manchester, Edinburgh and London.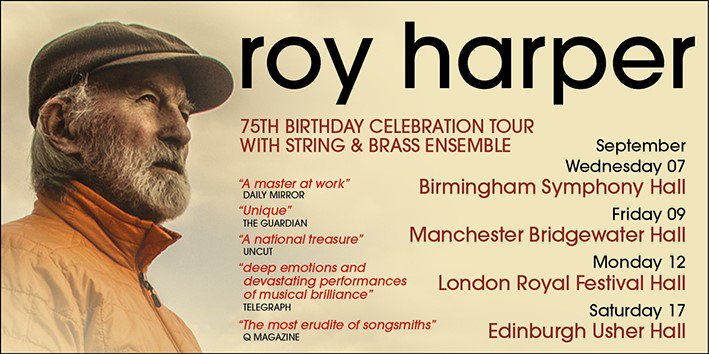 Whilst he had a deep back catalogue to draw from for his shows, he also continues to produce critically acclaimed material . 2013's 'Man & Myth' album released after a 13 year break saw career high reviews with tracks like 'January Man'. Hailing from the 60s folk counterculture, his 50 year career culminated in in 2013 with a BBC Radio 2 Folk Awards Lifetime Achievement Award and the broadcast of 'Roy Harper: Man & Myth – The Documentary' on Sky Arts.
To coincide with this landmark tour he is also reissuing much of his catalogue on vinyl from September 2nd, starting with classic albums 'Flat Baroque and Berserk', 'Stormcock', and 'Lifemask'.
"This year, I celebrate my 75th birthday. In my 30's, my lifestyle was such that I could never have imagined that I'd live as long as this, but here I am. Perhaps because I thought that my life might be shorter than this, I've tended latterly to want to celebrate significant milestones, so here we are… I'm really looking forward to being out there again. It'll be really great to see old friends and new, and be in that heady mix of the song and the moment on a stage again" ROY HARPER MAY 2016
More information available at: royharper.co.uk