Grapefruit Records
By Jason Barnard
The new Grapefruit Records compilation 'Hello Everyone: Popsike Sparks from Denmark Street 1968-70' collates records released on the cult British label Spark. Although capturing fairly obscure releases for just a few short years it's bursting at the seams with was is now known as pop-psych.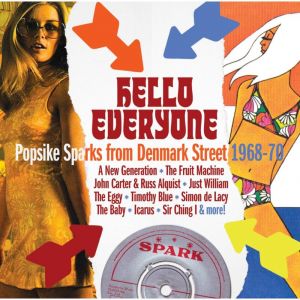 I don't like this era just for the lysergic lyrics, experimentation and the gorgeous sound. Well that's good enough on its own. Indeed Spark was set up as the new recording arm of Southern Music the tracks frequently used the same musicians in the Denmark Street building ensuring a unity of sound throughout its 27 tracks. 
However ultimately it's the songs – strong melodies, hooks and a pop sensibility. This collection has that in abundance. It's not progressive nor particularly groundbreaking, but just marvel how incredibly there's barely a hit to be had, despite the quality. Typical of this is the ridiculously rare Sir Ching I's 'Hello Everyone' that kicks off the CD with its insistent beat and mellotron backing played by Barry Kingston, the single's producer and co-writer.
[tubepress video=gaLmQ2gLmOo]
Those familiar with the Electric Lemonade Acid Test sets, long out of print, will know many of these tracks but this new Spark anthology ensures each track is presented in this best sound quality possible in one place with comprehensive sleeve notes. If you are already acquainted to Spark then tracks like Timothy Blue 'Room At The Top of the Stairs' and A New Generation's  'Sadie And Her Magic Mr. Galahad' will already be seen as classics.
[tubepress video=QcD08zOGr7Q]
Other gems include Val McKenna's 'House For Sale' with its  sumptuous baroque backing tied to soulful vocals. John Carter and John Alquist's gentle 68 release 'Midsummer Dreaming' echoes much of The Flowerpot Men sound that John has such such success the year previous.
Wanna hear Eartha Kit psychedelicise Donovan? Of course you do! Her versions of 'Wear Your Love Like Heaven' and 'Hurdy Gurdy Men' are worth the admission alone.
Ultimately there's far too much to capture here in just one post. However if you want little known Sorrows side projects (The Eggy), short-lived pseudonyms (Just William) tied to magnificent pop-psych, and much, much, more this is an essential purchase.
http://www.cherryred.co.uk/shopexd.asp?id=4524