Review by Jason Barnard
It's always a welcome to hear new music from this Paris-based "pop-modernist" collective, French Boutik. Earlier this year their lead singer Gabriela Giacoman was kind enough to be interviewed on the Strange Brew and explained that the group are "pop in the classic vein, with lots of harmonies and organ, original songs that are inspired by lots of French, English and American 60's groups that we love but also modern groups."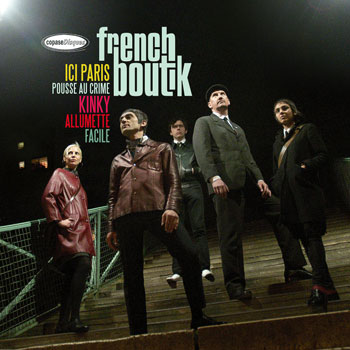 Their new double 7" single "Ici Paris" certainly blends all those influences into another excellent mod Anglo-French platter. The title track shows a soulful side hinting of French sixties girl pop with a smidgen of Pulp's "Razzmatazz". "Pousse au Crime" is a more darker proposition with a film-noir style backing tied to a strong chorus.
[tubepress video=rRyi8I4lu74]
Turning over to disc two we hear organ driven "Facile" with lovely hand claps and catchy guitars. Last but not least "Kinki Allumette" wouldn't be out of place on the Belle and Sebastian's classic "The Boy With The Arab Strap" with its jaunty tale of getting to band practice despite a metro strike.
These four tracks encapsulate the best of French Boutik and are charmingly produced, sung and performed. I recommend seeking out this admirable release via CopaseDisques 
Find out more at: https://www.facebook.com/frenchboutik