By Jason Barnard
For the first time Grapefruit/Cherry Red have compiled the complete recordings from Chelsea based beat band, Five's Company.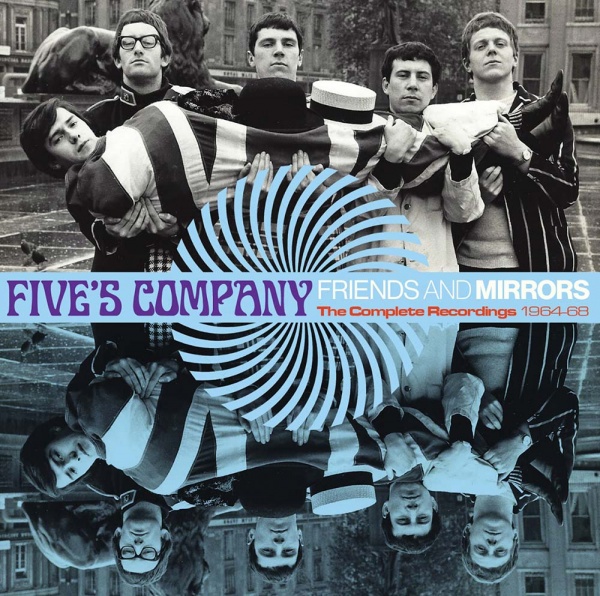 The band released three singles in 1966, Ango-Dylan hybrid 'Sunday For Seven Days', the jaunty 60s pop of 'Some Girls' and excellent Ray Davies cover – 'Session Man'. Rejected 4th single 'Friends and Mirrors' is arguably the strongest with its pop-psych sitting neatly alongside 'Session Man', reflecting mid-60s swinging London.
After being dropped by Pye the band went their separate ways. Bassist Bob Brunning would join the nascent Fleetwood Mac and it was though Bob's link to budget label Saga that Five's Company were reactivated. To cash in with the times, Saga gave a swiftly reconstituted line-up the opportunity the record a psychedelic album in 1968. When 'The Ballad of Pixie Fred' was released the next year it was clear that it would have benefited from a lusher production but nevertheless a core of songs shine through.
'I'm A Big Boy Now' and 'Now I'm 64' wouldn't have been out of place on Kinks and Bowie releases of the period, whilst 'Happy To Be Here' recalls Manfred Mann in early D'Arbo mode.
With extensive sleeve notes, rare photos and a slew of rare material it's a great window into London beat scene. Recommended for fans of Manfred Mann, Hedgehoppers Anonymous and early Kinks.
www.cherryred.co.uk/product/friends-and-mirrors-the-complete-recordings-1964-1968