Three classic psychedelic albums were being recorded at Abbey Road in 1967 – The Beatles' Sgt Pepper, Pink Floyd's Piper at the Gates of Dawn and The Pretty Things' S.F. Sorrow. While the former two albums went to massive commercial success, S.F. Sorrow – without the full backing of EMI was lost. This dark, tough psychedelic box of tricks was the first complete rock opera but on its release in 1968 did not get the recognition it deserved. Thankfully, years of discovery from artists and music lovers alike have shown that the Pretty Things masterpiece stands proudly amongst its two Abbey Road cousins.
The Pretty Things have regrouped a few times to play S.F. Sorrow, with live recordings released and now Fruits de Mer have brought together today's best psych artists to reinterpret this landmark LP with Sorrow's Children – The Songs of S.F. Sorrow.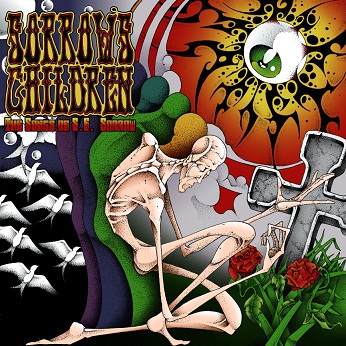 As a whole the songs, of course, still stand up exceedingly well and are deconstructed and presented afresh 45 years on. They provide a great thread for this diverse group of talented musicians to hang together.
Getting the LP off to a blistering start is The Luck of Eden Hall's "SF Sorrow Is Born" respecting the original and playing it with aplomb. Sky Picnic bring out the Indian influence of "Bracelet of Fingers" to afore melding the track with sitar and tabla dynamics. Sidewalk Society, as usual, present a peerless interpretation of one of the album highlights "She Says Good Morning" – listen to the great guitar solo in the tracks outro. Hi-Fiction Science bring "Private Sorrow" bang into the modern era with a very different indie feel and infectious cyclical guitar, bass and drum hooks. Wow – back to the sixties, but then Hawkwind and then punk with Brian Langon's Langor playing "This Balloon's Burning" – play loud of course. The Seventh Ring of Saturn's "Death" – just imagine Roger Waters tackling the Pretties – you get the picture. Senrab Mendips end Side One with a punchy acoustic "Baron Saturday".
Runtime

1:55

View count

899
Extra's "The Journey" eases me beautifully back into things on the album's flip side before employing a number of psych studio tricks rarely heard these days. Earthling Society expertly blend hard rock, harmonies and lots of psych for "I See You" before Jay Tausig takes us deep into the dark heart of the experimental "Well of Destiny". "Trust" has always been one of favourite tracks and The Gathering Grey certainly deliver – listen to that middle eight. "Old Man Going" by King Penguin captures the deep melancholy of S.F. Sorrow but brings it to anthemic effect as the song reaches closure. In a similar way The Loons garage rock take of "Loneliest Person" is almost celebratory, compared to the sorrowful folk original and is a perfect way to end this album on a high. But wait – we have a bonus – The Pretty Thing's playing "The Loneliest Person" live stripped bare on Dick Taylor's electric and Phil May's rich vocals.
Allied to a great piece of artwork this Fruits de Mer classic will sell out immediately and be highly sought after. If you want a piece of future psych history grab it with both hands on its April release.
http://www.fruitsdemerrecords.com/sf%20sorrow.html