Tony Hazzard is one of the sixties and seventies most successful songwriters, penning hits for Herman's Hermits, The Hollies, Manfred Mann, The Tremeloes, Richard Barnes, Lulu, Andy Williams plus writing tracks for many other artists.
However, he's also notable for his session work including three of Elton John's early albums. Additionally, Tony produced a number of critically acclaimed records in his own right. After a break from the record industry Tony released one of his best albums last year and speaks to Jason Barnard about his career that stretches back almost 50 years.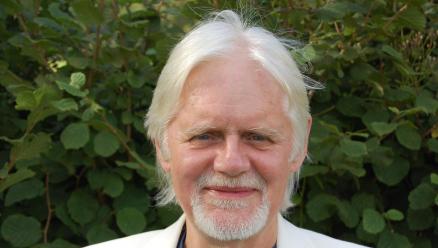 Tony Hazzard today (used with kind permission) 
Hi Tony. It's great to speak to you. If we begin with your background I understand, you're from Liverpool.
I'm from a little place outside called Rainhill that is now part of Merseyside. However, the main town was Liverpool. I used to go to The Cavern when they just had jazz bands and then they started having rock groups at lunchtime. I very nearly played there and would have done had I not gone to university in 1962. That was just before the Liverpool scene took off.
I used to go see Gerry and the Pacemakers and The Beatles. I remember seeing The Beatles around the time they went to Hamburg. They were in leathers looking quite rough. Gerry and the Pacemakers by comparison were much slicker.
So you missed out on a lot of that when you went to Durham University?
I joined a band there, well at one point I was in two. In one I played lead guitar and sang lead vocal in the other. That's when I started writing songs. A friend of mine was Sid Waddell who's now well known as a darts commentator. Back then he was doing research. He introduced me to Tony Garnett who was a story editor for the BBC. I played my stuff to Tony and he said "I think you're very commercial." I didn't know what commercial was. He said "If you want to get into the music business you've got to go to London. Look me up and I'll see what I can do."
My father kept writing to me saying "What are you going to do for a living?" I didn't know. One day the drummer in the band said "Why don't we go professional?" We were playing in working men's clubs in Durham so we learned the hard way. There's nothing like having to switch off when the bingo starts! Our bass player didn't want to do it but a former one did. I wrote to my dad about it and he said "Fine.". We had a residency in Acton in London and did some demos. Tony was great. He bought us a van and introduced me to more really interesting people like Dennis Potter the playwright and Ken Loach the film director.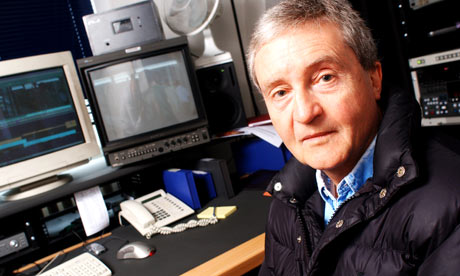 Tony Garnett (from www.guardian.co.uk)
He also introduced me to Gerry Bron who was the manager of Manfred Mann but Gerry just wanted me, not the group. I said to the band "What should I do?" and they said "Go for it." One of them later went to play with the Bonzos and Kevin Coyne in Siren. And the other is still playing with Acker Bilk. So all was not lost!
So you released a single in 1966 on Columbia, "You'll Never Put Shackles On Me".
It was originally called something else and was a slightly saucy song. They said "You can't put that out. You have to rewrite the lyrics." So I did. The recording session was arranged by Bill Shepherd who was well known at the time. It was all done live and I played 12-string, and sang with an orchestra. I did a few TV shows like Ready Steady Go and Thank Your Lucky Stars which was quite nerve wracking. Ready Steady Go was chaotic. You didn't quite know when you were meant to be starting and it was live but fun. Thank Your Lucky Stars was mimed.
But it didn't get in the charts.
No, it was in 6/8 time, a waltz time. Not particularly commercial.
So your first success was with Herman's Hermits who did "You Won't Be Leaving" in 1966.
Yes, that was about the same time. I was very lucky. I remember that great feeling of hearing it played on the radio. Your first song that is a hit. In fact that was written about university, my final year. Everything had a bit of a meaning somewhere for me even if nobody else knew.
[tubepress video=iIEdQdtlayg]
One of your most well known songs is "Ha! Ha! Said the Clown" recorded by Manfred Mann in 1967.
I'm pleased I wrote that. Sometimes I teach songwriters workshops and one thing I teach is to write from an original perspective. Surprisingly, young people these days know that title and the song.
My version is quite different. I did a Hungarian East-European thing. Actually it wasn't about a clown but rather  a comic in a night club. If you look at the words he goes to a show and the clown is a comic. The only thing I didn't like about the Manfred version is that the mellotron was rather sharp.
I was very lucky that Manfred Mann and I shared the same manager. Manfred was very pernickety about what he would do. He actually preferred simple demos but I did full ones. I heard a lot of demos sent in by Randy Newman and Bob Dylan and they were basic. Just piano or guitar and vocal whereas mine were more sophisticated. For him to do it was quite surprising.
[tubepress video=oaU1EN6gll0]
The other thing is that after I wrote "You won't be leaving" recorded by Herman's Hermits I had a gap, a dry period where I couldn't write. I was on a retainer and I was threatened that it would stop. I was writing to the best of my ability and I went into to see Gerry with the guitar and play some songs. I had four. I played the first three and he didn't like them. So I stood up and said "There's no point in playing the fourth one. I'm going." He said "No, no, no. Just play it." And it was "Ha! Ha! Said the Clown". A great big grin came across his face. He said "It's a hit!". I couldn't tell at the time what was a hit or wasn't. It nearly didn't get played.
"The Sound of the Candyman's Trumpet" is best known for being sung by Cliff Richard on Song for Europe. Was that written specifically for that?
No. I couldn't believe it when the publishers had entered it for Eurovision in 1968. I had clearly written it for a Mamas and Papas type group with the answering voices. It was actually written after an acid trip, my one and only because that was enough. In those days it was pretty powerful. That was what it was about. Candyman can be used in a number of ways. It's a North East reference, as when the sweet seller would come out he would blow a little trumpet to get the kids to come. I think it was also referred to as a drug dealer. There was a blues song Candy Man.
Yes. Donovan did a version of Candy Man.
Yes, so it's about all that typical sixties psychedelic stuff. That's why it's got references to "Palaces and halls. He can take you there".
The trumpeter on my version was David Mason who died last year. He played the same trumpet as he did on Penny Lane; a Bach 'piccolo' trumpet, smaller, and in a higher register than an ordinary one. The latter is in B flat while the Bach trumpet is in E flat. I wrote the notes for him until it came to the end, on which he suggested improvising, just as he had done on for The Beatles.
But the publishers entered the song for Eurovision. I couldn't believe it had got to the British final and Cliff was doing it. I heard that he really liked it and was his favourite of all of them. I was told that, I don't know how true it is.
[tubepress video=ZaTsTvDfGVc]
Was that the year that "Congratulations" got through?
"Congratulations" was clearly an obvious choice. But "Sound of Candyman's Trumpet" was on Cliff's EP of the British final.
You also wrote the "Princes and the Solider" recorded by Richard Barnes. That's a gorgeous song.
Believe it or not it was also done by Hall and Oates in the States in the seventies. I was surprised because they were quite soulful and bluesy.
I was pleased with the song. Again you have the clown thing again: "the clown cries", a toy clown. It's a triangle. The clown is in love with the princess but the soldier has got his gun aimed at him. There's a darker side to it.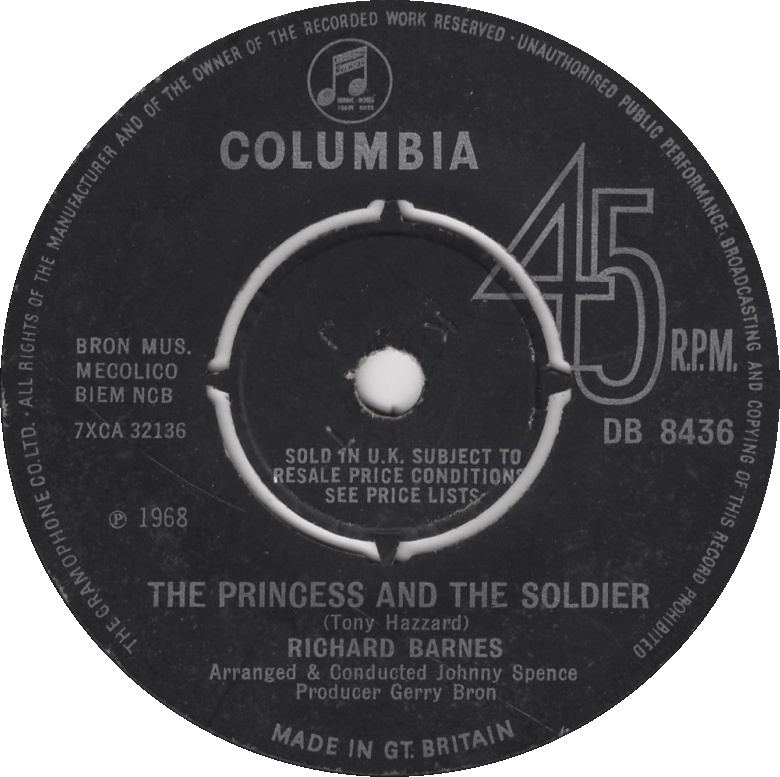 Richard Barnes, The Princess and the Soldier, Columbia B-side, 1968 (from www.45cat.com)
Was The Yardbirds single "Goodnight Sweet Josephine" withdrawn because it was controversial?
I don't know. In 1968 I was living in Clapham. There's a line "She's the queen of Clapham." I used to drink in a pub in Clapham Old Town, I think it may have been the Rose and Crown on Clapham Common. The police detectives used to meet there at night.  It's a jolly fun song although it's considered a bit saucy. I think Jimmy Page played on it.
[tubepress video=MnKCEC-xcwc]
You wrote "Listen to Me" which was a pivotal song for The Hollies as it was the last single to feature Graham Nash.
It was. I went to EMI at Abbey Road studio 2 when they where recording it. Graham was very keen on what I was doing. He was hoping that we would have a relationship, a bit like they'd had with Graham Gouldman who'd written songs for them. I heard that Allan Clarke didn't like the second song I'd played for them. We'll discuss that song later.
[tubepress video=Go7WW2IQEqU]
Did you get "Me, the Peaceful Heart" to Lulu through Mickie Most?
Yes. That's the only song I've written specifically for somebody. I'd first written a song for Lulu called "Bye Bye Heart" and the publisher who had connections with her thought it would be good for her. So we did a demo for her in Regent Sound in Denmark Street. It was Clem Cattini playing drums, I was playing 12 string guitar, Mark London the publisher was playing a piano. We didn't have a bass player. It was a cracking demo. The engineer compressed my guitar so it was very strange. She later recorded it as an album track.
Mickie had done several songs of mine. He'd done "You Won't Be Leaving" and "Good Night Sweet Josephine" and was looking for another song for Lulu. I wrote it and demoed "Me, the Peaceful Heart" in a week which was pretty fast for me. It often took me ages to write.
I played it to him and he said it was a hit. He copied my demo identically. I commented on it and he said "I get demos so good, I can't better them. What's the point if it's good?". I wrote a flute solo out for Colin Wood who also played keyboard, with Tat Meager  playing bongos under it. Lulu's version is really good. Jimmy Page also played on it. He really liked the demo and said "Will you send me a copy?" I said "Yes, I will". He said "I bet you don't." And I forgot! I owe him a copy. (Laughs)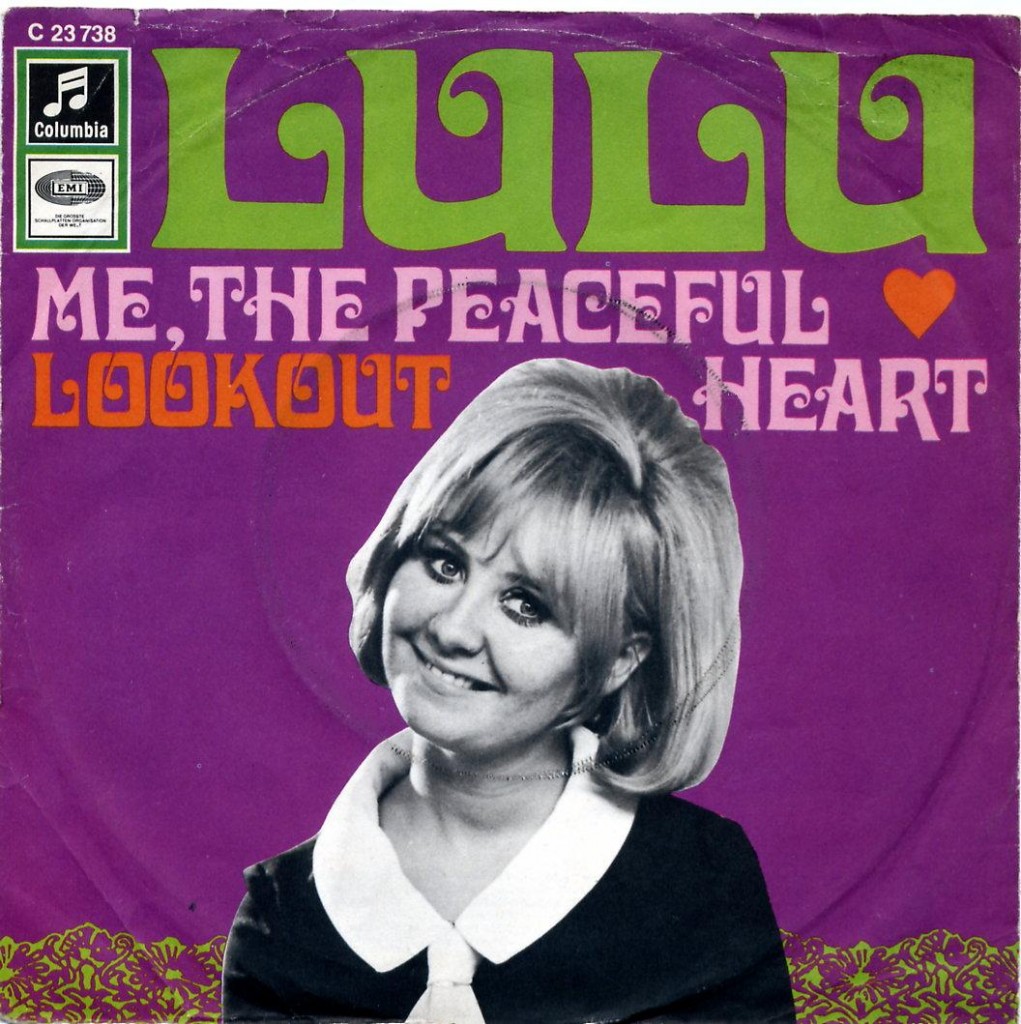 Lulu, Me The Peaceful Heart, EMI Single, 1968
Your song "Fox on the Run" was first a top 5 hit for Manfred Mann in 1968 but since then it has a life of its own.
Yes, it ran off with itself in the States. When I had a band at university and we went down to London we used to do much heavier stuff than I'm known for. I'd sing Ray Charles and Jimmy Reed songs, all this bluesy stuff. The things I like are very much like that, American country rock and blues. But I can't sing that. I used to like The Band and Ry Cooder. It was inspired by them, it was that sort of feel.
But it took off and went to the States. I've read that The Country Gentleman recorded it there first. I was moving house and I got an invitation through the post. I'd been invited to an awards banquet in Nashville given by the Country Music Association. Nobody had told me why. I thought "What's the point."  It was to pick up an award which in those days was very rare for an English person to have written a country hit, other than Roger Cook who moved over there. The award was for Tom T. Hall's version.
[tubepress video=8KuQILn2L2A]
Since then everybody's done it, all the main bluegrass people like Ricky Scaggs and Flatt and Scruggs. That's how people know it over there. You'd think I'd be rolling in money from it but I get very little royalties from the States. I don't know who's getting it!
Incidentally on the Manfreds version, I'm the second voice singing "Like a fox" on the overlapping harmonies, which we did at Olympic Studios.
Isn't there a Manfred Man connection with Cherry Smash who recorded your song "Fade Away Maureen"?
Yes, I think it's Mike Hugg's brother who was in it. Mike produced it. I heard it on the radio a few months ago and I thought that it's very good. The beginning sounds almost like Led Zeppelin, like Jimmy Page. It's a very good guitar riff at the beginning but the whole thing is. I like it more now than when I first heard it.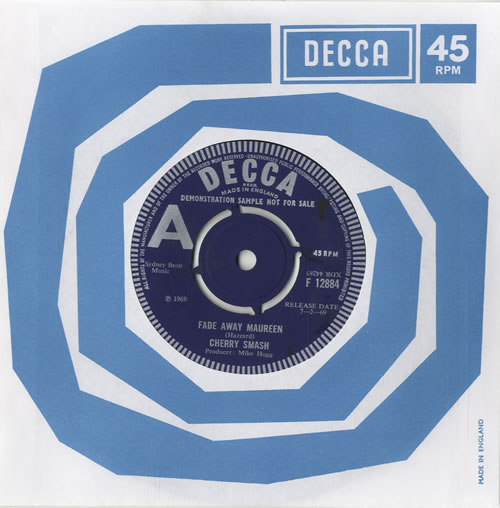 Cherry Smash, Fade Away Maureen, Decca Single, 1968
"Hello World" by The Tremeloes is another of your hits.
Cliff had done "Candyman's Trumpet" in '68 so, when Eurovision came round again in '69, I thought I'd try and write something. I thought that an obvious title would be "Hello World". But it got thrown out in the first round by the Music Publishers Association. In those days they selected the first lot. Mickie Most was part of that and said "You are throwing songs out that are hits." Roger Greenaway and Roger Cook had a song that I think was later a hit for Cliff Richard and The Tremeloes had the hit with "Hello World".
[tubepress video=6im2KbykbKM]
Turning to "Maria Elena" by Gene Pitney, that was another hit, certainly on the continent.
Certainly in the top 30 over here, maybe top 20. It was reviewed by Penny Valentine at Disc Magazine. She said that the song was too simple. Of all the songs I'd written you can't say that because the verses are in 4-4 time and the chorus is in 3-4 time. With a 4-4 going against it. Quite complex.
Gene was managed by Gerry Bron so when he was over here we'd meet up. I wrote and produced the b-side, "The French Horn". It was an excuse for me to use a french horn as I like them!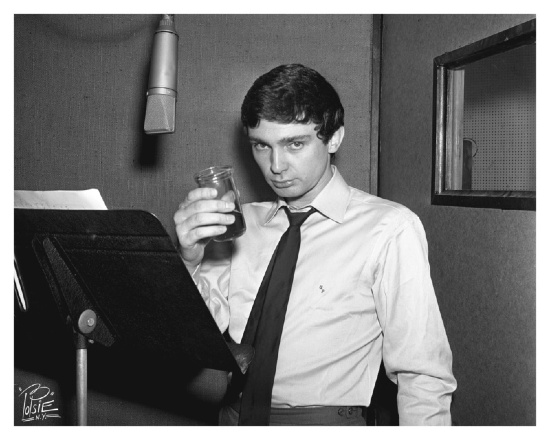 Gene Pitney
The Casuals recorded "Hello It's Me" for their album "Hour World" in 1969. A highlight of a very good album.
Again, my demo, just as we originally recorded it, is on my first album. I was really pleased with the song. I don't know whether someone played it to Mickie Most for Herman's Hermits but it would have been ideal for them. In the end The Casuals did it.
The Bluejeans released "Hey Mrs Housewife" in 1969 which was really one of The Swinging Blue Jeans last releases.
I had been friends with The Swinging Blue Jeans since my university days. At the rag ball at my first year at university I was put in charge of looking after them as I was from Liverpool.
We became great friends. Whenever they came down to London when I was there we would meet up for a drink. We'd also meet up for a drink when I was up in Liverpool. I remember one night I was up there seeing my parents and I had gone out for a drink with my dad. Ray Ennis phoned up he said "We're on the way to Manchester for a gig. We'll call in to the pub to see you." There was me and my dad sitting in the pub with The Swinging Blue Jeans. They said "Why don't you come?" I said "I can't. I've got my dad with me." They said "Bring him along!" So there was my dad at 1 o'clock in the morning in Mr Smiths Club in Manchester drinking Guinness. It was very funny. I caught up with Ray the last time they did the Silver Sixties tour and we had a drink then. Les Braid from the group was still alive at the time. Les and Ray were great friends.
That was a song that I played to The Hollies as I thought it would be good for them. So did Graham Nash, but they split. So I produced The Bluejeans record instead.
[tubepress video=WX9i7UwRDqc]
A lot of the songs that made up your first album "Tony Hazzard Sings" were from the run of hits that you wrote for other artists.
Gerry decided to put the demos together and struck a deal with CBS. For some of them we went back and tarted them up a bit. Tony Hicks from The Hollies added the guitar bit at the start of "Listen To Me".  "Ha Ha Said The Clown", "Hello World", "Me, the Peaceful Heart", "Fade Away Maureen" they were all the original demos un-retouched.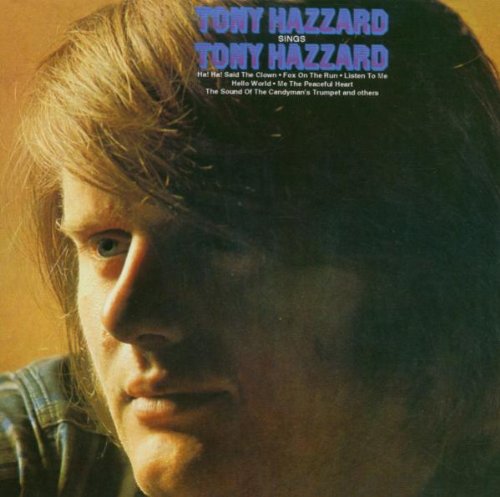 Tony Hazzard Sings, CBS LP, 1969
Graham Gouldman also released a solo record of his songs and what he did echoes what l did at the time.
Yes, your paths at the time were like mirrors.
We were contemporaries but we've never met each other.
You also wrote TV themes and jingles.
Last October, I was in London and had dinner with Mike Batt. We hadn't seen each other for 37 years. We just talked and talked. He'd done arrangements on my album "Loudwater House". I knew something about writing the dots out for things so I started doing arrangements. I would occasionally use Mike if I was doing a jingle. I did a jingle for Texaco which had brass on it. I did the basic track and get it to Mike and tell him what I wanted. He'd then orchestrate it. Some I just did on my own anyway. He then thought: if Tony can do that, so can I. So we sort of swapped roles in a way, he started doing  jingles and I started writing my own arrangements.
You also did session work on the early Elton John albums.
Yes, I've also done guitar session work. The first was in 1965 when I played on some demos for Tom McGuinness from The Manfreds. That was when Tom and I first met. I did a session for producer Mike Leander of a cover of "Michelle" by The Beatles. He'd written the dots out for the guitar at the start and I had to play it. I think I'd heard The Beatles version once. I even played sitar on a Mickie Most session for a girl band called She Trinity.
But I was doing backing vocals for loads of stuff, primarily through Lesley Duncan who was a friend. These days there's snobbery over what's cool and what isn't. In those days it wasn't like that. I did lots of sessions with Sue and Sunny. They were considered cool as they'd sung on Joe Cocker's "With a Little Help From My Friends" but they also sang on James Last albums which wasn't cool. But we didn't differentiate. It was just a session with good musicians.
I had been doing backing vocal sessions with Elton on other people's records. When he started recording his albums it was natural for him to pick us to sing with him.
Could you tell the quality of material straight away?
Yeah. He'd done the album for Dick James "Empty Sky". After Bluesology he started playing on his own. I remember doing a session with him and he said "I did a gig in Brighton last night just with piano and it went really well." Those albums were largely done at Trident Studios. I remember going and thinking "Crikey, this is good. The band and production were good. It was clearly something different."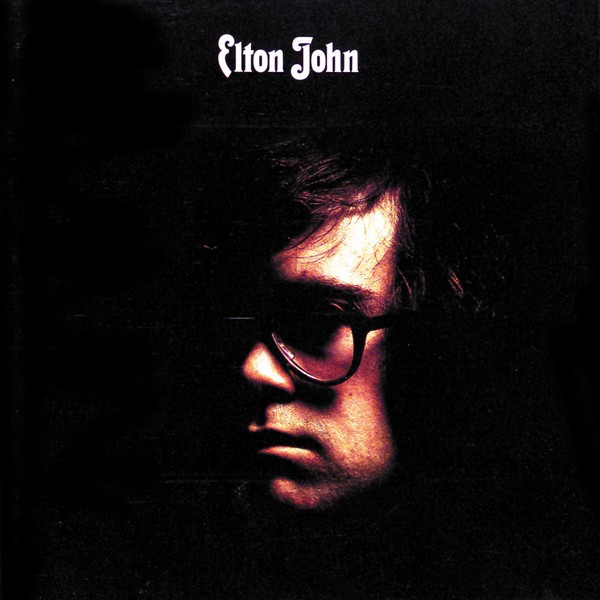 Elton John, DJM LP, 1970
In 1970 Richard Barnes had a couple of hits with your songs. Both brilliant records "Take to the Mountains" and "Go North".
I was very pleased with "Take to the Mountains", probably one of the best I've written. They were in the studio and I hadn't written the second verse. Gerry Bron, who was producing,  phoned me and said "Look, we're going to put the vocals on in a bit. Can you come up with another verse?" I sat down and concentrated and wrote the second verse out and phoned it in. It's one of the best bits of writing I've done.
The great shame about that record was that there was a strike at the Phillips factory at the time and the record was in demand. It was getting airplay but people couldn't buy it. It was hard to get hold of and didn't get in the charts.
But it was a turntable hit. Gerald Harper, the actor, had a show on Capitol Radio every Sunday morning. He played it every single Sunday. I bumped into him at Southampton Railway station. He looked a bit nervous when I approached him I said "You played a song of mine." He said "It was a pleasure. It's a lovely song." If people were able to buy it I think it would have been a big hit.
[tubepress video=IGxoHG1mPT0]
Yes. There's an Italian version by a group called The Prophets that was clearly a big hit over there as it's clocking up many thousands of views on YouTube.
Oh. I didn't know that.
"Go North" feels like a signature song of yours.
When Sanctuary Records put out the Bronze Anthology they called it "Go North". They prepared it without my knowledge. I didn't know I'd recorded it. I said "If I did, I must have rejected it as being not good enough." So I rushed into a studio and recorded it in one take and sent it into them. It's very simple, just me on guitars and a cello. I thought Richard's version was really good.
[tubepress video=PszJbOz2OMg]
"Loudwater House" the title track off your second album from 1971 particularly stands out.
Gerry came to me after all the hits. It was the time of the singer songwriter. He said "Look. Why don't you write an album. Write what you want to write, not worry about being commercial at all.". So it was just about my life at the time, where I was living, friends and relationships. Mike Batt did the string arrangements and we became friends from then on.
It's quite a powerful track.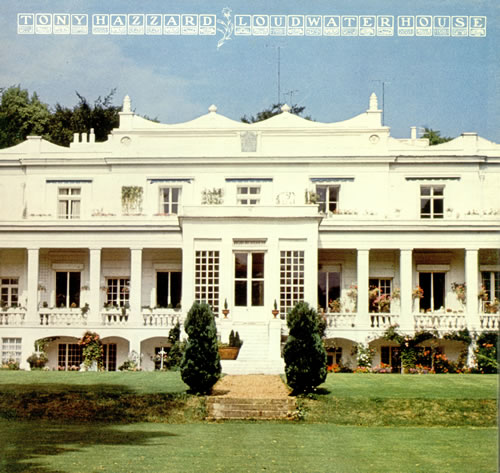 Tony Hazzard, Loudwater House, Bronze LP, 1971
It had many of the same musicians on that you played with on the Elton John sessions.
Yes, I was very taken with Caleb Quaye the guitarist. He was very distinctive. When you heard Caleb play he was not like anybody else. We also had BJ Cole, the pedal steel player, on "Loudwater House". We had Clem Clemson of Colosseum and Chris Spedding. But Caleb was great. The first session was at IBC studios. I booked these musicians. There was a very strange smell in the air at the time! I thought "Oh, god. It's going to be chaotic." I played the first track which was "Blue Movie Man", told them what I wanted and it was done in 40 minutes. Bang! It was great. Mind you the drummer was so stoned at the time he had to get someone to pack his kit up.
[tubepress video=446my6K7zrk]
Later BJ Cole played in my band that promoted my album "Is That Alright Then?" We played all over the place. It was fun. When Dave Greenslade couldn't play, Mike Batt would play piano.
I really like "The Potter" from the album.
It was about a friend of mine in Cornwall who was a potter. He did have a wife and a mistress. In fact I swapped it round as his mistress worked with him. He told me a story. His wife, who was lovely, had made tea and was taking the tea tray in. I had sent him the album and that track was being played. She just heard the line "My wife works by my side and my mistress in his bed." She threw the tea tray at him!
There's the song "Paul McCartney" too.
That's just a fun thing. Mike Batt played piano again. Toni Campo played bass and I wrote cello and euphonium parts,  as  a pastiche of The Beatles. Somebody told me that Paul heard it and quite liked it but I don't know how true that was.
A song off your next album "Was That Alright Then?" from 1973 became a hit for Andy Williams the following year.
We put my version out as a single and the BBC didn't play it. We also pitched it to Art Garfunkel. I had a connection with Art through Paul Simon's ex-girlfriend Kathy, whom I knew very well. So I used to hear inside stories about Paul Simon. She always wanted me to meet Art but we never did. She thought he and I would get on well.
Listening to it now it's interesting. The title of the album was for two reasons. "Loudwater House" hadn't sold particularly well and I thought "Well, was that alright, then?" And also I did everything on my own. I wrote the string arrangements, produced it, wrote the songs, and published them. There were times when I was doing vocal sessions that I'd say to the engineer "Was that alright then, that vocal?" So I decided to call it that. I think that it's the best album I've done. The problem is that it's unbaggable.  The tracks range from country to slightly jazzy;  caribbean steel band to string quartet. Record companies, and the public, like to categorise but you can't easily do that with that album.
[tubepress video=YF495c8jYwg]
So Andy Williams had the hit "Getting Over You". Peter Noone also recorded it but neither as good as yours.
Thanks. That was written when I was in Deia, a little village in Majorca. Well it was at the time, it's now well known to celebrities. Hence the reference to lemon trees.
[tubepress video=vvrN229l3u4]
Your next album in 1976 was with Richard Barnes.
That seemed obvious as we'd sung together on the demos. After he'd been in Jesus Christ Superstar, he started doing solo stuff, so we put a band together and did cabaret in the northern clubs like Batley Variety and the Fiesta Stockton. It was fun to do. I'd guest and he'd do a medley of my hits. I sang harmonies for him then. Nice thing to do, as I didn't carry the responsibility: it was great fun.
He does seem like the perfect foil for your writing.
We were like the British Simon and Garfunkel. I was the shorter, plumper one and he was the tall slim one!
[tubepress video=cyViJJdYZx4]
I've read that in the late 70s that you wrote a lot of songs that have never been published.
Some of those I did on the new album. The music world had changed a lot and my stuff wasn't trendy enough. I was just writing what I wanted to write. I did quite a lot of live stuff on my own in folk clubs and people really liked it but I couldn't get anywhere in the music business. At that point I decided to withdraw for a bit, I was banging my head against a brick wall.
You've mentioned Roger Cook. He went over to America and had hits over there.
I went to Nashville in 1978. I thought I'd try and get a record deal in the States because of "Fox on the Run" and Roger met me at the airport. The problem was that I didn't stay there long enough as I didn't really like Nashville. I went to LA, made friends and stayed there for a month. That was quite stimulating for writing but I didn't get a record deal. I got back and nothing was moving so I thought "I've got to get out of the business and do something else".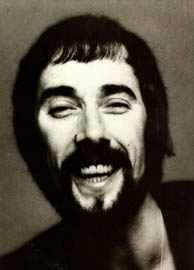 Roger Cook
The music scene changed completely.
I think it was when punk came in. I remember someone saying that a band had loads of energy and I replied: "But so has my dog!" I spent ages getting my guitar tuning right. I remember when Crosby, Stills and Nash formed. They came to London and rented a flat and rehearsed for nine months, despite the fact that they'd already been playing for ages. Their harmonies were spot on. But suddenly it didn't mean anything anymore. But I can see why it happened.
The other thing was that I was stale in what I was doing. I thought I needed time out: to let the land become fertile again. I think that applies to other people like Paul McCartney and Elton John who instead just kept going.
I think that much of the sixties petered off around 1974.
Yes, you can see the decades as the fifties from 55 to 65 and the sixties as 65 to 75. The late sixties and early seventies material hangs better together.
Your break turned out to be a long one.
I went to university to do psychology but I only did it for a year and dropped it, focusing instead on Latin, English, and Philosophy.  In a way I went back to it and retrained in psychotherapy and counselling. I ended up managing a drug and alcohol rehab. I did that for a few years and left. I did a lot of creative stuff, singing in choirs and acting.
Then I finished a song I'd started writing 15 years before and enjoyed it. So I started recording. But then I was asked to run a men's residential centre at short notice and temporarily but it ended up lasting four years. So that's why my last album took so long.
"Dream Of You Tonight" from your most recent record "Songs From The Lynher" is a great track.
Somebody heard "Dream of You Tonight" and said "It's a bit old fashioned." I don't think in those terms. It's about whether you like listening to the song. I like the track. I played everything myself. I think it stands up. It's funny with this album. I have been used to recording with really good musicians in big studios but that isn't possible now. I did everything myself and wanted to keep it really simple. There's so much on records these days I wanted it to be slightly under-produced.
People that have bought the album really like it, every type of person, young and old. But it's very difficult these days to promote something like this.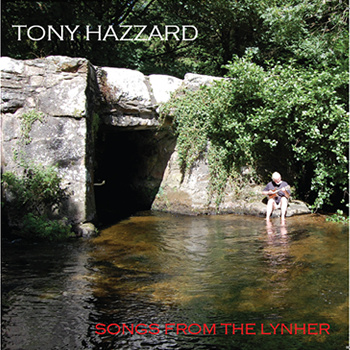 Tony Hazzard, Songs from the Lynher, www.tonyhazzard.com CD, 2011
Your new record, as you say, are just great songs reflecting on life.
I say it's songs for grown-ups. I'm going to keep writing and recording, but whether I'll put another album out I'm not sure as it's very difficult to get media coverage. I spoke to Neil Innes recently about this he said "Most people in TV are under 30. We're dinosaurs!" I think it's very sad. I know what will happen. I'll pop my clogs and people will say "What about all those songs?"
I did a gig recently at a local arts centre, it sold out and people loved it. It was an evening with me, anecdotes and singing songs. I enjoyed it. I'm playing another gig in the autumn. You have to do a lot of the web things like Facebook and Twitter these days. I've done that but it's not really me. My social network is my local on a Friday evening.
Do you have a favourite song of yours from your career?
There's a song on my first album called "Everything's Gone Wrong" that nobody recorded. It's just my demo. I've been thinking of rerecording it much slower. On the new album I like "Julia's Song" because it was quite easy to sing and I've arranged it very simply. Somebody told me that it brought tears to their eyes when they heard it.
I'm proud of "Fox on the Run". I know that people will be singing that after I'm gone.
Many of your songs are short and simple. But they're that hardest to get right.
Talking to people on song writing courses I say that you don't have to write long verses. In Fats Domino's "Ain't That a Shame" the verse is just: "You made me cry, when you said goodbye", then it's straight into the chorus. I do like going back to those basic things like Little Richard and Buddy Holly.
Is there anything that's not widely known about you that we can reveal?
(Laughs) Oh, golly! Loads of stuff. I always say I won't talk about my private life. A lot of songs have been written about women and I do like them. There's a quite a lot of sailing and going away themes in my songs, like "The Venturer" on my new album. There's another song that didn't quite work out for it that I might record again called "Dreams of Leaving".
I live a nice part of the country and own some woods at the bottom of my garden which lead down to a river. I'm getting older. I'm terribly conscious of it. I had a bout of ill health a few years ago and it brought me to a halt. I suppose time is precious. Mentally I'm 27.
On Tuesdays and Fridays I go to a little country pub that is tucked away and have a drink with three friends. One is a writer and journalist. One is a builder and one is an engineer in a dockyard. Very different people but we end up roaring with laughter.
I'm always interested to hear how a songwriter sings their own songs. When I did my recent gig a friend said that some of the songs moved him to tears. He quoted Wagner who said that it's "From the heart, to the heart". He said that it's not about singing exactly all the time its about conveying emotion.
                                           Tony Hazzard today (used with kind permission)
That's what comes across in your songs.
That's what I try to do anyway.
What a great way to summarise your work. Thank you so much.
Thank you, I've really enjoyed speaking to you. You know your stuff. I'm very appreciative.
For more information, please go to http://www.tonyhazzard.com/index.php
Copyright © Jason Barnard and Tony Hazzard, 2012, All Rights Reserved. No part of this article may be reproduced without the permission of the authors.