By Nick Warburton
Eddie Eager – lead guitar/vocals (ABCDE

Chris Maskell – bass/vocals (AB

Denny Shiret – rhythm guitar/vocals (ALL

Norman McGarry – drums/vocals (ABC

Eddie Hardin – keyboards/vocals (B

John Edwards – keyboards (CDEF

Reg Bodman – bass/vocals (CDEF

Brian Jones – drums (DEF

Sid Smith – saxophone (EF

Freddie Brown – trumpet (EF

Johnny Bentham – lead guitar (F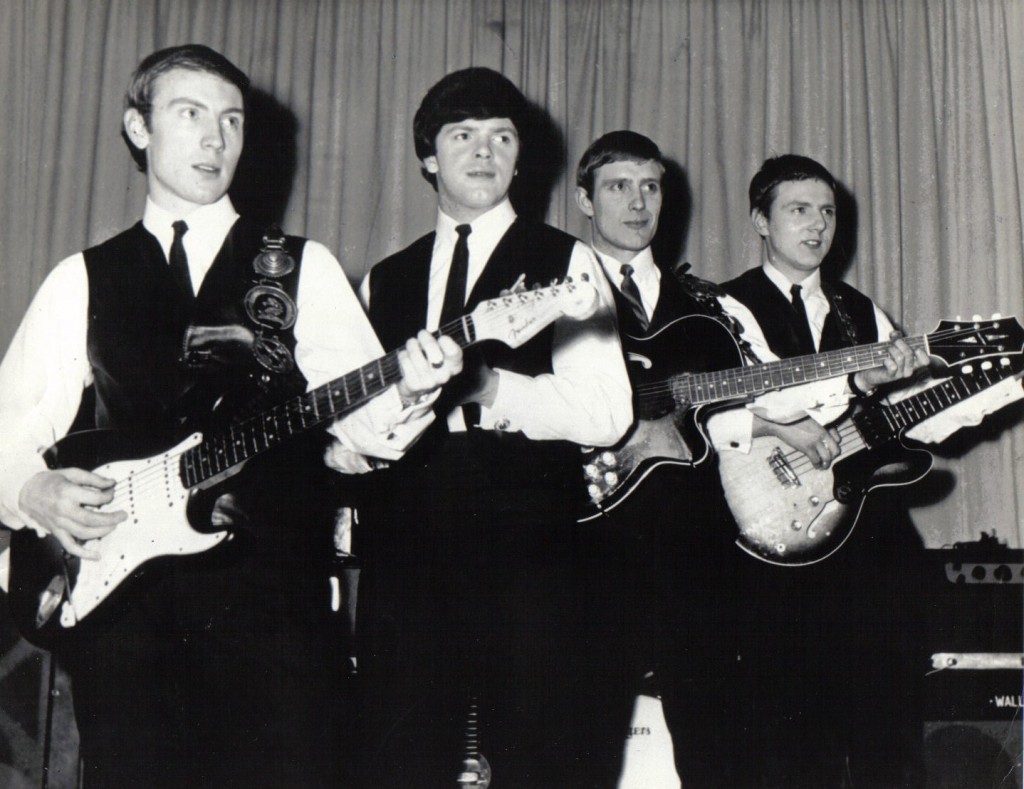 The Sassenachs 1964, left to right: Eddie Eager, Norman McGarry, Denny Shiret and Chris Maskell
This south London group was formed in early 1962 by rhythm guitarist Denny Shiret as Danny & The Tornadoes.
However, when the more famous Tornados reached number one with "Telstar" later that year, the band changed name to Danny & The Torinos after a gig at Chislehurst Caves. Not long after lead guitarist Eddie Eager and then bass player Chris Maskell joined the band.
During 1963, Liverpudlian drummer/lead singer Norman McGarry, who had been an original member of The Searchers and had also previously worked with Rory Storm & The Hurricanes, came on board. The new line up took on a new moniker after signing a record deal with Fontana Records.
"The name change to The Sassenachs was to coincide with the Fontana recording contract and was the brainchild of our manager Gerry Bron of Brons Music," says Eager.
The Sassenachs recorded a handful of tracks written by the Eager/Maskell song-writing partnership, but only two tracks surfaced on the band's lone single in November 1964 – "That Don't Worry Me" c/w "All Over You".
[tubepress video=nGnWpMFcYaM]
Produced by composers Les Reed and Barry Mason, the A-side features the latter's falsetto voice on the track. In the aftermath of the single's release, the band toured extensively, playing with well-known acts like Herman's Hermits and Alex Harvey.
During the early months of 1965, the band briefly expanded to a five-piece with the addition of keyboard player Eddie Hardin but he didn't stay long and soon left to join A Wild Uncertainty and subsequently replaced Stevie Winwood in The Spencer Davis Group.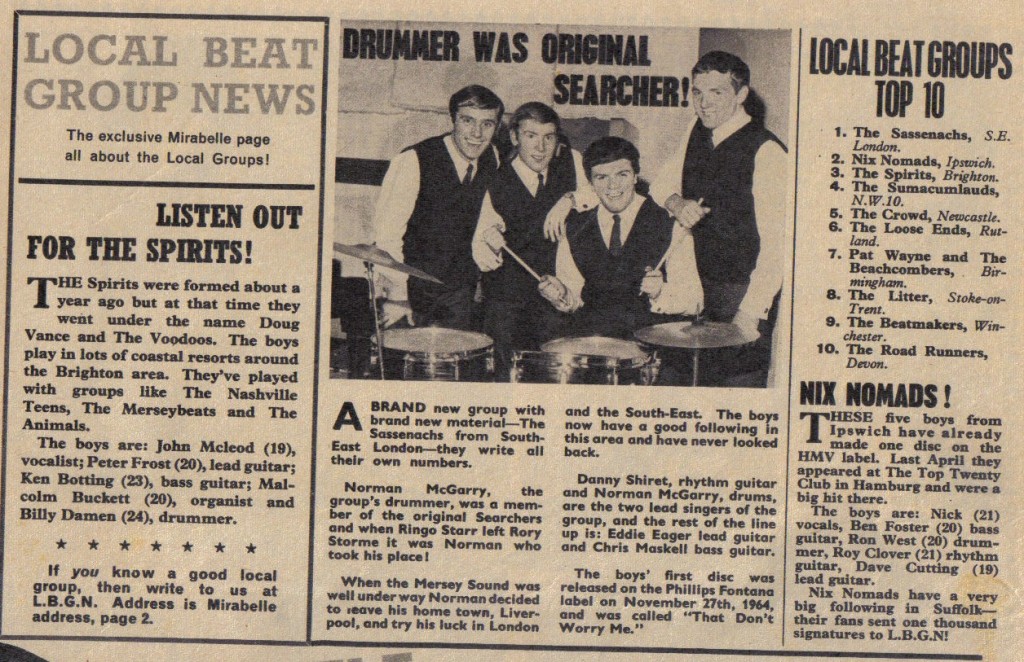 Around the same time, both Norman McGarry and Chris Maskell left to be replaced by newcomers – drummer Brian Jones and former Redcaps and Frankie Reid & The Casuals bass player/singer Reg Bodman. Keyboard player John Edwards also came on-board.
The Sassenachs 1967, left to right: Fred Brown, fill-in saxophonist, Denny Shiret, John Edwards, Eddie Eager, Reg Bodman
By late 1966, the line up was expanded further with the addition of sax player Sid Smith and trumpet player Freddie Brown.
"The introduction of brass seemed the right thing to do given that we were under the same agency [Norman Jackson Entertainment] as Georgie Fame & The Blue Flames," says Eager.
Eschewing the R&B for soul, the band gigged incessantly on the London scene, appearing at such notable venues as Wimbledon Palais, the Flamingo, the Orchid Ballroom in Purley, Surrey and the Marquee.
The expanded line up recorded one track that was never released "Let The People Gather Round", written by Denny Shiret.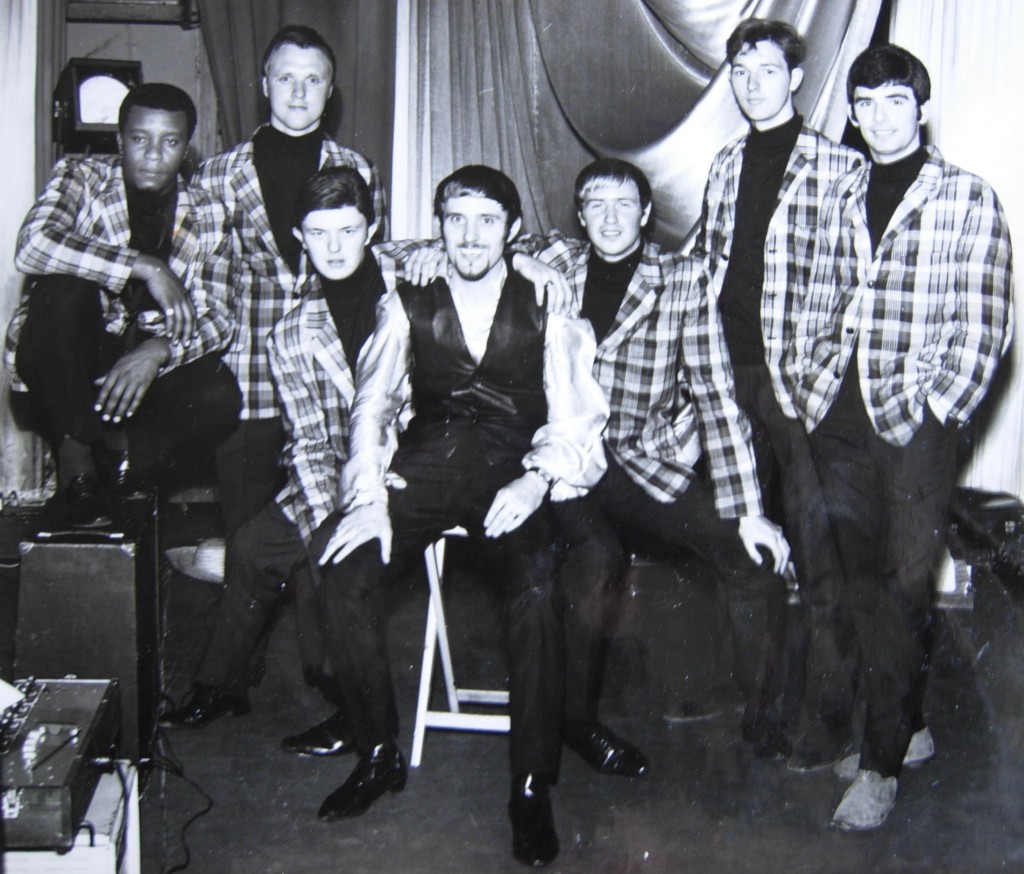 The Sassenachs, late 1967, left to right: Sid Smith, Freddie Brown, John Edwards, Denny Shiret, Reg Bodman, John Bentham and Brian Jones
During 1967, lead guitarist Johnny Bentham replaced long-standing member Eddie Eager. The revised line up continued for another year before breaking up in 1968.
John Edwards and Brian Jones linked up briefly with former members Chris Maskell and Eddie Eager and a singer but the new band didn't last long.
Notable gigs:
22 April 1966 – California Ballroom, Dunstable, Bedfordshire with American Vibrations
Thanks to Eddie Eager and Reg Bodman for their generosity in providing background information and also supplying photos.
Copyright © Nick Warburton, 2013. All Rights Reserved. No part of this article may be reproduced or transmitted in any from or by any means, without prior permission from the author. 
I have tried to ensure the accuracy of this article but I appreciate that there are likely to be errors and omissions. I would appreciate any feedback from anyone who can provide any additions or corrections. Email: Warchive@aol.com
Comment from John Bentham
Corresponding with Eddie helped me fill in some gaps about the musicians in bands in Bermondsey at that time and how some of them came through The Sassenachs to my band(s). In-between Chris (who I grew up with) and Reg on bass was Les Smith, That was when Fred, Sid and Johnny Edwards were in the band. I new Les before this from another band, and he joined my band after The Sassenachs.I think The Sassenachs broke up in 67, I was only a honorary or part time member of The Sassenachs, I used to dep for Eddie when he was away. I say this because from mid 67 to late 69 my own band was playing a three nights a week residency in The Breakspear Brockley and I would not have been available, also after a short break when I reformed the band (69) Johnny Edwards and Les Smith were now in my band. To complete my seemingly raiding of The Sassenachs musicians Reg joined me as a vocalist in 1970.