By George M Cannon
Growing up in West Virginia, in the mid to late 60's, you could argue that there wasn't any other place on the planet you could be further from rock and roll.  In those days your television viewing was confined to three television stations that all signed off the air at midnight and local AM radio that was designed to provide news, weather and sports and played mainstream pop music and Top 40 songs exclusively.  These were conservative times and this was a very conservative place, a place that provided only fleeting exposure to the type of loud, hard, psychedelic and garage rock music that was exploding from London to LA and San Francisco to New York.  How is it then that one of the best garage/psych records ever recorded came from a band based there and that its release would mark the beginning of one the most fascinating and significant careers in rock and roll history?
Poster promoting a Mind Garage Happening circa 1968
The Mind Garage story begins in Morgantown, WV with the release of the classic "Asphalt Mother" single on their own label and includes turning down an opportunity to play Woodstock, walking away from RCA Records in 1970 at the height of their success (never to be heard from again) and the first and very controversial integration of rock music and religion that saw the band performing rock music during services in churches around the country and ending with a petition for induction into the Rock & Roll Hall of Fame.  The story of the Mind Garage is much more than how a group of talented musicians worked their way out of the backwater to find success in the music business, it's about how their efforts ultimately influenced and paved the way for an entirely new "Contemporary Christian" genre of rock music and how that music is incorporated into the worship services of Christian churches today and maybe, more importantly, why they disappeared at the height of their popularity.  Their story begins with a band called the Glass Menagerie.
The Glass Menagerie was formed in Morgantown in 1966, by a group of students attending West Virginia University, and included the core of what would become the Mind Garage.  The band featured Larry McClurg (vocals), Tom Warfield (lead guitar), John Fisher (bass), Norris Lytton (sax) and Jim Straub (drums).  Early on Jack Bond would show up wherever they would play and watch the band perform.  Norris Lytton remembers "he was a dedicated fan."  When circumstances forced the Glass Menagerie to shuffle their lineup, Jack was invited to join as keyboardist.  Jack played many instruments but didn't have a keyboard so John offered to buy one for him and let him pay it back a little at a time.  The band was highly regarded locally and their reputation for playing British Invasion and psychedelic cover songs of the day, along with a few originals, was such that they were often booked throughout the US Midwest playing on bills with more established national artists.  The importance of the Glass Menagerie to the success of the Mind Garage cannot be understated as it was on these tours where the future members of the Mind Garage gained an education in how to entertain a large live audience by watching the headliners perform for crowds of up to 10,000. When the tour ended in the spring of 1967 the band broke up when their guitarist John Fisher left the band to join the Shadows of Knight (they had enjoyed a big hit in the US with a cover of Them's Gloria) and drummer Jim Straub left for parts unknown, never to be heard from again.
[tubepress video="E_rBSeKBEf4″]
That left Larry McClurg (vocals), Norris Lytton (bass, sax, and flute) and Jack Bond (keyboards) to put together a new band.  They recruited John Vaughan who had been teaching guitar at a local music store and through him acquired Ted Smith (an exceptional drummer and percussionist that Zildjian Cymbals has recognized as one of the best drummers in the world) Ted was playing drums in a band John had been forming when he met the guys from Glass Menagerie.  The band clicked from the first time they played together and it was obvious that collectively that had found the right chemistry and with the "Summer of Love" on the horizon and the music scene changing direction they had an opportunity to put all they had learned in all those months on the road into creating something new and exciting.
The band was still unnamed but that all changed, as did their future direction, when John Vaughn introduced them to a young Episcopalian campus minister named Michael Paine and his wife Victoria.  Rev. Paine had this idea to combine the church's new Liturgy with rock music, much the way Bach had used the popular music of his day being played in taverns, to create his music for the Church and Reverend Paine saw in the band a vehicle for making his vision a reality.  His wife Victoria came up with the inspired choice of a name for the band in the Mind Garage.
In 1967 the cultural revolution was exploding nationally and long haired rock and roll musicians were considered "hippies" and violently disliked and ridiculed especially in a town like Morgantown where conformity was the rule and conformity meant being like all the other students involved in fraternities, sports and dances, and wearing your hair short and dressing conservatively.  Larry McClurg recalls the members of the band being threatened and harassed.  "Those dirty beatnik hippies" is what they called us."  "We were spat upon as freaks, called communists, and were victims of discrimination, hatred, ridicule, lies, beatings, and sometimes called anti-Christ".  "The unfortunate longhair walking alone somewhere at night would now and then come across a group of rednecks, frats or jocks hanging out drinking. They would block the path to intimidate the 'hippy' and one of them might whip out scissors to cut the long hair. Having your person threatened over the length of your hair seems absurd now.  In some respects Morgantown, a mix of intellectuals and cowboys, seemed like the Wild West".  The cultural revolution was not limited to just secular circles but was also being fought in churches where young ministers and priests and members of the congregation were demanding changes be made to the services to make them more relevant to them and today's world.  Reverend Paine and the band were both on the front lines of this revolution and therefore could not only relate to one another but help support each other by working together to change the status quo and that's what they ultimately accomplished.
[tubepress video="mK0jjJkikFs"]
The band began their recording career in 1968 with the "Asphalt Mother"/"Reach Out" single pressed on their own Morning Glori label.  The A side "Asphalt Mother" is one of the all time greatest garage/psych records ever recorded and is a template many future punk and grunge records would follow without ever hearing it.  The band's sound was new and exciting less British invasion and more loud, hard and heavy with a lot of fuzz and very psychedelic.  The record was pressed in a lot of 1,000 and placed in local record stores in Pittsburgh, Morgantown, Clarksburg and Fairmont WV and when they sold that was it.  The single never appeared on a Mind Garage album and it was therefore undiscovered and forgotten and has remained, even today, very much undiscovered.  Their live shows at that time were legend with Larry McClurg possessing enormous charisma and even some Jim Morrison like stage presence.  The music was said to mesmerize the audience and would capture their attention to the point that in between songs you could hear a pin drop.  Their lighting and light shows were effective in creating an atmosphere where the audience felt they were being taken on a journey and according to those who attended they were.  When they would play these "Electric Happenings" as many of the performances were billed they would include, in addition to the light shows, psychedelic fashion shows and all sorts of other music with opening acts playing jazz and even sitar sounds.  The concerts were interactive with "Total Environment, Total Involvement" themes where the audience was as much a part of the show as the music.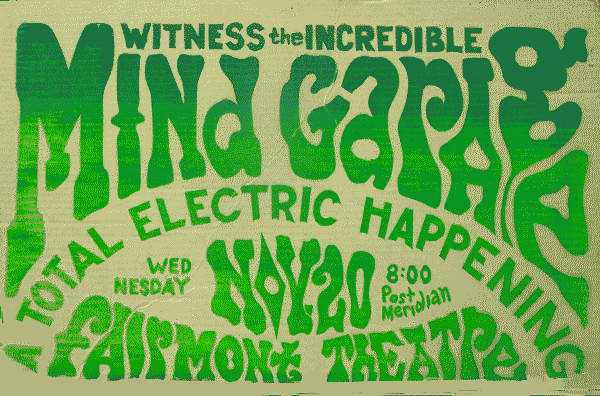 At a memorable gig at the Fairmont Theater one fan showed up with a bathtub and proceeded to bring it into the theater lobby and take a bath.  Tom and Donna Preston remember that show.  "The absolute best show the Mind Garage put on that I was witness too was in November of 1968 at the Fairmont Theater in Fairmont West Virginia. The Show was billed as "a Celebration of Life" and a "Total Electric Happening".  I picked up my girlfriend, Donna, now my wife, and went over two hours early because I wanted a good seat. When I got there several were already gathered in front of the theater. As time passed the entire street filled up and the police gave up trying to make people line up and just routed traffic around the main street.  This was a large old style theater with a balcony that held a lot of people but I could see it was going to be packed.  Donna was knocked down once from the pushing crowd and things were starting to get pretty hairy when they finally opened the doors and let us in. When we entered the lobby out of the corner of my eye I could see someone in a tub taking a bath so I knew this was not going to be a routine thing.  There were other performers and acts (the band that opened was The Overwhelming Odds) including a bizarre psych fashion show and dancers but the Mind Garage was the show.  They performed with a light show and they were great and you could not ask for a better way to watch their show because you could just set back and take it all in.  The acoustics were just perfect and the sound was mind blowing.  The Mind Garage not only had the right sound but the band had a spark or charisma or magic.  They just clicked. We have seen many other rock concerts by bands much more famous both indoors and out, but perhaps because It was the first real rock concert for us, the Mind Garage at the Fairmont Theater is the one Donna and I look back upon as the most memorable.  They were far out in front of the curve and ahead of their time."
Their residency of the Mind Garage at The Mother Witherspoon in Morgantown would also draw large crowds that would queue up early and lines that would extend down the street.   The small club was always packed.  John Vaughan sums it up, "The best in terms of pure, abject pandemonium was definitely the Mother Witherspoon's".  It was closed at the end of 1967 or very early in 1968.  The beer license wasn't renewed because of an alleged underage person being inside. Larry McClurg says, "Yet we continued to pack the club for a few months before we started playing at the Olympia.  If you understand that WVU was probably the heaviest drinking party school you can understand that pulling a crowd into Witherspoon's without alcohol was an awesome feat.  I remember graffiti at the top of the stairs, "Keep the baby, Faith".  It was a play on the cultural revolution phrase, "Keep the faith, baby."
The band was not overly religious, but Christian.  John was the son of a Baptist preacher.  Ted and Jack were Catholic, Norris and Larry were Protestants.  Reverend Paine's suggestion to the band to create a modern rock worship service, to accompany the new Episcopal Liturgy, led them to create what later became known as the "Electric Liturgy" or "Electric Mass" but when they attempted to perform it in the church the church fathers forbade it.  It was a very controversial idea at the time and was met with resistance.  The band would often use a poster designed by Tom Warfield, the bass player in the Glass Menagerie, to promote their performances.  The posters were themselves very controversial and depicted a bare chested woman with long flowing hair that nearly covers the chest, with her arms raised, surrounded by the group.  It would later by modified in a way that the woman's bare chest would have "We Welcome You To The Electric Liturgy, A Festival of Feeling, The Electric Mass" covering it.  Eventually Reverend Jennings Fast of the Trinity Episcopal Church in Morgantown allowed the band in and the service was so well received that offers to perform it in other churches followed.  Larry recalls, "After the rock worship service, one fur collared woman exclaimed to her dark suited husband on the way out, "I didn't know they were like THAT!!  That was BEAUTIFUL".   And so it was.
The "Electric Liturgy" consisted of ten pieces of music that flow into one another, rather than the more conventional and traditional approach of separate songs, and was revolutionary for the rock music of the day.  While the band's performance of an "Electric Mass" was shocking and generated controversy it also garnered a lot of attention nationally and they were featured on the Huntley/Brinkley Report, referenced in the Village Voice as "Theo-rock" and the entire Mass was filmed by ABC and shown on their "Directions" program when it was played at St. Mark's Church in New York City.  The band always performed it in churches and never charged a fee to perform it nor did they ever play it in theatres and clubs when they toured.  The significance of this is best understood when framed against the fact that these performances were pre "Jesus Christ Superstar", "Godspell", Leonard Bernstein's "Mass" and the Electric Prunes "Mass in F Minor".  These performances mark the beginning of today's Christian rock and played no small part in how many churches conduct their worship services around the world today.
[tubepress video="klmhgRRRnHM"]
No one is really sure how Tom Surman (aka Cossie) from Pittsburgh, PA became aware of the band because in those days, before interstate highways connected the country, Pittsburgh was a difficult 2 ½ hour trip by car and may as well have been on another planet.  He did find a way to track them down and after seeing them perform was convinced of their talent and potential and offered to manage them.  To his credit, the band would say, he never tried to change them and they respected him for it and their relationship is one they recall fondly today.  The band cut some demos in Pittsburgh and Tom, with his connections in the music business, was able to secure them a recording deal with RCA records where they set about recording their debut album "Mind Garage" in the spring of 1969 at the RCA Studio in New York City. 
The "Mind Garage" album was well received and is representative of the type of classic hard psychedelic/garage rock combined with vocal harmonies the band was best known and many bands emulate today.  The album features some great garage "Life" and psychedelic rock "Doctor John" both featuring the swirling keyboards of the flamboyant Jack Bond prominently and Norris Lytton's bass line is eerily heavy metal before there was heavy metal on the extended jam of "Doctor John" with its jazz elements courtesy of Norris Lytton's sax and bass.  Ted Smith's drums truly demonstrate how diverse and talented the band was musically but it's "What's Behind Those Eyes" with Larry McClurg driving its mix of Tommy James and The Shondells harmony and John Vaughan's fuzz guitar that is the real highlight.  It still sounds fantastic today and in a better world would have been a big top 40 hit.  It should be noted that John Vaughan is often overlooked when discussing the all time great rock guitarists but he puts on a "how to play 60's rock guitar" clinic on this album , fitting for a former guitar teacher.  The band released "What's Behind Those Eyes/There Was A Time" from "Mind Garage" as a single.
[tubepress video="g3cTBakWP9c"]
In early August Tom Cossie approached the band with an opportunity to play the Woodstock Music and Arts Festival but the band declined as they viewed the offer as just another non compensated promotional appearance, of which they had already done many, and needing the money had accepted a paying gig in Cleveland with Dick Clark Teenage World's Fair that weekend.  It was a decision that Larry McClurg recalls as life changing.  No one knew at the time that Woodstock was going to be WOODSTOCK.  In looking back Larry today wonders what might have been.  "There are critical moments in every life, crossroads where decisions you make will forever change your life.  Sometimes you just don't know until later.  How can we ever know what might have been.  We are presented with so many doors, some open, some closed.  We may desperately try to go through a closed door but no matter what we do it can't be opened.  Or the door may be open and we decide not to enter, no matter how hard events try to push us through. If there is no such thing as destiny, when things are all over and done, history looks very much like destiny and Woodstock was not our destiny".
Interestingly the band had another opportunity to attend the festival when an offer for them to travel in a charted bus from Cleveland to the festival (as regular festival goers) showed up. The band still didn't understand it was WOODSTOCK and again declined. They received yet a third offer to travel in a private car and for the third time and they said thanks but no thanks.  In telling the story today Larry uses this anecdote; an elderly woman heard on the radio there was a terrible storm coming and the possibility of flood, and everyone should evacuate. She wouldn't.  She put her faith in God to save her.  The Sheriff came and ordered her to evacuate and she wouldn't, putting her faith in God once more.  The floods came and still she wouldn't evacuate even when the National Guard came in boats.  She put her faith in God to save her. At last a helicopter came and still she wouldn't evacuate.  She died and went to heaven.  When she saw God she said, what went wrong?  Where were you?  Why didn't you save me?  God answered, I warned you on the radio, I sent the Sheriff with a message, I sent you a boat, I even sent you a helicopter.  Why didn't you listen to me?"
The band made a pilgrimage to San Francisco that  fall and experienced the Haight Ashbury scene but when the band returned to West Virginia to begin recording their second album John Vaughan stayed behind.  The band headed to RCA's studio in Nashvilleto begin recording the "Mind Garage Again" as a four piece when it was decided to record the "Electric Liturgy", rather than risk not having it captured for posterity, as the band had no intention of playing it forever.  The album, released in January 1970, featured a couple of new songs and covers of "Jailhouse Rock", "Lucille" and "Paint It Black" on side 1 and the "Electric Liturgy" on side 2.  The band released "Tobacco Road" backed with "Jailhouse Rock" as a single but this album was all about the "Electric Liturgy" the first Christian rock record ever released in Nashville. 
The band played the Fillmore East with Iron Butterfly and performed their 19th and final Mass that spring but by April the band had just stopped playing and drifted apart.  RCA offered them an extension of their recording contract but the band declined.  They never formally broke up they just stopped showing up at the house they shared, leaving their equipment behind, never to record or perform together again.  Their manager eventually sold the equipment and as Norris Lytton would recall "it was as if we had all been called together for a time or a task, and now it was recess.  It was like exhaling.  It's strange, almost funny as if someone forgot to call another practice, that's all".  With that one of the most interesting and historically significant stories in all of rock and roll came to an end.
The band did eventually get back together very spontaneously in 1983 at the wedding anniversary of a friend and when someone asked them to play a few songs they did, using the equipment of the band that was booked to play the wedding.  This led to a recording session a few weeks later, The Carolina Session, but those tracks remain unreleased and the band once again parted ways for another 24 years.
In 2007 all five of the original members of the "Mind Garage" reformed to play a reunion concert at "Goodstock" a three day music festival envisioned as this generation's Woodstock in Summersville, WV and organized by Artie Kornfeld (of Woodstock fame) and Larry McClurg.  The festival had secured several big name national bands but unfortunately many decided not to attend leaving Sky Saxon and The Seeds and The Mind Garage headlining.  The Mind Garage's set was well received but the Liturgy was not performed.  However, the band still plans to perform it at least once more in the future.
[tubepress video="NAaIHZnO71g"]
Recently an acetate of the bands initial demo recording sessions in Pittsburgh, prior to RCA, and including "Asphalt Mother" surfaced and was released as "A Total Electric Happening" in 2007.  The record captures the band at its finest, a young, original, energetic group that RCA heard, loved and signed.  Even though it is not a live recording it does capture the raw sound that propelled a group of West Virginia University students to the heights of rock and roll and who would, with Reverend Michael Paine's help, create a new genre of rock music and method of Christian worship and that may yet gain them induction into the Rock and Roll Hall of Fame.
In 2009, the band began writing and recording new material with the result being a new Mind Garage record titled "The Mind Garage 5" released in 2010 on their Yellow Sun Music label and more recently have been recording a new version of the Liturgy that will be made available as a free download or an autographed physical copy if the recipient covers the S&H costs.  This approach is consistent with the band's view of keeping the Liturgy more a work of worship and not for profit.  It will be available at the band's site www.mindgarage.com.
Fans of the band have begun a petition to induct the Mind Garage into the Rock and Roll Hall of Fame based on their role in the integration of rock music genres and religion that is still resonating today and the subsequent generations of Christian and rock musicians that they have influenced.   Their story certainly makes a strong case for consideration.  Like sand in an hour glass, slowly history is beginning to recognize the Mind Garage as a classic band that definitely mattered more to the world, and helped change it more, than some of the more commercially popular bands of the era.
Interview with Larry McClurg by George Cannon
With the benefit of hindsight, how do feel today about your experience in the Mind Garage?
"The Mind Garage formed in an amazing, exciting period, and fans enabled us to do things and reach heights that would never have been possible, except for their participation in our lives and the life of the band. It was a great time to be young and in a rock and roll band and more, and maybe we even changed the world a little for the better. It was awesome! Who could ask for more?"
Goodstock was an interesting chapter in the bands story and I am curious as to how you felt about it as an organizer?
"I must have contacted five hundred 60s garage bands. I sent, and replied to about 18,000 emails in 2 years while organizing Goodstock.  Organizing a large festival was a first for me and it loved doing it. Artie Kornfeld, the "Father of Woodstock" who has over 110 Platinum records to his credit as writer, performer or producer, and also the guy who had supervised the Beatles recordings at Capitol worked with me. I was very pleased to work with him. We both enjoyed it.  Artie said "I consider Goodstock to be the first real attempt to have another 3 days of peace and music".
The band released some new music in 2010.  How have sales been for the new "Mind Garage 5"?
"Sales of Mind Garage 5 are better than I expected. The very first CD sold to a girl in Berlin, Germany. I know because she wrote me. The next one went to a man in Mexico City who also wrote to me to say how happy he was because he bought a Mind Garage record as a teenager and learned to play guitar listening to it. CDs sold and still do, but mostly MG5 sells as a download. Considering it's on our own label, Yellow Sun Music, I am happy with sales."
Any story behind how Rev. Paine's wife came up with name for the band?
"It was the 60s, and most young people came up with trippy names.Victoria (Tori) Paine said to someone, when they play it's like getting your mind overhauled in a garage, a mind garage.  We didn't have a name yet, and it stuck, the Mind Garage."
Forgive me for questioning you motives but how much were the band driven by religious beliefs and how much was the realization that integrating rock and religion represented an opportunity to do something unique and controversial that might gain the band more national recognition?
"The Electric Liturgy was purely an act of worshipping God. The most amazing thing is that neither we nor did Michael even once consider recording it. Have you ever thought of recording your prayers? It's just doesn't occur to you. It was never done for sensationalism or to create controversy, and the Liturgy was not entertainment, it was praise and worship. For a band not to think of recording their music is more amazing than using it as a controversy. Recording is the whole point when you are in a band that wants to "make it".
By the mid 1960s there was gospel music and folk masses in church, and even a singing nun, but those things relatively were tame. Rock n Roll in church was blasphemy. It wasn't allowed. Reverend Paine offered us a challenge and the inspiration to write contemporary music for a local Christian church. We didn't t think of it as a gimmick or a way to be controversial. We were already as controversial as a band could be, and we didn't need trouble. We didn't think of playing it in other churches. It just happened. Rev. Paine encountered resistance nearly every step of way. Surprisingly the controversy was almost entirely absent once people experienced the Electric Liturgy, and today Christian rock is a well respected genre.
"Making it", was a totally separate and had nothing to do with the Electric Liturgy. We didn't even mention the Mass when auditioning for Chess or Atlantic Records or RCA.  They might have said, are you crazy? You have to remember, The Electric Prunes' Mass in F Minor hadn't even been released when we wrote the Electric Liturgy.
Bruce Brown, former editor of Harmony, Harvest Rock, and CCM magazine said this about the Electric Liturgy: "At that time, there were virtually no albums available to a national audience that could remotely be described as Christian rock; it's impossible to overstate how radical the "Electric Liturgy" was in that context."
We played the Electric Liturgy for years, and it wasn't until years after we had stopped playing, really, that others playing Christian rock music, or CCM became a popular industry. We were ground zero in America and it grew from that, on its own. It was never promoted. Church after church would hear about it and invite us. After all, the content of the worship was really the same.  And we (Michael and the band) would go, paying our own way.
This was the time of the "hippie movement". Peace, love, "flower power", a different way of looking at old traditions. One of the many unexpected surprises in the various reactions was that, from the very first performance, people of many denominations began showing, Christians of course, young and old, but also Catholics, Protestants and people of Jewish faith, and people who professed no organized religion, or any religion at all. Everyone found their own meaning.
The Electric Liturgy, through the churches leaders and people, took on the overtones of "celebrate life" and "the brotherhood of man." We saw many congregations that did more than pay "lip service" to dogma. They were active in their communities and responsible to the needs of all people, not just their members. These are the principles of Christianity as spoken by Christ himself: "love thy neighbor as thyself."
Any additional insight about how the band just walked away from the music business in 1970?  Did John's departure play a role?
"We never broke up. We just took a time out. Goodstock was a rehearsal and a preview of things to come.  John stayed in California. We are all still best of friends. Even though we missed him, we made another album in Nashvillewithout him, and I think it has stood the test of time. The concept, the music and the message are as fresh as ever. The Electric Mass or Electric Liturgy was a complete success. That should give you the answer regarding John.  Looking back, it's funny really, and we laugh about it. John Sebastian said at that time, in his song Nashville Cats: "Well, there's thirteen hundred and fifty-two guitar pickers in Nashville. And they can pick more notes than the number of ants on a Tennessee ant hill", but the Electric Liturgy must be the only album ever made in Nashville without a guitar picker, even though Chet Atkins, one of the greatest in the world, was standing right there. No, John's departure had little to do with the reason why the Mind Garage stopped playing.
When it was all said and done, we had all been changed the journey, living the Rock n Roll dream and yet somehow transcending above it. The Liturgy was never intended to be a permanent fixture. Michael Paine said it and we knew it from day one. Somehow it took on a life of its own and we knew we were involved in a greater purpose. RCA only recorded some songs, not the entire experience. We wrote it because we were asked to. We did it as well as it can ever be done, and in the process it became a gift to people and to God Himself, as Michael had known before we ever wrote it. There was no price tag.
We did not go to Nashville with the intention of recording the Liturgy. It was spontaneous. One afternoon we didn't have enough material and the engineers were on the clock and we had studio time left. No band wants to waste studio time, so we played the Liturgy. It only took an hour and most of that was from the engineers wanting to try different microphone positions or sound levels. It was effortless for us because we had been doing it for years. Most of what you hear is essentially one take. We didn't immediately realize that once we had recorded it, everything would change. It was no longer a gift to anyone because it became just another RCA made for profit album, and we had never taken money for playing it before. There are residuals, royalty money, in a bank account today that has not been touched in over 40 years."
More information on The Mind Garage, including the band's pictures and posters used in this article can be found at http://www.mindgarage.com/
Details on George Cannon's excellent The PsYcHeDeLiC Detached Garage syndicated radio show is available at http://www.psychedelicgarageshow.blogspot.com/ They play 2 hours of psychedelic sounds and garage rock weekly.
A version of this feature also appears in Shindig! number 25 and is well worth purchasing! http://www.shindig-magazine.com/
Copyright © George Cannon/The Mind Garage/Larry McClurg, 2012, All Rights Reserved. No part of this article may be reproduced or transmitted in any from or by any means, without prior permission from the author.