Not to be confused with Big Jim Sullivan and Brian Bennett's Krewkats, the European-based, Birmingham rock 'n' roll outfit of the same name took on the mantle in 1963 having received Sullivan's blessing earlier in London during the summer of 1962. At the end of 1962, the musicians became French singer Dick Rivers's backing group and they also recorded two French E.P.s under their own name.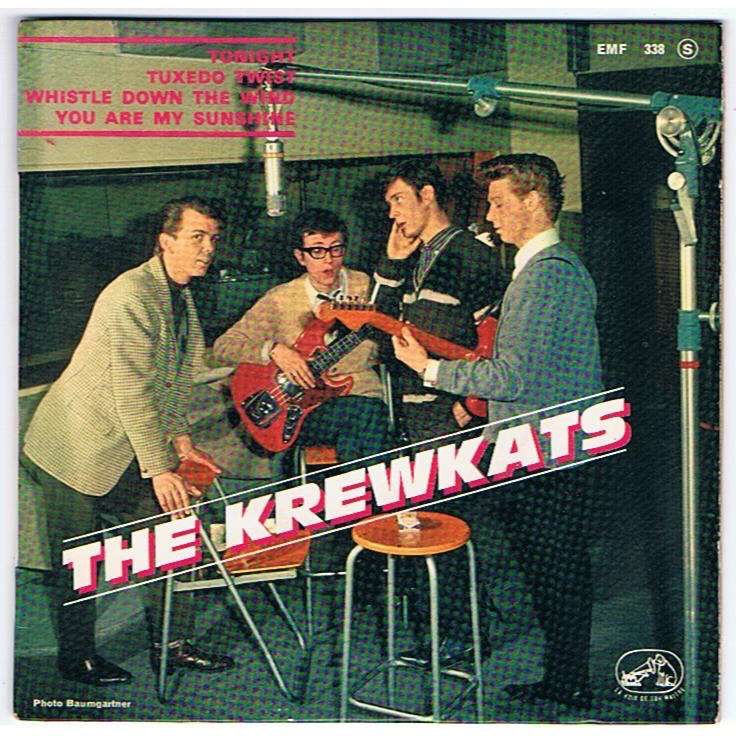 During the early-mid 1960s, the band worked extensively in Germany, most notably in Hamburg where they performed at the famous Top Ten Club. In March 1965, however, The Krewkats finally returned to the UK and, later that year, morphed into The Krew whose fascinating career is documented in a forthcoming article.
The Krewkats story, however, begins with two musicians from Sutton Coldfield – Robert Fielden-Nicholls on rhythm guitar and vocals and the late John Bradley on bass and vocals. "John Bradley was an old school friend of mine and was probably the best bass player I have ever worked with," remembers Fielden-Nicholls. "We came together in the very early Sixties and went to see a show, which was the definitive reason why we decided to do what we did later on. We went to see the Eddie Cochran/Gene Vincent tour, which was at the Hippodrome in Birmingham."
Singer/guitarist Tony Sheridan was the support act on that show and Fielden-Nicholls remembers him singing "You'll Never Walk Alone" before the song was later made famous by Gerry & The Pacemakers. Awe struck by the performances, the pair decided to form a group in late 1961/early 1962, drawing on musicians from across the Birmingham area. Joined by singer Carl Fenn, lead guitarist Ted Tunnicliffe and drummer Barry Reeves, the quintet worked around the West Midlands and the northern club circuit under various names before settling on Carl Fenn & The Mysteries.
"We made one band out of two," explains the guitarist. "There was Carl Fenn & The Black Cats and Micky Harris & The Daltons. "We took the best of the lot and decided to take that down to London." Reeves, however, did not stay long and Don Hawkins from Great Barr in Birmingham assumed the drum stool after the band worked with Reg Calvert at Clifton Hall, Rugby.
Drawn to London's music hub, Soho, the musicians gravitated to the Two I's coffee bar where they ran into pianist Iain Hines, who a few years later became the booking agent for the Top Ten Club in Hamburg. Hines had already performed on the German port's club scene with Tony Sheridan & The Jets.
Finding their feet, the musicians soon befriended many of the top players on the London scene, most notably lead guitarist Big Jim Sullivan, Jackie Lynton and Colin Hicks. At the time, Sullivan and former Shadows' drummer Brian Bennett had their own group, The Krewkats, with its origins in singer Marty Wilde's Wild Cats.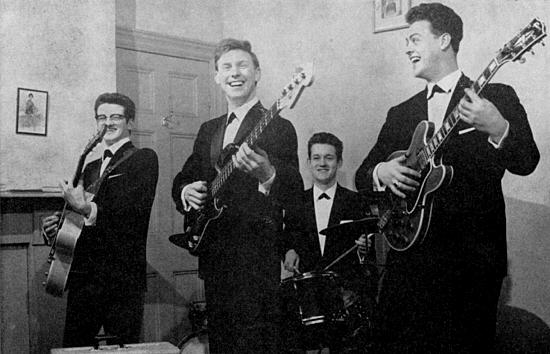 The 'Original' Krewkats:- left to right: Tony Belcher, Brian Locking, Brian Bennett and Jim Sullivan
Following a short tour opening for American soul artist Jackie Wilson, the musicians were invited by Big Jim Sullivan to join him in the studio. Fielden-Nicholls takes up the story: "He and Tony Meehan were starting a recording studio in London and I asked him, 'What's happening with The Krewkats?' He said, 'We were never really that successful'. I then said, 'It's a huge shame not to keep it going' because to us they were legends. I said, 'Would you mind if we took over the name?' He said, 'Not at all. I hope it does you more good than it did us'. I wish he had told Brian Bennett though."
Before assuming The Krewkats name, the band, renamed The Carl Fenn Combo, headed over to Germany in late July 1962 to play a month-long residency at Hamburg's Top Ten Club, joined by Iain Hines on piano and Glaswegian Ricky Barnes on tenor sax. Taking over from Emile Ford's former band The Checkmates, the young teenagers quickly discovered how gruelling the Hamburg club scene was. "There were only two bands, which was bloody hard work," remembers Fielden-Nicholls. "You had to work one hour on, one hour off. You had one hour off and you couldn't do anything much, you couldn't stray too far. That's how it worked. Seven nights a week, of course."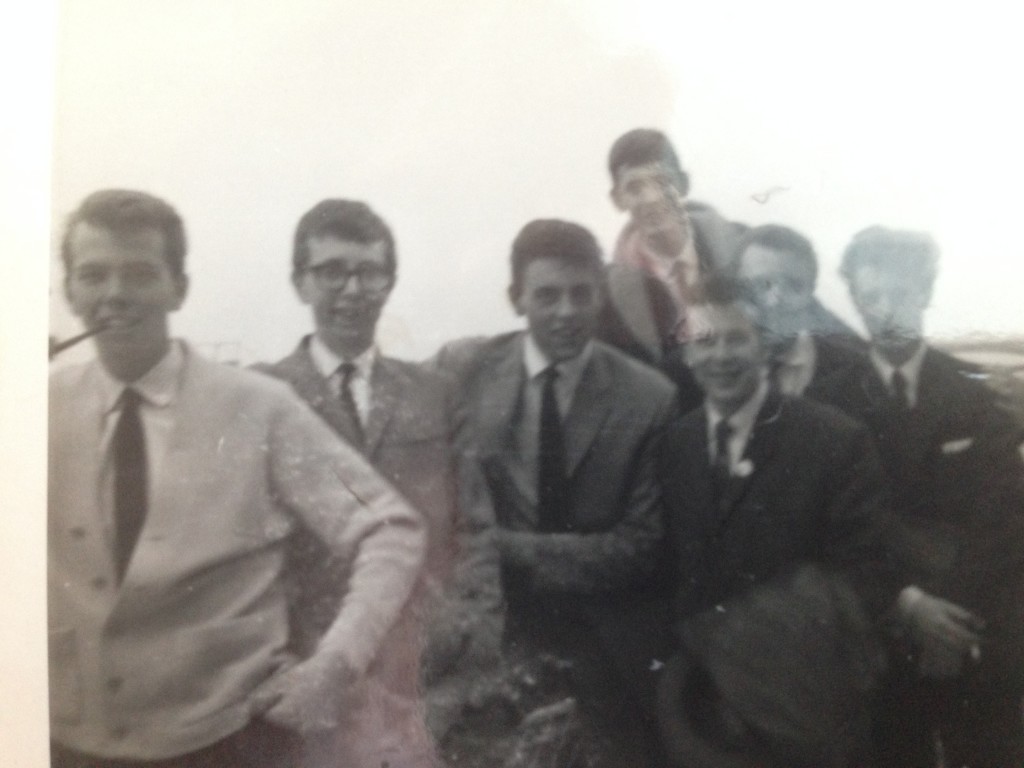 The Carl Fenn Combo – Lydd airport (Kent), late July 1962, before flying to Hamburg. Left to right: Ted Tunnicliffe, John Bradley, Carl Fenn, Don Hawkins (seated high) Ricky Barnes, Iain Hines and Robert Fielden-Nicholls
Despite the heavy workload, The Carl Fenn Combo became a popular local draw and stayed on beyond their initial one-month booking until late November 1962. With the commitments honoured, Carl Fenn, Iain Hines and Ricky Barnes stayed behind in Hamburg while the remaining quartet – Robert Fielden-Nicholls, John Bradley, Ted Tunnicliffe and Don Hawkins travelled to Paris in search of further work.
"Someone told us that French bands were very far behind the times," says Fielden-Nicholls. "We arrived on a very rainy night late in November and couldn't find anywhere to park, so we parked on a service road on the Champs-Élysées. You couldn't do that now." "We had also watched a Scopitone – forerunner of the video clip – of Johnny Halliday, and we said to each other, 'If that's what French rock 'n' roll is like, we should be able to get a lot of work,'" adds Tunnicliffe.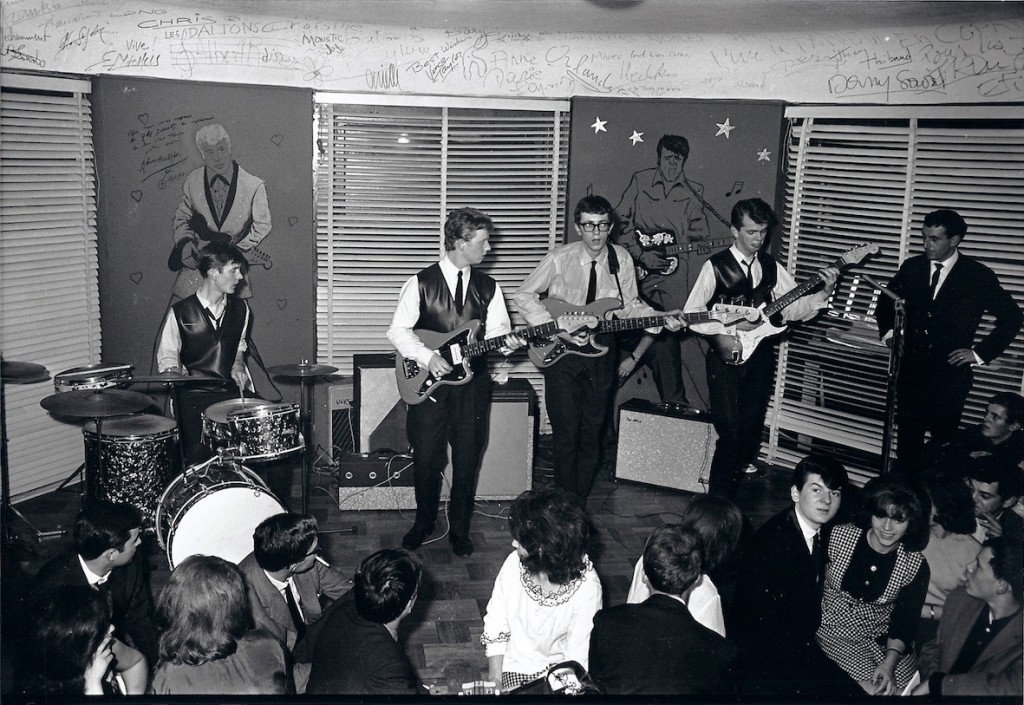 The Krewkats, Golf Drouot Club, November 1962
After scuffling around for work, the quartet landed a gig at the Golf Drouot Club, Paris' equivalent of the Two I's. Still decked in their Hamburg Top Ten Club jackets, the musicians (now billed The Krewkats) played their debut at midnight and went down a storm (no doubt down to the tightness they had developed playing long hours in Hamburg).
"I thought I was hallucinating," says Fielden-Nicholls. "There was a guy on the edge of the stage – Bob Lampard, who was a freelance photographer, and also an original member of The Vipers Skiffle Group. He said: 'Here, there's a geezer that wants to meet you'. He led us over to a table where there was a couple of people and this guy called Dick Rivers, the second top singer in France."
As Fielden-Nicholls explains, Rivers was on the look-out for a new backing band after splitting from his former outfit, Les Chats Sauvages (The Wildcats), which was somewhat ironic considering that The Krewkats' name has morphed from The Wild Cats.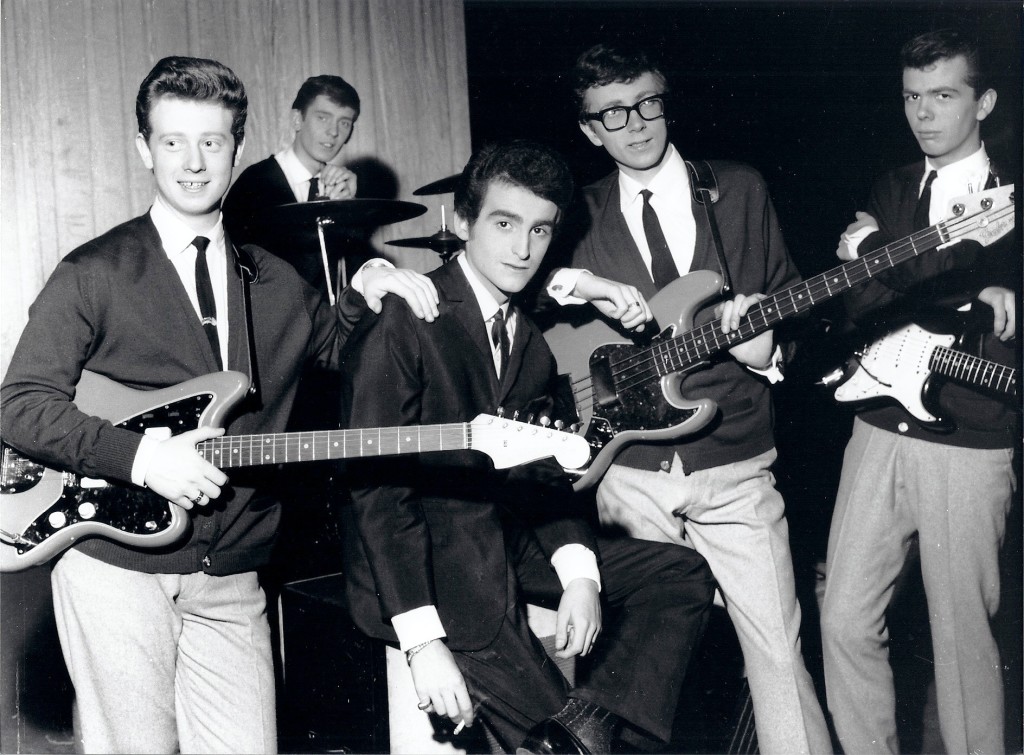 The Krewcats, 1962 – left to right: Robert Fielden-Nicholls, Don Hawkins, Dick Rivers, John Bradley, Ted Tunnicliffe
Signing up with the French singer, the quartet starting picking up regular work on the Paris scene, most notably at the Spaghetti Club and Théâtre de l'Etoile. Besides backing Dick Rivers on record, The Krewkats signed a separate recording deal with Pathe Marconi and recorded four tracks in the spring of 1963, which were released on a French-only E.P. These comprised, "Tonight", "Tuxedo Twist", "Whistle Down The Wind" and "You Are My Sunshine".
Around May 1963, however, Don Hawkins left take up an acting career in England. Eddie Sparrow then replaced Don. Eddie had been playing drums in The Playboys, Vince Taylor's former band. Originally from Harrogate, North Yorkshire, Sparrow had a fascinating background. Starting out in a local skiffle outfit with keyboard player Stuart Coleman (later a member of Pinkerton's Colours), the drummer relocated to London during 1961 when his friend Les Johnson, who was studying at Goldsmith's College, invited him to join his jazz band in the 'big smoke'.
Unfortunately, work dried up almost immediately, so Sparrow made his way to Soho and, like The Carl Fenn Combo, started to hang out at the Two I's coffee bar. Initially, he found work subbing for Roy Mills in Albert Lee's band but then, through Chris Farlowe's bass player Ricky Sharman, Sparrow was introduced to lyricists Mike Hawker and Don Black.
Through this association, the drummer started picking up more regular work with singers Duffy Power, Rory Storm and Tony Allen. One day in spring 1962, Sparrow was hanging out with Ricky Sharman and Tony Allen when an opportunity to work in Paris arose.
"I was standing on the corner of Old Compton Street and Wardour Street about 11 O'clock in the morning and this little black saxophone player came up the street from Shaftsbury Avenue," remembers the drummer. "He said, 'Hey fellas, listen, I've got to get a guitar player and drummer together for a French band tomorrow'." Tony Allen immediately recommended Sparrow but there was a snag. He didn't have a passport so after hurriedly securing a British Visitors Passport later that afternoon, he headed back to Paris the next day.
Fronted by a Caribbean singer called Gerry Beckles and featuring tenor sax player Ivan Roth (who years later would work alongside Sparrow in The Krew), the group travelled to Morocco twice during 1962, with stints in Casablanca and Rabat. However, in late 1962, the drummer was invited to replace Bobby Woodman (who had jumped ship to join Johnny Halliday) in Vince Taylor & The Playboys.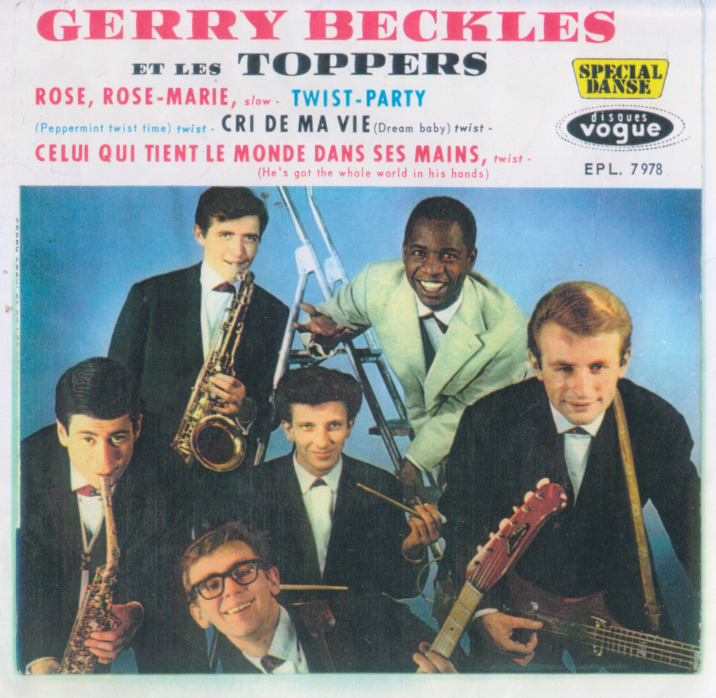 Unfortunately, the band was about to be rocked by Vince Taylor's departure following an affair with Eddie Barclay (of Barclay Records' fame) girlfriend. Despite the singer's loss, Sparrow successfully auditioned and cut several tracks with The Playboys, most notably "Sealed with a Kiss". The drummer also appeared on a single by singer Joe Fagin, who'd recently arrived in Paris from playing the Star Club with Joey Dee & The Starliters.
Around January 1963, The Playboys were performing at Robert Izmir's Spaghetti Club when Sparrow ran into The Carl Fenn Combo, who'd just arrived from Hamburg's Top Ten Club. The musicians soon became firm friends.
Over the next few months, The Playboys, which now comprised Joe Fagin (keyboard/vocals), Tony Harvey (lead guitar) and Johnny Vance (bass), worked as the house band at the Paris Olympia supporting visiting US soul acts, including The Exciters. However, while working in a show at the Olympia called Cherchez le Femme, Sparrow started to lose interest and jumped at the opportunity to trade places with Don Hawkins.
Fielden-Nicholls has his own take on the episode: "Dick Rivers was a very dictatorial character and he had a habit, if he was getting animated, of sticking his finger in your chest. Don said, 'Stop doing that Dick. I don't like it'. He kept doing it and he got worked up over something about a tour and he [Don] lamped him one. [Don] said, 'Sod this for a lark' and [subsequently returned to London and] joined RADA. He worked his way through and ended up in films. He was in Virgin Soldiers and became a film producer."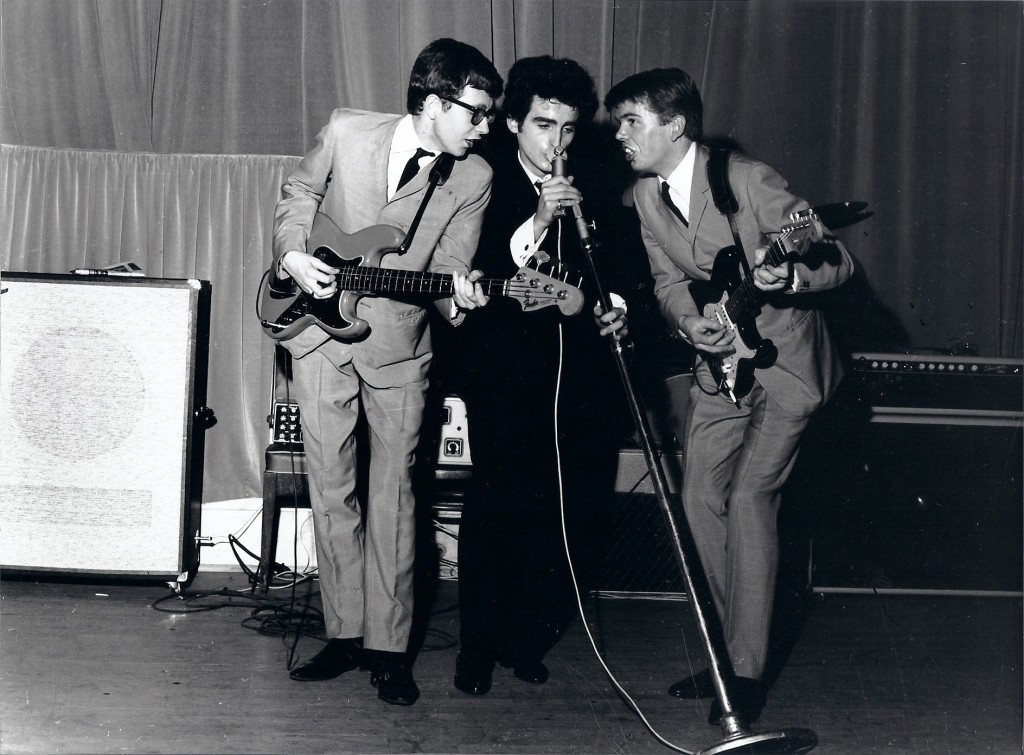 Brad, Dick, Ted – Théâtre de l'Etoile Nov 1962
With Sparrow on-board, The Krewkats returned to Pathe Marconi studio that summer to record four tracks for a second E.P. including a cover of Nero & The Gladiators' instrumental track, "Bleak House". The Krewkats version marked Robert Fielden-Nicholls's debut on lead guitar with Ted Tunnicliffe playing piano. "I changed my Fender Jazz Master for an ES335 Gibson, which Dick [Rivers] brought to the studio. I plugged it in and for the first time played lead guitar on a track that we did over there on one of the E.P. releases," explains the guitarist. "That's really how I came to start playing lead."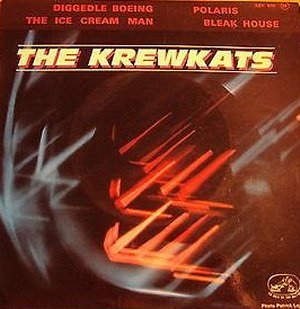 In August 1963, The Krewkats supported Dick Rivers and another French singer, Billy Bridge, on a mini-French tour alongside Nero & The Gladiators (featuring a young Mick Jones, years before he struck fame with Foreigner), a Leicester band called Johnny Taylor & The Strangers and several other acts. "Johnny Taylor called me up," remembers Fielden-Nicholls. "We'd just got back from a tour with Dick and he said, 'You play like Chet Atkins don't you?' I said, 'Well, I try to'. He said, 'We're going to record [an old Crickets number] "My Little Girl". Would you do that?' That's what we did. I think Eddie might have been on that recording as well. Disques Vega was the recording company."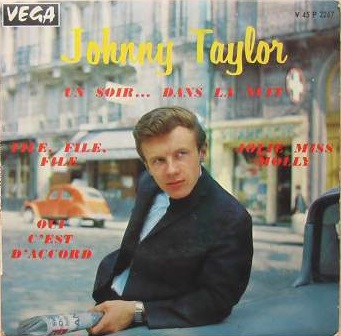 When Taylor's drummer Chris Croxall was unable to fulfil commitments on another tour, Eddie Sparrow stepped in. By this point, John Bradley, Robert Fielden-Nicholls and Ted Tunnicliffe had decided to return to England, with plans to return to Hamburg's Top Ten Club that October. "Ted, Rob and Brad came back to England but they were quite agreeable that I should do that [tour with Johnny Taylor & The Strangers] and the idea was that we were going to get together again and go to Hamburg," remembers the drummer.
To help fund the return visit, Tunnicliffe worked as a waiter in a hotel in Shropshire and Devon during September. Back home in Harrogate a little later, Sparrow also found a local job to cover the costs of the forthcoming trip. With the impending visit weeks away, the musicians decided to expand the line-up and John Bradley found pianist Mike Pinder, who in turn brought in another Birmingham musician, singer/harmonica player Ray Thomas. However, Robert Fielden-Nicholls was suddenly incapacitated with a severe bout of the flu with breathing complications. "Mike, Ray and Brad came round to my house and I was still in bed," remembers the guitarist. "I had a terrible time of it. They said, 'We're going out, will you come with us?' I said, 'I'll have to join you later on'. I was not well."
Sparrow picks up the story: "We all went out to Hamburg again and Mike and Ray were in the band. I don't think we had a rehearsal, we rehearsed when we got out to the Top Ten I think." Arriving back in Hamburg, the quintet was met by former The Carl Fenn Combo pianist Iain Hines, who had been working as the booking agent for the Top Ten Club since late 1962. In an amazing twist of fate, Sparrow discovered that the Hines family was originally from Harrogate and Iain and Eddie had previously crossed paths in a local music shop years earlier.
The Krewkats held down a month's residency at the Top Ten Club during October 1963, during which time the musicians ran into future member, tenor sax player Howie Casey, who was playing with King Size Taylor & The Dominoes. The sextet also befriended Glaswegian band, Bobby Patrick & The Big Six (featuring future Krew member Archie Legget) who were working at the nearby Star Club with singer Tony Sheridan as the house band.
However, after completing the month's booking, the club's owner Peter Eckhorn sent the group to his sister club in Hannover. The Krewkats' residency lasted barely two weeks when Mike Pinder and Ray Thomas decided to travel to Hamburg one weekend but never returned. When the future Moody Blues' musicians failed to materialise for the following week's shows, the remaining trio was forced to return to Hamburg.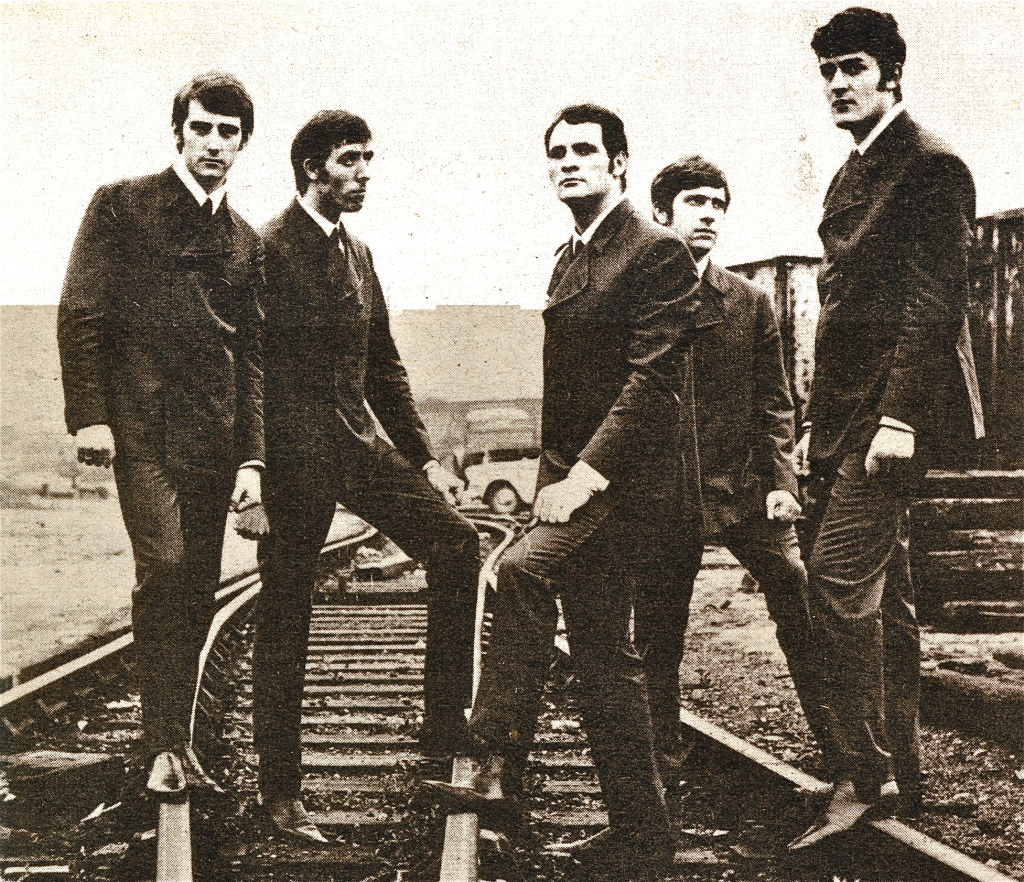 The Moody Blues c1964 (Mike Pinder centre, Ray Thomas far right)
In an interview for Mark Powell for The Magnificent Moodies box set, Ray Thomas spoke at great length about this episode: "[Peter Eckhorn] owned a club in Hannover, which was going to close down because it wasn't doing very good business," he recounted. "And so he said to us, 'After you've finished your month at the club in Hamburg, go and play my Hannover club for two or three weeks until it closes down', so we went down to Hannover. We were a pretty good band, and as a result the business at the club picked up and so he decided he wasn't going to close it. The problem for us was that he was just feeding us money from the bar sales of this club. We weren't getting our proper wages. Things got quite desperate and we kept on trying to get hold of him and couldn't. Eventually we [Mike and Ray] went back to Hamburg basically to get our passports as he was holding on to them, and to get our papers you see.
"When Mike and I got back to Hamburg, we went to see him to have it out with him and he threw our passports at us. When we opened them up we discovered that the bastard had arranged for our work visas to be terminated when we left his club in Hamburg, and so we'd been working for a month illegally. When we asked him to pay us the money we were owed he just told us to fuck off. We couldn't go to the police because our German work permits had expired, we shouldn't have been working anyway. He'd got us over a barrel. We were stony broke but at least we got our passports. Mike and I decided that we should go straight home but we had not option other than to walk."
Fully recovered, Robert Fielden-Nicholls arrived that December to witness the fall out: "This was a period of time in which you have to appreciate I wasn't actually there for those two months but I do know the beginnings of it. I know from the sincerity of having spoken to John [who died in 2013] and Ted a while back now. They [Mike and Ray] asked the club for the months' money in advance of the pay date. I gather that they intended to return early to the UK."
"They didn't just leave, they broke three contracts we had signed, leaving us to deal with them as a trio – Brad, Eddie and me," adds Tunnicliffe. Eddie Sparrow provides further detail: "We hadn't been paid and were going to get paid at the end of the month. Off went Mike and Ray and we never saw them again. But the story that we got was that they went in to see Peter Eckhorn and asked for the band's wages. The lot. Peter Eckhorn, a shrewd character, said, 'I'll give you what you are due, what you've earned but go back there [to Hannover] and you'll get the rest at the end of the month'. Of course, they never came back… We got back to Hamburg and Peter Eckhorn told us that and he could have said, 'They took all the money' but he said, 'No, I paid them what they played for and I kept the rest. You guys are due money'. We got paid properly, the full month's money."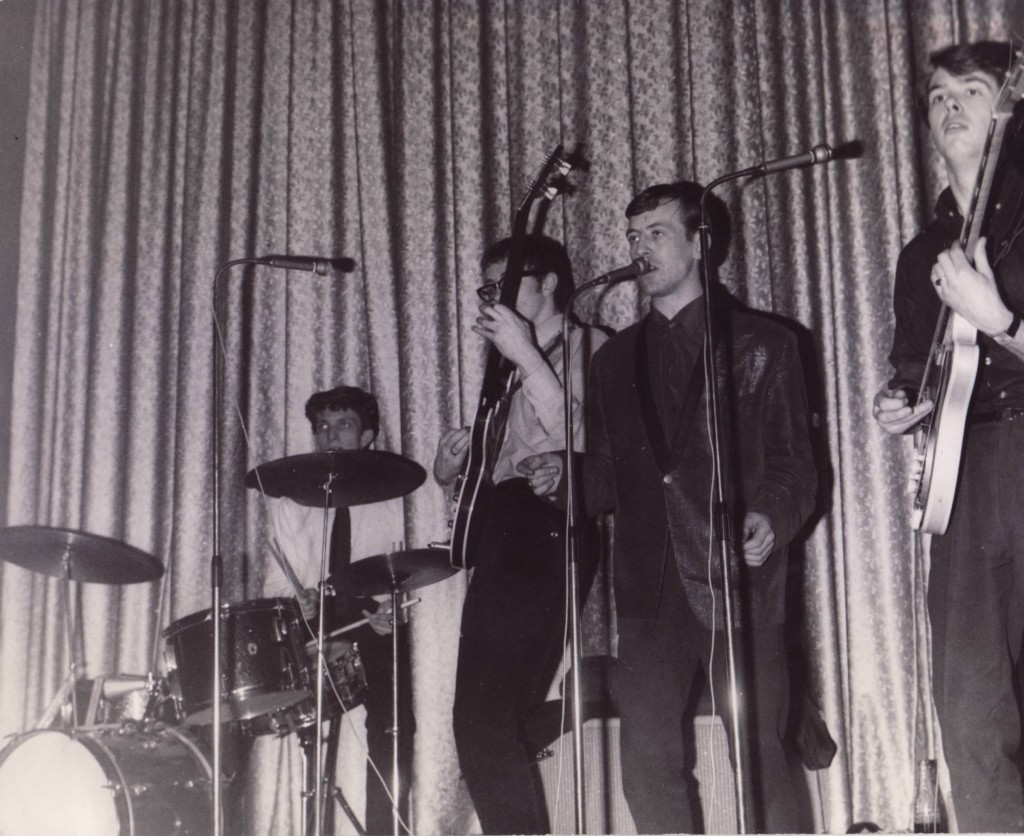 The Krewcats, Star Tanse Casino: Eddie Sparrow (drums) John Bradley (bass), John Richie (vocals) and Ted Tunnicliffe (guitar)
Robert Fielden-Nicholls recalls that when he arrived, the group had briefly taken on Scottish singer John Richie but he soon moved on when John Bradley decided to sing lead vocals. Not long after, Sparrow remembers the remaining members cutting some recordings with singer Tony Sheridan for James Last with English producer Paul Murphy. The drummer remembers having met the Liverpudlian during 1961/1962 at the Blue Gardenia Club, which was run by another Scouser, Casey Jones. Sparrow also remembers Bobby Patrick & The Big Six were working at the club at the same with singer Barry St John and that The Beatles worked there a bit later too. "I know we did a very good session with Sheridan," says Sparrow. "There was one particular number, an old German folk tune [Du Liegst mir am Herzen] but the blooming guitar solo that Sheridan did on it was absolutely phenomenal."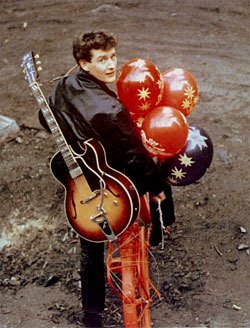 Tony Sheridan
Continued at The Krewkats 1964-1965: http://thestrangebrew.co.uk/articles/the-krewcats-1964-65
I'd like to thank the following people for helping to piece together the band's long and tangled history: Robert Fielden-Nicholls, Ted Tunnicliffe, Eddie Sparrow and Howie Casey. Thank you to Robert Fielden-Nicholls and Ted Tunnicliffe for photos.
Copyright © Nick Warburton, 2015. All Rights Reserved. No part of this article may be reproduced or transmitted in any from or by any means, without prior permission from the author. To contact the author, email: Warchive@aol.com or nick_warburton@hotmail.com
This post does not allow comments