By Nick Warburton
Brian Walton – lead vocals
Keith Kendall – lead guitar
Les Berry – rhythm guitar
Bob Williams – bass
Bob Young – drums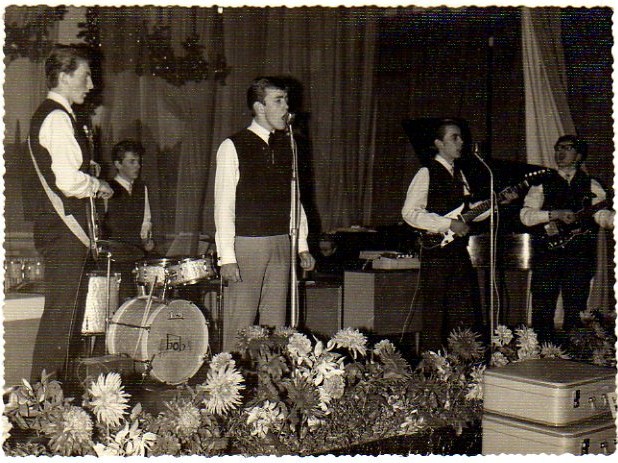 Brian & The Fantoms; from left to right, Bob Williams on bass, Bob Young on drums, Brian Walton vocals, Les Berry on rhythm and Keith Kendall on lead (used with permission from Bob Young)
Originally formed as Brian & The Fantoms at Mellow Lane School, Hayes in Middlesex in 1962, the young teenagers very nearly got signed to Decca Records after The Rolling Stones' manager Andrew Loog Oldham came to check them out that year.
"Loog Oldham had heard about us and came along to see us at a youth club gig in Greenford," remembers Kendall. "When he saw us he said he hadn't realised we were so young and couldn't take us on."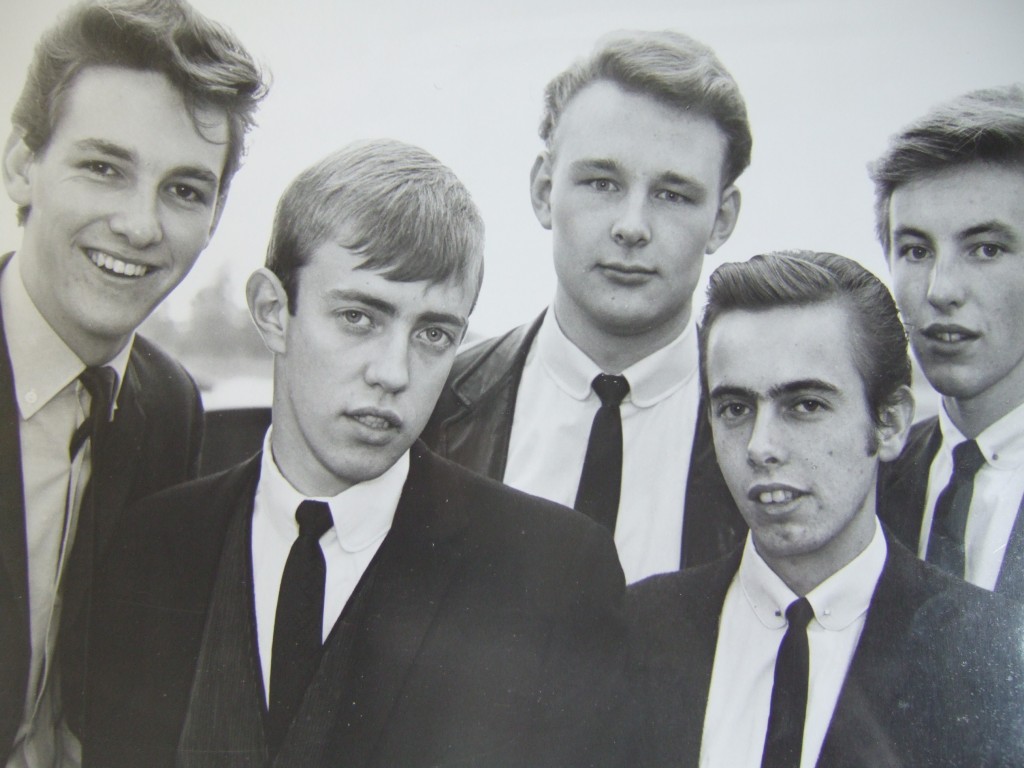 The Fantoms/Phantoms; from left to right: Bob Young, Brian Walton, Tony Bramwell, Les Berry and Bob Williams (used with permission from Tony Bramwell)
After the Decca deal fell through, Brian & The Fantoms won a local battle of the bands contest in Hayes Park, which also featured local rivals Jess & The Javelins and The Alpines (with future Deep Purple singer Ian Gillan on lead vocals). A short time later, the band was given a Saturday night residency in Ealing at a teenage "alcohol free" club called Les Reed's Saturday Club.
"We built quite a following and on several occasions there was a frizzy haired lad about the same age as us 14ish-year-olds who used to stand dead centre right in front of the stage watching Bob Young," says Kendall.
"For a 14-year-old Bob was a little wild on the drums to say the least and it must have looked pretty fantastic from the audience. This person turned out to be Mitch Mitchell."
Billed as The Phantoms, the group began to extend their range, appearing regularly at the Bedsitter Club in Holland Park.
The Phantoms; from left to right: Bob Williams, Brian Walton, Les Berry, Tony Bramwell and Bob Young (used with permission from Tony Bramwell)
In mid-1964, however Keith Kendall left to join The Limelites, who had been resident Sunday night band at the Clay Pigeon in Eastcote, Middlesex, and soon after they changed name to The Legends. The group subsequently recorded as The First Impressions and The Legends.
Lead guitarist Tony Bramwell from Heston, Middlesex took his place, having met Bob Young at Isleworth Polytechnic (where John McVie was also a fellow student).
Shortly after Bramwell joined, the group changed name to The Phantom Creed and the musicians continued to build up a following on the local club circuit.
"Phantom Creed" in Boyfriend Magazine, February 1965
In late 1965/early 1966, however, Bramwell left to play with a number of bands, including the Hum Drum Band and Keith Kendall was asked to re-join.
Not long after his return, Brian Walton decided to emigrate to the United States and Alan Eggleton took over the lead vocals.
The new line up continued to gig but by mid-1966 Kendall had departed a second time to join another bunch of school friends from Mellow Lane School, Four Point Five, who would subsequently change name to The Soul System. Kendall would later join West London band, The All Night Workers.
Notable gigs:
20 March 1964 – Bedsitter Club, Holland Park, London (billed as Phantoms)
3 April 1964 – Bedsitter Club, Holland Park, London (billed as Phantoms)
18 April 1964 – Bedsitter Club, Holland Park, London (billed as Phantoms)
15 May 1964 – Bedsitter Club, Holland Park, London (billed as Phantoms)
28 February 1965 – Byron, Greenford, Middlesex (billed as Phantom Creed) with Group One
Thanks to Keith Kendall, Bob Young and Tony Bramwell for providing information on the band. 
Gigs from Melody Maker and Middlesex County Times & West Middlesex Gazette
Copyright © Nick Warburton, 2013. All Rights Reserved. No part of this article may be reproduced or transmitted in any from or by any means, without prior permission from the author.
I have tried to ensure the accuracy of this article but I appreciate that there are likely to be errors and omissions. I would appreciate any feedback from anyone who can provide any additions or corrections. Email: Warchive@aol.com