The Electric Stars have an excellent new album out, "Sonic Candy Soul" that retains a classic songwriting sensibility tied to the best elements of rock and roll. The Strange Brew's Jason Barnard speaks to the group's lead singer Jason Edge to delve deeper into one of the best groups on the current music scene.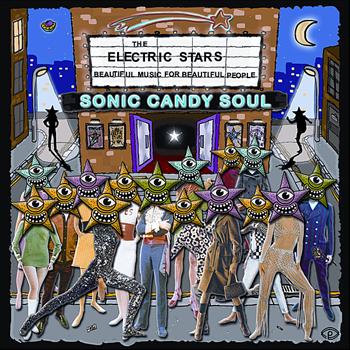 "Sonic Candy Soul" was produced by Martin Coogan (Mock Turtles) and Yves Altana (Chameleons), what was the recording process like?
Thanks for giving me the chance to talk about the album. Recording with Martin and Yves was fantastic because both of them have a great understanding of music and styles. Also they know that the song is always the most important factor while you are in the studio, so never get carried away on self indulgence. We are a songwriting rock n roll band and they got that straight away!
"Stoned Again" features Denise Johnson, former Primals singer. How did you get to work together?
[tubepress video=OTYLnu55UPU]
As the singer in the band I have always been obsessed with soul, blues and gospel in pop. I love the warmth it can give you and for me all the great bands have more than a touch of soul in their sound.
So, having the chance to work with Denise was wonderful. We have always been fans of her voice; it has a drop dead beauty about it. She delivered a stunning part for us in one take! 
Denise is a Manchester girl and we have known each other for a while but to actually be in the same studio was a special moment for me. 
"I Want You" has an instantly catchy hook. Can you tell me about your excellent video that accompanies it?
Ahh, the video to 'I Want You' was filmed by our very good friends "Cosmic Joke". Alex is the main man and he has fab ideas.
He came up with the story board after checking out the lyrics and his plot fits perfectly. We were very happy with the vid and it has about 5,000 hits now so it did its job very nicely.
[tubepress video=wTqvha0TYrc] 
How do you approach writing your material – do you jam and/or start with an idea – musical phrase or lyric? 
To be honest man, all the songs start pretty much the same way – me with an acoustic, gettin the chords/melody and words. Once it looks like its good enough to show the boys, we then work on all the riffs, hooks and grooves. It's a very tried and tested formula, but it works for us.
In terms of the lyrics, are there themes that go across your songs? 
As for lyrics, no themes whatsoever! I write whatever I think and feel needs to be written. Some of it is truth, some fiction and some a combination but I believe you should not have rules to writing. If an idea or lyric is good enough then let it happen! 
I particularly like the lyrics of "Bedtime Stories". 
Bedtime stories is quite dark, but it came about from seeing something on TV then mashing that up with some of my own memories of being a kid. The dark and twisted bits are not mine! (laughs) 
What are you musical influences, past and present? 
Influences…mmmm… Tricky because you never want to bag yourself but, I have to say we have never tried to hide the fact we are a rock n roll band. So, Stones, Kinks, Who, Beatles, Bowie, Bolan, Velvets, Mc5, Iggy. But we also dig Primals, Roses, Kasabian, Dandy Warhols etc. I could do you a very long list but you get the picture!
The Beatles or The Stones? 
For me, The Stones.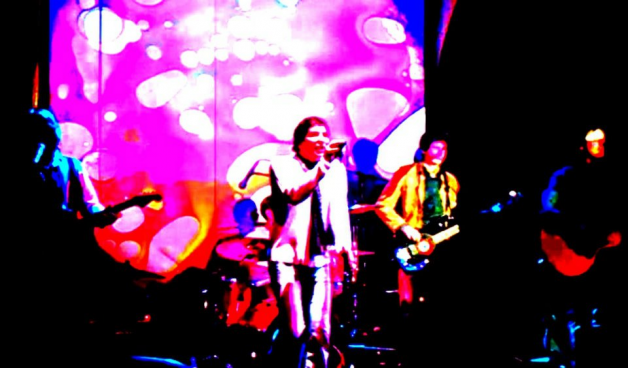 I've heard that you were formed out of a range of Manchester bands. Can you tell when and how you got together? 
No real pattern to getting the line up in place really. Me, Keef and Andy had been jammin for a while and when we went into the studio Damian and then Jonny jumped on board from other bands. You know what its like, you have to try different combinations until you hit gold! 
Are you from all from the Manchester/Salford area and does that incredible music history have an impact? 
Yes we are a true Manchester band and yes it does impact on you. You can't help but feel it all around you. Manchester is one of the music capitols of the world, along with New York. Mancunians have a style and swagger all of our own. You have to be one to get it! (laughs) 
How did you come up with your name? 
We needed a name that encapsulated all of what we stand for but also was totally original. We were working with a manager at the time called Matt and he was very conscious of the internet and search engines. He said whatever you pick, make sure it is 100% original and you stand more chance of being at the top of any search. He was spot on! 
Can you tell me about your live shows, how do you approach them compared to recording and what should new fans expect when they see you?
As for live. – it is raw, that's where you see the real us. It's rock n roll. We sound more stripped and wired. You can hear our soul man.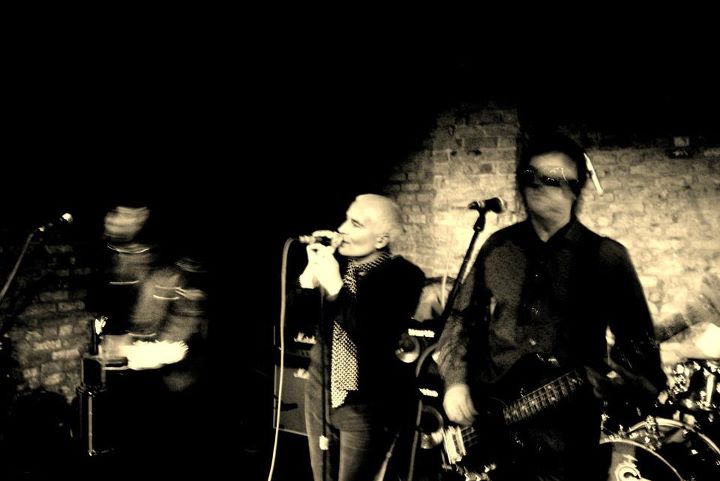 You're on Detour Records, how and why did you sign with them? 
Detour is a great label and Dizzy is a man who loves his music. It's not about unit shifting for him. It's about does he like what he is working with. There are not many labels left like Detour now! We signed early this year and Dizzy did a fab job with the single and we were very happy when he offered us a great deal with the album. Fab! 
What groups do you admire at the moment and what do you make of the current music scene? 
The current scene is so fragmented and broken into tiny little sections and genres. I think Kasabian are the best band around right now but to see any good new stuff you have to dig around a fair bit! 
All the big money is being wasted on talentless kids TV shows! Cowell is the only one making any money and learning to write original songs is going to become extinct at this rate. 
Do you have plans for future singles from "Sonic Candy Soul"? We played "Isolation" on the Strange Brew Podcast, there are plenty of possible choices.
Yeah, I reckon there could be at least one more single from the album but we already have a 2nd album written and will go into the studio early January.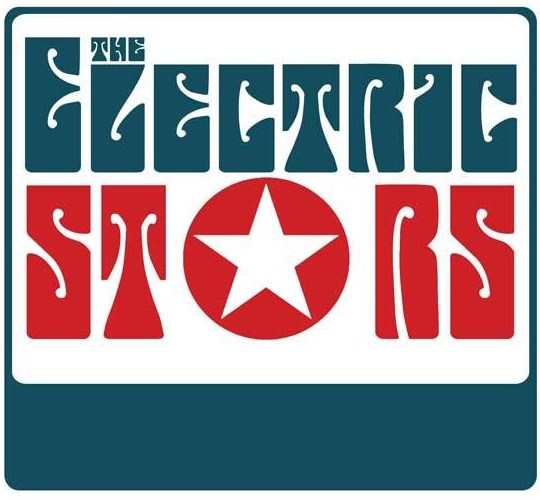 What's next, more shows, new material?
So for now, more gigs and try to raise our game to play to bigger crowds.
More information on The Electric Stars and "Sonic Candy Soul" can be found at:
http://www.theelectricstars.com/
http://www.detour-records.co.uk/DRCD058-ELECTRIC_STARSinfopage.htm
Copyright © Jason Barnard and Jason Edge, 2012, All Rights Reserved. No part of this article may be reproduced without the permission of the authors.