For the first time Steve Clarkson tells the Strange Brew of his time with Leeds beat band The Dimentions:

The Dimentions at The Mandrake Club in York in Summer '65 with L to R:- Pete (Lead Guitar), Steve (Lead Vocals), Baz (Drums), Robin (Bass), Fran (Rhythm)
The Dimentions were formed in 1964, disbanding in 1966. Short shelf life but great times.
As we all worked for a living we all booked the same fortnight in August 1965 and went "On Tour". We loaded the Thames van and worked the Yorkshire Coast. Not having any firm dates we worked in dance-halls and clubs on a 50/50 split of "The Door". Even played "The Cavern", Bridlington not Liverpool!
Had a great time including going "under-the-wire" at Butlins Filey to meet up with "The Dawnbreakers". Pete & Co.had the luxury of Butlins accommodation whereas our bed could be "Marshall"column speakers in the Thames!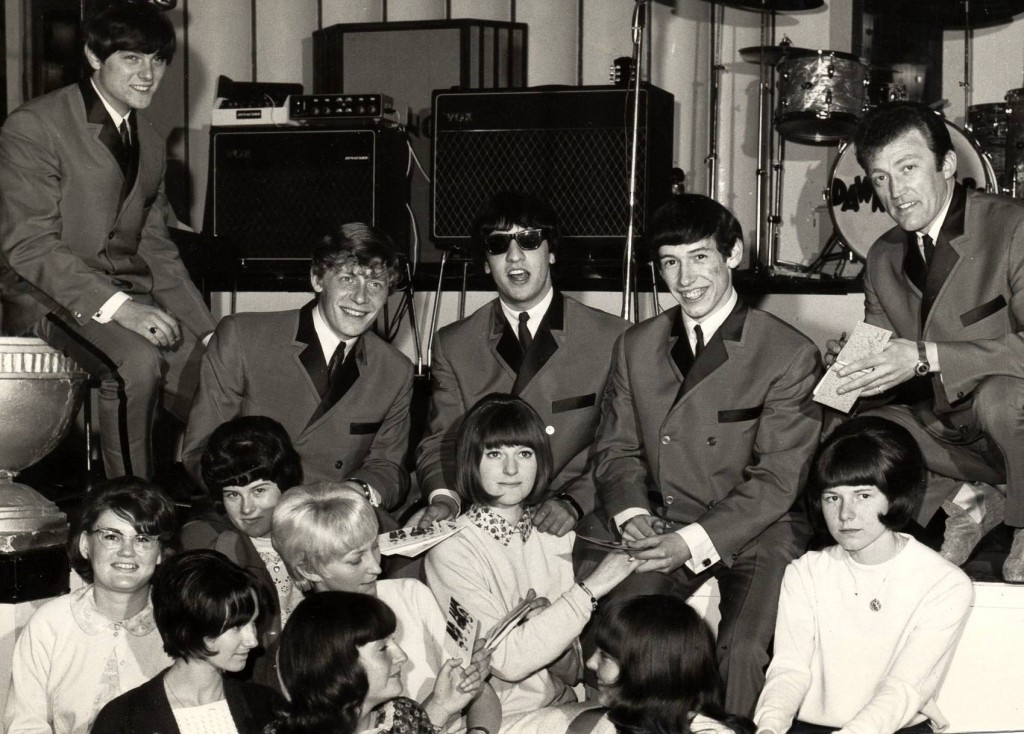 The Dawnbreakers in Filey – 1965
Apart from that working holiday we had regular bookings throughout late '64,'65 and early'66. Two which spring to mind are Hull University '65 as support to Kris Ryan & The Questions from Burnley. He had a great voice and stage presence and I seem to remember them releasing a record on Mercury. Anyone remember them?
(Editor's note – there's a great feature on the band at http://www.manchesterbeat.com/groups/krisryan/krisryan.php)
The other was at Doncaster Co-op '66 as support to Wayne Fontana after his split with The Mindbenders.
Other regular venues were Oak House – Pocklington, Mandrake Club – York, Tahiti-Two – Huddersfield – (Anyone remember them?) plus all the usual pubs, clubs and dance-halls in the Yorkshire area.
Apart from performing one of the high-lights of those days was groups from every where meeting up in THE TOMATO DIP, a 24 hour cafe on Kirkstall Road, Leeds at about 2.00am returning from a gig and comparing notes!
One of the things us "serious"musicians in 60's Leeds could not get our heads round were The Grumbleweeds! We all said they won't last five minutes, you're either a group or a comedy act! I saw them recently, headlining at The Futurist theatre in Scarborough, guess even after 46 years we can make mistakes! (Robin of the Grumbleweeds is a friend and I'm delighted he's still working for a living!)
Yes great days and imagine getting paid for enjoying yourself!
If anyone has any more memories of the Leeds and Yorkshire music scene in the Sixties and early Seventies please get in touch through the comments box or

Contact Us page
.