By Jason Barnard
One of the great singers of the 60s scene, Steve Ellis, was front man for The Soul Survivors at just 15.  Soon renamed The Love Affair, the band embarked on a dizzying period of success launched by chart topper 'Everlasting Love'. A series of classic pop hits followed across 1968 and 1969 including 'Rainbow Valley' and 'Bringing on Back the Good Times'.
However by late 1969 Steve and the band went their separate ways with Steve going solo and the rest of the group soldiering on. In the 1970s Steve recorded some excellent solo material in the soul mold before forming the more rock edged Ellis and Widowmaker. The 1990s saw a new wave of live shows culminating in a pair of critically acclaimed albums in more recent years.
2015 is another big year for Steve with his work in The Love Affair and early solo tracks marked by a new RPM box set 'Time Hasn't Changed Us', single with Cow – 'Rise' and 'Up', and forthcoming nationwide tour. Jason Barnard spoke to Steve about good times old and new.
How did you get into music at such an early age?
My mum used to buy me Ray Charles records when I was 14. She used to bring them home from the Co-op and say "I've just found this." I'd say "Mum, that's brilliant." I suppose that was the start of it really, listening to Ray Charles and something like the 6-5 Special. It led me into this chaos with the help of some friends of mine that put me up for an audition, unbeknown to me. My dad wanted me to be a footballer but I don't think I was up to the standard of Arsenal which was his team. I was in the band when I was at school. I left school, had an apprenticeship and about 16 or 17 I had this hit record.
Before 'Everlasting Love' The Love Affair were signed to Decca for one single. You covered 'She Smiled Sweetly' with the b-side being 'Satisfaction Guaranteed'.
A one shot deal and an abysmal copy of a Stones number in the wrong key. (laughs)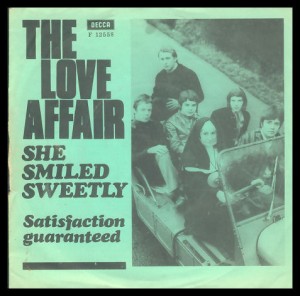 But the b-side was one of your own.
It was the first track me and the keyboard player consciously sat down and wrote. We used to do it live and we played with Geno Washington. Geno said to me "Did you write that?". I said "Yeah, me and the keyboard player, Morgan." and he said that he'd like to cover it. I don't think he ever did but it was a bit of encouragement as we were about 16 at the time.
It's incredible that you and the band were so young.
It was. I was out of school and already in the band. We were gigging in the Marquee, Tiles, everywhere in London. We were going up north to Manchester and places that turned into Northern Soul strongholds in the next decade.
'Satisfaction Guaranteed' has a real soul feel. Was that more representative of the band's sound before you went to CBS?
Definitely live. We just sat down and that's what we came out with.
The Love Affair then signed to CBS. I've read Muff Winwood got you the deal.
No, Muff Winwood was pre-CBS. He picked up on us and we recorded briefly with him. That was at Island studios and got passed back down to management.
Once signed to CBS you first recorded 'Everlasting Love' as a band.
Yes, we did a version that the powers that be decided I would never hear since. The management decided it needed a big production instead so I went in with Mike Smith, Mike Ross and Keith Mansfield. There was a 40 piece orchestra with Clem Cattini and top session players. I was like "Where's my band?" (laughs). Two takes, done. That was it.

"Everlasting Love" resonates with your audience. It seems like a song you'll never escape.
You're right. For a while I didn't do it and people were very disappointed. So I thought about it and I thought "They're paying to get in and they want to hear it." You can't turn your back on your heritage, you cannot not do what people want. It's become one of those songs of its time, of its era. When we play it live everybody goes mad. We usually finish up with it and maybe we go back on after. It used to be a bit of a curse and I thought "You know what. I'm lucky really." To have a record of that magnitude at 17 years old. It's served me very well. I don't just do it like a jukebox, I do it properly. We've ended up doing a five minute version where it turns back on itself. We've got a 64 date tour coming up, you've got to juggle things around a little bit. I couldn't do karaoke, it's not in my bones.
I've read you did Top of the Pops five weeks in a row.
We were on this show with all the people. One minute you were looking at them on the telly thinking god, he or she's great. The next thing is that they're in the dressing room next door talking to them. It was all a bit surreal like The Who. We'd had a couple of hits and ended up at Heathrow Airport at silly o'clock one day. They came walking over to us and said "Hello boys. We are you going?" We said "Germany" and said "What are you doing?" They said "TV, Beat Club." and we said "So are we." So we ended up having two days of complete madness with The Who. 1969. That's how I got to be pals with Roger.
And with Keith Moon as well.
Yeah, tragic. People go on about how funny it all is but it's not because he's not here is he.
'Hush' was on the 'Everlasting Love Affair' album that you did. Was that recorded with the band?
Absolutely, live in the studio. We used to do it live on stage and it went down really well. Many years later a band called Kula Shaker covered it pretty much to the letter. It was pretty much identical version and they had a hit. But we just did it as an album track.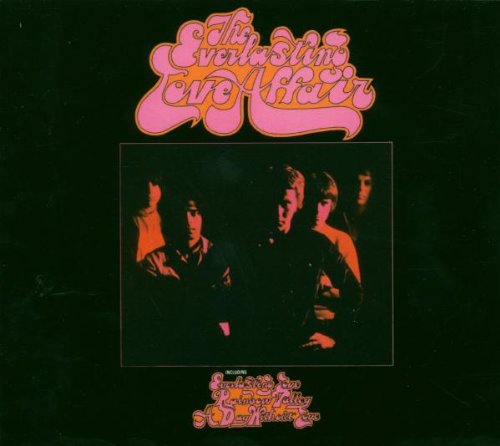 You had a string of hit singles in that pop soul mold and you became pin-ups. However you became a little disillusioned after a few years.
It was all a bit mad really. 'Time Hasn't Changed Us' was chalked for a single at the end of 69 when I was wanting to leave the band. We couldn't hear what we were playing live and I thought "There's no payback musically here." They wanted to do other stuff and I wanted to do other stuff. They wanted to go into this sort of prog-rock stuff and I wanted to do more souly bluesy stuff. So 'Time Hasn't Changed Us' didn't come out and I forgot all about it. I can't even actually remember recording it. I think it was one of them where I'd go in, put a vocal on it.
About a year ago I was speaking to Phil Goodhand-Tait who wrote three or four hits for us. He said "You'll never believe it but I was clearing the garage and I found this old acetate." I said "What is it?" and he said "Time Hasn't Changed Us". I said "I don't remember it. Send it to me and I'll get it up the studio and see if they can snatch it." The acetate was in a real bad way. The lacquer was lifting of it and it we had one shot to get it. I sent it to a guy who's really good and he got it. They then worked their magic and got rid of the glitches and clicks and hence it's on the album. Bit of a lucky break to get it in one hit.
And "Time Hasn't Changed Us" is the title of the new box set on RPM.
Yeah, that's what the record label wanted to call it.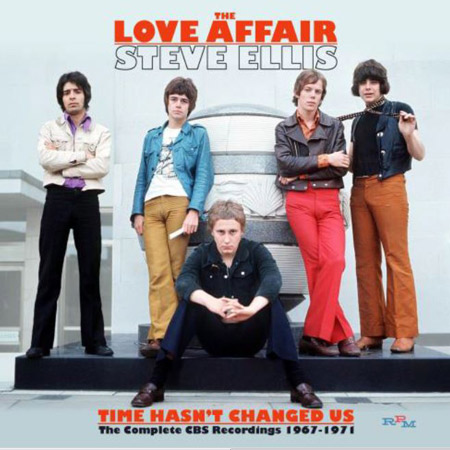 There's been a number of Love Affair compilations but this seems to be very comprehensive.
Yes, we had to leave some stuff off that we couldn't get on a 3 CD box set. They found some live stuff at the BBC so we put on three or four of those. Then we run out of space. There's 20 tracks on CD three and similarly on one and two so there's a lot of stuff on there.
There's some interesting cover choices for the BBC sessions.
We did a lot we live sessions such as Dave Lee Travis, David Symonds, loads. John Reed at Cherry Red managed to track them down so we have 'Walk On Gilded Splinters', stuff we used to do live. It was nice to hear them as I hadn't heard them for 40 odd years. I hope people like them. There's a good version of 'Day In The Life' which is Hammond organ driven, a bit like Booker T. Morgan was a really good keyboard player. We also did Johnnie Walker but unfortunately we couldn't use them as there's wasn't the room.
And that's the first time they've been out.
Ever, yes.
'One Road' was one of your last singles with The Love Affair.
The one before last. I think it's a really good song and was a little bit of a change in direction for the band. It got top 20 and used to go down well live. It was different to the "Day Without Loves", the "Bringing on Backs", "Rainbow Valley" and all that stuff.
Love Affair didn't go over to the States.
No, we did Europe. There was plans but it didn't materialise. I think we had hits in various US states but you've got to go across there and work it. I don't know why we didn't but we were just hamsters on a wheel at the time. But it was a good grounding and a good way to start.
You did some solo sessions after Love Affair that also feature on the box set.
I left Love Affair in the December so in the January and February I went into the studio with Keith Mansfield, who did all the Love Affair stuff, and a band. I was left to pick what I wanted to do by CBS. The aim was to record a double LP, one with Keith and the other with a band called Hookfoot. When I finished it I had a hankering to get a band together so we said we'd put the album on the back burner temporarily. So it got lost. It was stowed away in the archive and I moved on with what I was doing. I hadn't forgotten about it but I thought "I'm doing something else now."
Some 40 years later I was trying to source it but nobody could find it anywhere. Just by chance a guy who works at Sony stumbled across a track listing and he said "Is this what you're looking for?" We said "Yes, where is it?" He said "It's in our archive but there's no name on the boxes, just track lists." But I had remembered the tracks. It was all on two inch masters so had to put that into somebody to bake them because they shatter. Then transfer them on to files. I got a friend of mine to mix it. I was sitting there thinking "Wow, I haven't heard these for 40 years." It came out on this small label for a while then Cherry Red said they wanted to include it in the box set.
The recordings are sensational. They must be some of your best work.
Everybody says "You should have put it out." Hindsight's a wonderful thing. At the time I thought "I want to be in a band." When you're 20 you think you're going to live forever, "I'll get back to that next month and it turns into 10, 20 years, whatever. But I'm really glad we found it after two or three years looking for it.
Can you tell me about Hookfoot. Caleb Quaye was in them wasn't he?
They were Elton John's backing band. Caleb was a mate of mine and lived down the road where are grew up. He was like top guitar man where I lived. Actually I tried to get him to join Love Affair in the beginning but he was a bit older than us and he already had a band. So there was a bit of history between us. So I got hold of Caleb and said I was doing this stuff and we did quite a few tracks for this album.
You recorded 'Rainy Night In Georgia' in that period.
I had a Tony Joe White album and thought I had to record it. Of course now it's a classic and a lot of people covered it. I got in there first, but it came out last! (laughs)
Was 'Loot' part of these sessions?
That was totally nothing to do with it. After the 'Lost Masters', as they are now called, I did the soundtrack for the film 'Loot'. Keith Mansfield said "Do you fancy doing this?" and I said "Why not". So I went to Elstree Film Studios and looked at a big film screen. They said "Look, you've got to come in here." It was a couple of days in the studio and a bit of an education. I had Doris Troy, Madeleine Bell, and Sue and Sunny on backing vocals. I thought I'd died and gone to heaven. It's a bit of a mod classic and sought after on vinyl apparently.
With reissues and YouTube it becomes bigger than it was at the time.
I believe you're right.
You worked with Chas Chandler. What was Chas like?
I did a couple of singles with him. He was a good guy, liked to burn the candle at both ends. He was fine in the studio and had a thing about hand claps. Everything's got to have hand claps. This was borne out with Slade. It was a bit of a standing joke with Chas, "Shall we put the hand claps on Chas", "Alright, ok.." I did "Have You Seen My Baby (Hold On)" with Zoot Money, Eggs Over Easy (a Canadian band working with Loudon Wainwright) Johnny Steele (Animals drummer), Jimmy McCulloch (Thunderclap Newman) and Howie Casey's brass section. We did some gigs at The Tally Ho which became quite a famous pub rock gig at that time booking Brinsley Schwarz.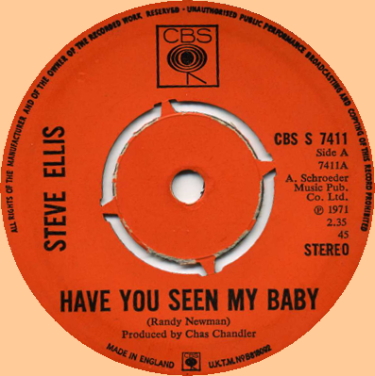 I assume you formed Ellis to be in a band again.
I got pally with Zoot Money and we said that at some point we'd get a band together. He had a lot of work commitments at the time so 18 months later we said "Right. Let's do it." I'd already got pretty much everybody else so we were waiting on Zoot. We relocated to my house, a cottage in the country. We rehearsed to come up with an album and some really good tracks. We did two albums for Epic but I believe the first one is better. It was produced by Roger Daltrey and was a next door pal of mine. He did a good job.
I don't recall Roger Daltrey doing much production work with other bands.
He's only produced one other band, Bent Frame. They did an album for Track that never came out. He's just my mate and said "I'll produce you." We routined the album for about a month at Mitch Mitchell's. He had a cottage about five or six miles away. Roger then came back from a Who tour and we went straight into the studio and put it all down. Zoot wrote "It's Good To Be Alive". He was wondering around with his guitar in the meadow. He said "I've got this great song." He played it and we all cracked up laughing and said "Right, let's do it." It was a bit organic man!
"El Doomo" is another one of your signature tracks. It has been well remembered over the years.
Yeah, it's funny. It's got a life of its own. It's one of them that didn't sell millions but people love it. It's very, very different to things I'd ever done. It's almost ghost like. A band called Smak covered it in Bosnia or somewhere like that and had a big hit with it. I wrote it one day and we rehearsed it up. However I was short of a title. It's got this run down at the beginning, this Spanish guitar thing. Zoot with his typical sense of humour said "We'll call it El Doomo because it's miserable!" (laughs) So it stuck. People say "Why is it called El Doomo?"
You also re-did it recently.
We did it live for a while and then we reshuffled it. Like everything it goes on the back-burner.
Why did Ellis break up?
With the Ellis band it was so far away from Love Affair it was like commercial suicide. We used to play universities and colleges. Although Epic got behind us to a certain degree we weren't getting the sales that they wanted. The head of Epic, CBS at the time, said "We want to lose the band but keep you." Of course I wasn't pleased at all about it. There was a lot of discussion and despondency in the band. The band said look "It's your shout really. If they are putting pressure on you, you've got to do it."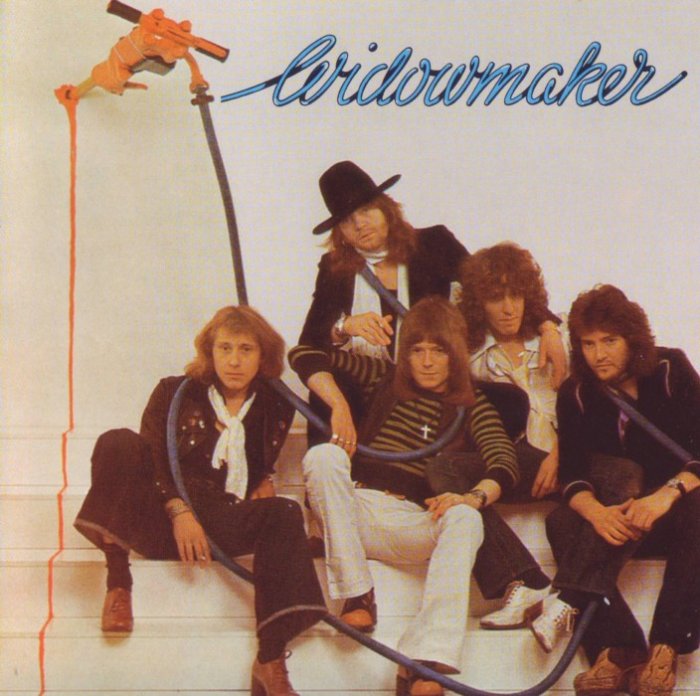 Your next band was Widowmaker, "Pin A Rose On Me" is a really nice track.
Thanks. Widowmaker was hard rock and much more suited in the rock arena. We did a big support tour for three and a half months with ELO who were on the same label as us. We were doing amphitheatres with big crowds and big festivals. It was a bit brutal as it was a long tour. We were a good band but there were mix-ups with the licensing in America. We were supposed to go on United Artists but then it got delayed. The album went in the charts the first week but then you couldn't buy it anywhere. You'd go round the shops and they'd say they didn't have it in yet. So we missed the boat because of that, which was a bit of a tragedy. The gigs were great but spending that amount of time together in the end we were sick of the sight of each other. There were a few fisticuffs and things. We just decided to call it a day.
'Ain't Telling You Nothing' has that rock sound.
That was me and Luther. He had one part and I had another and they just married up. It was a complete fluke. We sat down and it was like "Add your bit on to mine now. That works!" You can sit down and strum your guitar for hours and nothing happens or you can bounce off somebody. It seems to work better for me that way. But I'm not a songwriter, I'm a singer. There's plenty of good songs out there and you think you'll record it. Sometimes you turn something up yourself and you'll think "That's alright. I'll put that on the album."
You were managed at the time by Don Arden. He was known as being ruthless in his dealings with other bands and people.
He managed The Small Faces, Amen Corner and they all warned me. But I would say he got us out there to those kind of dates supporting ELO. In that respect he did a good job. The other side of the coin (laughs) is that we got paid a wage. Don is gone now and I'm not going to talk bad about him. He had his way of doing things and if you didn't comply he wasn't very happy. But there was no fear factor. He wasn't a kind of gangster that he liked people to think he was. I got on alright with him but he wanted everything his way. I got to the end of the tour and thought "I don't want to do this anymore." I had a meeting with him and he said "We'll pick you up as solo." I said "No thanks Don. I've had enough." He took me to court and lost and I walked away.
You recorded again in the late 70s.
'The Last Angry Man' album. Roger put me on to David Courtney as he had worked with him. He had reams of songs and his studio was down the road from where I live in Brighton. We got on pretty well and I listened to the whole batch of stuff. We cherry picked tracks and went through add-ons like "Soothe Me" by Sam and Dave. We went in with top players like Henry McCullough from the Grease Band, Brian Robertson from Thin Lizzy, Roger Chapman on backing vocals, Tim Hinkley, Barry Morgan and Henry Spinetti on drums. Brian Oadges from Van Morrison's band was on bass.
They were a really good band and they did a cracking album for its time. However it got shelved because the producers had a fall out. I tried to get it out for about a year but it wasn't going to happen because of the politics of it all. I had to walk away which was a bit of a shame. But it came out on Angel Air about five years back. A bit late, but that's the business for you.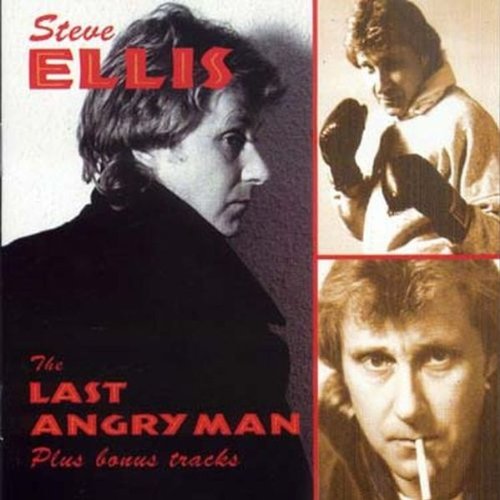 You had a break in recording in the 1980s and had an injury that prevented you being an artist.
I had a bad accident. I had both my feet broken so it took me out the game for quite a while. Later a pal of mine called up and said "Why don't you get back gigging again?" So I thought "Yeah, that's what I've got to do. I've got to get back on the road." So that's I've got to do.
More recently you recorded Paul Weller's 'Brand New Start' on your 'Best of Days' album.
Paul's a mate of mine and I've known him for 30 years. I'm working with him at the moment in the studio. I really like the song so I thought I'd do it and change it round a bit. Do my own take of it, make it more piano driven.
'Best of Days' got really good reviews.
Yeah, I was delighted as I hadn't made an album in quite a while.
You wrote 'Modesty' on it.
I wrote that with the keyboard player in my band and was one of the first we put down. I think it's a pretty good song. I'm not a prolific writer and I don't profess to be. I'll have a go. Sometimes thinks happen and it's like "Yeah, that works."
Again you got some really good reviews for your most recent album "Ten Commitments". "We Got It" is one of the highlights.
I must have gone through about 100 tracks over the course of a year and was filing them away to get back to. There's a guy called Eddie Hinton who used to play for The Muscle Shoals rhythm section. A friend of mine said "Listen to Eddie Hinton" and I thought "What a great voice." I played his album and this particular track jumped out at me. Sadly he died very young but he wrote for Percy Sledge and all kind of people in America. I think he wrote 'Cover Me' and 'Warm and Tender Love' for Percy Sledge. Me and the band did a really good version of it.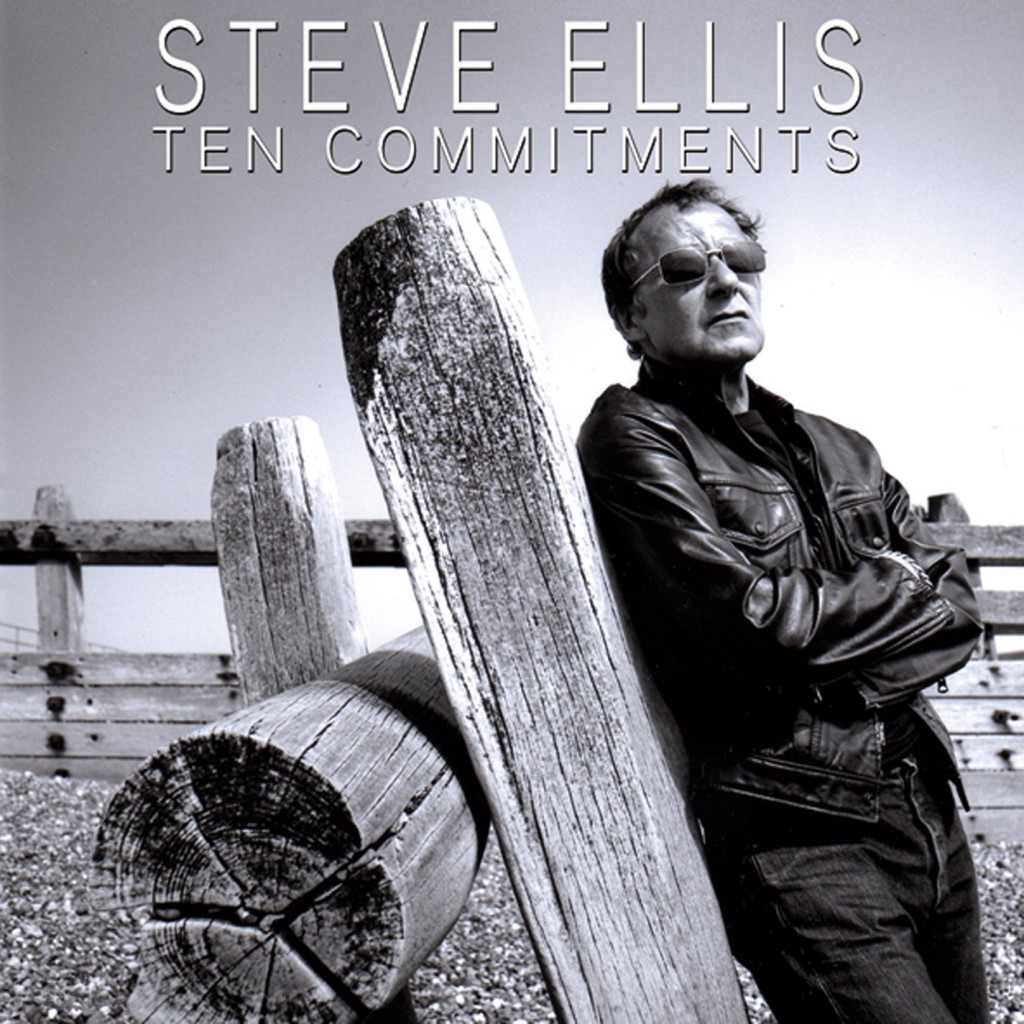 'Hit The Spot' is another cracking track.
A pal of mine is Dennis Greaves who was in Nine Below Zero and a band called Truth. I thought "I wonder if Dennis has got anything." I spoke to him and he said he had an album out. I got sent a copy and heard 'Hit The Spot'. I thought we could do a blistering live version so we did it and I thought we've got to record it. We changed it a bit as I don't like to copy anything. You put your own take on things. People said "You copied "Everlasting Love"." But we didn't as it was nothing like Robert Knight's version.
There are people that make pop records for one particular reason and there are others who want to make music. Making music might not make you rich but the music has got to be the payback. I believe that and so do the people who like Weller as well. He's a very talented songwriter but is so into what he does it's a pleasure to work with him. We don't do a lot of music together but we're pals. In the studio he's really on it and totally into the music. So much so that everything's got to be dissected and exactly right otherwise he won't put it out. He's passionate about music. That's the attitude.
You guys would make a really good album together.
We're kind of working together on a similar scenario but we're going to see how it turns out. We've got one track in the bag and another with his cousin but he's on that as well. There's a mixture of guys that float around the studio up there and we are putting a plan together. We'll see how it goes, no pressure.
I think you've just got to keep on making music, especially the way things are now. I'm doing tracks with various different people. The geography is often not great so you do something on a WAV and stick it in the post. You download it, do what you want to do with it, add things on live and make it as earthy as you can get it. I think you've got to keep on making music. A lot of people from the Sixties don't bother; they stay with what they did. So hopefully people like the new stuff but I'm never going to surpass the dreaded…. But why should I moan about it. So I play tours and do the hits and whatever I fancy doing given the time that I'm given. It seems to go well.
You have also got a new single out at the moment.
I've done a single with a band called Cow. They are a sort of acoustic soul band. We bumped into each other a shop in Brighton one day and got talking. They are really nice people and I said "I'll do a track with you." Six months later I get a phone call "Would you do a track?" I ended up recording with them and it's coming out on vinyl on limited edition and mp3. It will be on my album as well. We did one of theirs and one of mine, it's coming out as a double A, "Steve Ellis and Cow" and "Cow and Steve Ellis". They're really good and they have a got a great album coming out soon.
So you're still touring .
I just got the sheet for October tour, 64 dates with Chris Farlowe. The length and breadth of Britain. Unfortunately we're not going to Scotland which I would love to but it's not on the list as they can't get the theatres. It's all a bit brutal but going on stage is the best bit. On the last tour, which was the year before last, I think we did 25 thousand miles.
When they first asked me to do the tour I said "I'll do it if you get Chris". I've known him since I was 17 and we've been mates for years. We have a good laugh. For example he kept nicking my water but wasn't letting on. I had a bag of it in my dressing room and he swiped one. I knew it was him. The next night we had two bottles and super glued the tops on. So he wonders on stage and does a funny joke in between numbers. He picks this bottle up and he's trying to get this top off. We were absolutely pissing ourselves laughing. My mate filmed it and stuck it up on YouTube. You've got to have a laugh on tour because it's harsh. They're all good lads, there's no ego's about. No top or bottom of the bill. I can say to Chris "Do you want to go on first or go on after." It's all good.
So to finish I assume people can go to your website for future information on you.
Yes and Facebook. The website www.steveellis.co.uk has everything there.
Steve, all the best with 'Time Hasn't Changed Us', the new single and the tour.
No problem. Thanks for your time.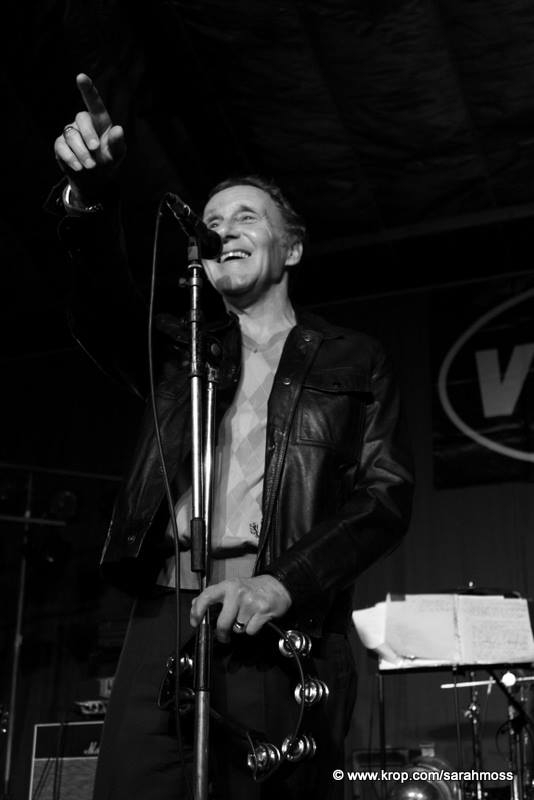 Further Information
'Time Hasn't Changed Us' is a 3-CD set encompassing both The Love Affair's entire recordings 1967-1970 and Steve Ellis' subsequent solo recordings, containing:
Disc 1. Steve Ellis and Love Affair
Disc 2. Steve Ellis and Love Affair 1-7 ,then 8 onwards with the late Gus Eadon
Disc 3. Steve Ellis solo album 1970
The Steve Ellis and Cow single is now available as a download and limited edition 7″ single. More details at www.cowmusic.co.uk
An audio podcast version of this interview can be found at http://thestrangebrew.co.uk/http:/thestrangebrew.co.uk/steve-ellis
Copyright © Jason Barnard and Steve Ellis, 2015. All Rights Reserved. No part of this article may be reproduced or transmitted in any form or by any means, without prior permission from the author.