Interview by Jason Barnard
SMASH Fashion are a crack unit of LA based musicians who produce big bold guitar music uniting fans from all quarters of the rock scene. Classic Rock declare them as "fizzy pop and psyche-tinged glam-punk [with an] injection of macho 70s arena-rock swagger… It's sorta like if Peter Frampton hired Turbonegro as his back-up band to score some early '70s episodes of Scooby Doo. And who wouldn't want a piece of that?" Who indeed.
With a new album 'Big Cat Love' making waves; ladies and gentlemen, please meet SMASH Fashion's honest, humorous and inspiring frontman, Roger Deering.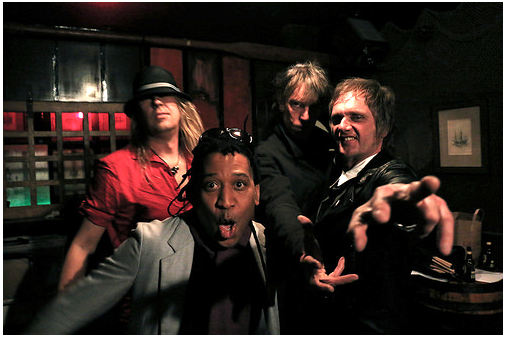 SMASH Fashion (Roger Deering far right)
Roger, to open, for the uninitiated could you introduce us to the members of SMASH Fashion and what to bring to the band?
Why yes, of course, it would be my pleasure to introduce the league of extraordinary gentlemen that make up the SMASH Fashion band.
On guitars we have Lloyd Stuart Casson. Stuart is a phenomenal musician. His contributions to the band are immeasurable. He's a consummate professional. His skills as an engineer and producer greatly helped with the making of the 'Big Cat Love' record. Stuart brings the degree of cool and levelheadedness to the band to counterpoint my hothead and my impulsive reactionary behaviour. He's a textbook type B personality to my type A, so while we can grind each other's nerves it is a balance that works. He's very laid-back which I must confess that times can send me through the roof and up a wall!! Lol.
On the bass guitar we have Mr. Tony Kinman. Tony is an incredible bass player maybe the last of a dying breed. Like the great bass players of past, Tony can create melody and movement with his playing, instead of just pounding out eighth notes. He's very musical and is quite an accomplished songwriter himself as evidenced with his past work. He practically started the hardcore punk movement with The Dils as well as starting the Americana movement with his band Rank n File. He has a very dry sense of humor and can be very cynical which sometimes is needed to keep a maniac like myself in check! He also smokes a very mean cigarette and looks very cool while doing it!
On the drums we have Rejio Kauppila who most Smash Fashion fans know as Repo. Repo has been in the band for most of the bands existence. He's a very skilled drummer who can tackle any kind of tempo or beat. He brings a level of rock 'n roll mania to the band that can keep it entertaining and fun.
I can also hear a range of other rock influences in your sound although elements of music recalls for me early 70s groups like my Mott, Silverhead and The New York Dolls. They are hard rock but flamboyant are they comparisons you recognize and what bands influence you?
Well, I'm a 70s kids so it's natural for 70s rock bands to be a big influence on me. I grew up with all the stuff like Led Zeppelin, Queen, T Rex, Alice Cooper, Thin Lizzy, UFO stuff like that. But once punk rock came I knew that was my calling. And I'm sure it was the same for the other guys in the band. Punk was my doorway into the music business. I started drumming in bands before I picked up the bass, and for years I was a bass player and lead singer in a punk band. As for influences, yes, I would say Mott was definitely an influence as where the New York Dolls.
Bowie and T Rex were really big for me and even Elton John. Those 3 in my opinion are the bastard offspring of John Lennon and John Lennon's always been my all-time musical hero. Cheap Trick have also been a huge influence and basically the blueprint for when I started SMASH Fashion. I wanted to have a band that had great melodies but a ton of rock 'n roll aggression behind it. The Buzzcocks, The Damned as well as The Clash and the Sex pistols also. And let's not forget The Ramones of course. Early Psychedelic Furs really had a big impact on me also. I would give almost equal billing to 60s influences, Tony is a big 60s guy as well as I am. Stuart is also well-rounded when it comes to influences. Like me he leans towards the hard rock stuff of the 70s a lot. Repo is also very much into rhythm and blues and hard-driving soul. I do feel that the combined influences of all of us do create a unique sound. We certainly don't set out to sound like anything; it just comes out sounding like us.
Could you tell me about your background previous bands and how you made it to the industry since the 80s?
I myself started playing in bands in the New England area of the United States. I went to high school up there and at the time the Boston music scene was really fabulous. I saw lots of incredible bands that should've been worldwide stars. The Neighborhoods, Mission of Burma, The Outlets, the Real Kids, The Taxi Boys, Le Peste, Willie Alexander and the Boom Boom Band. I ended up getting in trouble up there and headed south to where my mother was living in Miami, Florida. There I found a very, very cool small scene that was ready to explode. This was around the time at the beginning of the American hard-core scene.
Me and a high school friend that came down after me started a band called the Drills. We were punk rock but not in the conventional way. Our roots were more in 60s garage rock as well as what we brought with us down from Boston. There were lots of great bands coming up and some that were already going when we got there. Charlie Pickett and the Eggs, Crank, The Reactions, The Kids (who had a young Johnny Depp on guitar), The Abusers who later became the Rock City Angels, Z Cars, Cats on Holiday, Casey Chaos (who is a dear friend) had a band called Disorderly Conduct. A very tight-knit scene with all kinds of bands with all different kinds of styles.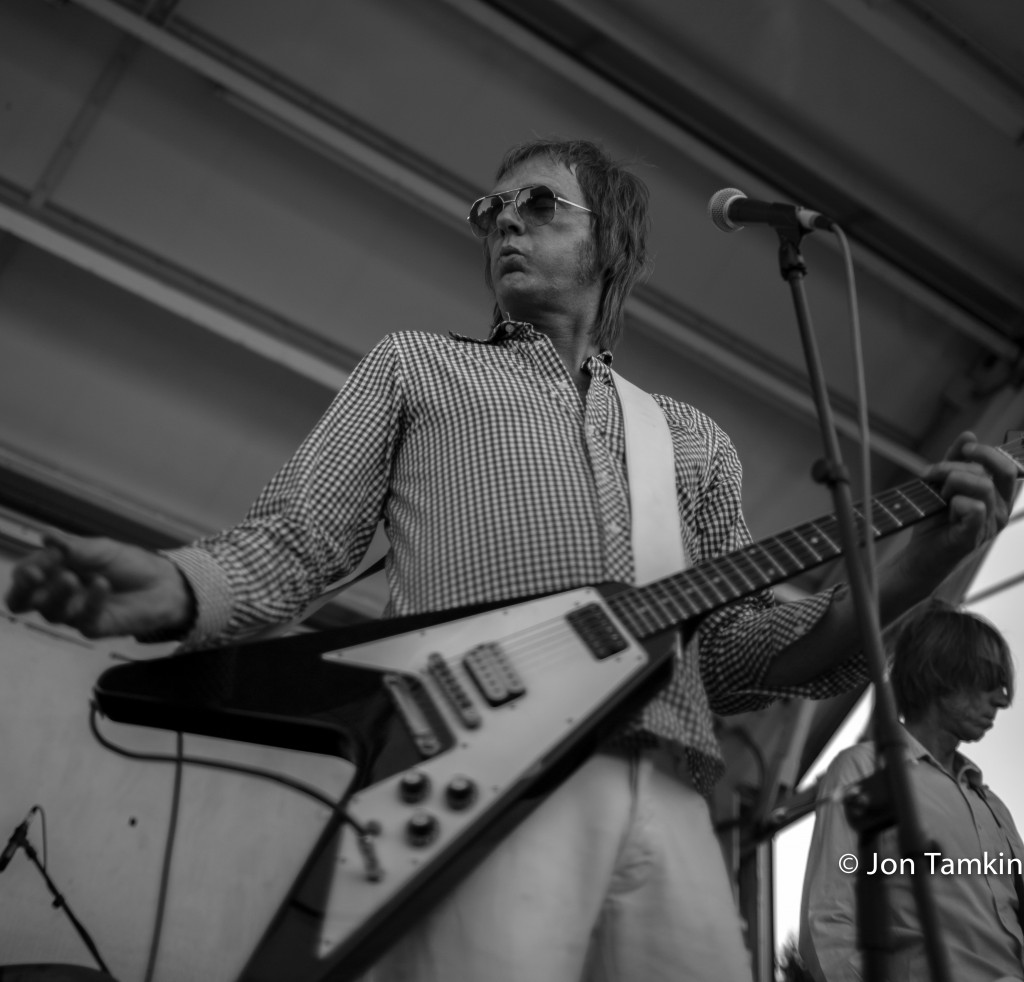 There was a club on Miami Beach called Flynns Ocean 71. They were open seven days a week live bands every night. It really was the CBGBs of the south. Every touring alternative rock band played there. I saw Girlschool do a weekend there Friday and Saturday night. We partied with them up in the hotel suite till the sun came out. Those were really fun times. There was a rumor that Lenny Bruce once Od'ed in the bathroom there I'm sure it was true. Over the next few years we found ourselves playing with all the great hard-core bands from Black Flag, the circle jerks, the bad brains, to such punk legends as the Ramones and the Deadboys. The guys that later became the Marilyn Manson band all used to go to our shows and were big fans. I also did an album with a band called the Psycho Daisies, I did all the lead vocals on an album called sonically speaking. Spin magazine voted the record one of the top independent albums of the 80s, so I guess it made an impact on some people.
Many, many years later in Los Angeles, while I was a bit down on my luck, I was working at the fleamarket on Fairfax and Melrose and Ryan Adams approached me and asked me if I was Roger Deering. I said yes, why? He introduced himself and told me that sonically speaking with one of his favorite records. The Drills released one record in 87. It was a album that I wasn't very happy with. I felt it didn't quite capture with the band was about. The Drills were a very, very cool band and on certain nights we are as good as anybody out there. We had a fantastic lead guitarist (Alex Herrera R.I.P), and our sound was a cross between Black Flag, Motorhead and Mott the Hoople .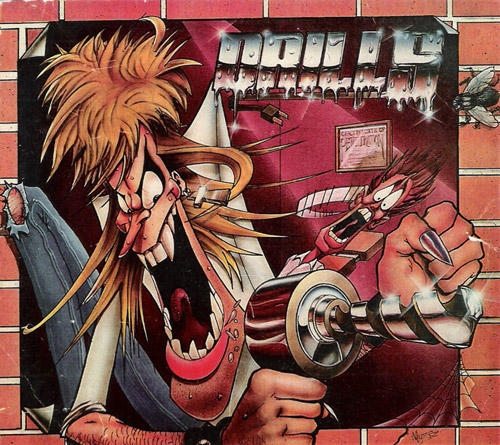 Finally after we felt we had outgrown the punk scene that we helped create we decided to head west and in 1988 the band moved to Los Angeles. I actually met Stuart in the early 90s, he auditioned for a band I had going. He eventually hooked up with my old pals the rock city angels and played with them for a while cutting an albums worth of material and touring Japan with them. Unfortunately by the time 92 rolled around, even though I was signed to a major record deal with a very good band, (we were even managed by Don Arden of Small Faces, E.L.O fame), by that point I had picked up quite a nasty little drug habit. It took me 13 years to shake that habit which left me homeless unemployable and totally estranged from music for many years. It wasn't until I cleaned up that the muse came back to me. After a few start up bands I finally got up and running with what became the early incarnation of SMASH Fashion. It's a long way to the top if you want to rock 'n roll. And I'm only here by the skin of my teeth.
How does 'Big Cat Love' compared to your previous records?
I think there are a number of factors that make 'Big Cat Love' the best of the three records that I've done with SMASH Fashion. I feel the playing on this record is far superior than anything that we've done before. The songs are very good and most of them were played live so we had a very good feel for them when we went into track. Stuart really spent a lot of time going over guitar parts with a fine tooth comb.
Another thing that we did with this record was we wanted to make sure that it would appeal to a rock 'n roll audience. By that I mean we kind of sidestepped some of the more quirky material that we had tracked. That's always been a kind of a struggle for me, as it's the more off the beaten path material that I tend to favor more personally. So we conscientiously decided to make a little more of a straightforward record. Which seems to be paying off as this record really seems to be hitting a nerve with a lot of people. We did manage to slip in some of our more moody different tempo type of songs though. 'You Love To Suffer', 'Live To Tell', and 'Just a Kiss At the Starting Line' are all examples of that type of stuff. The production and the mix on this record are also far superior to the previous two records. It may be the first record I've ever done in my life that I've been pretty happy with.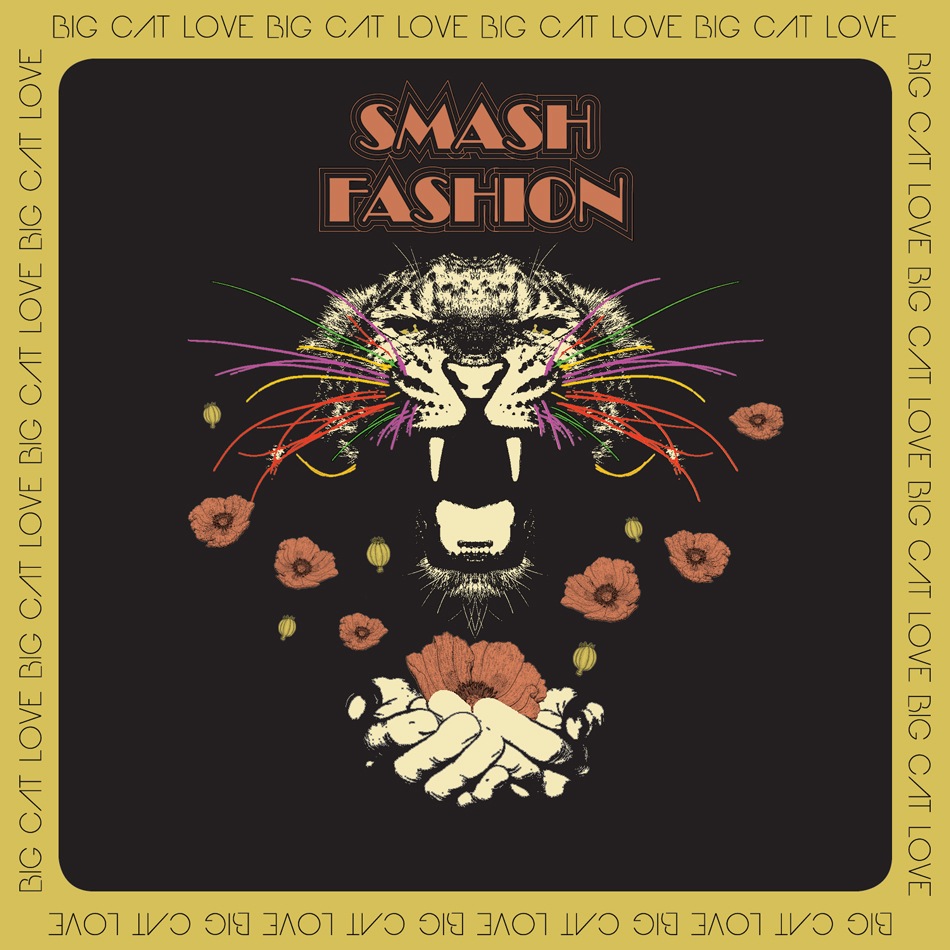 'Wicked Ways' is a great rock 'n roll number. What are your favorite tracks from the new album?
It really depends on my mood. I think that's what the album has going for it has a lot of different moods and flavors. You feeling raunchy? We've got that therefore you. You feeling horny? We've got that there for you. You feeling lonely? That's there also sorrow, regret, empowerment, celebration, anger, joy. There is a great assortment of moods on this record. To me that's what a really good album is about anyway. I hope we were able to capture that. One review of the LP said it has something for all 12 signs of the zodiac, which I thought was a very cool description of the record.
Big Cat Love sounds superb, where and how did you record it?
The LP was cut in four different sessions. The first three sessions were recorded at Big Scary Tree studios, Little Tokyo downtown LA. The last session was done at Tranzformer studio in Burbank Ca. Majority of the vocals and guitar overdubs were done at the Shoeshine Suite in Silverlake LA. We did our best to keep as much of it analog sounding as possible. Once again credit really needs to go to Stuart for his superb job of not only engineering and setting up the mics and recording everything but just his mixing and production skills. He really did a fantastic job.
Some bands, like to have one lead songwriter whilst others, like the Stones, have to members to collaborate. What does SMASH Fashion do?
There's really no formula for songwriting. This record in particular I wrote all the songs. With the exception of "Super Glam", which was Tony's song. On the two previous SMASH Fashion records, I co-wrote all the songs on the first record, "A Gentlemen's Guide to Sophisticated Savagery", while on the second smash fashion record, "Don't Pet the Sweaty Things", I either co-wrote or wrote the rest of the material myself.
I'm totally fine with collaborating on a song, it just so happens that for this record that didn't happen that much. Although I will say it's the other guys contributions to the song that really make the pie complete.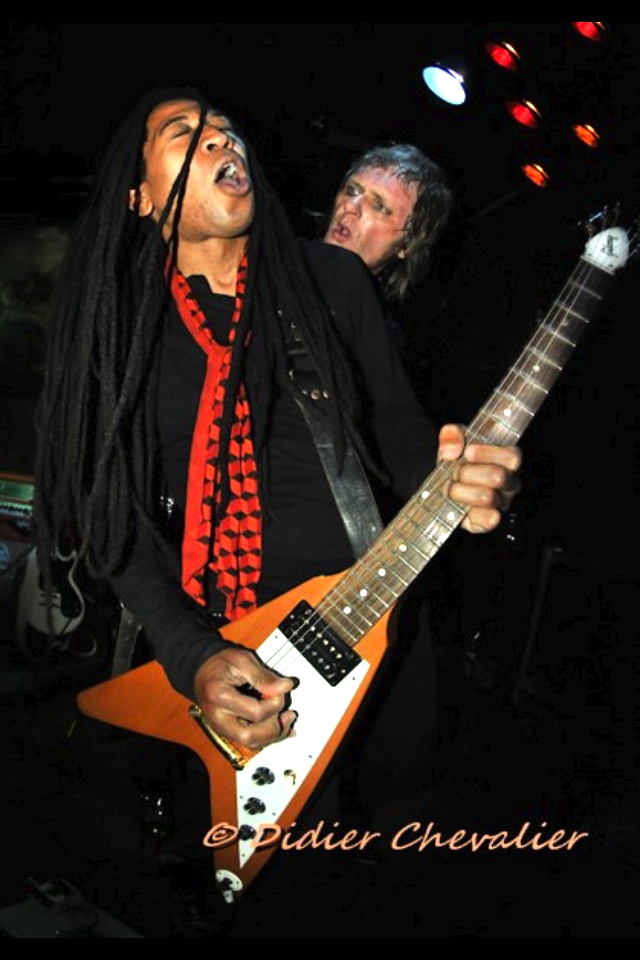 I've always had a knack for being able to string together chords and words and melodies. That coupled with the gift of the gab, I've been able attract very good musicians and guitar players. I very much love to collaborate more with Stuart and Tony. We shall see what happens. Our very different schedules sometimes make that type of collaboration difficult.
'Blame It On the Brandy' and 'Stay Off My La La' are very anthemic. When you play live what tracks do your audience respond to the most?
I guess it depends. But generally, when we play people do get moving and dancing. That's when we know we've done our job when we see them smiling and dancing. But let me put it out there, what we really would like to see, is the ladies ripping their shirts off, flicking their tongue at us, while pinching their nipples!
It looks like you had a great time making the 'Aim for the Heart' video.
I don't know how the other guys feel but I love making videos. We've made three for this record. And they've all been fun. We hope to get one or two more out of this record. We try to keep them entertaining and not go off on a tangent where it becomes a bad mini movie. Most of the favorite videos I've seen were done in the early days of MTV or pre-MTV. In other words were budget doesn't dictate the creativity of the video.
There are many great bands who've also based around LA from The Doors to Guns and Roses. Do your see yourself in that linage and what's the scene like today?
Yes, LA has produced a lot of great bands. Arthur Lee and Love, The Doors, Iron Butterfly, The Germs, X, The Gun Club, Red Kross, The Quick, Van Halen, Circle Jerks, Dream Syndicate, Tex and the Horse heads, The Weirdos, Jane's Addiction, Plimsols and on and on.
I would say as far as SMASH Fashion is concerned, that we would be somewhere in the ballpark, of a cross between Van Halen, Jane's Addiction and the Plimsols. Not so much musically but more in the vibe that those bands carried. The 80s glam thing in LA wasn't something I couldn't identify with at all. I never liked 99% of those bands. The only good thing was the amount of women that showed up. It was like shooting fish in a barrel! Any dork with long hair and guyliner could get laid as much as possible. I know we get lumped in with the "glam" tag, and if your referring to more 70s stuff, then that's cool. But the 80s stuff generally sucked which is why the guys in the band and myself all were in the punk scene. It had more energy and it was a real movement. I've never considered us a glam band. We are a rock'n'roll band. Just cuz the singers pretty don't hate the players!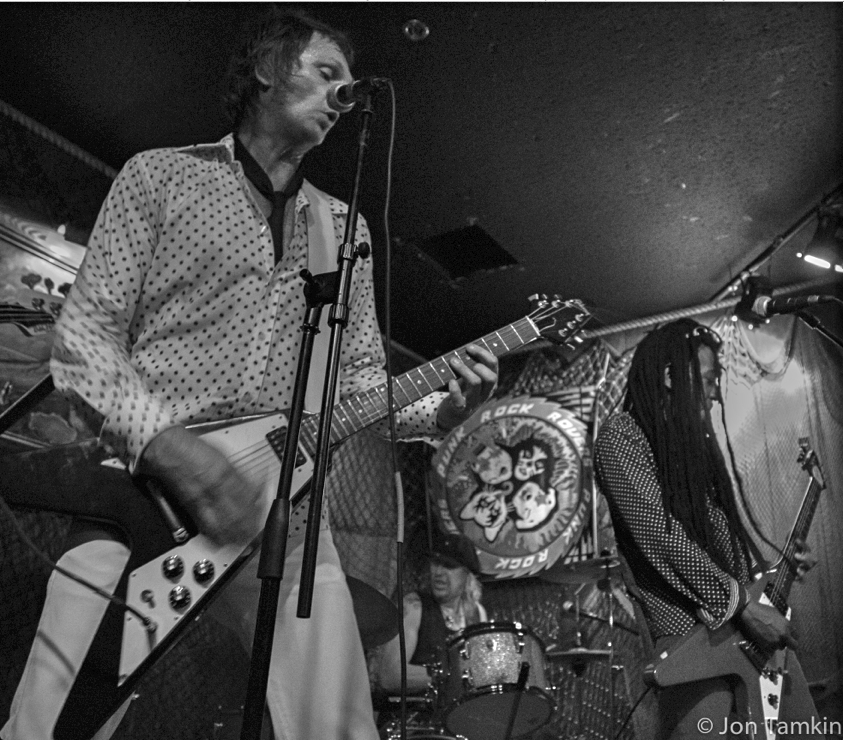 This scene today while quite different and not is crazy as it was in the 80s and 90s but it's still going strong. We still have great bands like the Hangmen, Motorcycle Boy, Redd Kross, OFF. The Crazy Squeeze are also very cool. I also like a band called the Shiteland Ponies who are very good . There are still a lot of the old-school places left here, such as the Whiskey, the Roxy, the Troubadour. There aren't as many live music venues as there used to be but there are still a few cool ones and a lot of cool ones opening up and thriving in downtown Los Angeles. The Redwood, the Down n Out are having live bands 7 days a week. My all-time favorite venue was called Mr. T's Bowl. I feel some of the best shows SMASH Fashion has ever done were in that dumpy club. Unfortunately it has met the fate of many other live music venues it's closed it's doors.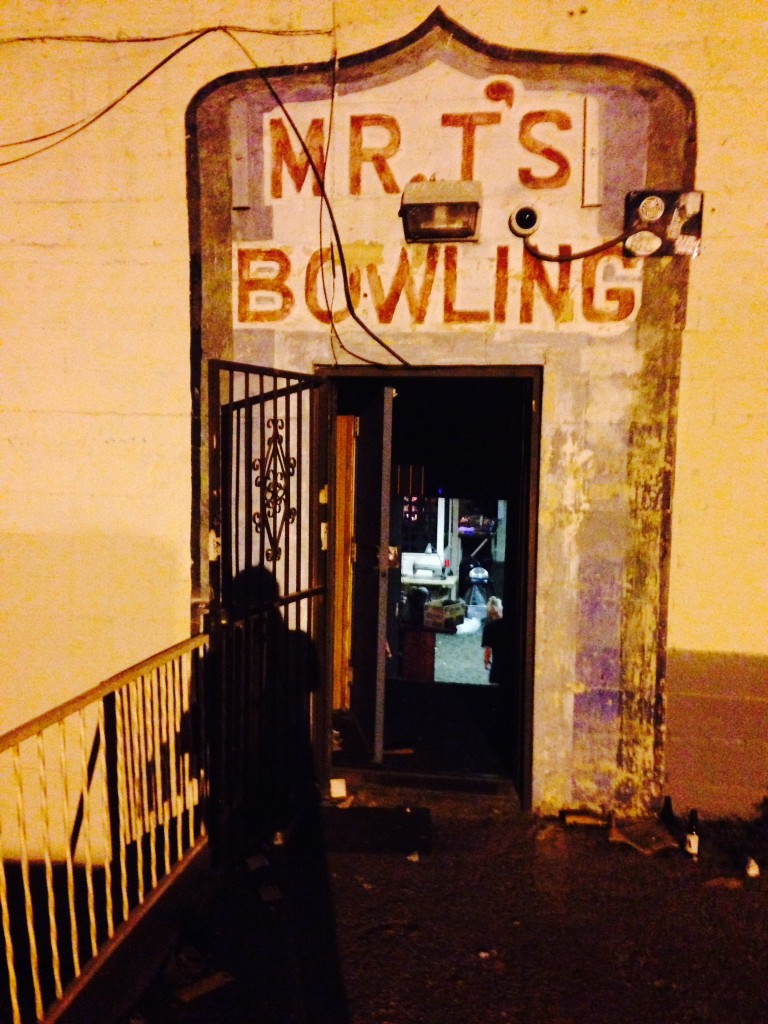 Is 'Stairs to Nowhere' an LA reference?
Clever little bugger aren't you? Yes, I guess you could say that. It's a love song disguised with a double meaning. It does get frustrating here, there's so much stuff going on. And because it's an industry city, you see a lot of musical trends and fads come and go. We've been doing this for close to around 10 years now although we've had considerable downtime. We are all veterans and we know the score. I don't think what we're doing will ever make us the most trendy band here in Los Angeles. Nor would I ever want to be. We're just going to keep doing what we do till we get tired of it. You can't concern yourself with all that stuff or it will get you down. As a musician, performer, band member, you just have to do it because you love it. Then again we all want recognition for what we do, don't we? Smother me in kisses please!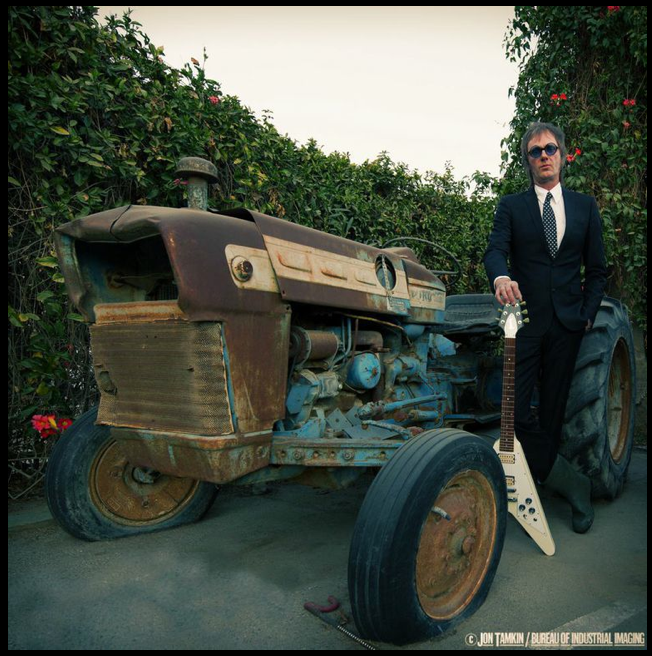 You've picked up some great press including Classic Rock magazine. What's next for SMASH Fashion, live shows, world domination!?
There definitely will be another record for sure I know I have enough in me for 2 to 3 more records at least. I have a huge catalog of songs that I've written over the last 6 years. And there's a lot of leftovers from the sessions we did for this record. We do want to tour Europe and get back to the UK. We really loved it over there and found audiences very receptive to what we were doing. I think there's a different mindset with the European rock crowd as opposed to the US rock crowd. Simply stated I think Europe in UK has much better taste in what passes for rock music. A lot of that is the fault of the US music industry which is completely lost its way. Maybe if the US music industry pulled its head out of Nicki Minaj's fat ass for a second they might notice there's a lot of real good music going on!
Finally, how do fans hear more about you and purchase your new record?
We have a very cool website at http://www.smashfashionmusic.com
We also are at http://www.facebook.com/smashfashion Please send mushrooms, LSD and panties! (soiled ok too!)
We are on iTunes and CDbaby. But it would be great if you went to your local record shop and ask for Smash Fashion. We do have worldwide distribution through Cobraside distribution. Support local music shops and bands! And dance naked, cheers, carry on!
Copyright © Jason Barnard and Roger Deering, 2014. All Rights Reserved. No part of this article may be reproduced or transmitted in any form or by any means, without prior permission from the author.